The current occupant of 5 London Road is Albemarle Bond, a pawnbroker and payday loan shop. Albemarle Bond's tenure at this address began in December 2011, though this wasn't their first London Road branch — they used to occupy the large building at number 60-62, on the corner of Oakfield Road, before this was burned out in the August 2011 riots[1].
As I noted earlier in this series, 5 London Road was probably built between 1847 and 1859, at the same time as number 3 next door. It first appears in street directories in 1859; Gray and Warren's Croydon directory for that year lists the occupant as Henry May, "hosier, shirt-maker, &c". The use of the premises varied from auctioneers to coal merchants over the next few years, but by the early 1870s, F A Egleton, oil and colourman, was firmly in place[2].
The term "colourman" may be familiar to readers of Arthur Conan Doyle's Sherlock Holmes story, The Retired Colourman, but the profession of oil and colourman is one of many rendered obsolete with advancing technology. This type of business stocked oils for cooking, heating, and lighting, and also sold paints — which at that time did not come ready-mixed in tins, but rather were mixed to order by the colourman, from linseed oil and ground pigments[3].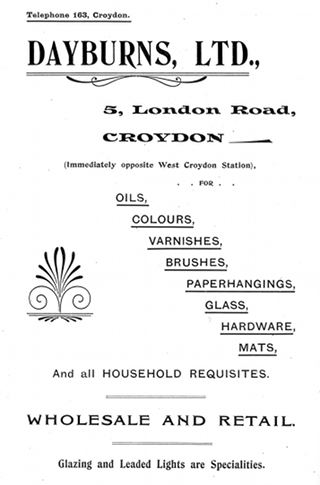 F A Egleton remained at 5 London Road for around 40 years, during which time the remit of the business expanded to include ironmongery and other activities. It also expanded physically, around 1882, into the next-door premises at number 7. By 1904, although the building was still in use as an oil and colour merchants, the company in residence was Dayburns Ltd and the business had shrunk back to a single address at number 5 alone. The name soon changed again to Grove Bros, but by 1910 the oil and colour merchants had finally left and the address was marked as unoccupied[4].
The next occupant of the premises was Jay's Furnishing Stores, a hire-purchase furniture store first listed in Ward's 1911 directory. I'm not sure where Jay's originated — in Croydon or elsewhere — but in any case it appears to have ended up as a national chain, with branches in places such as Bristol[5], Luton[6], Northampton[7], and Sheffield[8], as well as areas of London including Palmers Green[9], Stoke Newington[10], and Walthamstow[11].
An advert placed in the Croydon Times on 9 June 1928 lists two Jay's shops in the area, at 5 London Road and 59 Thornton Heath High Street; this advert also proclaims Jay's to be "The world's largest furnishers for the world's best terms". Another Croydon Times advert from 31 October in the same year gives an idea of the type of furniture on offer: a "luxurious Chesterfield suite" for 10 shillings per month, and a "solid oak bedstead" for 6 shillings per month[12]. For those wondering about the type of person who might shop at such an establishment, long-term Croydon resident Terry Coleman tells me that "there were a number of independent furniture shops years ago and of course they all did HP [hire purchase] before the days of plastic cards. It was the only way to buy major items unless you were quite well off."
Jay's seem to have been quite on-the-ball in terms of advertising; one interesting item I found while browsing the archives of the Croydon Local Studies Library was a small booklet published by Jay's on "20 ways of cooking fish". There may seem to be little connection between furniture and fish, but Jay's give a reasonable excuse for this on the cover: "Our object has always been a double one — to supply the Best Value in Fine Furniture and to ensure a Happy Home to each of our customers — by freedom from worry — Every housewife knows what part cooking plays in making a happy home." (For more on this booklet, and my attempt to cook one of the recipes, see The Vintage Cookbook Trials).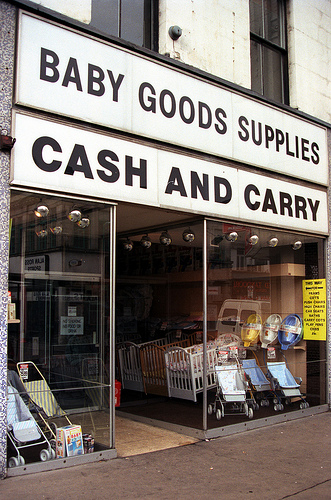 Jay's remained at 5 London Road until at least 1956, but moved out at some point in the late 1950s or early 1960s. As of c.1969, the only branch of Jay's listed in Croydon street directories was at 121 North End[13].
By c.1962, 5 London Road was occupied by Davies Baby Carriages, which remained in place until the late 1980s. Davies was a local firm which was established at 29 London Road in 1922 and later spread to other areas of London[14].
Following the departure of Davies Baby Carriages, 5 London Road continued to sell prams, cots, pushchairs, and other baby-related goods for a short while, though under a generic name and with a focus on cheapness. As shown in the photo here, as of c.1990 the sign on the frontage simply read "Baby Goods Supplies" with a qualifier of "Cash And Carry" below. There's also some evidence of a "temporary gift shop" at the address around this time.[14a]
Evans Cycles opened their fifth branch at 5 London Road on 19 May 1990, and started mail order from there in 1991. They continued to operate their mail order service from the Croydon store until 1997, when they opened their first warehouse in Leatherhead.
Evans finally closed their London Road branch in November 2011, after having been approached by Albemarle Bond, who were looking for a new location for the store they'd lost in the riots. Evans, who by this point were the owners of the building, agreed to lease the premises to Albemarle Bond — it was one of their lower turnover stores, and they'd found their customers had trouble accessing it by car. However, Evans remained keen to operate in the Croydon area, and as of the time of writing, they've confirmed a new site on the Purley Way and will be opening there in mid-2013[15].
Thanks to: Mike Rice at Evans Cycles; Terry Coleman; Brian Gittings; all at the Croydon Local Studies Library; and my beta-readers Flash, Helen, and Shuri.
Footnotes and references
Date of Albemarle Bond's opening at 5 London Road comes from personal observation, as does their previous residence at 60-62 London Road.
Historical street directories consulted at the Croydon Local Studies Library. Gray and Warren's 1861-2 directory lists Edward William Cannon, auctioneer, estate and house agent at this address; Simpson's 1864 and Warren's 1865-66 list John Manley as "auctioneer and agent to the West of England and Rock Life Office, and Accidental Death Office" and "auctioneer, estate and house agent" respectively; and Warren's 1869 directory lists William Fowler, corn and coal merchant. The next available directory in sequence is Wilkins' 1872-3 directory, which lists F A Egleton, oil and colourman. Note that the advertisement pictured above states that the business was established in 1867; the discrepancy between this and the evidence of Warren's 1869 directory is probably due to the publishing date and deadline of the latter.
Information on the profession of oil and colourman taken from posts made to the RootsWeb London mailing list by Eve McLaughlin and Bob Cunning. Unfortunately these posts are no longer available on the RootsWeb website, and only one of them survives in the Internet Archive.
All information in this paragraph gathered from Ward's street directories, consulted at the Croydon Local Studies Library. F A Egleton is listed up to and including 1903, Dayburns is listed in 1904, Grove Bros is listed from 1905 to 1909, and "unoccupied" is listed in 1910. It's worth noting, however, that page 7205 of the 5 November 1901 London Gazette carries notice of a winding-up order for F A Egleton Limited at 5 London Road, and so the company's inclusion in the 1903 directory may be a mistake.
The Gloucester Road Story lists Jay's at 52 Gloucester Road, Bristol, in 1962.
According to the Bedfordshire & Luton Archives & Records Service, Jay's was present in Luton from the 1930s to the 1960s at least.
According to the Rushden Research Group, as of 1931 Jay's had a store on Gold Street in Northampton and was a "well-known firm" at the time.
Picture Sheffield, a project run by Sheffield City Council's Archives and Local Studies Service, has photos of Jay's Sheffield branches in the 1920s/1930s and in 1963.
The Museum of London website has an image of a 1952 invoice from the Jay's at Palmers Green.
According to London History Over 2000 Years, Jay's were at 88-90 Stoke Newington High Street in 1921. It isn't explicitly stated where this information comes from, but it looks to me like a transcription of one of the (contemporary) Kelly's street directories.
Page 5431 of the 18 August 1936 London Gazette carries information about the liquidation of Jay's Walthamstow branch. This implies that at least some of the branches were considered separate companies.
Cuttings of these adverts can be found in the "firms A-Z" filing cabinet at the Croydon Local Studies Library.
Jay's may have simply transferred their Croydon store from 5 London Road to 121 North End, or there may have been some overlap. There's a gap between 1956 and c.1969 in the street directories available to me, so I'm not sure what happened in between. Kent's 1956 directory lists a different business (Robert G Lloyd) at 121 North End.
Heath's 1962–3 directory lists Davies Baby Carriages at 5 London Road and 75 High Street. Information on addresses as of c.1969 taken from Blair's street directory; this is undated but according to a handwritten note inside, it's probably from 1969. Information on Davies' remaining at 5 London Road until the late 1980s provided by Mike Rice of Evans Cycles (in slight contradiction to this, the London Shop Surveys of 1984-85, 1986-87, and 1988-89 respectively list "Davies", "Vacant", and an eponymous "Pram Shop"). Information on the origin of the Davies chain comes from cross-referencing Ward's 1922 and 1923 street directories with an advert in the Croydon Advertiser (12 June 1953), which states "Founded in 1922 by D. L. Davies in W. Croydon". I'll be discussing Davies at greater length later in this series, when I reach 29 London Road.
See footnote [14] for information from the London Shop Surveys of the 1980s. Goad plans list Davies in April 1986, an anonymous "baby goods supp [supplier]" in April 1987, "temp gift shop (Stuart Edwards)" in March 1990, and Evans in June 1991. (Note that Stuart Edwards is an estate agent.)
All information on Evans Cycles supplied by Mike Rice, aside from the fact that the Croydon store was their fifth branch, which comes from a timeline on the Evans Cycles history page.