21 London Road is the home of the somewhat confusingly-named Brixton, a Caribbean takeaway with a small eat-in area.
1830s–1870s: Sale of the land, construction of the building, and Henry Reed's bakery
In the previous article in this series, I described the story of the building from when it was common land, through the sale of the land in 1835, the construction of the building in the mid-1860s, and finally the opening of the first business around 1864: Henry Reed's bakery.
The goods on offer at Reed's are described in street directories of the time[1]: "the Celebrated ALICE and CHARCOAL BISCUITS[2]", "wedding and school cakes", "ices, jellies, British wines", "superior nursery biscuits", and "French and Hungarian Fancy and Tea Bread".[3]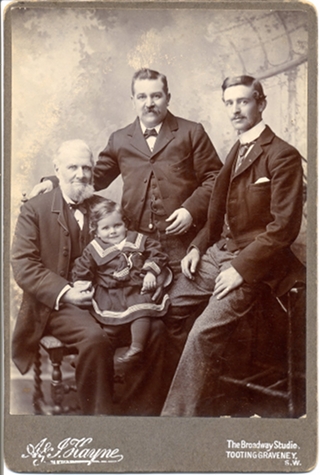 1870s–1890s: Arthur Shears and William Robert Shears
Henry Reed remained on London Road until around the end of the 1870s, when he was replaced by Arthur Shears, a master baker who moved to Croydon from Newington some time between 1878 and 1880. Arthur's son William Robert Shears moved along with him, to work as his assistant in the bakery business. Arthur and his wife Elizabeth lived at 21 London Road, while William Robert and his wife Eliza lived with their children just around the corner at 7 Mead Place.[4]
The bakery passed from Arthur to William Robert around 1895.[5] However, William Robert moved his branch of the family to Tooting four or five years later, while Arthur and Elizabeth, now pensioners, moved to the London Master Bakers Benevolent Association almshouses in Leyton.[6]
William Robert and his son William Arthur continued to work as cooks in Tooting, though the 1901 census lists them as workers rather than employers. According to research carried out by Bill Shears (Arthur Shears' great-great-grandson), it's likely that they worked at Peter Jung's baker's shop at 48 Tooting High Street.[6a] The London Road business was taken over by Peter Masters, who remained at the premises until around 1905.[7]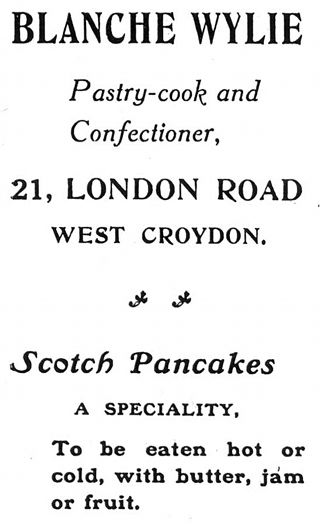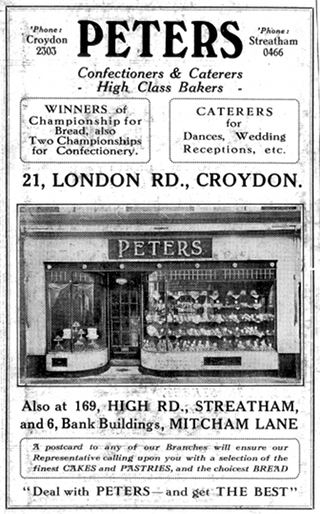 1900s–1920s: Frederick and Blanche Wylie
Next came Frederick W Wylie and his wife Blanche Wylie. Ward's street directories for 1906, 1907, and 1908 list Frederick as the cook and confectioner in charge; however, Frederick died in January 1908 at the age of 36,[8] and his widow took over the business.
Blanche Wylie was also only in her mid-thirties at this point, and Frederick's death left her widowed for the second time.[9] By the time of the 1911 census her household included a 12-year-old son from her first marriage, John Henry Gadd, and a 3-year-old daughter from her second, Dorothy Vera Wylie. Her widowed father, George Dunn, and her sister, Gertrude Clara Dunn, are also listed at 21 London Road, though given that census data is merely a snapshot in time it's not clear whether they were living there permanently.
Like her late husband, Mrs Wylie was listed in Ward's street directories as a cook and confectioner. An advertisement in The Croydon Recipe Book, published in June 1912, notes that one of her specialities was Scotch pancakes,[10] "To be eaten hot or cold, with butter, jam or fruit."
1920s–1980s: Peters Bakery
Blanche Wylie remained at 21 London Road until around 1925.[11] Her successor bore a name which was to be associated with London Road for a good six decades. Arthur Peters made his first Croydon appearance in Ward's 1926 street directory, and just three years later he was proudly advertising his business as having won championship competitions for both bread and confectionery (see advert here).
While the business changed hands a few times over the subsequent years, it continued to trade as Peters bakery until around 1985,[12] and is still a familiar name to many people in Croydon today. Below is an excerpt of a conversation[13] I had earlier this year with Shirley Locke and her son Clive, both long-term residents of Croydon.
SHIRLEY: Along here there used to be a lovely cake shop, Peters.

KAKE: Peters the baker, number 21.

SHIRLEY: Yeah, that's right, that was lovely.

CLIVE: And I remember, my family, my nan's sister, had a Canadian... she married a Canadian, and he used to come over, and we were tiny, he was quite a celebrity, being Canadian... it was quite a nice thing to have a Canadian in the family.

SHIRLEY: He was lovely too, yeah.

CLIVE: And he would always just go to Peters and buy cream cakes, every time he was over, he used to come round with boxes of them. He thought it was...

SHIRLEY: He got me on the cream slices! [laughs] When I was pregnant with my third son. [laughs] I never had cream cakes before that.
(Update, January 2014: After I first published this article, Terry Coleman commented to say: "My memory of Peters Bakery was an impressive three or four tier wedding cake that always seemed to be on display in that rounded shop window. We had our wedding cake made there in 1974.")
Peter Coughlan of the Coughlan baking family also remembers Peters: "It was always known as Peters Bakery and was the best one shop business in the area. All products were baked on the premises. It was sold a couple of times and the last owner to trade as Peters was Fred Harris who had a bakery business in London. I think it closed down when Fred retired or died in 1985."[14]
1980s–1990s: Coughlans
The name "Coughlan" is another one that should be familiar to Croydon residents who've made purchases from this local bakery chain. The business was founded in 1937, initially with just two snack bars at 739 London Road and at 102 The Broadway in Wimbledon. The company expanded over the years and today has over 20 shops in and around Croydon and Thornton Heath.[15]
Coughlans took over 21 London Road after Fred Harris left in 1985, remaining there for just over 15 years. Peter Coughlan recalls: "We took on a new lease in June 1985 only to find that the level of trade was nowhere near it used to be and we had committed to a 25 year lease! Fortunately we managed to assign the lease in February 2002 to a Mr Argibas who completely renovated the whole premises and the old bakery as well to use the retail area as a Fish & Chip Shop."[16]
2000s: Doneagles and Take Two
The abovementioned fish and chip shop was likely Doneagles, listed at 21 London Road in the May 2002 Goad plan. By July 2008, it had become Take Two, a Caribbean restaurant, cafe, or takeaway — I haven't been able to find out which.[17] Around the end of 2010, the lease changed hands again and Brixton opened.[18]
c.2010–present: Brixton
Today, Brixton Caribbean takeaway is open seven days a week from 7am to midnight, offering Caribbean food from liver & banana for breakfast to mannish water on the weekends.[19]
Thanks to: Brian Gittings; Clive and Shirley Locke; Elly at the Vintage Cookbook Trials; Howard at Brixton; Peter Coughlan; all at the Croydon Local Studies Library; and my beta-readers bob and Henry. Census data, National Probate Calendar, FreeBMD indexes, and 1916-2007 Death Index consulted via Ancestry.co.uk.