Western Centre at 38 London Road is a combination of internet cafe, parcel service, computer/laptop repair service, and barber.
1870s: Construction of the building, and the first occupant, Nathaniel Gifford
The building was constructed in the mid-1870s as part of a block with numbers 36, 40, and 42. As with its neighbour number 36, the first occupant was a draper called Nathaniel Gifford. Nathaniel's "general draper, upholsterer, and sewing machine agent" business started in the early 1870s with a single shopfront at 32 London Road, but by 1876 had expanded to a full four shopfronts at numbers 32–38.
1880s: Joseph Hansmann, tailor, and Fanny Hansmann, dressmaker
After Nathaniel Gifford left London Road around the end of the 1870s, number 38 was taken over by Joseph and Fanny Hansmann,[1] a husband-and-wife tailoring and dressmaking team.[2]
Joseph Hansmann marketed himself as a high-class tailor. Advertisements in multiple editions of Ward's street directories describe his business as a "West End Tailoring Establishment" and promise clothing such as "Gentlemen's Dress, Walking, Shooting, and Fishing Suits" — clearly aimed at the leisured classes (or at least those who aspired to such).
Prussian-born Joseph became a naturalised British citizen on 9 December 1890.[3] He was quite likely a widower at this point; contemporary street directories stopped listing Madame Hansmann's dressmaking business in the mid-1880s,[4] and the April 1891 census describes him as a widower living with his 15-year-old apprentice, Percy Mayhew, and their servant Maria Steeden.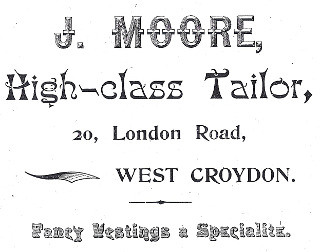 1890s: John Moore
In the mid-1890s, Joseph Hansmann went into partnership with another tailor named John Moore. However, by 1898 Joseph's time at the premises — around 17 years — had come to an end, and John Moore had taken over the shop entirely.[5]
1900s: Alfred Knight and Joseph J Finer
A couple of years later, the business passed to Alfred Knight, who installed William Andrews as both the shop manager and the inhabitant of the living quarters (along with his wife and six children ranging in age from 1 to 17).[6] This was only a brief episode, though, as by 1903 Alfred Knight had died and the tailor's shop was in the hands of Joseph J Finer. Mr Finer was keen to associate himself with his predecessor, listing himself as "Finer Jos. J., (late Knight, dec.)" in Ward's 1903 directory.
1900s–1910s: Robinson & Co, the Sovereign Tailoring Co, and Miss Meadows
Like his predecessors, Joseph Finer spent only a handful of years at the premises. He was followed by Robinson & Co, Tailors, around 1907–1908; the Sovereign Tailoring Co, around 1909–1910; and Miss Meadows, costumier, around 1912.[8]
1910s–1920s: While-You-Wait Photo Studios and the Modern Studios
By 1913, the property's three decades of tailoring had been brought to an end by the arrival of While-You-Wait Photo Studios. While the name of this company is fairly self-explanatory, it's less clear whether its successor, the Modern Studios, also provided photographic services. In any case, the Modern Studios arrived around 1918 and had departed by 1925.[9]
1920s–1930s: Alfred C Parker, pianos and radios
Next to arrive at 38 London Road was Alfred C Parker, piano manufacturer.[10] An advertisement for A C Parker in the Croydon Advertiser of 1 October 1932 notes the advantage of buying one's piano "direct from the actual maker", and offers a 20-year warranty on both "our new season's models" and "special second-hand bargains reconditioned as new". Hire-purchase was available, with the aforementioned advertisement featuring "baby grands" at 49 guineas outright or 20 shillings per month.[11]
Alfred Parker also sold radios both outright and on hire-purchase. Another advertisement in the same issue of the Croydon Advertiser lists radios manufactured by Marconi, His Master's Voice, Ekco, Pye, Ultra, and Columbia, "All Makes Same Terms" with no deposit and weekly payments ranging from 3 to 11 shillings, spread over two years. Customers could take advantage of "expert advice free", and have "any set demonstrated at home".[12]
1940s–1960s: Edenborough's stationery shop and the West Croydon Post Office
Alfred Parker likely left London Road around the start of the 1940s.[13] By 1946, he had been replaced by D & R Edenborough's stationery shop, which moved up from number 18 and brought the West Croydon Post Office with it.[14] This shop was associated with the Andress Printing Co (which had its printing works on Waddon New Road), and remained at 38 London Road until the early 1970s.[15]
1970s–1990s: Caravaire Cleaners Ltd
By late 1971, 38 London Road was home to Caravaire Cleaners Ltd, a dry cleaning firm which also had premises at 1449 London Road (where it possibly went by the name Flamingo Cleaners).[16] This remained in place for over 25 years.[17]
1990s–2004: Croydon Cleaning Centre
Around the end of the 1990s, the shop was purchased by Mardan Mahmood, who installed several washing machines and ran it until mid-2004 as a combined dry cleaners and launderette under the name Croydon Cleaning Centre.[18]
2005–c.2009: CIA (Computer, Internet & Art)
In December 2004, Mardan Mahmood applied to Croydon Council for permission to change the use of 38 London Road to "mixed use (money exchange) + Internet Cafe + Barber". Permission was granted in February 2005,[19] and by June 2005 the new business was trading under the name of CIA.[20] A historical Google Street View image of the frontage in July 2008 suggests that this stood for "Computer, Internet, & Art". The barber's shop was inset into the right-hand side of the front of the shop and went by the name of Soran's Barber.[21]
c.2010–present: Western Centre
By November 2010, the name had changed to Western Centre, and the frontage advertised services such as bureau de change, cheque cashing, fax services, photocopying, printing, scanning, computer and laptop sales and repair, an internet cafe, Western Union money transfer, and DHL dispatch and pickup.[22] It remains pretty much the same today.
Thanks to: Brian Gittings; the Planning Technical Support Team at Croydon Council; all at the Croydon Local Studies Library; and my beta-readers bob and Henry. Census data consulted via Ancestry.co.uk.
Footnotes and references
Documentary evidence disagrees over the spelling of Joseph and Fanny's surname, though I believe "Hansmann" is the most likely. In the 1881 census record, it's quite clearly spelled as "Hausmann", while in the 1891 census, the third letter could be either "n" or "u". Note however that these (handwritten) census records were copied out centrally from forms filled in by householders, so the clear spelling in the 1881 census could have been due to a misreading of Joseph's less-clear handwriting. Henry Braun points out that "if Joseph had German handwriting the lower-case N and U are distinguished only by an inflection above the letter, so it's a very obvious source of confusion." (online discussion, May 2014). A London Gazette announcement from January 1891 spells the name with a "u". However, the "n" spelling appears in Ward's directories (both listings and adverts), Purnell's 1882 directory, Kelly's directories, and an advert in J Corbet Anderson's A Descriptive and Historical Guide to Croydon, Surrey (published 1887). I think a single typo in the London Gazette combined with a single misunderstanding in the 1881 census is much more likely than repeated misspellings in multiple directories and in advertisements placed over a number of years by Joseph himself.

Nathaniel Gifford is listed in Ward's street directories up to and including 1878. J Hansmann, tailor, and Madame Hansmann, dressmaker, are listed from 1880 onwards; their full names (Joseph and Fanny) are given in the 1881 census. Note that this census lists them as living at 59 London Road (23 in the numbering of the time), while another tailor named John Novadne was living at 38 London Road (6 Oakfield Terrace in the numbering of the time).

I see two possibilities to explain this, bearing in mind that the living quarters at each property were probably at least partly independent of the shop parts. First, perhaps Nathaniel Gifford's immediate replacement was actually John Novadne. John could have moved into both shop and living quarters but failed to make a go of the shop (or decided for some other reason to move on elsewhere), so handed over the shop to Joseph and Fanny. Then perhaps the census intervened before John had managed to move his family out of the living quarters. A second possibility is that John worked for Joseph and was given the living quarters as a stop-gap while he found somewhere else to live. According to the 1881 census, John was 27 to Joseph's 44, and had a wife and two young children while Joseph and Fanny had no children living with them.

In both these cases, though, there seems to have been rather a long gap between Joseph and Fanny getting the shop and their getting the living quarters. Ward's 1880 directory was printed later than usual due to the General Election of that year (as stated in the Preface of that edition), and the section with London Road in is dated 21 April 1880. Hence Joseph and Fanny must have had the shop by that date. The 1881 census was also conducted in April, so John was living above Joseph and Fanny's shop for at least a year.

Joseph Hansmann's naturalisation is reported (under the name "Hausmann") on p11 of the 2 January 1891 London Gazette (view online), and the April 1891 census lists him as a "Naturalized British Subject".
Ward's directories list Joseph and Madame up to and including 1885, and Joseph alone from 1886 onwards.
Ward's directories list J Hansmann, tailor, up to and including 1895; Hansmann & Moore, tailors and habit makers, in 1896 and 1897; and John Moore, tailor and habit maker, from 1898 onwards.
Ward's directories list John Moore up to and including 1900, and Alfred Knight, tailor, in 1901 and 1902. The 1901 census lists William Andrews, aged 38, "Tailor's Shopkeeper Manager", a "worker" (as opposed to employer) working at home; his wife Rebecca; and six children.
I don't know the exact date of the photo, but the presence of W E Pratt at number 40 and J Finer at number 38 suggests late 1901 at the earliest. In addition, the photo shows overhead wire supports for electric trams, which were introduced in Croydon in November 1901. The postcard this is scanned from is postmarked 27 September 1904.
Ward's directories list Joseph Finer up to and including 1906, Robinson & Co in 1907 and 1908, the Sovereign Tailoring Co in 1909 and 1910, "unoccupied" in 1911, and Miss Meadows in 1912. I've been unable to find anyone living at the address in the 1911 census.
Ward's directories list While-You-Wait Photo Studios from 1913 to 1918 inclusive and The Modern Studios from 1919 to 1924 inclusive.
Ward's directories list A C Parker, pianoforte manufacturer, from 1925 onwards, and Kelly's 1927 directory gives Mr Parker's full first name: Alfred C Parker, pianoforte manufacturer.
The final edition of Ward's directories was the 1939 one, which lists "Parker Ltd, Radio" at 38 London Road. The August 1940 Red Phone Book lists A C Parker at this address in the "Pianoforte & Music Dealers" section, but this listing is absent from the August 1941 edition. This is not solid proof that Alfred Parker had moved away, but it is at least suggestive.
The Red Phone Book lists Andress Press [sic] Co at 38 London Road in January 1946, and Andress Printing Co from 1948 onwards. The name "D & R Edenborough" doesn't appear until the March 1958 Croydon phone book, but according to a planning application submitted on 25 April 1952 (viewed on microfiche at Croydon Council offices, ref A350) the name was already in use by that date. This application is for replacement of the existing shop sign with a new one placing "particular emphasis on the fact that the premises contain the West Croydon Post Office (Sub)" because "Frequently the public is directed to the General Post Office at considerable inconvenience, because they are unaware of the Sub Post Office in our premises."
D & R Edenborough is listed in Croydon phone books up to and including the August 1970 edition. It doesn't appear at all in the August 1971 edition, and Caravaire Cleaners Ltd is listed at 38 London Road in its place.
A July 1970 planning application for a new shopfront at 38 London Road (ref 70-20-1423) lists Caravaire Cleaners Ltd, 1449 London Road SW16 as the applicant. The August 1970 and August 1971 Croydon phone books list Flamingo Cleaners Ltd at this address. Various other planning applications relating to 38 London Road up to the end of the 1970s alternate between the names Flamingo and Caravaire.
Caravaire is listed in Goad plans and Croydon phone books up to and including the May 1996 Goad plan and the July 1996 Croydon phone book. The May 1997 and June 1998 Goad plans list "Kelvin d/c & ft/wr rep" [dry cleaning and footwear repairs], though the only dry cleaners called Kelvin listed in the July 1996, January 1998, and July 1999 Croydon phone books are in Coulsdon.
A planning application granted in October 1998 (ref 98-2023-P) includes a letter from Mr Mardan A Mahmood dated 25 August 1998, stating: "I am in the process of buying the above shop as a freehold shop and running it as a dry cleaning and a launderette shop, the exchange of contracts will be in the next few weeks." The accompanying officer's report notes that "Applicant wants to supplement use of dry cleaners (A1) with a laundrette (sui generis) by providing 8 washing machines + 3 dryers." The Croydon Cleaning Centre is listed in Goad plans from September 1999 to May 2004 inclusive, and Croydon phone books from January 2001 to 2004–2005 (published August 2004) inclusive (it doesn't appear in the July 1999 Croydon phone book, and the 2000 edition either doesn't exist or is missing from the Croydon Local Studies Library collection). Another planning application (ref 04-5298-P) dated 21 December 2004 is again from Mardan Mahmood, and states that the present use is vacant and the last previous use was as a launderette from 1988 to July 2004. ("1988" here may be a mistake in my transcription — I didn't have time to go back and check before this article was published.)
CIA "int cafe & comp serv" is shown on Goad plans from June 2005 and May 2006. CIA Printing "prt & phcpy" is shown on Goad plans from July 2007, August 2008, and August 2009.
Soran's actually predated CIA; it's shown as an inset on Goad plans from May 2004 onwards. There's still a barber in the same place today; it shares a street entrance with the Western Centre, but immediately after entering the building there's a door on the right leading into a glassed-off barber's shop while a corridor leads back past this to the Western Centre.
Name and details taken from a historical Google Street View image from November 2010. Western Centre (and Soran's Barber) is also shown on the May 2011 Goad plan, and I saw it there personally in November 2011.