18 London Road is the home of the Golden Chef's Grill, a traditional British cafe open throughout the day. It serves fry-ups, sandwiches, burgers, tea, coffee, and so on; though in something of a departure from the usual "greasy spoon", the premises are sparkling clean throughout, and soft drinks are served not in the can, but in a glass with ice and a straw.
This was one of the first places I ate out at after moving to West Croydon in mid-2011, and I still have quite a soft spot for it. The staff are friendly, the booths are comfortable, the mushrooms are nicely browned, the egg yolks are runny, and they've mastered the art of serving my favourite "very weak tea, even weaker than you think I mean".
1860s: George Robinson, Railway Cottages
The building was definitely constructed before 1868 — it's shown on the Town Plans surveyed in that year[1] — but I'm not sure exactly when. The first inhabitant might have been George Robinson, railway carpenter's foreman, in the early 1860s. He certainly lived on London Road, as the 1861 census gives his address as 1 Railway Cottages, London Road, and suggests that his neighbours were Henry Anscombe at 2 Railway Cottages and Robert Spearpoint at West Croydon Station. However, street directories from around this time[2] don't mention Railway Cottages — the Robinson and Anscombe households are simply listed as being on London Road, with no numbers — so I have only circumstantial evidence that 1 Railway Cottages did in fact later become 18 London Road.
I do find this evidence fairly convincing, though. Gray and Warren's 1861–62 street directory lists the first four occupants along the east side of the road from the station northwards as Robert Spearpoint at the Old Station House, then George Robinson, then Henry Anscombe, and finally Meredith & Co's Corn Stores. The Old Station House was demolished in the 1920s and replaced by the current numbers 12–14,[3] and number 16 wasn't built until after 1868.[4] I strongly suspect that Meredith & Co were at the current number 22 (and will provide an argument for this later in this series). If so, 1 and 2 Railway Cottages must have been the current numbers 18 and 20, respectively.
1870s–1890s: Mary Ann Kingsland, servants' registry office
In any case, if George Robinson did live here, he must have departed by the late 1860s. The first inhabitant of 18 London Road that I'm absolutely certain of is Mrs Mary Ann Kingsland, who lived here for nearly three decades from around 1869.[5]
Before moving to London Road, Mary Ann lived at 33–34 North End with her husband, Daniel Kingsland, where between them they ran a baker's/confectioners and a servants' registry office.[6] Daniel emigrated to New Zealand in 1868, taking some of his sons with him but leaving Mary Ann and her daughters in Croydon. Mary Ann then moved her household to 18 London Road, leaving the bakery trade behind but continuing with her servants' registry office and branching out with a dyeing and cleaning agency as well as an antiques dealership.[7]
Mary Ann Kingsland died at the age of 70, on 21 July 1897, leaving effects valued at a total of £171 to her daughters Charlotte Emily and Frances Hannah.[9] These effects included the freehold of 18 London Road,[10] and evidence from street directories suggests that Charlotte and Frances continued to run the servants' registry office there for a short while after their mother's death. However, 18 London Road was put up for auction in June 1898 (see sales particulars above), and Charlotte and Frances moved their business to newly-built premises a few doors up the road.[11]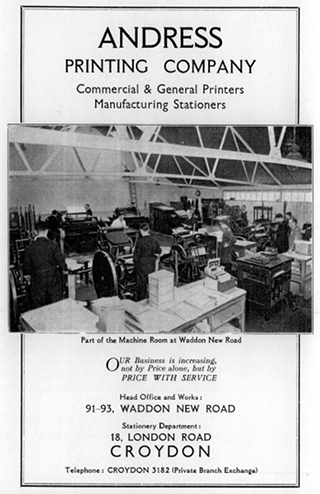 1900s–1930s: Andress Printing Company
The next business to move in to 18 London Road was a printing company, Andress & Co (later the Andress Printing Company). Andress is listed in Ward's street directories from 1894 onwards, first at 14 Derby Road[12] and then from 1902 at 18 London Road.[13]
During the Derby Road years, Andress was the publisher of the Croydon Review, a local newspaper which was established around 1880 and lasted to around 1895.[14] The publishers before Andress were James Sampson and Alfred Davey, who also operated from 14 Derby Road; it seems that Andress simply took over Sampson and Davey's business.[15]
While Andress definitely used its Derby Road premises for the actual printing, I'm not sure if 18 London Road was ever used for this, or if it was simply an outlet for their products. I do know that the print works were at 91–93 Waddon New Road from the early-to-mid 1930s, though the stationery shop remained at London Road until the late 1930s at least.[16]
The company changed hands around 1920, and the new owner kept the Andress name. It still exists today as Andress Printing Co Ltd, run by David Gordon, the grandson of the man who purchased it in 1920.[17] The Waddon New Road premises are long gone, though, demolished and replaced by new-build housing.
1950s: H E Howard & Co, domestic manufacturers
After Andress left London Road, number 18 was vacant for a while, as shown in my "Then and Now" photo of numbers 12–24. However, by the mid-1950s, the occupant was H E Howard & Co Ltd, listed in Kent's 1955 directory as "domestic manufacturers". I'm not entirely sure what a domestic manufacturer is (or was), though Blair's 1972 directory is a little more informative, listing H E Howard & Co as "domestic woodware manufacturers".
1970s–1980s: A series of short-lived businesses
After H E Howard, from the mid-1970s to the mid-1980s the premises were occupied by a series of short-lived businesses: Gulsons, Jivegate, Centview, and Elegant Electronics. These all sold the same sorts of things: TV/radio equipment, jewellery, "fancy goods", and gifts. Next came Scruples ladieswear, present by April 1986 but gone again a couple of years later.[18]
1990s: Gees Diner
In May 1989, planning permission was granted for "use of part of the ground floor and first floor as cafe".[19] This cafe was very likely the occupant shown in the March 1990 Goad plan: Gees Diner, listed as a restaurant but probably more of a cafe. This was also a fairly short-lived business, but one which set the stage for the cafe of today.
1990s–present: Star Express, Jenny's, Croydon Grill, and Golden Chef's Grill
The cafe at 18 London Road has now been run by the same family for over two decades.[20] The patriarch of this family, Mr Ozdemir, lived in Thornton Heath in the 1970s, and so regularly passed 18 London Road on his route to work at Texas Pancake on North End (where Pizza Hut is today). He moved out of the area for a while, but when he moved back around 1992–3, he took over the premises previously occupied by Gees Diner and set it up as a Star Express franchise.
After experimenting with a different franchise — Jenny's — the cafe finally went independent under the name Croydon Grill. Another name change, to Golden Chef's Grill, took place in the early 2000s and was accompanied by a revamped menu. The manager today is Yemen Ozdemir, son of the original owner; he started in the family business as a washer-up, and now runs the Golden Chef as a friendly and welcoming cafe, well-patronised by the people of West Croydon. Why not pop in for a cup of tea next time you're in the area?
Thanks to: David Gordon; Yemen Ozdemir; Brian Gittings; Stiles Harold Williams; the Planning Technical Support Team at Croydon Council; all at the Croydon Local Studies Library; and my beta-readers bob, Flash, and Kat.