As of 2013, 12 London Road is a branch of H&T Pawnbrokers, the pawnbroker and payday loan shop chain, and 14 London Road is a Ladbrokes betting shop. Given the intertwined history of these addresses, I've decided to cover them in the same article. Although now occupied by separate businesses, the premises were constructed as a single building, and the ground floors of both were initially used by a single business.
1920s: Demolition of an older building, and construction of the present one
The current building was constructed in the mid-1920s,[1] on a site previously occupied by a building associated with West Croydon station. The older building was originally the administrative offices of the London and Croydon Railway company, and later used as the stationmaster's house. It was eventually demolished in 1924, "to make room for improvements".[2]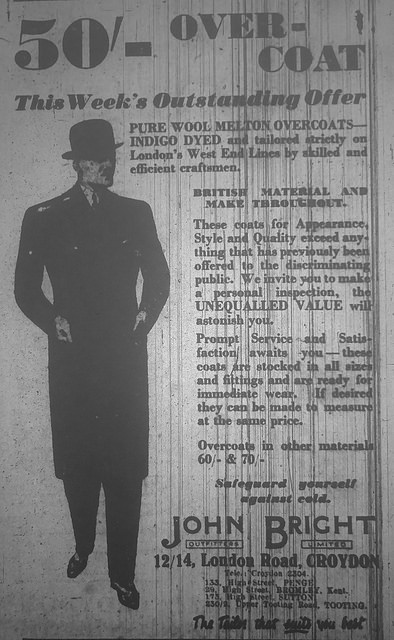 1920s–1930s: John Bright Outfitters and the Embassy Billiard Hall
The first business to move into the newly constructed premises was John Bright Outfitters, a men's clothing shop which seems to have occupied the whole of the ground floor. Upstairs was the Embassy Billiard Hall.[3]
John Bright remained here until the mid-1930s, when it moved a short distance down the road to the new parade of shops that had recently been built on the other side of West Croydon Station.[4]
1930s: N Davis, outfitters; Nu-Enamel; and Mason's Cooked Food Stores
The departure of John Bright signalled the splitting of 12–14 into two separate shops, with number 12 being taken over by another outfitters known as N Davis Ltd. This seems not to have lasted very long, as by late 1937 it had been replaced by a branch of the Nu-Enamel paint company.[5]
Nu-Enamel was an American company, based in Chicago but with over 600 retail shops in Britain. It specialised in paint based on tung oil, advertising its products as "unlike any paint you have ever used before". Some of its promotional material even included samples of painted metal for consumers to see how well it coped with wear:[6]
"Remove this piece of metal. It is coated with NU-ENAMEL. Bend it, twist it, fold it, hammer it. You will find that it will not check, crack, or peel. This test proves that NU-ENAMEL endures the most severe abuse."
Nu-Enamel departed London Road at the end of 1938. Both products and manager moved down the road to Allders department store, which now had "the exclusive representation for Nu-Enamel products in this vicinity".[7]
Meanwhile, at number 14, a period of vacancy was followed by the arrival of Mason's Cooked Food Stores, in place by early 1937 but gone again by the end of 1939. It seems plausible that this was a branch of Bromley Cooked Food Stores, which was located at 45 Mason's Hill, Bromley, and advertised "delicious cooked meats" along with "meat pies", pickles, and sauces.[8]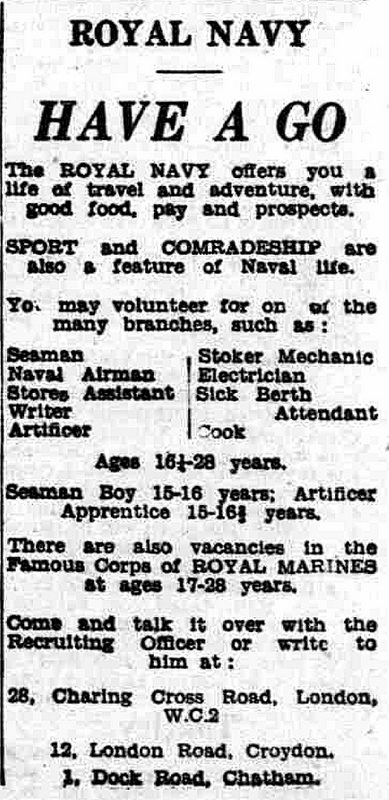 1940s–1970s: Military and governmental use
There's evidence that part of the building was used for military and/or governmental purposes in the 1940s to 1970s — a Royal Navy recruiting office in the late 1940s, the Ministry of Labour & National Service in the mid-1950s, an Army, WRAC, RAF, and WRAF recruiting office around 1960, and the Croydon North local offices of the Ministry of Pensions & National Insurance around 1970.[9]
The Ministry of Labour & National Service was on the ground floor at number 12, but my suspicion is that some of the later governmental use was mostly or entirely confined to the upper floor of the building, which has a separate entrance to the left of number 14.[10]
1950s–1970s: John Hood, dyers and cleaners, and Dixons Photographic
Meanwhile, John Hood, dyers and cleaners, had arrived at number 14 by 1955; and by 1960 this had been joined by Dixons Photographic at number 12. John Hood remained until the early 1970s, and Dixons persisted until the mid-1970s.
1970s–1980s: Sports shops, drug stores, and betting shops
John Hood was replaced by Wickham Super Stores, a "self service drug store" which was in place by mid-1971.
By mid-1977, number 12 was occupied by New Olympic sports shop, which moved here from numbers 158–162 just up the road. By 1980, New Olympic had become Billy Aird Sports Ltd, and number 14 had been taken over by Allans Drug Store.[11]
Number 12 continued as a sports shop for some time, although the name changed over the years from Billy Aird to Riverside Sports to Alan Ross Sports. Number 14, however, swiftly transformed to a betting shop. It had a brief stint in the early 1980s as John White betting office, but in October 1983 it became a branch of Ladbrokes, which it has remained ever since.[12]
Alan Ross remained at 12 London Road until the early 1990s, when it was replaced by a women's clothing shop called City Girls.[13] By 1999, the occupant was a Chinese medicine shop, initially called Herbary Chinese Medicine and later Herbs & Acupuncture.[14] This was still in place when I moved to West Croydon in mid-2011, and as I'm particularly interested in Chinese food, I shopped there a couple of times, though sadly I have no photographs of my purchases to show you. The most recent thing I bought from there was a packet of Chinese red dates, which I used to make eight-treasure vegetarian soup.
Herbs & Acupuncture closed in mid-2012, and was boarded up by the end of August (see photo). The premises didn't remain empty long, as by mid-October H&T Pawnbrokers was firmly ensconced.[15]
Today, as well as Ladbrokes and H&T Pawnbrokers, the building is home to a branch of the Universal Church of the Kingdom of God.[16] Members can often be seen standing on London Road offering leaflets to passers-by.
Thanks to: Henry Braun for additional research; Brian Gittings, John H Meredith, and John Parkin for use of their photos; Colin Withey for providing a scan of John H Meredith's photo; Ewan Munro for alerting me to the existence of the locally listed buildings website; Matthew Kiernan at Croydon Harriers for advice on placing a bet; Richard Royal at Ladbrokes plc; the Planning Technical Support Team at Croydon Council; all at the Croydon Local Studies Library; and my beta-readers Clare, Flash, and Kerry.