158–162 London Road is home to the Croydon branch of G T Stewart, a firm of lawyers specialising in criminal defence, prison law, housing law, and actions against the police.
1860s: Construction of the original building
Like many of the other shop premises along London Road, number 158–162 has been extended forward from the original building; in this case, a semi-detached pair of houses, built in the mid-1860s and named Eton House and Arundel House. I've already discussed Arundel House in my article on number 156, so here I cover Eton House, which was the northernmost of the two and thus located at the corner of Kidderminster Road.
1860s–1890s: A school for young gentlemen
By the end of the 1860s, the house was occupied by Eton House Academy, a "School for Young Gentlemen" run by William Owen. The school was home to around a dozen boarders; it's not clear whether it also accepted day students.[1]
In addition to his duties as schoolmaster, William also acted as precentor for St Saviour's Church. This church, which today is known as Holy Saviour, had another London Road connection in that its architect, Willoughby Mullins, lived at number 67–71 from the late 1850s to the early 1880s.[2]
Around 1889, William handed the school over to Charles Mullen, who had plenty of experience in running a school, as he had been "For 20 years Head Master of the late Fairfield House School, George Street". However, by the end of 1891 the school had moved up the road to number 580 and Eton House fell vacant.[3]
1890s: Walter Edward Bartlett, conductor, organist, and professor of music
The next occupant of Eton House was Walter Edward Bartlett, a conductor, organist, and professor of music who specialised in teaching "the Piano, Organ, Singing, Harmony, and Counterpoint". It isn't clear why he took a house in Croydon, as he had strong ties to Redhill which he retained throughout his time on London Road. He was musically active in Croydon too, however, not least as conductor of both the George Street Choral Association and the Birdhurst Glee Club.[4]
Walter and his wife Emily Jane arrived on London Road in 1893, and remained until around 1898. They then moved back to Redhill, where Walter not only continued to act as honorary conductor of the Reigate and Redhill Harmonic Society, but was also active in several public bodies including the Redhill and Reigate Conservators and the Redhill Literary Institution. He was elected as a councillor for Reigate's East Ward in November 1909, and continued to serve until his death on 2 March 1917 at Reigate and Redhill Hospital after a "serious illness" of "only about a month's duration".[5]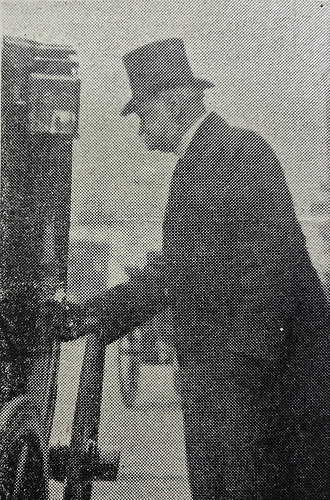 1900s: Henry Horsley
Walter and Emily were replaced by Henry and Sophia Horsley, who moved to Eton House around 1899 from number 76, just down the road. They remained until around 1907 before moving again, this time across the road to a house which has since been demolished but was on the site now occupied by Lidl.
Henry was a surgeon and general practitioner who worked at Croydon General Hospital; more information about him and Sophia can be found in my article on 76 London Road.
1900s: Extension and conversion to shops
Along with Arundel House (and Timpton House on the other side of the latter), Eton House was extended forward and split into shops around 1906–1907.[6]. Six shops in total resulted from this: Timpton House became numbers 152 and 154; number 156 was constructed where there had previously been a gap between Timpton House and Arundel House; Arundel House became number 158; and Eton House became numbers 160 and 162.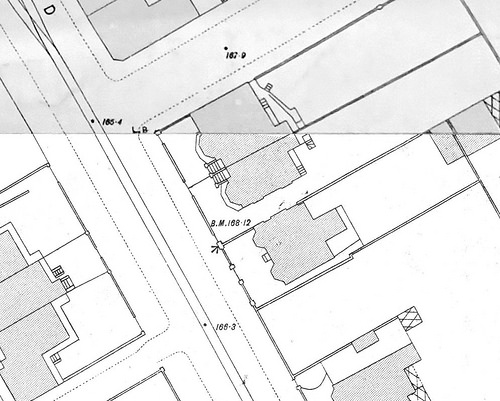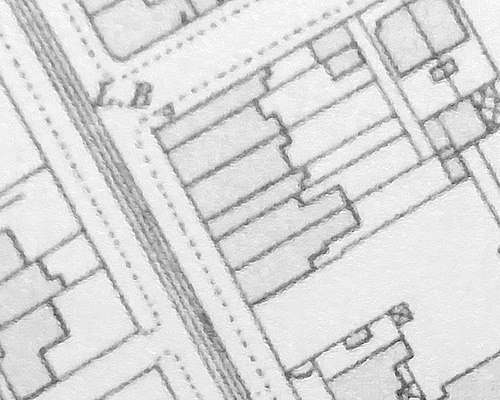 The reason behind this somewhat uneven-sounding distribution of numbering was related to the relative sizes of the three houses. Timpton House was wider than the other two, so its frontage was large enough for two shops. The gap between Timpton House and Arundel House was just wide enough for a single but rather narrow shop. Arundel House and Eton House were each a reasonable width for a single shop, but Eton House had acquired a side-extension at some point in the 1880s or 1890s, and so the original building became number 160 while the side-extension became number 162.[7]
1900s–1950s: Charles Roper and Edith Halford
Among the first occupants of the newly-formed six-shop terrace were Charles Roper and his sister Edith Halford, along with Edith's husband and children. Charles' oil and colour shop was open at number 162 by early 1908, and between them the siblings spent at least three decades as shopkeepers here, selling oils, paints, hardware, groceries, and fruit, first at number 162 and from around 1921 also at number 158. Charles and Edith both died in the mid-1950s, but the Halford family continued to run Roper's Stores, which by then had moved to 152 London Road, until the 1980s.[8]
1900s–1920s: G Hammerson, A Lewis, Frederick Stenning, F A Potter, Miss N Devey, C H Walker, and Hanscomb & Smith
Number 158 did not, of course, sit vacant before Charles Roper took it over in the early 1920s. Indeed, for the first few years of its life, its main occupant changed with roughly the same frequency as the year. G Hammerson, furniture dealer; A Lewis, stationer; Frederick Stenning, laundryman; and F A Potter, furniture dealer, all came and went between 1907 and early 1911.[9]
There was, however, some stability along with all this turnover. Twenty-something Nellie Devey was running a private school in part of the property by 1909, and continued to do so until around 1913. The school appears not to have taken any boarders, but Nellie herself lived on the premises along with her father Albert, a retired oil and colourman; her mother Sarah; and her brother George, a postman.[10]
It seems possible that the presence of the Devey family was in fact the reason why none of the shop proprietors stayed very long. At this period, many shopkeepers lived on the premises, but with the Deveys occupying most or even all of the living quarters, this would have been difficult or impossible at number 158.[11]
By 1915, number 158 was occupied by C H Walker, a furniture dealer who remained here until Charles Roper took over the property around 1921. Roper's Stores remained here until at least 1939, and by 1934 had also been joined by Hanscomb & Smith, a firm of decorators which was previously just down the road at number 113 (now the site of Lidl).[12]
1900s–1910s: James George Tytler, fruiterer and florist; and the Croydon Machine Company
Meanwhile, at number 160, fruiterer and florist James George Tytler was in place by early 1908. James lived on the premises along with his wife Henrietta Rebecca and their four children; Henrietta and the two older children also assisted in the business.[13]
By 1913, the Tytlers had been replaced by the Croydon Machine Company. An offshoot of the Croydon Furniture Company, this appears to have specialised in hire-purchase of household items from large to small. Mangles, wringers, laundry stoves, and bedsteads were on offer alongside clocks and cutlery, all "for Cash or Easy Terms".[14]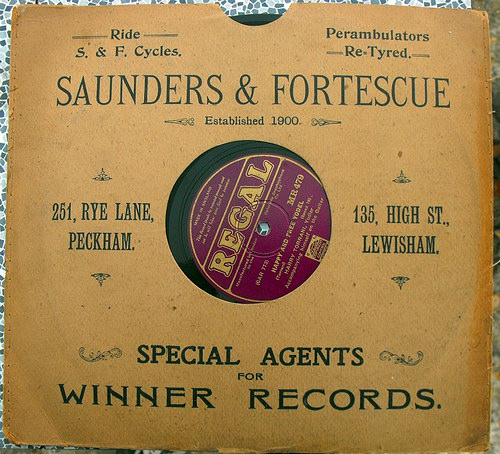 1920s–1930s: Saunders & Fortescue, P Hubbard, and Ogden Smith
Next to arrive at number 160 was Saunders & Fortescue, a firm of cycle dealers founded around the turn of the century. It opened its London Road branch around 1921, at which point it had at least two other branches; one on Rye Lane in Peckham, and another on Lewisham High Street.[15]
Although Ward's 1922 directory records Saunders & Fortescue as dealing simply in "Cycle Accessories", certainly at some points during its life the company had a rather broader remit, including the re-tyring of prams and the sale of actual bicycles as well as records and gramophone parts. It's not clear how much of this was carried on at number 160, however; the company only remained here for a year or so, and these activities may have been part of a later broadening of business.[16]
Despite spending only a brief time on London Road, Saunders & Fortescue set the scene for the next decade and a half. By 1923 it had been replaced by P Hubbard, which also dealt in cycle accessories, and by 1926 P Hubbard had in turn been replaced by Ogden Smith, listed in Ward's directories as "Cycle, Wireless & Sports" dealers and remaining until around 1937.[17]
1930s–1950s: H & C Davis & Co, Ltd
By early 1938, bicycles had given way to builders' merchants, as H & C Davis & Co, Ltd, expanded its operations to Croydon. Founded in 1840 and converted into a limited company in 1897, it had its main premises at 1 The Pavement, Clapham Common, as well as branch premises at Godalming, Gillingham, Eastbourne, Lewes, and of course Croydon. The firm advertised itself as "sanitary specialists / tile fireplace manufacturers / builders ironmongers / oil & colour, glass & wallpaper merchants / light constructional engineers & ornamental ironworkers etc".[18]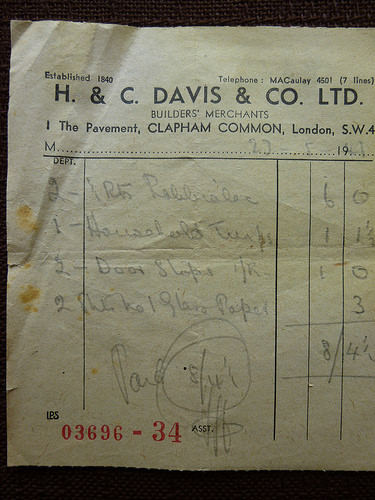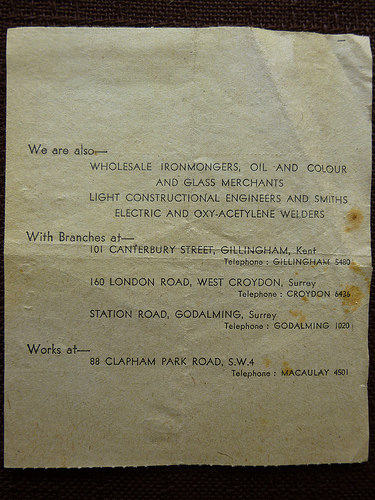 Further information on H & C Davis & Co can be gleaned from particulars published in The Times in 1948:[20]
"For over half a century the Company has been well known in the trade for the supply of complete ranges of fittings for all types of building work, including baths, basins, tanks, cisterns and sanitary equipment of all kinds, rainwater and soil goods, copper tube and fittings, lead sheet and pipe, heating and ventilating apparatus, general ironmongery, oils and colours. The Company also supplies fireplaces of its own design and manufacture, and is one of the pioneers in the development of fire escape staircases. During the recent war, when the activities of builders' merchants were seriously restricted, the engineering works were engaged mainly on Government contracts, including components for Bren Gun Carriers, armoured cars, Bailey Bridges and pontoons; also on steelwork for commercial vehicle manufacturers, which is still continuing."
By the end of 1953, H & C Davis had expanded from its original premises at number 160 to take in numbers 158 and 162 as well, thus laying a foundation for all the succeeding occupants. However, by 1957 it had departed London Road for good.[21]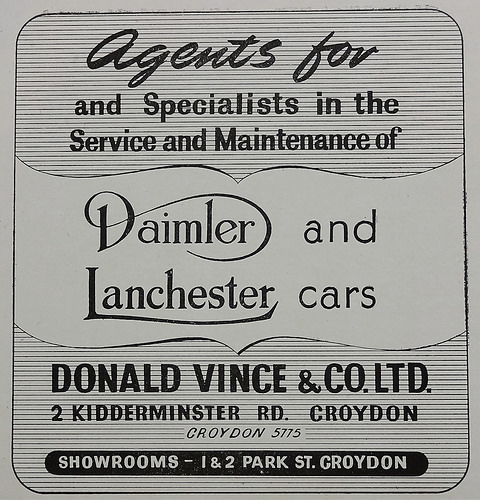 1950s–1960s: Donald Vince
The replacement for H & C Davis was Donald Vince, a car dealership specialising in vehicles manufactured by Volvo, Volkswagen, Fiat, and Daimler. Its service and maintenance department had been operating from around the back of the premises, just off Kidderminster Road, since at least 1932, but its showrooms were on Park Street, a good 10 minutes' walk away.[22]
The departure of H & C Davis gave Donald Vince the opportunity for a new showroom much closer to its works, and conversion of 158–162 London Road to a "motor showroom" with a shopfront and fascia in "mahogany, terrazzo, fluted asbestos sheets and glass" was complete by March 1957.[23]
Donald Vince continued to trade here until the end of the 1960s. However, on 11 March 1971, an Extraordinary General Meeting held at the premises passed a resolution that "it has been proved to the satisfaction of this Meeting that the Company cannot by reason of its liabilities continue its business [...] and accordingly that the Company be wound up voluntarily."[24]
1970s: New Olympic Sports Centre
By mid-1973, the premises were in use as a sports equipment shop. This seems to have had at least one change of ownership, but by mid-1974 was going under the name of New Olympic Sports Centre. It remained here for just a couple of years before relocating down the road to smaller premises at number 12 around 1976.[25]
1970s–1980s: Westminster Audio Centre
Next to arrive was Westminster Audio Centre, which dealt in radio, television, and hi-fi equipment. This was in place by mid-1977, but like New Olympic only lasted a short time and was likely gone by the end of 1981 if not earlier.[26]
1980s: Interseal 2000
The swift turnover of businesses during the 1970s may have been due at least in part to the size of the premises. A planning application to change the use of the building to offices, deposited in March 1981, stated that "Due to trading difficulties it is found that the area is not one which can support this size of retail unit. The property has been actively marketed since August 1980 and no offers have been received for retail use in this time although interest has been shown for future use as offices."[27]
JavaScript and Flash player required
This piece of content is embedded using JavaScript and Flash. If you are unable to access it in this way, you can
download it directly
instead.
Nevertheless, by 1982 an occupant had been found: Interseal 2000, a firm of double glazing manufacturers which had its head office on the North Circular in Park Royal.[28] Little or none of its printed advertising material seems to have survived, but I include here one of its radio advertisements from 1981, clipped by permission from Geoff Lumley's collection of LBC News Radio snippets.[29]
A transcription is below for those unable or unwilling to listen to the clip, though this can't come close to giving the full effect of the dramatic futuristic music.
Are your windows in distress? Send us out an SOS!
Seal it, save it, double-glaze it, with Interseal 2000!
9 – 6 – 1 – 2000! Ring 9 – 6 – 1 – 2000. In – ter – seal!
1980s–1990s: Keywest Insurance Brokers, Wagon Finance, and A To Z Couriers
By 1988, Interseal 2000 had been replaced by Keywest Insurance Brokers and Wagon Finance. Although these companies had the main ground floor shopfront presence, part of the building was also used by another company, A To Z Couriers.[30]
1995–2012: Croydon Council on Ageing/Age Concern Croydon/Age UK Croydon
In November 1995, however, 158–162 London Road was taken over by Croydon Council on Ageing, an "information and advice service for older people in Croydon" set up by a "small steering group of interested people from the Croydon community". This swiftly rebranded to Age Concern Croydon, in affiliation with the existing umbrella organisation Age Concern England.[31]
Age Concern England was originally set up during the Second World War to address various issues faced by older people. Older people were particularly vulnerable to the difficulties caused at home by the ongoing war; loss of family breadwinners, separation from other family members, and the lack of a proper welfare state all contributed to the situation. By 1944, the organisation was well established under the name of the National Old People's Welfare Committee (NOPWC).
In the succeeding decades, as government funding became available for work to improve the welfare of older people, the NOPWC acted as an umbrella organisation for local committees and groups. In 1971, it became fully independent of government funding and took a new name: Age Concern.[32]
Age Concern England merged with Help The Aged in April 2009 to form a new organisation known as Age UK, and the Croydon organisation rebranded itself along the same lines the following year. By November 2010, the frontage of the London Road premises had been updated with the new name of Age UK Croydon.[33]
Until late 2009, these were the only premises regularly used by Age Concern Croydon. However, in November of that year, the organisation opened a new office in Katharine Street, and this became its main public-facing centre; not only was the location more central, but the interview rooms and offices were "much nicer". The London Road premises were kept on for the time being, and mainly used for outreach projects.[34]
In November 2011, Age UK Croydon merged with the Thornton Heath Darby & Joan Club, a social club for older people with origins — like Age UK — going back to the Second World War. The Darby & Joan Club owned its own premises on Brigstock Road, with not only office space but also a hall for putting on activities. Age UK Croydon's London Road office was now considered surplus to requirements, and so the organisation departed West Croydon in May 2012.[35]
2013—present: G T Stewart
The next occupant of 158–162 London Road was a firm of solicitors which still remains there today. Founded in 2003 in East Dulwich, G T Stewart now has four branches within London as well as two others in Dartford and Leeds. It first expanded to Croydon in February 2011, taking premises at 270 London Road. Six months later, however, number 270 was destroyed in the August 2011 riots, taking so much fire damage that it had to be demolished along with its neighbours.
Undeterred, G T Stewart temporarily reallocated its Croydon staff to other branches, and began the search for new premises. Its current office at 158–162 London Road opened in February 2013 and remains there today, specialising in criminal defence, prison law, housing law, and actions against the police.[36]
Thanks to: Anna Hindmarsh of G T Stewart; Carole Roberts, for information on the Croydon Furnishing Co and Croydon Machine Co; Dave Harwood; Geoff Lumley; Irene Jordan of Age UK Croydon; Transpontine; the Planning Technical Support Team at Croydon Council; the staff, volunteers, and patrons at the Museum of Croydon; and my beta-readers Flash, Kat, and Selki. Census data and London phone books consulted via Ancestry.co.uk.
Footnotes and references
William Owen, School for Young Gentlemen, is listed in street directories from Warren's 1869 to Ward's 1889 inclusive. The name of the school is taken from a short article on page 4 of the 15 April 1876 Croydon Advertiser, which states that the secretary of the "Surrey Museum and Library at Croydon [...] acknowledges, with thanks, the receipt of £3 16s. as a donation from the pupils at Mr. Owen's Eton House Academy" (viewed online at the British Newspaper Archive; requires subscription). The 1871 census lists 13 boarders aged from 8 to 14, while the 1881 census lists 14 boarders aged from 7 to 12.
Information on William's position as preceptor is taken from the 1875 advertisement reproduced here. According to Brian Lancaster's Croydon Church Townscape, the church "was called St Saviour's until Holy Trinity became redundant in 1980 and the parish of Holy Trinity was dissolved" (p16). See my article on 67–71 London Road for more information on Willoughby Mullins.

Ward's directories list William Owen up to and including 1889, C Mullen in 1890 and 1891, and "Unoccupied" in 1892 and 1893 (note that the data for these directories was generally finalised late the previous year). Kelly's 1890 directory lists Chas. [Charles] Mullen. The 1891 census lists John H Mullen as a "School Master", along with his wife, seven daughters, father-in-law, and just one "Pupil". Quotation taken from the 7 September 1889 advert reproduced here; this is the earliest such advert I've found, and it would make sense for the changeover to have happened in the school summer holidays.

Regarding the move to number 580, Ward's directories list C Mullen, "Young Gen. Schl., Eton Ho." at number 322 (later renumbered to 580) in 1892; J H Mullen, "Young Gen. Schl., Eton Ho." in 1893, and "Eton House unoccupied" in 1894. The classified listings of professionals and tradesmen in the 1894 edition make no mention of any schools either run by a Mullen or with an address including Eton House.

I haven't been able to work out where Fairfield House School was; the private schools files at the Museum of Croydon have nothing relevant, and I can't find it in Ward's directories either. I also haven't been able to work out the relationship between Charles and John Mullen, nor which one of them the "20 years Head Master of the late Fairfield House School" claim refers to. Given that the claim was made in 1889, "Mr Mullen" must have been headmaster by 1869, but the only Charles Mullen I can find in Croydon in the 1871 census is an "Assist[ant] Schoolmaster" living with his widowed mother. The 1881 census lists John Mullen as a schoolmaster in Tooting (at a house called "Fairfield", and with a good match to the John Mullen listed at Eton House in the 1891 census); it seems possible that he is the 20-year "Mr Mullen" and moved his school from Tooting to Croydon at some point during the 1880s. However, birth announcements in the 6 November 1875 and 9 December 1876 Croydon Chronicle make reference to "the wife of C. Mullen" at "Fairfield House, Croydon", further complicating the picture.

Much of this information is taken from an advert on the front page of the 11 January 1895 Surrey Mirror (reproduced here). Note the reference to his work as honorary conductor of the Redhill and Reigate Harmonic Society; this is also mentioned in various other sources before and after his time on London Road, including an article on page 5 of the 28 January 1888 Surrey Mirror (which also states that at that time he was "organist of St. Mark's, Reigate") and an advert on the front page of the 28 April 1911 Surrey Mirror. Other indications of his continuing connection with Redhill come from articles on page 8 of the 9 February 1895 Sussex Agricultural Express and page 3 of the 13 December 1895 Surrey Mirror, which confirm that during his time on London Road he was on the committee of the Redhill Literary Institution and a Brother of (and organist to) the Royal Albert Edward Lodge of Freemasons (No. 1362, Redhill).

Ward's directories list W E Bartlett, professor of music, at 60 London Road (later renumbered to 160) from 1894 to 1898 inclusive; from 1896 onwards they also include his qualification as F.C.O. (Fellow of the College of Organists). Walter's obituary on page 5 of the 9 March 1917 Surrey Mirror states that "In 1893 he moved to Croydon, but returned to Redhill six years later." The 1891, 1901, and 1911 censuses show him and Emily living in "Reigate"; however, as far as I can tell, they were actually in Redhill. The 1901 and 1911 censuses give their address as 33 London Road, and although Reigate also has a London Road, scrolling back through the census entries reveals an intersection with Linkfield Lane, which exists in Redhill but not in Reigate (see for example the 1895 Ordnance Survey Surrey Sheet XXVI.SE). Moreover, these two censuses also describe their children as having been born in Redhill (or "Red Hill" in the case of 1911).

Walter and Emily's full names are given in both their marriage announcement on page 4 of the 17 April 1884 Gloucester Citizen and in Walter's entry in the National Probate Calendar. Walter's date and place of death are given in several sources, including his National Probate Calendar entry and the abovementioned obituary. The two short quotations about his illness are taken from an article on page 4 of the 2 March 1917 Surrey Mirror and from his obituary, respectively. Information on his work as a councillor, with the Redhill and Reigate Conservators, and for the Redhill Literary Institution is taken from his obituary. See previous footnote for information on his position as honorary conductor of the Redhill and Reigate Harmonic Society (though his obituary describes him slightly differently as "the conductor of the Redhill Harmonic Society for a quarter of a century").

See my article on 152 London Road for more on the extension and splitting of these buildings.

Note that in this paragraph I am using modern numbers. In the early 1900s, when all this extension took place, these shops were numbered 56, 56a, 58a, 58, 60, and 60a; they were renumbered to 152–162 in 1927.

I'm not sure exactly when the side-extension to Eton House was built. It's absent from the 1880 Ordnance Survey map and present on the 1896 Town Plans, but I've not been able to narrow it down any more closely. However, I suspect it was built during the years of Eton House Academy, rather than during the tenure of Walter Bartlett.

See my article on 152 London Road for the full story of Charles and Edith. Between them, they accounted for 158 London Road from around 1921 to at least 1939, and 162 London Road from around 1907 to at least 1939. I haven't been able to find out exactly when Roper's Domestic Stores and Edith Halford's fruiterers departed numbers 158 and 162, nor whether there was anything else there between the time when they departed and the early 1950s, when H & C Davis & Co amalgamated 158, 160, and 162 into a single premises (see later in article).
Ward's directories list G Hammerson, furniture dealer, in 1908; A Lewis, stationer, in 1909; Frederick Stenning, laundry, in 1910; F A Potter, furniture dealer, in 1911; and Albert Devey along with Miss N Devey, school, in 1912.

Ward's directories list Miss N Devey, school, from 1909 to 1913 inclusive, in some cases alongside the other businesses mentioned above. Nellie's full name is taken from the 1911 census, which gives her age as 30. Her family's names and professions are also taken from this census (her mother's profession is given as "Housewife"); only the family are listed here, with no boarding students.

This was not the first use of the premises as a school; before the turn-of-the-century shop conversions, Arundel House (which as mentioned above was extended to create number 158) had been home to the West Croydon School, a day school for boys run by John Neech. More information on this, and on the rest of the pre-conversion history of Arundel House, can be found in my article on 156 London Road.

The 1911 census records that the Deveys occupied 7 rooms; the printed form instructs the occupier to "Count the kitchen as a room but do not count scullery, landing, lobby, closet, bathroom; nor warehouse, office, shop." It's not possible to compare this directly with the number of rooms available before the conversion to a shop, since the 1901 census only records the number of rooms in cases where this number is less than 5. In order to try and work out how many rooms Arundel House had pre-conversion, I did some calculations for other comparable houses on London Road, to work out the ratio between number of rooms in the 1911 census and footprint of house on the 1896 Ordnance Survey map, and then extrapolated these to Arundel House via its footprint on said map. Unfortunately the result was not entirely helpful, as I concluded that Arundel House had between 6 and 13 rooms — a rather wide range. It should also be noted that a major limitation of this method is the lack of information on number of storeys for any building other than Arundel House itself, as all of the houses that seemed suitable for comparison have since been demolished. Hence I don't know if the Deveys did in fact occupy most of the building.
Ward's directories list number 58 (i.e. the modern 158) as unoccupied in 1914; C H Walker, furniture dealer, from 1915 to 1921 inclusive; Roper's Hardware Stores from 1922 to 1930 inclusive; Roper's Domestic Stores in 1932; and Roper's Domestic Stores along with Hanscomb & Smith, decorators, in 1934, 1937, and 1939. I haven't been able to find any other information about C H Walker. Ward's directories list Hanscomb & Smith at number 113 (83 pre-1927) from 1898 to 1932 inclusive.
Ward's directories list J G Tytler, fruiterer and florist, from 1908 to 1912 inclusive. The 1911 census gives James' full name, along with that of his wide, and states that Henrietta, Dora Constance (aged 18), and Ruby Violet (aged 17) were all "Assisting in the business". Leonard James (aged 14) and Bernard Horace (aged 12) were still at "School", while James' widowed father, James George senior, was a "G.P.O. Pensioner".
Ward's directories list the Croydon Machine Co [Company] from 1913 to 1921 inclusive. Example items and quotation are taken from an advert on the front page of the 14 May 1901 Surrey Mirror (reproduced here).
Saunders & Fortescue, Cycle Accessories, is listed in Ward's 1922 directory. Saunders & Fortescue, "Cycle Accsry Dlrs" [Cycle Accessory Dealers] appears at 251 Rye Lane SE15 and 135 Lewisham High Street in the October 1920 London phone book, and is still at both addresses in the April 1922 edition. As far as I can see, October 1920 is the company's first phone book appearance. Its date of founding is taken from the two record sleeves referenced in the next footnote, both of which state "Established 1900".

Evidence on the sale of bicycles comes from an auction listing of "A RED PAINTED DAWES RACING BICYCLE originally supplied by Saunders & Fortescue" and the description of an item in a collection of cycle manufacturers' catalogues at the Warwick University Modern Records Centre: a "Saunders, Fortescue & Co" "leaflet showing S&F bicycle range and accessories (donated by Phil Saunders), early 20th century."

Information about Saunders & Fortescue's other activities is taken from advertising on two record sleeves. The one reproduced here, from the collection of Richard Sanderson, urges the reader to "Ride S. & F. Cycles" and offers the opportunity to have one's "Perambulators Re-Tyred". Another, listed in an eBay auction (see larger version), uses the name "Saunders, Fortescue & Co", gives the name of the "Proprietor" as "Mrs. E. Saunders", and advertises "Columbia, Regal-Zonophone, [...]mperial-Broadcast, Rex, Decca, and other Records" as well as "Garrard and Collaro Gramophone Motors", with "Vulcan Main Springs & all Spare Parts in Stock".

Note that despite the abovementioned exhortation to "Ride S. & F. Cycles", I haven't found any evidence that Saunders & Fortescue manufactured their own bicycles. The firm is not listed in Ray Miller's Encyclopaedia of Cycle Manufacturers: The Early Years up to 1918 (though it's possible it started manufacturing at a later date than the period covered by Ray's research).

Ward's directories list P Hubbard in 1923, 1924, and 1925, and Ogden Smith from 1927 to 1937 inclusive.

H & C Davis & Co, Ltd, "Engrs, Bldrs' Mchts", is listed at 160 London Road in London phone books from February 1938 onwards. A 1941 receipt supplied by Dave Harwood (images reproduced here) lists branches in Gillingham and Godalming, while Company particulars published on page 8 of the 11 October 1948 Times also mention branches at Eastbourne and Lewes. Date of establishment and conversion to limited company are taken from these company particulars. Quotation is taken from headed notepaper used in a letter from H & C Davis & Co to Croydon's Borough Engineer, which formed part of a 1938 planning application (ref 38/236, viewed on microfiche at Croydon Council offices).

It's not clear whether H & C Davis & Co had any connection with the H C Davis & Co whose coalhole covers can be seen in various areas of London including Westminster Bridge Road and Alexander Square. H & C Davis & Co do seem to have made drain covers, according to a photo by Geoff France, but it seems odd for the ampersand to go missing.

Company particulars published on page 8 of the 11 October 1948 Times
A planning application for "Alterations", approved on 29 September 1952 and completed by 7 December 1953, shows H & C Davis & Co Ltd signage across all three shopfronts (ref 52/659). It isn't clear whether these "alterations" were the original knocking-through of three shops into one, but this does at least give an upper bound on the date. H & C Davis is listed at 160 London Road in phone books up to and including the 1956 Croydon edition. According to a Croydon Council notation on a later planning application (ref 56/601), work to convert 158–162 to a "motor showroom" was complete by 7 March 1957.
Ward's directories list Donald Vince & Co Ltd on Kidderminster Road (with no number, but between the junctions with London Road and Lennard Road) in 1934, 1937, and 1939 (1939 was the final edition of these directories). London phone books list it on Kidderminster Road from May 1932 onwards. Prior to this, the Kidderminster Road premises were occupied by Allsop & Wagner, which also traded as tobacconists and warehousemen (see, for example, Ward's 1932 directory and the February 1931 London phone book). Donald Vince is listed on Park Lane in the September 1930 London phone book, and a comparison between Ward's 1930 and 1932 directories shows that it took over those premises from Jacksons of Croydon, "Motor Car Agents & Repairers".
Donald Vince & Co Ltd, "Motr Engrs" [Motor Engineers] appears at 158 London Road in phone books from the Croydon 1957 edition onwards (note that these phone books generally only showed a single street number even for businesses spanning multiple shopfronts). Quotations are taken from a planning application for "Alterations to form motor showroom" (ref 56/601), which is marked completed as of 7 March 1957.
London Gazette, 2 April 1971, page 3232. Donald Vince & Co Ltd is listed on London Road in phone books up to and including the September 1969 Outer London: North East Surrey edition.
A planning app 73/20/1870 for "Internal alterations, use of ground floor as sports equipment shop [etc]" (ref 73/20/1870) states that the present use is "as applied for (existing before present ownership)", and a report by a Council officer notes that as of 21 July "shop is now a retail sports equipment shop". Croydon phone books list New Olympic at 158 London Road from July 1974 to January 1976 inclusive, and at 12 London Road in July 1977.
Westminster Audio Centre, "Radio TV, Hi-Fi" is listed in Croydon phone books from July 1977 to February 1981 inclusive. See also the March 1981 planning application referenced in the next footnote.
This planning application (ref 81/20/696) was deposited in March 1981 and granted in May 1981, though it's not clear whether the permission was taken up.
Interseal 2000, "Double Glaz Mfrs", is listed at 158 London Road in Croydon phone books from 1982 to 1987 inclusive. The 1983 London phone book lists the company as "Wndw, Door Mfrs" at Interseal Ho[use], North Circular Rd, NW10 (I don't have access to the E-K volume of the 1982 edition).
A couple of sources suggest that Interseal 2000 also ran radio adverts using the tune of George Formby's "When I'm Cleaning Windows"; see a comment by chinchin on the Digital Spy forums and a short article on radio advertising written by Phil Woodford.
Croydon phone books list Keywest Insurance Brokers and Wagon Finance at 158 London Road in 1988 and 1990; the former is also listed further up the road at number 838. A Council officer's report on a planning application for "Illuminated fascia signs" for Keywest and Wagon Finance, deposited on 15 January 1988 and approved on 17 March of the same year (ref 88/021/A), states that a "Site visit reveals signs already in place". Croydon phone books list A To Z Couriers Ltd at number 158 in 1988, not at all in 1990, at number 431 in 1992, and back at number 158 from 1993 to 1998 inclusive.
Information on date of origin of Croydon Council on Ageing, and quotations describing it, taken from the history page on the Age UK Croydon website (accessed 1 June 2017). Irene Jordan of Age UK Croydon confirmed to me that it was at 158–162 London Road from the start. Irene wasn't sure when the rebrand to Age Concern Croydon took place, but Croydon phone books list Age Concern at 158 London Road from the July 1996 edition onwards. (Information from Irene Jordan provided via email, 31 May and 1 June 2017).
Information about the history of Age Concern England is taken from the History page on the Age UK England website (accessed 2 May 2017). While the London Road offices were occupied by the local group Age Concern Croydon, Age Concern England itself had offices further up London Road at number 1268, also known as Astral House.
Information about the merger with Help The Aged is again taken from the Age UK England history page. According to the Age UK Croydon history page, the Croydon organisation's rebrand took place in July 2010. See Google Street View imagery from July 2008 (Age Concern branding) and from November 2010 (Age UK branding).
Date of opening of Katharine Street offices taken from the Age UK Croydon history page; other information and quotation provided by Irene Jordan.

According to an article on page 2 of the 18 December 1942 Times, the Darby & Joan Club founded at 16 Leigham Court Road, Streatham, on 17 December 1942, was probably the first of its kind. It was open every day, provided a two-course hot meal for 8d (£1.44 in 2016 prices), and had facilities including "comfortable lounges, reading and rest rooms, a small billiard table, bathrooms, and an advice bureau to assist with the knotty problems of old-age and supplementary pensions".

Dates of the merger with the Thornton Heath Darby & Joan Club and the move to Brigstock Road are taken from the Age UK Croydon history page. Information on the Darby & Joan Club's ownership of the Brigstock Road premises and the availability of an activity hall there provided by Irene Jordan. Irene also mentioned that parking was easier in Thornton Heath. (See also archived version of announcement on the Age UK website at the time of the move.)

Information on G T Stewart supplied by Anna Hindmarsh (via email, 4 May 2017 and 10 May 2017), supplemented by the history page on the G T Stewart website (accessed 5 May 2017).