Barnes Harrild & Dyer, a firm of solicitors specialising in immigration law, has been established at 76 London Road for over three decades now.
1873: Construction of the building
The building was constructed in 1873 on land which had previously formed part of the Oakfield Estate. The last owner of the estate, Richard Sterry, died in February 1865, and although his house — Oakfield Lodge — was retained, and later became Croydon General Hospital, most of the grounds were divided up and auctioned off in small lots. Of the plots fronting on London Road, the first to be developed was the one which became numbers 60–62, built in 1866 or 1867. Next came number 68, in place by 1872, and then numbers 76 and 78, built in 1873.[1]
1870s–1890s: Henry Horsley's surgery
The first occupant of number 76 was a surgeon and general practitioner named Henry Horsley. Born in Kennington in 1838, he trained at Guy's Hospital and qualified as MRCS (Member of the Royal College of Surgeons) and LSA (Licentiate of the Society of Apothecaries) in 1859.[3] By the mid-1860s he was living and practising at 24 North End, and on 16 August 1870, at the age of 31, he married 25-year-old Sophia Frances Lovell at St Saviour's Church. He and Sophia moved to London Road by 1876, and by 1881 they had 5 children aged between 7 months and 9 years.[4]
Henry initially worked with another surgeon named Alfred George Roper, though this partnership was dissolved in 1879. He practised both at home, and as a surgeon at Croydon General Hospital.[5] Indeed, one might wonder whether he chose to live here precisely because of its proximity to the hospital, which moved to the old Oakfield Lodge around the same time Henry moved to number 76.[6]
Henry and Sophia remained here for over two decades before moving up the road to number 160 around 1899. Henry changed his role at Croydon General at this time too, moving from surgeon to consulting surgeon. He continued to practise medicine at home, assisted by his daughter Caroline.[7]
The family moved again around 1907, to a house which has since been demolished but was on the site now occupied by Lidl. They remained here until around 1916, when they moved to Poplar Walk.[8]
Henry died on 8 November 1921, having lived to the age of 83. His obituary in the British Medical Journal described him as "one of several noteworthy characters pre-eminent for their ability and exceptionally high code of ethics [...] all of whom in their day were ardent supporters of the British Medical Association and all the best it stands for. All who knew him will agree he was a credit to his hospital and to his profession."[9]
1900s–1910s: E & J Stubbings
Following the Horsleys' departure from number 76 came the arrival of a drapers and costumiers known as E & J Stubbings, previously located just across the road.[10] This was a family-run business, with siblings Elizabeth, Mary, Emma, Jane, and Matthew all living on the premises and all involved in the running of the shop. It's not clear precisely which two Stubbingses the shop was named after, but Emma and Jane seem most likely, as Elizabeth was a widow and hence had a different surname.[11]
Matthew's wife Emily and son John were also in residence. Matthew died in March 1911, leaving Emily as a young widow with four children; however, she continued to live with her sisters in law, and the latter continued to operate the drapers shop.[12]
The family finally departed London Road around 1913, moving to 57 Dingwall Road. Although Emma died in August 1917, the costumiers business continued at Dingwall Road under the name of E & J Stubbings until around 1925.[13]
1920s–1930s: Eittols, J Sokolov, Harris & Co, and M & K Modes
The property fell vacant after the departure of E & J Stubbings, interrupted only briefly by the arrival of a temporary Army Recruiting Office around 1916 and a short-lived Salvation Army Office around 1917.[14] By 1920, however, a ladies' and children's outfitter named Eittols was in place. Also trading under the name Bon Marche, this remained until around 1923, when it was replaced by a ladies' costumier known as J Sokolov. J Sokolov remained until around 1927.[15]
By 1929, the shop had been taken over by Harris & Co, costumiers. This in turn was replaced in the mid-1930s by M & K Modes, likely another clothing shop, in place by 1937 but gone again by 1939.[16]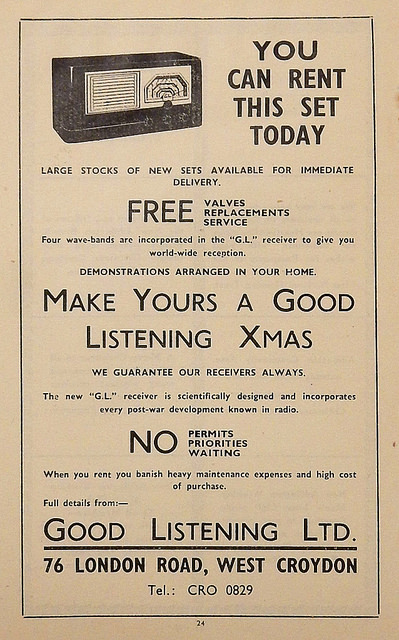 1940s–1970s: Good Listening
Little information survives about any of the clothing shops mentioned above, and it's also unclear whether the premises were occupied — and, if so, by what — during the early 1940s.
However, by December 1946, 76 London Road was home to Good Listening Ltd, a Bournemouth-based radio rental company that was set up at the end of the Second World War by two ex-radio technicians. It had other London branches in Harlesden and Romford, and also later in Hounslow and Palmers Green.[18] It offered demonstrations in one's own home, free of charge and of obligation, and promised that "[v]alves, replacements and all service are provided free of charge".
Its standard model as of early 1948 was a "5 Valve, 4 Waveband Superhet Receiver in ultra modern black and cream cabinet", available for an initial payment of 25 shillings, plus 4 shillings and 3 pence per week "reducing annually" (corresponding to £40.59 and £6.90, respectively, in 2014 prices).[19]
Good Listening later expanded its operations to TV rentals, and by the mid-1960s was advertising "The most exciting range of sets ever offered!" with its "De Luxe" range "completely tuned ready to receive [...] the new BBC 2 programme as well as the existing BBC 1 and ITV 1 transmissions [...and...] equipped to receive any new additional ITV programmes in the future." The customer was urged to "Be a TWO TV man", with "No more arguments over which programmes to watch", as a discount was offered for those renting more than one set.[20]
The company continued in existence — and continued at 76 London Road — until the late 1970s. However, it was bought by Rediffusion around 1978, and the London Road branch closed down shortly after.[21]
Early 1980s: Moore Vaughan Maclean & Partners
In December 1978, Moore Vaughan MacLean & Partners — an engineering firm which already had premises next door at number 78 — applied for planning permission to convert all four floors of number 76 from a shop (and shop storage) to offices.
Permission was granted by Croydon Council in February 1979 on the condition that "A window display shall be provided and maintained" on the ground floor. Another planning application, submitted in July 1979 and approved a month later, requested permission to alter the frontage of number 76 to match their existing offices at number 78.[22] The firm was in place by April 1980.[23]
Early 1980s: Bookmaking
It's unclear how long Moore Vaughan MacLean & Partners retained its extension to number 76 before retrenching to number 78 alone, but it appears to have been no more than a couple of years. By 1983, number 76 had become a betting shop. However, this too only lasted a short while.[24]
1983–present: Barnes Harrild & Dyer
On 3 October 1983, the new firm of Barnes Harrild & Dyer, solicitors, opened its practice at 76 London Road. Initially the firm had no particular specialisation; like most high-street solicitors at the time, it would take on pretty much any type of work that came through the doors. Cases included criminal defence, family work, landlord/tenant disputes, and employment cases.
Over the subsequent three decades, however, as with other high-street firms, there came a growing need to specialise. The arrival of a new partner in 2002 sparked the creation of an immigration department, which received its franchise for legal aid in September 2002. The firm took on more and more immigration work over the years, and is now a full specialist in immigration and related issues.
Of the three original partners, the only one remaining is Michael Dyer, who no longer does any court work and plans to retire on 30 September 2015. However, he will remain involved in the business, and the firm will continue under the guidance of the newer partners who have joined over the years. With more than three decades on London Road, and having bounced back from substantial damage in the August 2011 riots, Barnes Harrild & Dyer seems set to stay for the long term.[25]
Thanks to: Alan Stepney; Michael Dyer; the Wellcome Library; the Planning Technical Support Team at Croydon Council; all at the Croydon Local Studies Library; and my beta-readers Alice, Flash, and Henry. Census data and London phone books consulted via Ancestry.co.uk. Medical Directory consulted at the Wellcome Library.