MBM Halal Meat at 51–53 London Road has a rather curious address — why is it a double number, when it's clearly only a single shopfront?
1850s–1860s: Construction of the building, and use as a private home
The building was constructed between 1853 and 1855 as part of a small terrace with numbers 55 and 57; numbers 31–37 on the other side of Mead Place were also built around the same time. Like its neighbours, it was originally a private residence with no attached shop.[1]
The first resident was a solicitor called William Francis Ellaby.[2] He may have been the William Francis Ellaby who married one Susanna Tarrant in South Lambeth on 30 August 1853; if so, he was the son of a clergyman, and his wife was the daughter of a "gentleman" (i.e. a person with an independent income and hence no need for a profession).[3]
William Ellaby was replaced around 1860 by a mother and daughter, both named Mary Ann Abraham. The mother was a widow in her 50s, and her daughter was in her 30s and unmarried. Both had independent incomes.[4] The Mary Anns remained at the premises until at least the mid-1860s, but moved to Oakfield Road by the end of that decade.[5]
1870s: a school for young ladies
By April 1871, the era of private residence was over, and the new occupant was a "Young Ladies' School" run by Eleanor Durrant. There was at least one teacher aside from Eleanor — Sarah Ann Thomas — plus a cook and a housemaid. The school had 10 boarders ranging in age from 8 to 16.[6]
Before moving to Croydon, Eleanor had previously run a school in her birthplace of Great Coggeshall in Essex; and here, too, she had had the assistance of Sarah Thomas.[7] By 1872, Sarah herself was running the Croydon school,[8] but by 1878 she had moved the school to different premises on Dingwall Road.[9]
late 1870s: Thomas George Newton, engineer and ironmonger
The young ladies' successor at 51–53 London Road was Thomas George Newton, an engineer and ironmonger who was previously situated on the other side of the road at number 28. Originally arriving on London Road around 1872, Thomas Newton moved to this address some time between 1876 and 1878.
There is perhaps an initial clue here as to the somewhat confusing numbering of today (i.e. 51–53 being a single shop). The 1881 census makes a clear division between the Newton household[10] at number 20 in the then-current numbering, and a separate "shop only" at number 20a. This is the first appearance of "20a" as distinct from "20".
The "shop" may have been Rush's stationery shop, listed at 20a in Ward's 1880 directory (in which Thomas Newton also appears at number 20). It seems likely that Thomas Newton had a shop on the ground floor and his living quarters on the first floor, while Rush's stationery was on the second floor.[11]
1880s: Samuel Page, butcher
After Thomas Newton departed in mid-to-late 1881, the scene was set for what was to become one of the more dominant businesses of the building's history — butchery. Samuel Page, a butcher who also had premises further up the road at numbers 255–257, was in place by 1882 and remained until around 1893.[12]
1890s: J Martin Combridge, butcher
Next came another butcher — J Martin Combridge, in place by 1894 but gone again by 1897.[13] This appears to have been some kind of chain, as Ward's directories list a resident manager of a different name; E Wells in 1894 and 1895, and H W Parker in 1896.
1890s-1900s: Ainslie Bros, butchers
The third butcher to take over the premises was most definitely a chain. Ainslie Bros was open on London Road by 1897, at which point it also had branches in Canterbury, Margate, Ramsgate, and most likely many other places.[14] By the time it departed, around 1911, it had at least six branches in London alone.[15] According to meat-trade historian Norman Finnimore, the company "ran up to 60 shops in the Kent, Sussex, Surrey area" and "also had several whole sale depots dealing in imported meat".[16]
early 1910s: W V Smith, dining rooms
A short period of vacancy followed, before the building was taken over by William Vincent Smith's "dining rooms". The proprietor of this establishment was a Justice of the Peace; but I've been unable to discover anything about his business except that it arrived around 1912 and was gone again by 1915. Given the timing, it seems possible that the First World War was responsible for its demise.[17]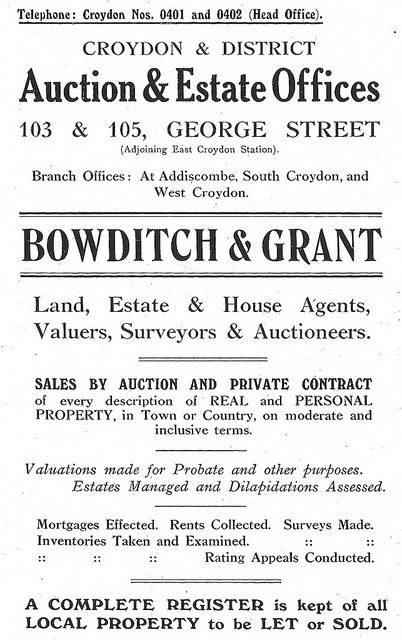 1910s-1930s: Bowditch & Grant, and the 1927 renumbering
By 1916, the Croydon firm of Bowditch & Grant had made its first appearance at the premises.[18] Established in the late 1880s,[19] by the time it arrived on London Road this firm was advertising itself as "Land, Estate & House Agents, Valuers, Surveyors & Auctioneers".[20] Its main office was adjacent to East Croydon Station, and there were branches on London Road, Lower Addiscombe Road, and South End.
It's unclear how Bowditch & Grant shared the premises with the several other businesses listed here during its tenure, which included Percy Holt, solicitor, as well as a servants' registry office, a sign writer, a "financier", a photographer, and a coal merchant.[21]
However, this period may provide another clue to today's unusual addressing of the property with a double number for a single shopfront. When Bowditch & Grant arrived at the premises, its address was given in Ward's street directories as 39 London Road. Charrington's coal merchants appeared alongside a few years later with the address of 39a London Road. The 1927 renumbering then placed Bowditch & Grant (and various other occupants) at number 51 and Charrington's at number 53.
It thus seems likely that when the details of the 1927 renumbering were finalised, there was already a separate side entrance to the upper floors, and the decision was made to give this its own street number. It's also likely that number 51 referred to the first and second floors, and number 53 referred to the ground floor, which puts Bowditch & Grant et al. upstairs and Charrington's on the ground floor.[22]
Bowditch & Grant's West Croydon branch remained at the premises until the mid-1930s, and then moved to 14 Station Road, just behind West Croydon Station.[23]
late 1910s: Percy Holt, solicitor
It's worth going further into the story of the abovementioned solicitor. The name of Percy Holt may be familiar to those who've seen the plaque for Percy Holt & Nowers at the side of the arched doorway leading to the upper floors of 42 George Street; and indeed, the firm there today is a direct descendant of the Percy Holt at 51–53 London Road in the latter half of the 1910s.
Percy Holt moved to Croydon from Redcar in Yorkshire, and opened his first office on Brighton Road in Purley in 1906. He did a lot of work with the small traders in Purley.[24] Around 1915 he opened a Croydon branch office at 51–53 London Road, and around 1921 he moved this to 19 George Street.[25] It's possible that the reason for the move was to gain more space; as noted above, he was sharing the London Road premises with several other businesses. There was another move around 1957 to the current premises on the first floor of 42 George Street.[26]
Wilfred E Nowers, born in 1899, was one of ten children. He started work as Percy Holt's office boy in 1918 and progressed through the business. In 1933 Percy Holt offered him free articles of clerkship — this was quite unusual, as most people would have had to pay a substantial amount of money to become an articled clerk (i.e. a trainee solicitor).
Five years later, at the age of 38, Wilfred Nowers qualified as a solicitor. The Croydon practice was renamed to Percy Holt & Nowers; its day-to-day running was placed in the hands of Wilfred Nowers, while Percy Holt continued to run the Purley practice. In 1956, Wilfred Nowers' son Graham followed his father by taking five-year articles with Percy Holt, who was then 81 years old.
Percy Holt remained a batchelor all his life. He continued to appear as an advocate in Croydon County Court into his 80s, and was awarded a CBE in 1957 for "political and public services in Surrey".[27] He died in 1966, just six months short of his 90th birthday, and the business was split into two firms. The Purley practice was renamed to Percy Holt of Purley and was taken over by Percy Holt's nephew, Alan Pearson, while the Croydon practice remained in the hands of Wilfred Nowers. The Croydon practice later passed to Graham Nowers, who is still the senior partner in the firm today.[28]
1920s–1930s: Charrington's
Meanwhile, at 51–53 London Road, Charrington's coal merchants was another of the businesses sharing the property with Bowditch & Grant. This company had a long history in London, tracing its origins back to a coal merchant named John Charrington who first set up his business in Shadwell in 1790.[29]
Following a series of mergers with other firms, by the time it arrived on London Road Charrington's was trading as Charrington, Dale & Co; another merger a couple of years later changed this to Charrington, Gardner, Locket & Co.[30] It was in place on London Road by 1921, but gone again by 1934. However, it retained a Croydon presence with two other branches on Epsom Road and on Lower Addiscombe Road.[31]
Another branch of the Charrington family were brewers; they owned many pubs around London, with a distinctive green tiling that can still be seen on some of their former pubs today.[32]
1930s: Mrs Nineham's cafe; Bonza Home Made Cakes
By 1934 the ground floor of the premises was occupied by a cafe and cake shop run by Mrs Nineham, an Australian who described her cakes as "bonza" — meaning "good" or "excellent". The associated bakery was on the first floor of the parade of shops on Mead Place, running perpendicular to London Road from the back of number 51–53, and the words "Bonza Home Made Cakes" can still be seen there today.[33]
The cafe closed in Spring 1939. One of the employees, A H Brackenborough, bought enough of the equipment to open a new bakery at 352 Lower Addiscombe Road, and named it Bonza at Mrs Nineham's request.[34]
1940s–1950s: J H Dewhurst and T W Downs, butchers
Later the same year, J H Dewhurst Ltd submitted a planning application with the intention of turning the premises back into a butchers shop. This firm was a large chain of butchers which at the time had over 150 branches in London and the South-East.[35] The proposal included a large marble slab in the window of the London Road frontage, marble display shelves along the Mead Place side, a "portable cold chamber" at the back of the ground floor, and a meat refrigerator in the basement. Work was complete by April 1940.[36]
By 1950, however, the premises had passed to T W Downs, another (albeit smaller) chain of butchers which also had a branch at 61 Church Street. This remained in place until the early 1960s.[37]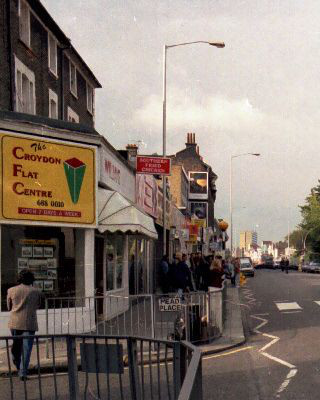 1960s: Bowditch & Grant; W R Hawes, scrap iron merchant
Bowditch & Grant was back at the premises by 1962, this time sharing space with W R Hawes & Son, scrap iron merchants. W R Hawes departed by 1969. Bowditch & Grant remained for a couple of years longer, but by late 1971 it had again closed its London Road office.[38]
1970s–early 1990s: Glebe Domestic Appliances; Jason Fancy Goods; Croydon Flat Centre
By late 1971 the shop was occupied by Glebe Domestic Appliances. This company, which also had premises on Glebe Way in West Wickham, specialised in the somewhat unusual combination of Hoover repairs and vinyl records. It remained on London Road until the mid-1980s.[39] Next followed a short period of occupancy by a shop called Jason Fancy Goods, but the property then fell vacant. However, by early 1990 it was occupied by an estate agency known as the Croydon Flat Centre, which remained in place until around 1994.[40]
late 1990s–2000s: Profile Aesthetics
Profile Aesthetics, a beauty salon specialising in skin treatments, was established in 1990. It was in place at 51–53 London Road by May 1996, and remained there for over a decade.[41]
2010s: MBM Halal Meat
MBM was open by January 2010, initially under the name MBM Fresh Fish, but switching to MBM Halal Meat by November of the same year.[42] The shop space is small, and dominated by the glass-fronted butchers counter which offers many kinds of meat including stewing beef, lamb chops, chicken wings, oxtail, and tripe. Shelves on the walls hold African groceries such as yam flour and stockfish, and a freezer at the back is filled with fish and seafood. Plantains, Scotch bonnet peppers, puna yams, and other vegetables provide a colourful pavement display.
Thanks to: Brian Mortimer; Graham Nowers; Norman Finnimore; Richard Mason; the Planning Technical Support Team at Croydon Council; all at the Croydon Local Studies Library; and my beta-readers bob and Kat. Census data and London/UK phone books consulted via Ancestry.co.uk.
Footnotes and references
Gray and Warren's 1855 directory lists the property as "unoccupied when this page was printed". The October 1858 Poor Rate Book lists Willm [William] F Ellaby — no street numbers are given here, but the ordering of the names suggests he was at this address. Gray and Warren's 1859 directory lists William Francis Ellaby, solicitor.
A marriage record from the parish of St Barnabas, South Lambeth (viewed online at Ancestry.co.uk; the source is given as London Metropolitan Archives, Saint Barnabas, South Lambeth, Register of marriages, P85/BAN, Item 009) lists a marriage between William Francis Ellaby, attorney and son of Francis Ellaby, clergyman, and Susanna Tarrant, daughter of Samuel Tarrant, "Gent.". William was living at 72 Queen Street, Cheapside, at the time.
The 1861 census lists Mary Ann Abraham, unmarried, age 32, "Fund Holder". As noted in footnote 4 of my article on 37 London Road, this phrase indicates a person "following no Profession, Trade, or calling, and holding no public office, but deriving their incomes chiefly from land, houses, mines, dividends, interest of money, annuities, &c." Although the 1861 census only lists Mary Ann junior, I think it likely that her mother lived with her but was simply away from home that night. (Ann Sharp, another 30-something of independent income, is listed with Mary Ann as a "Visitor", so it seems she had a friend to stay while her mother was away.) Directories and rate books from 1861 to 1866 list Mrs Abraham rather than Miss Abraham: Gray and Warren's 1861–62 directory, the Poor Rate Books from November 1862 to October 1866 inclusive, Simpson's 1864 directory (which explicitly describes her as a "private resident"), and Warren's 1865–66 directory. Mother and daughter were definitely living together in 1871, as the census for that year lists them together at 3 Oakfield Road.
Warren's 1869 directory lists the number of the property (which was 20 at that time; see my article on London Road renumbering) but the occupant is blank, suggesting that it was unoccupied. As noted in the previous footnote, the 1871 census has the two Mary Anns living together at 3 Oakfield Road.
The 1871 census (conducted on the evening of 2–3 April) lists Eleanor Durrant, unmarried, aged 43, born in Coggeshall in Essex, head of the household; Sarah A Thomas, unmarried, aged 28, born in Woolwich in Kent, teacher; 10 girls aged between 8 and 16, all with rank/profession/occupation "scholar"; Sarah A Cutts, aged 19, cook; and Lucy Shelly (or possibly Skelly), aged 17, housemaid. There may have been additional students and/or teachers who only attended by day. The term "Young Ladies' School" comes from a slightly later period in the school's life — Ward's 1874 street directory.
The 1861 census lists Eleanor Durrant, 33, schoolmistress, born in Great Coggeshall, living in the household of her sister Sarah Ann Durrant on Church Street in Great Coggeshall along with 14 "scholars" aged between 4 and 9 (both boys and girls) and two teachers, one of whom was Sarah Ann Thomas, aged 20, born in Woolwich in Kent. Note the discrepancy here in Sarah Ann's age between the 1861 and 1871 censuses — but I think a small mistake (perhaps Sarah Thomas was actually 29 in 1871?) is more likely than these being two different Sarah Ann Thomases.
Wilkins' 1872–3 street directory lists "Miss Thomas" at the premises, the December 1873 Poor Rate Book has "Sarah Ann Thomas", and Ward's 1874 and 1876 directories list "Miss Thomas, Young Ladies' School".
Worth's 1878 directory lists instead of an occupant, "Miss Thomas, ladies' school, removed to Excelsior House, Dingwell [sic] Rd". One point of interest is that the name "Excelsior House" was also later used for the London Road premises. The 10 February 1885 issue of the London Gazette includes the address "Excelsior House, otherwise known as 20, London-road, Croydon" on page 614, and Ward's 1890, 1891, 1892, and 1893 directories use it as part of the address of Samuel Page, who was the occupant at the time. However, the earlier editions of Ward's directory don't mention this name. It's likely that the building was in fact called Excelsior House during and after Sarah Thomas's time, that she took the name to Dingwall Road with her but people still used it for the London Road premises as well, and that its omission from Ward's directories except between 1890 and 1893 was simply a matter of editorial style.
At the time of the 1881 census, Thomas was a 34-year-old widower with three sons: Thomas (8), James (4), and Percy (whose age I have been unable to distinguish from the handwriting in the census record).

To my modern mind, it would make sense for "20" to refer to the lower floor(s) and "20a" to the upper floor(s) of this three-storey building.

It's also possible that Thomas Newton never used these premises as a place of business, but simply as his home. As noted above, the previous occupants had been private residents followed by a school, and the property was built as a private residence, so Rush and the Newtons need not have shared the building in the conventional way with a shop on the ground floor and living quarters above. However, since street directories of the time usually made it clear when a person with a stated profession actually conducted that profession elsewhere, which is not the case here, I think it most likely that the building was divided as noted in the main text of this article.

The last documented presence of Thomas Newton is in the April 1881 census. Ward's 1882 directory lists both 20 and 20a as unoccupied, while Purnell's directory of the same year lists Samuel Page, butcher, at 20 (with no mention of 20a). Samuel Page then appears in Ward's directories from 1884 to 1893 inclusive. Note that his other branch at 255–257 London Road was actually 12–13 Broad Green in the numbering of the time; see my article on street renumbering for more information. By the time of the 1891 census (the night of 5–6 April), Samuel Page had given up his Broad Green shop (Ward's directory for that year has it in the hands of another butcher named Henry Read) and was living on these premises with his wife Mary Ann and an impressive family of 12 children, the four eldest of whom were employed in the business as cashiers and butcher's assistants.
The 1897–1898 phone book (which covers the whole of the UK in its 1500-odd pages) lists Ainslie Bros, "family butchers", on the High Street in Canterbury and at 62 High Street in Margate. A photograph of the Margate branch (date unknown) can be seen on the Margate Local History Website. According to transcriptions by Janet and Richard Mason, Ainslie Bros also appears at 27 High Street, Ramsgate, and 88 King Street, Ramsgate, in Wilson's 1895 Directory of Ramsgate & St Lawrence and Kelly's 1899 Directory of Kent. Richard Mason tells me (via email, 21 August 2014) that the 1899 directory lists a total of 16 branches in Ashford, Broadstairs, Canterbury, Deal, Dover, Faversham, Folkestone, Herne Bay, Margate, Ramsgate, Tonbridge, Westgate on Sea, and Whitstable.
The January 1910 London phone book lists Ainslie Bros at "11–2 Clarence ho" in the "Central" telephone district, and at other addresses in Bromley, Hammersmith, Hornsey, Sutton, and Sydenham. Note that at this early date it's extremely likely that there were many other branches with no telephone — indeed, the Croydon branch is absent not only from the January 1910 and January 1909 London phone books, but also from the January 1908 London edition, at a date when according to Ward's directories it was very much in business.
Information retrieved on 21 August 2014 from Norman Finnimore's Flickr site, which unfortunately has since been deleted.
Ward's directories list "unoccupied" in 1911 and 1912, and W V Smith, dining rooms, in 1913, 1914, and 1915. Kelly's 1913 Directory of Surrey (available online via the University of Leicester Special Collections) includes William Vincent Smith, 39 London Road, Croydon, in its list of Borough Justices of the Peace on page 101. (39 London Road was renumbered to 51 to 1927.)
In a conversation on 14 August 2014, Graham Nowers of Percy Holt & Nowers recalled Bowditch & Grant as being solely focused around Croydon, albeit quite a notable firm locally. He pointed out that this was the norm back then, with most property-related business being done by local rather than national companies.
An advert for Bowditch & Grant on p30 of the 24 April 1970 Croydon Advertiser (viewed on microfilm at Croydon Local Studies Library) claims that the firm was established in 1881. However, Ward's directories contain no mention of either "Bowditch" or "Grant" working in the relevant trade until 1885, when H Bowditch & Co, estate agents, appear at 49 George Street. "Grant" doesn't come into the picture until the 1890 directory (information for which would have been finalised late the previous year), which lists Bowditch & Grant, land & estate agents, surveyors, and auctioneers at 103 George Street. Note that the change from 49 to 103 George Street was almost certainly due to a renumbering of the street rather than a physical move; adverts in Ward's directories before and after this change both state that the office was "adjoining East Croydon Station", and although I haven't done a building-by-building matching on George Street to confirm a renumbering, I do know there was a renumbering on London Road around this time.
The other occupants that Ward's directories list at the premises are Miss Robinson's servants' registry office (1916), A W Noad, sign writer (1916–1917), F Harris, financier (1917–1934), West Bros, electrical engineers (1921), Charrington's coal merchants (1921–1932), the Primrose Photo Service run by E B Cook (1923–1926), G J B Adkins (1927–1928), F H Stanley (1927), Sidney J Epps (1927–1929), N L Bottomley (1929), Salusbury & Co/Hyja (1930), Mrs Crockett (1930), J Jordan (1930), E Berger's employment bureau (1932), I L Franscbome (1932), and Harry Berry (1932). From the lack of stated profession, it seems likely that some of these were private residents.

Ward's 1928 directory — the first edition to use the modern numbering — lists Bowditch & Grant, G J B Adkins, Sidney J Epps, and F Harris at number 51 and Charrington's at number 53. I find it unlikely that Bowditch & Grant et al. were all squeezed into the ground floor, particularly since Adkins and Epps look to have been private residents (though I should mention that the property does have a basement, which might have been pressed into use too). In addition, Ward's 1934 directory shows that Charrington's had left the premises and been replaced by a cafe run by a Mrs Nincham [sic]. As shown later in this article, the cafe was definitely on the ground floor. The 1934 directory has Bowditch & Grant and F Harris at number 51 and the cafe at number 53, strongly implying that the two former were on the upper floors.

The observant will note that earlier I suggested the division between 20 and 20a (in pre-1890 numbering) was between the ground and first floors on the one hand, and the second floor on the other; while here I'm suggesting the division between 51 and 53 (in modern numbering) was between the ground floor on the one hand and the first and second floors on the other. I don't believe this to be a contradiction, as there was a certain amount of remodelling between these two periods — in particular, the current side entrance to the building post-dates the Ainslie Bros period. A photograph in the Croydon Local Studies Library (ref PH/96 2958) shows Ainslie Bros signage on the shop and the side wall covered with adverts, with no space for an entrance.

An additional potential complication is that the property now addressed as 1 The Parade, Mead Place, is actually the back part of the ground floor of the London Road building, with its own entrance next to the entrance leading to the upper floors (see photo). Judging by OS maps and street directory entries, the rest of The Parade was built around 1933 (see below). I did wonder if perhaps before the rest of The Parade was built, the property with the address of 51 London Road was actually this ground-floor unit, rather than being on the upper floors of the building. However, Ward's 1934 directory, which lists Bowditch & Grant and F Harris at 51 London Road, also lists C W Dixon, hardware stores, at 1 The Parade, so I'm currently leaning toward the theory that 1 The Parade was actually separated off from 51–53 London Road at the same time the rest of The Parade was built.

(Just to briefly set out my reasons for thinking The Parade was built around 1933: the 1934 OS map shows a sort of set-back building where The Parade was later built, Ward's 1932 directory doesn't list The Parade while the 1934 edition does (numbers 1–6 as today), and the 1954 OS map shows The Parade as at present.)

Ward's directories list Bowditch & Grant at 51 London Road (plus 103 George Street, 104 South End, and 198 Lower Addiscombe Road) up to and including 1934. The next edition after this is for 1937, which gives the same addresses except 14 Station Road instead of 51 London Road.
Information about Percy Holt's move to Croydon and work with small traders was supplied by Graham Nowers of Percy Holt & Nowers (conversation with the author, 14 August 2014). In addition, Ward's 1907 directory lists a C [sic] Holt, solicitor, at 2 Pretoria Terrace, Brighton Road, Purley. Ward's 1908 lists P [sic] Holt, solicitor, at the same address. Ward's 1909 is back to listing C Holt. Ward's 1910 lists C Holt at 2 Pretoria Terrace and Percy Holt, solicitor, at 4 Bank Buildings, Brighton Road. I haven't been able to find out whether C Holt was a separate person or simply a typo!
Percy Holt is listed at 51 London Road (39 in the numbering of the time) in Ward's directories from 1916 to 1921 inclusive, and at 19 George Street from 1921 onwards (note the overlap here).
Information about the move from 19 to 42 George Street supplied by Graham Nowers (conversations with the author, 14 August 2014 and 27 August 2014).
Quotation regarding Percy Holt's CBE comes from page 3378 in the 13 June 1957 Supplement to the London Gzaette. According to Graham Nowers (conversation with the author, 27 August 2014), the political services mentioned here were on behalf of the Conservative Party.
Unless otherwise stated, all information in this and the preceding two paragraphs was supplied by Graham Nowers (conversations with the author, 14 August 2014 and 27 August 2014).
Information on the origin of Charrington's taken from Elspet Fraser-Stephen's Two Centuries in the London Coal Trade: the Story of Charringtons, p24.
According to an article in the 24 February 1933 edition of Commercial Motor, Charrington, Gardner, Locket & Co was formed in 1922 from the merger of Charrington, Dale & Co with another company which is not named (but which was itself formed in 1903 from a merger between Hinton & Horne, Locket & Judkins, and Gardner, Tomlin & Co). Two Centuries in the London Coal Trade confirms this, and adds the information that the other company in the merger with Charrington, Dale & Co was called Gardner, Locket & Hinton.
Ward's directories list the company at 53 London Road (39a London Road in pre-1927 numbering) as Charrington, Dale & Co from 1921 to 1924 inclusive, and Charrington, Gardner, Locket & Co from 1925 to 1932 inclusive. The 1934 edition lists it only on Epsom Road and at 235c Lower Addiscombe Road. Five decades later, Brian Gittings took a photo of a branch next to East Croydon Station — I can't work out whether this was demolished as part of the early 1990s rebuilding of the station, or whether it was one of the two shopfronts left standing on this parade (and now home to CEX Entertainment Exchange). (Update, July 2016: in any case, the remaining two shopfronts were demolished by January 2016.)
According to Two Centuries in the London Coal Trade (pp23–24), the John Charrington who founded the brewing company Charrington & Co was first cousin to the father of the John Charrington who founded Charrington the coal merchants. An example of Charrington's tiling can be seen at the Prince Albert in Camden Town. Croydon has a small street named Charrington Road (off Drayton Road, which itself is off Tamworth Road), but I don't know if there's any connection.
Ward's directories list Mrs Nincham [sic], cafe, in 1934; and Mrs Nineham, cafe, in 1937 and 1939. Other information about this cafe comes from a letter on p10 of the Croydon Advertiser of 22 January 1993 (viewed on microfiche at Croydon Local Studies Library), written by a former employee named A H Brackenborough. The letter states: "[...] I worked there as a baker and confectioner for two years, up to the time it was closed. The name BONZA is an Australian word for 'good' [...and...] came to be used for the shop by the owner who came from that country [...] The shop itself was on the corner of Mead Place and London Road with offices above and also a restaurant downstairs. The floor above the shops in Mead Place, where the lettering is let into the concrete was the bakery. [...]" Microfiche planning records at Croydon Council offices include a drawing of the proposed Bonza shopfront (ref 25765) including windows on all three sides (London Road frontage, Mead Place frontage, and the diagonal corner between them) with the word "Bonza" above each window and fleur-de-lys styling above the door.
Information taken from A H Brackenborough's Croydon Advertiser letter, which states: "[...] the shop closed in the spring of 1939, owing to the owner's ill-health [...] I bought sufficient of [the auctioned-off equipment] to open a shop of my own in Addiscombe, near Ashburton Park, and at the request of Mrs Nineham, the owner of the Croydon shop, we called it BONZA. We opened on July 13, 1939 [...and...] traded on this site until 1956, when we sold out, and the shop was used for a different trade. [...]" The address of the new Bonza is taken from the April 1950 Croydon phone book (which gives the additional address of 257 Albert Road SE25).
The November 1940 London phone book, which covers London and its surrounds including places like Harpenden and Redhill, lists 158 branches of J H Dewhurst.
Information on J H Dewhurst's planning application taken from microfiche records at Croydon Council offices (ref 39/671); the index card for 51 London Road states that the work was completed by 5 April 1940.

I don't know when J H Dewhurst handed over to T W Downs, as documentary evidence is scarce in the 1940s — Ward's street directories were no longer being published, and relatively few businesses had phones in every branch, so phone directories are also unhelpful. However, T W Downs appears at 51 London Road and 61 Church Street in Croydon phone books from 1950 to 1962 inclusive. The April 1950 London phone book lists eight branches of T W Downs (in Chiswick, Croydon [two branches], Gipsy Hill, Kentish Town, Sutton, and Waterloo), suggesting it was around 20 times smaller in 1950 than J H Dewhurst was in 1940.

It should also be noted that there was a connection between J H Dewhurst and T W Downs in that both were part of the Vestey group for some period of their history (information supplied by meat-trade historian Norman Finnimore, via email, 22 August 2014). However, I don't know the dates for this, so I don't know if this was the case during the time they were on London Road. I haven't found any documentary evidence that the shop ever traded under the name J H Dewhurst, but as noted above there simply isn't much evidence in general during the 1940s.

Bowditch & Grant is listed in Croydon phone books from April 1962 to August 1970 inclusive; the August 1971 edition lists only its other branches at 198 Lower Addiscombe Road, 103 George Street, and 104 South End. W R Hawes is listed in Croydon phone books from March 1964 to September 1968 inclusive. (Note that absence from phone books doesn't necessarily imply absence in real life, but I think the suggestion is fairly strong in cases where a company has been listed consistently for a few years and then disappears.) The August 1971 Croydon phone books lists Glebe Domestic Appliances.
Croydon phone books from August 1971 to April 1984 inclusive list Glebe Domestic Appliances as "Elec Shop" at 51 London Road and "Records, Amplifiers, Hi-Fi, Washing Mach, Cleaner Reprs" at 34 Glebe Way. The August 1974, March 1983, and March 1984 Goad plans show it as "Hoover service elec & gram rec" [gramophone records] at 53 [sic] London Road. Brian Gittings' 1980 survey of central Croydon retail lists "Hoovers spares" (probably referring to spare parts).
Goad plans list "Jason fancy gds" in March 1985; "vacant" in April 1986 and April 1987; "Croydon Flats — est ag" in March 1990, June 1991, and June 1992; "Croydon Flat Centre" in April 1994; and "vacant" in June 1995. A mid-1992 photo by Brian Mortimer (see excerpt of this in the main article) makes it clear that by that point the name on the frontage was "The Croydon Flat Centre". Brian dates his photo by the filming of The Bill, which he says took place in summer 1992.
Goad plans show "Profile beau sal" from May 1996 to May 2002 inclusive, and "Profile Aesthetics beau sal" from May 2004 to August 2009 inclusive. The first edition of Shop Til You Drop (probably c.1998–1999) lists Profile, and the second edition (probably c.2002) lists Profile Aesthetics. The shop frontage is shown in Google Street View imagery from July 2008. According to a sign in the side window at this time, the business was established in 1990 and was "a specialised [...] skin clinic and beauty salon".
Effie Fotaki's Then And Now photo of 51–89 London Road, taken in January 2010, shows it as MBM Fresh Fish. Google Street View imagery from November 2010 shows it as MBM Halal Meat. It's also shown on the May 2011 Goad plan (as "MBM fishm" [fishmongers]).