Euro Fruiterers at 31 London Road may look modest, but this small shopfront has a venerable history in grocery sales. It's also one of the oldest buildings on this part of the road.
1840s–1850s: Setting the scene for development along London Road
Aside from the Old Fox & Hounds at number 1, all the buildings I've discussed so far along the west side of London Road started their lives as shops with accommodation above for the shopkeepers.[1] However, the four properties just south of Mead Place — numbers 31–37 — originated as purely private residences.[2] They were also among the earliest buildings on this part of London Road; the shops further south all came later.[3] Taken together, these facts suggest that the impetus for building numbers 31–37 came from the proximity of the railway, rather than commercial spread northwards from the town centre.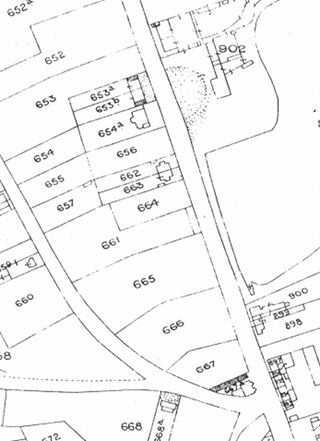 Before the railway came to West Croydon in 1839 — and for a few decades after — the land on both sides of London Road was mostly undeveloped.[4]
1844: The east side
On the east side of the road, the 1844 Tithe Award records a small cluster of houses and cottages on the land around the railway station. Further north were gardens, a meadow, and a large house, all owned by Richard Sterry, with the house lying just south of where Kidderminster Road is today. Between Richard Sterry's house and St James's Road was a large meadow owned by James Cox, with a small row of cottages at the edge running along St James's Road itself.
1820s–1850s: The west side
The Fox & Hounds pub on the west side, opposite the station, had also been built by 1844, though it was then known as the Croydon Station Inn. Stretching north from here along the west side of London Road was a patchwork of meadow land and "building ground" owned by a dozen different people. This land had previously been an area of common land known as Parsons Mead, which was enclosed (i.e. passed into private hands) in the 1820s and then split up and sold in lots in 1835.[5]
Very few of these plots had been built on by the point when this area was surveyed for the Tithe Award; only six houses are listed. The area currently occupied by 79–87 London Road (i.e. the block containing Mazi and Beydagi, south of Lidl) contained a pair of houses owned and rented out by Henry Bance (these were demolished around 1898), the area currently occupied by Lidl and its car park had another three houses, and a large tract of land just south of Sumner Road was occupied by Jonathan Barrett's house, garden, stable, and meadow.
Infill between the inn and Henry Bance's houses was slow. Until numbers 31–57 were built in the mid-1850s, the west side of London Road was still all open land between the inn (by then known as the Fox & Hounds) and the building currently occupied by the Croydon Food Centre (number 59).[6]
1850s: Construction of numbers 31–57
The two blocks of houses comprising 31–57 London Road were built between 1853 and 1855 on land purchased in 1835 by Arthur Lewis (plot 665 on the Tithe Award map above).[8] Despite the present-day numbering (which has a gap between numbers 37 and 51, and shoehorns numbers 51 and 53 into a single shopfront and indeed a single business), these blocks contained only four and three houses respectively,[9] with the road which later became known as Mead Place running off westwards between them.[10]
1850s–1860s: James Janes, commercial traveller
The first occupant of number 31 that I'm aware of was James Janes, a commercial traveller in the cotton and linen trade, who had moved in by 1858. Somewhat confusingly, the London Gazette of 5 January 1864 reports that he was "adjudicated bankrupt the 21st day of May, 1863"; this doesn't seem to have affected his residency on London Road, as he remained there until around 1871.[11]
1870s: William John Pease, watchmaker
The departure of James Janes and his family from London Road saw the transformation of number 31 from a private residence into a place of business — that of William John Pease, watchmaker. Mr Pease was in place by 1873, but gone again by 1876.[12]
1870s–1880s: William Gilbert, homoeopathic chemist, and John Culver, dentist
William Pease was replaced by William Gilbert, homoeopathic chemist, who by 1878 was in partnership with John Culver, a dentist. The partnership had two properties; this one on London Road and another on Commercial Road in Bournemouth. However, this partnership was dissolved in March 1881, with William Gilbert taking charge of the Bournemouth business and John Culver remaining in proprietorship of the Croydon side.
John continued to practice here until around 1890, when he moved first (and very briefly) to Tamworth Road and then to North End. While on North End he took on a new partner, Burt Sawday, and around 1914 the partnership returned to London Road — this time, to number 147.[13]
1890s–1900s: Fruit and vegetables
The two decades following John Culver's departure from 31 London Road saw several periods of vacancy, interrupted by a few short-lived fruit and vegetable businesses: George Hurrell, fruiterer, around 1897; Arthur Margetts, fruiterer, around 1898–1900; The Fruit Glen around 1901–1905; and R Chalk, fruiterer and greengrocer, around 1908–1909.[14]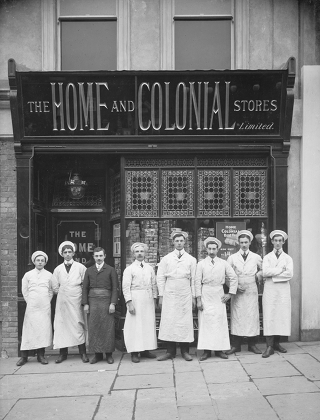 1910s–1950s: The Home and Colonial Stores
This rather unsettled period came to an end around 1912 with the arrival of the Home and Colonial Stores, a nationwide chain of grocery shops.[15] George Harfleet, who lived on Hathaway Road as a child from 1935 to 1950, shared his memories of the London Road branch with me:[16]
"I certainly remember going into the Home & Colonial with my Ma but the only thing I remember her buying was sliced meat (ham, bacon etc) and watching it being magically and thinly sliced off by a red and white (or chrome?) hand driven machine. Oh! biscuits were also bought (sometimes only broken biscuits, as these were much cheaper).

"I'm sure the tiled floor was usually covered with sawdust. The shop manager and assistants were always smart, wearing clean white full length aprons. It was a highly regarded shop."
1960s–1970s: Several possibilities, none confirmed
I've found no evidence of the Home and Colonial at 31 London Road after 1961.[17] I have also failed to uncover conclusive evidence of what followed it at the premises. Planning records show proposals for several businesses in the 1970s: a kebab shop, an estate agency, a computer consultancy, offices for the Colebrook Housing Society, and a drug store. However, the kebab shop plan appears not to have gone ahead; the estate agency may have opened but if it did, it only lasted a few months; the computer consultancy and Housing Society offices were refused permission as they "would result in the loss of a retail unit"; and I haven't been able to find the drug store in contemporary phone books/street directories, so I don't know if it ever actually opened.[18]
1980s–present: Croydon Fruiterers, Euro Fruiterers
By 1980, though, 31 London Road was occupied by Croydon Fruiterers. It kept this name until at least the mid-1990s, but by the early 2000s all sources agree that it had been renamed to Euro Fruiterers.[19]
Today, it's perhaps a little misleadingly named — it focuses more on storecupboard groceries than on fruit and vegetables, and more on African ingredients than European. However, it's certainly a handy source of items for those wishing to cook African food, and I've always found the staff to give service with a smile.
Thanks to: Doug Culver; Brian Gittings; George Harfleet; the Planning Technical Support Team at Croydon Council; all at the Croydon Local Studies Library; and my beta-readers Alice, bob, Flash, and Shuri. Census data consulted via Ancestry.co.uk.