The Pizza Hut branch at 30 London Road is one of the longer-standing businesses in the area — it's been serving up takeaway pizzas for around a quarter of a century.
1860s–1870s: Construction of the building, and E Elliott's ham, beef, and tongue warehouse
The building was constructed around 1868–1872, as part of a block with numbers 28, 32, and 34.[1] By 1874 it was home to E Elliot's ham, beef, and tongue shop, which offered "small York hams & ox tongues dressed & sent out on the shortest notice", "the celebrated Melton Mowbray pies", and "mock turtle and other soups".[2]
1870s–1920s: G Wallis, family butcher
By 1878, E Elliot's ham shop had been replaced by George Wallis's butcher shop, described in the 1890s publication Where To Buy At Croydon as a "noted Scotch beef establishment".[3]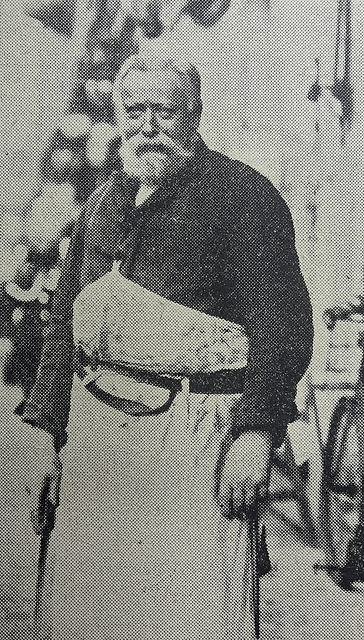 The 1881 census lists George Wallis as aged 36, living on the premises with his wife Ellen (31), sons Frederick (3) and George (2), unmarried sisters Mary Ann (40) and Ellen (32), brother Joseph (28), and William Clayton (18). Joseph and William worked with the head of the family as butcher's assistants.
By 1901, Frederick had replaced his uncle Joseph in the business, and by 1911 he too had moved on and been replaced by his younger brother Frank. George remained in charge throughout.[4]
George Wallis died in late 1911,[5] but the business continued under his name until around 1922, when it was renamed to Spice & Wallis for a couple of years and then to G E Wallis & Sons around 1925.[6]
I'm not sure who Spice was, and I'm also not sure who G E Wallis was; the original George Wallis was dead, and although he had a son called George E, this son was 2 years old at the time of the 1881 census but not listed in any later censuses, so presumably he died young. Perhaps the partnership with Spice didn't work out, and so George's sons reverted to a form of the older name out of respect for their late father.
1920s–1930s: R C Hammett
By 1927, the Wallis family business had been swallowed up by R C Hammett, a large chain of butchers, poulterers, and graziers.[7] R C Hammett was based at 64 West Smithfield EC1 and had over a hundred branches across London, from Dagenham to Dulwich, Enfield to Earlsfield, and Wood Green to Wandsworth. By 1931 it had four Croydon branches (30 London Road, 243 London Road, 117 North End, and 61 South End) as well as two further up London Road at numbers 1052 and 1413.[8]
1930s: Walltones Wallpapers
Around 1932, the R C Hammett branch at 30 London Road was replaced by Walltones Wallpapers. This seems to have been an independent shop, not part of a chain, though by the end of the 1930s it had expanded to a second branch at 268 Upper Tooting Road, SW17. I'm unsure how long Walltones remained on London Road, but the last mention of it I've seen in Croydon phone books is in the May 1939 edition.[9]
1940s–1950s: The Beacon Restaurant
By 1947, 30 London Road was occupied by the Beacon Restaurant. I haven't been able to find out anything about this restaurant, aside from the fact that it was there until around 1954.[10]
1950s–1980s: Fish and chips
In February 1954, planning permission was granted for use of the premises as a "fish bar and restaurant".[13] The records I've seen don't include the name of this establishment, but the fact that permission was applied for suggests that this was a new business, unconnected to the Beacon. In any case, by mid-1965 the fish restaurant at 30 London Road was known as Star Fish Restaurant.[14]
Around 1974 it was renamed to either Friars Tuck or Friar Tuck,[15] though Croydon phone books continue to list Star Fish Restaurant up to 1982. There may also have been a name change to Skippers around 1982.[16]
By 1984 the name had changed to Crispins Fish & Chips. Crispins also had branches at 79 High Street, 1 Dingwall Parade, and 14 Greene Wrythe Lane in Carshalton. Its London Road branch remained in place until at least 1988.[17]
1990s–present: Pizza Hut
By 1990, Crispins had been replaced by a Pizza Hut delivery outlet. This was not the first Pizza Hut branch in Croydon — it was at 38 George Street by 1984, and by 1988 it had a restaurant at 59 North End which, like the London Road branch, is still there today.[18]
Thanks to: John Clarke; Colin Withey; the Planning Technical Support Team at Croydon Council; all at the Croydon Local Studies Library; and my beta-readers bob, David, Henry, Kat, and Shuri. Census data, FreeBMD Death Index, and London phone books consulted via Ancestry.co.uk.
Footnotes and references
See my article on 28 London Road for the construction date of the building.
E Elliott is listed in Ward's 1874 street directory at 2 Oakfield Terrace (which was renumbered to 2 The Parade around 1885, 12 London Road in 1890, and 30 London Road in 1927) and in Wilkins' 1876–7 directory with no street number but between T G Newton and N Gifford, who are listed at 1 and 3 Oakfield Terrace respectively in Ward's 1874 directory. Ward's 1876 directory lists 2 Oakfield Terrace as "unoccupied". Information on items sold taken from advert in Ward's 1874 directory (as shown in article).
Ward's directories list George Wallis, butcher, at the premises from 1878 onwards. The mention of George Wallis in Where To Buy At Croydon is on p28, as an aside in an advertorial for John Staff & Son across the road at number 25. (Where To Buy At Croydon was published by Robinson, Son, and Pike around the early 1890s. No date is given in the publication, but the copy at Croydon Local Studies Library has "c.1890–3" written on it in pencil, and its record in the British Library catalogue states that it was published in 1891.)
The 1881 census lists George Wallis as butcher and Joseph Wallis and Walter Clayton as butchers assistants. The 1891 census lists George Wallis as butcher and William Hudet (22) as butchers assistant. The 1901 census lists George Wallis as "butcher – shopkeeper", Emily M Wallis as "commercial clerk (butcher's)", and Frederick Wallis (23) as "shop assistant (butcher's)". The 1911 census lists George Wallis as butcher, and Ellen, Frank (19), Emily, and Jessie Wallis as assistants.
The FreeBMD Death Index 1837–1915 records the death of a George Wallis, aged 67, in Croydon in the last quarter of 1911. This fits well with the age of 36 that our George Wallis has in the 1881 census; he's also listed as age 45 in the 1891 census, age 56 in the 1901 census, and age 68 (which I think must be a miswritten "66") in the 1911 census.
Ward's directories list George Wallis, butcher, from 1878 to 1913 inclusive; George Wallis Ltd, butcher, from 1914 to 1921 inclusive, Spice & Wallis Ltd, butchers, from 1922 to 1924 inclusive, and Wallis (G E) & Sons, butchers, in 1925 and 1926.
According to the Oxford English Dictionary, the word "grazier" means "One who grazes or feeds cattle for the market". This suggests that R C Hammett was involved in the raising of livestock as well as its butchering.
R C Hammett is listed at 30 London Road in Ward's 1927, 1928, 1929, and 1930 directories. An advert on page 622 of the February 1931 London phone book (names A-K) describes the company as "butchers, poulterers & graziers" with a head office at "64, W. Smithfield, E.C.1". The same phone book lists 133 branches, including those mentioned here.
R C Hammett appears at 30 London Road in the February 1931 London phone book, but not in subsequent editions. Walltones is absent from the November 1931 and May 1932 editions, but appears in the November 1932 edition as "Walltones Wallpapers". It's in the May 1939 edition as "Walltones (London) Ltd, Wallpapers" at 30 London Road and 268 Upper Tooting Road SW17, but not in the August 1941 and May 1942 editions.
The Beacon Restaurant appears in London phone books from October 1947 to July 1953 inclusive, as well as the January 1954 Outer London (Surrey) edition. It also appears in Kent's 1955 and 1956 street directories, with a note that the proprietor is one L Phillips. It's absent from the October 1955 Outer London (Kent/Surrey) and the January 1956 Croydon phone books.
Star Fish Restaurant appears in Croydon phone books from June 1965 to 1982 inclusive (though note comments in article about name changes during this time). It also appears in the 1968 Croydon & District Green Guide and the 1971 Croydon Classified Directory.
A planning application for "illuminated fascia and projecting sign" (ref A7112) granted on 15 March 1974 shows a plan with "Friars [sic] Tuck" in Gothic lettering on the frontage and a projecting sign with an image of a monk in a belted robe. The August 1974 Goad plan shows "Friar [sic] Tuck fish restaurant" at 30 London Road. Brian Gittings' 1980 journal of central Croydon shopfronts lists "Friar [sic] Tuck (Manor Caters [sic] Ltd) — fish and chips". I haven't been able to find either Friar Tuck or Friars Tuck in contemporary phone books (but see footnote [14]).
A planning application (ref 82/235/A) deposited on 9 February 1982 and granted on 16 March 1982 shows a proposed fascia sign reading "Skippers Fish & Chips Restaurant". The applicant is Manor Caterers Ltd (cf. footnote [15]). However, much of the application records appear to be crossed out, and I have no evidence that this name change ever went ahead.
Crispins is listed at 30 London Road in the March 1984, March 1985, April 1986, and April 1987 Goad plans; the 1984–5, 1986–7, and 1988–9 London Shop Surveys; and the 1984, 1985, 1987, and 1988 Croydon phone books. The Dingwall Parade branch is listed in the 1985, 1987, and 1988 phone books; the Carshalton branch is listed in the 1987 edition; and the High Street branch is listed in the 1988 edition. The 1990 Croydon phone book lists Pizza Hut at 30 London Road, and the only remaining branch of Crispins is at 2 Dingwall Road (this may be a renaming of Dingwall Parade, which I haven't been able to find on any modern maps).
Pizza Hut is listed at 30 London Road in Croydon phone books from 1990 onwards, and Goad plans from March 1990 onwards; at 38 George Street in Croydon phone books from 1984 to 1987 inclusive and Goad plans from April 1987 to at least June 1992 (I didn't check later plans); and at 59 North End in Croydon phone books from 1988 onwards.