74 London Road is currently occupied by Finjan, a cafe and shisha bar that opened in April 2014.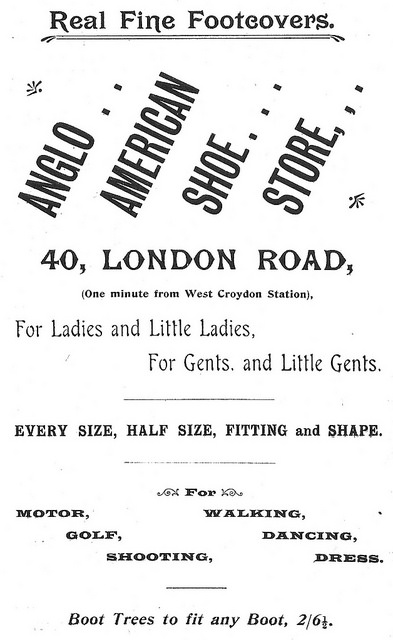 1900s: Construction of the building, the Anglo-American Shoe Store, and the Criterion Café
The building was constructed around 1904, along with its neighbour at number 72.[1] Its first occupant was the Anglo-American Shoe Store, in place by 1905 and advertising "Real Fine Footcovers" for a variety of pursuits: motoring, walking, golfing, dancing, and shooting. However, these "footcovers" appear not to have been particularly popular among the people of West Croydon, as the company was gone again by 1907.[2]
The next occupant was also to have a very brief stay; the Criterion Café, run by a Mrs Vick, was in place by 1907 but gone again by 1908.[3]
1910s: The Wool Shop, The Blouse Shop, a registry office, a music shop, a photographer, and two milliners
Number 74 remained empty for a couple of years after Mrs Vick's departure — rather an unpromising start for a building only around half a decade old.[4] The 1910s were to see quite a buzz of activity, however, with occupants coming and going every couple of years. Indeed, for much of this time there were two or even three separate businesses being conducted there simultaneously.
The Wool Shop was in place by 1910 and remained until around 1912, when it moved a couple of doors down to number 70. It was run by Florence Nicholson, initially in collaboration with a partner named Bushell. Originally from Ripon in Yorkshire, Florence was in her early 30s when she opened her shop on London Road. It remains unclear whether the shop sold knitting wool or clothes made from wool, but according to the 1911 census it definitely sold hosiery.[5]
Florence actually lived on the premises, as did a separate household consisting of Valentine and Rose Cousins and their daughter Veronica. Valentine was a watch and clock repairs assistant, while Rose appears to have been a full-time home-maker. Thus the second business occupying 74 London Road at this time — The Blouse Shop, run by E, C, and M King — must have been a separate establishment again. The Blouse Shop, like The Wool Shop, was in place by 1910 and gone again by 1913.[6]
Next to occupy number 74 was C H Humphris, milliner, arriving by 1913 but departing again by 1915. C H Humphris was replaced by three businesses: F Harris, Scott's Registry Office (probably a type of employment bureau), and W Cottill's music publishing and retail business. However, Scott and W Cottill were both gone again by 1916. F Harris lasted a year or so longer, but moved to number 51 by 1917, and remained there until moving again in the early 1930s to number 42. It's not clear what type of business F Harris conducted in the early years on London Road, but by 1920 street directories had begun to specify the profession of "financier".[7]
F Harris was replaced by a Mrs Villiers, of whom no further details survive; by 1919, she in turn had been replaced by a Mrs Manw. Parallel to this was H Baker, who began as a photographer but swiftly transformed into a milliner. All three were gone by 1921, when Reynolds & Stone, milliners, spent a brief time at the premises.[8]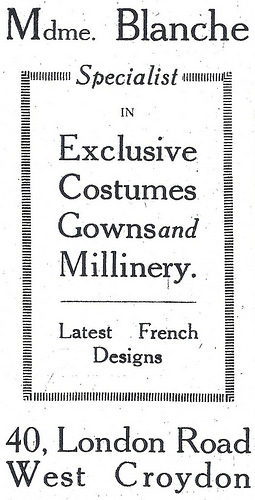 early 1920s–early 1950s: Madame Blanche, costumier
This rapid turnover was brought to an end by the arrival of Madame Blanche, costumier, in place by 1922. Madame Blanche lost little time in establishing her business, and even opened a branch in Redhill the next year.[9] By late 1924, she was notable enough to be specifically mentioned as the designer of the "dresses and costumes" for a wedding that took place in Horley in December of that year.[10]
The 1924 Croydon Times Xmas Shopping Guide carried an advertorial describing Madame Blanche's establishment as "that exclusive little shop where we may select our gown or costume, confident in the knowledge that we shall 'not see another woman in one like it anywhere!'" The goods on offer included "Chic little evening gowns, elaborate dance frocks and beautiful clothes for all occasions" as well as hats and furs.[11]
Madame Blanche remained on London Road until the early 1950s — a stay of three decades. She appears to have lived on the premises, too, and had at least one child, a daughter born in late 1925.[12]
early 1950s–early 1970s: Susan "exclusive dress agency" and Steets gents' dress hire
The theme of clothing was to continue over the next two decades. Susan, children's outfitter, had arrived by April 1953, but by October 1955 had transformed into an "exclusive dress agency", still under the name of Susan. This was to remain until the early 1970s, while other occupants of the building came and went.[13]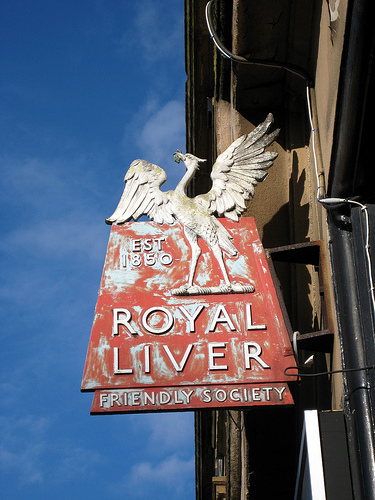 Griffin Studios, a commercial art studio under the proprietorship of Donald Oubridge, arrived around the same time as Susan, and remained until around 1956.[14]
By 1964, Susan had been joined by a men's dress hire company known as Steets, and by September 1968 Susan and Steets were joined by a branch of the Royal Liver Friendly Society, a co-operative financial services association founded in Liverpool in 1850. However, around 1970 Steets moved across the road to number 87 and the Royal Liver moved down the road to number 21.[15]
Susan itself remained until 1972, but the shop then fell vacant.[16] Carl Nielsen of Rockbottom (see below) recalled seeing the old shopfront here in the early 1970s; he described a wooden sign with gold engravings, and a central door with a bowed window on each side.[17]
1970s–1980s: Rockbottom
The next occupant was music shop Rockbottom, opened by Carl Nielsen in 1975. The business was a success, and ten years later Rockbottom moved to larger premises a couple of doors down, where it remains today. (For a fuller account of Rockbottom, see my article on 68–70 London Road.)
1980s–1990s: Restaurants and takeaways
The latter half of the 1980s saw a return to the function briefly fulfilled by Mrs Vick's Criterion Café several decades before — the important business of feeding people. Supersave, a fast-food takeaway, was in place by April 1986, but by April 1987 had been replaced by a restaurant known as Bogart & Bacall (or possibly Bogart & Becall). However, within the next couple of years this in turn had been replaced by an establishment called Dinners [sic] Delight.[18]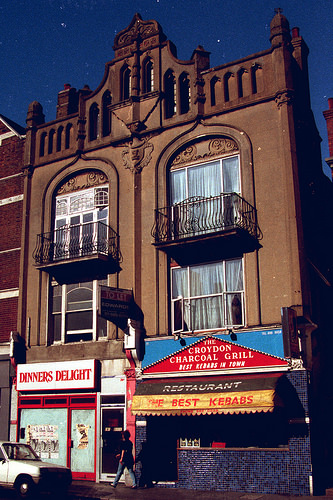 This rapid turnover continued into the 1990s. Papa Mio, a pizza and pasta restaurant, was in place by March 1990, but around August of that year gave way to Italian restaurant La Rosa.[19]
La Rosa put rather more effort than its predecessors into marketing itself. The Croydon Advertiser published at least two articles about it, describing it as "a cosy Italian restaurant" with a 42-seater "wood-panelled dining-room with Tiffany lampshades, pink table cloths and glass lamps". An upstairs room provided additional seating for a further 50 people.[20]
Three months after opening, La Rosa was advertising a New Year's Eve "Mask Party", with the ticket price of £25 (corresponding to £50 in 2014 prices) including a four-course meal, coffee, port or brandy, a "glass of bubbly", and even the mask.[21] Live music on Wednesday, Thursday, Friday, and Saturday evenings was provided by the "international duo" of Cengizhan and Ali Ummak, singing in Italian, Turkish, Greek, Spanish, and English.[22]
Despite all this effort, by February 1992 La Rosa was no more. Its successor, a Turkish and Greek restaurant called Pamukkale, was similarly short-lived, and by April 1994 had itself been replaced by the Athaenian Gardens Taverna. By June 1995 this too had gone. A fried fish restaurant known as the Croydon Seafood Restaurant was in place by May 1996, but closed again some time between June 1998 and July 1999.[23]
2000s: Udon Noodle Bar
By July 1999, a rather longer-lived restaurant had begun its stint on London Road — Udon Noodle Bar, which was to remain in place until around 2008.[24] It offered both Chinese and Japanese food: starters such as crispy duck with pancakes, sesame prawn toast, and salt and chilli tofu; noodle dishes including ho fun, Singapore vermicelli, yaki soba, and ramen; bento boxes; and other dishes such as lemon chicken, mussels in black bean sauce, and sea-spiced king prawns.[25]
Stephen Jolly, who lived in Croydon at the time and ate at Udon Noodle Bar on occasion, told me:[26]
It was just one of a few noodle places we went to — the branch of Miso on George Street was much more convenient, given that most of us commuted via East Croydon station, and of course a branch of Wagamama opened at some point too. I don't really recall the food at Udon — other than that they served the eponymous noodle.
Susannah Fleming, who accompanied Stephen on several of these outings, was more enthusiastic:[27]
[...] Udon [...] was also the one that was a bit more expensive [than Miso] but had nicer food. Although I may be swayed by my devotion to their crispy noodles, which were the food of the gods. Especially the seafood one. I don't think I ordered much else there after I discovered them.
Susannah's seafood crispy noodles appear as "Seafood Hong Mein" on a menu archived from the Udon website in 2003: thin crispy egg noodles with scallops, prawns, squid, straw mushrooms, carrots, and seasonal vegetables, all for £5.50 (£7.76 in 2014 prices).[28]
Following the departure of Udon, the premises remained vacant for a while. A barber shop opened up, but was very short-lived, and had gone again even before it managed to put a sign up on the frontage.[29]
2010–2012: Nash Unisex Salon
The next occupant was more diligent in making the premises its own. Nash Unisex Salon was open by November 2010, following a refurbishment which involved clearing out all the detritus left by previous occupants, and putting new tiling in. However, despite doing all this work to tidy the place up, the owners of Nash experienced some difficulties in dealing with the landlord, and when number 61 across the road became available on better terms, they moved the business there.[30] By May 2012, number 74 was vacant and stripped out.[31]
2013: Language Friendship & Co
By March 2013, an interpreting and translation service called Language Friendship & Co had moved in, but this closed some time between May 2013 and January 2014, and the premises again fell vacant.[32]
2014–present: Finjan
Finjan opened in April 2014, with a rather more upmarket feel than one might have expected on London Road at the time. The owner's intention was to create a "trendy cafe" aimed at the same market segment as chains such as Costa Coffee. Indeed, manager Sami Kader explained to me that some of his staff used to work at Costa.
Sami also mentioned that around 15 of his regulars were previously Costa customers, but now came to Finjan instead because of the quality of the espressos, made with Guglielmo coffee. Espresso isn't the only coffee drink on offer here, though; Turkish coffee is also available to those willing to wait during its lengthy preparation. Teas including Moroccan tea and iced teas (peach and raspberry flavours) are served too.
Food choices include Kurdish breakfast: slices of yellow cheese and creamy white cheese, mixed leaf salad, sliced tomatoes, sliced onions, salty green olives, natural yoghurt, and honey, served with Kurdish tea (black tea spiced with cardamom) and samoon (a leaf-shaped Iraqi bread). All the food is halal, and the meat is bought across the road at the Croydon Food Centre. Almost all of it is made fresh on the premises, with the only exceptions being items such as prepackaged muffins.
As well as serving the office workers of West Croydon during the day, Finjan is open late into the evening too. A shisha garden was opened out the back in late 2014, and "mocktails" are served for those wanting a non-alcoholic night out.[33]
Thanks to: Brian Gittings; Carl Nielsen; Renee MacKenzie; Sami Kader; Stephen Jolly; Susannah Fleming; the Planning Technical Support Team at Croydon Council; all at the Croydon Local Studies Library; and my beta-readers Alice, bob, and Henry. Census data and London phone books consulted via Ancestry.co.uk.