The Croydon Community Centre at 87 London Road is a social club originally aimed at people of Turkish origin. For the past several years, it's formed part of a small Turkish cluster on this stretch of the road, along with the Turkish Food Centre at numbers 73–77, Mazi restaurant at number 81, and the Beydağı Food Centre at numbers 83–85.
Late 1890s–early 1900s: Construction of the building, ironmongery, clothes, and boots
As noted in my article on number 79, numbers 79–87 were built in the late 1890s to replace a recently-demolished pair of semi-detached houses. Number 87 stands on the site of the northernmost of these, the history of which I described in my article on numbers 83–85. Here I take up the story of the newly constructed number 87.
The first occupant was an ironmonger trading under the name of either Frederick Randall or H Randall. Little information survives about this business, and it only remained for a couple of years.[1]
Next to arrive was David Wood, who by early 1901 had moved in not only to the commercial part of the premises, where he ran a men's outfitters known as the Cash Clothing Company, but also to the residential part, where he lived with his wife Julia, their son Septimus, and their niece Annie.[2] The name of this business suggests two things, both of which are standard practice today but were worthy of note at the time: first, that the clothes David sold were ready-made rather than being cut to order, and second, that they were paid for in full on the spot rather than via an initial deposit followed by weekly payments.[3]
Around 1903, David's clothes were replaced by the boots and shoes of the Northampton Boot Company, which remained here for four or five years.[4]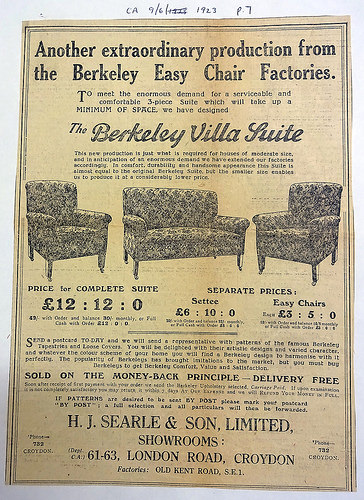 1900s–1930s: H J Searle & Son
By 1908, furnishing and outfitting firm H J Searle & Son had arrived for what would be several decades' stay on London Road — though only the first three of them involved number 87.[5] Founded by 1904, the company specialised in the manufacture and upholstery of sofas and armchairs, and also had a tailoring side. Its head office was on the Old Kent Road, and its primary furniture brands were Berkeley Easy Chairs and Berkeley Upholstery.[6]
It also had some connection with its predecessor on London Road, the Northampton Boot Company. A report in the 19 May 1908 Sheffield Independent describes a burglary at the premises involving the theft of items "belonging to Messrs. H. J. Searle and Son, Ltd., and the Northampton Boot Company", specifically "65 pairs of gentlemen's boots, 7 gentlemen's suits, 12 boys' suits, 3 youths' suits, 4 pieces of cloth, 6 pairs of socks, 19 shirts, 3 undervests, 4 pairs of pants, 7 yards of serge [a type of fabric], 27 handkerchiefs, 4 pieces of blouse flannel, 3 ladies' umbrellas, 12 plated spoons [presumably silver-plated], 6 forks, and one set of silver-mounted carvers, the whole valued at £60" (nearly £6500 in 2014 prices).[7]
The company had a fairly wide reach. The November 1934 London phone book lists branches in Croydon, Dagenham, Dartford, the City of London, Victoria, and Watford, on a page topped by a banner advertisement stating that Berkeley was "the easy chair with the largest sale in the world". There were other branches in cities such as Birmingham and Manchester.[8] As of the mid-1930s, the company's spend on national advertising was the sixth highest among UK furniture firms — £44,801 in 1933 and £43,171 in 1936 (£2.9 million and £2.7 million respectively in 2014 prices).[9]
Having expanded from number 87 into number 85 around 1919, and again into number 83 around 1930, by the end of the 1930s H J Searle had three full shopfronts on London Road. However, it seems to have decided that this was a little too much space, and by the mid-1940s had retrenched to 83–85 alone.[10]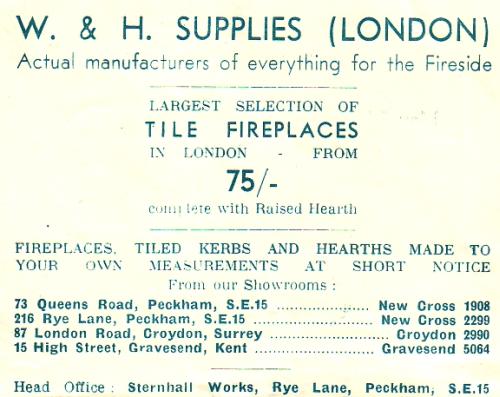 1940s: W & H Supplies, builders' merchants
By 1948, the premises were once again occupied, this time by W & H Supplies, a firm of builders' merchants specialising in fireplaces. Advertising itself as "Actual manufacturers of everything for the Fireside", it offered the "largest selection of tile fireplaces in London from 75/- [just over £120 in 2014 prices] complete with Raised Hearth". Its head office was in Peckham, and it also had a branch in Gravesend.[11]
1950s–1960s: Achille Serre Ltd, cleaners and dyers
Next to arrive, and in place by early 1952, was a branch of Achille Serre. This cleaning and dyeing company was founded in the 1870s as a ribbon-dyeing company, but later became one of the pioneers of modern dry cleaning in the UK.[12]
By the time it arrived at 87 London Road it had over 90 other branches in and around London, including one further up the road at number 1485A, and it opened yet another London Road branch at number 1075 a decade later. It remained at number 87 until around 1966.[13]
1950s–1960s: E Ellis Smith, slate merchant
A couple of years after its arrival at 87 London Road, Achille Serre was joined by a slate merchant under the name of E Ellis Smith. It's unclear how these two businesses shared the premises, but the latter outlasted the former by only a couple of years, and was gone by 1971.[14]
1970s: Steets, his & hers dress hire
The next occupant was Steets dress hire, previously across the road at number 74. The reason for this move is unclear, but it's worth noting that while at number 74, Steets advertised itself as providing "Gents Dress Hire" — a good complement to Susan, the "Exclusive Dress Agency" at the same address. When it moved to number 87, however, its phone book listing changed to "His, Hers, Dress Hire". This could be a coincidence, but it could also imply some sort of professional disagreement between Steets and Susan, leading to the former opening its own women's department. In any case, Steets arrived at number 87 around 1970 and remained until the end of the decade.[15]
1980s–2000s: Sassi Cafe, The Hamburger Grill, Arays Restaurant, and Cafe 87
In January 1979, Mrs J Hall of Selsdon was granted planning permission for "Change of use of ground floor and basement to sandwich/snack bar". This was open by 1980 as Sassi Cafe, but by March 1983 had become The Hamburger Grill.
The name changed again a couple of years later to Arays (or possibly Aravs or Orays). By early 1987, Arays was advertising the "Best Kebab in Town", along with burgers and Southern fried chicken, but by March 1990 it had given way to Cafe 87, which remained until around 2002–2003.[16]
2000s-present: Croydon-Sosyal Yardimlasma Ve Dayanisma Dernegi / Croydon Community Centre
The next arrival also sold food and drink, but in a more community-oriented environment. Croydon-Sosyal Yardimlasma Ve Dayanisma Dernegi — which according to Google Translate is Turkish for "Croydon Social Charity and Solidarity Association" — was open by 2004 or 2005.[17] When I visited in August 2012 to find out exactly what was going on behind this intriguing shopfront, I discovered a sort of cafe, with a fruit machine, old-fashioned decor, and a food servery at the back. The staff member on duty confirmed that — as the sign on the door said — it was a members-only establishment.
As of early 2016, however, the old shopfront has been transformed as part of the Connected Croydon public realm improvement programme. The shutter has gone, and a new sign reads "Croydon Community Centre". During the consultation for this programme, the architects designing the revamped frontage were told: "We are a Turkish Community Centre but would like to be open to anyone" — the new name is testament to that.[18]
Thanks to: David Bourne; Matthew Lloyd; the Planning Technical Support Team at Croydon Council; the staff, volunteers, and patrons at the Museum of Croydon; and my beta-readers bob and Kat. Census data and London phone books consulted via Ancestry.co.uk. Monetary conversions performed using the Bank of England inflation calculator (prices < £100 given to the nearest penny, prices from £100 to < £100,000 to the nearest pound, prices from £100,000 to < £1 million to the nearest £1,000, prices from £1 million to < £100 million to the nearest £100,000, prices ≥ £100 million to the nearest million).