Premier House, the 1950s building at 89 London Road, is currently owned and occupied by Croydon Islamic Community Trust. At the time of writing, the Trust uses the upper two floors while the ground floor is in preparation to open as a butchers shop, but the organisation's long-term plans include use of the full building for the benefit of the Muslim community.
1950s: Construction of the building
Until the late 1950s, this was the site of the original West Croydon Methodist Church. Built in 1900 but lasting a mere half-century, in 1957 the church was demolished and replaced with a smaller building set further back from the road. The space this left along the London Road frontage was filled with a new commercial building comprising shop premises on the ground floor and offices above.[1]
1950s: The arrival of Ketts
Although the initial proposals for the new building had included a division into four shops,[2] the first occupant seems to have taken up the entire ground floor by itself.[3] Ketts, a radio and television rental company which also sold white goods and vacuum cleaners, was in place by October 1959.[4]
Ketts was a family firm, founded as a bicycle sales and repair shop by "Pop" Prickett and three of his four sons at 1 Clifton Road, Spring Grove Corner, Isleworth, on 12 December 1946. The name, a truncated version of the family's surname, was chosen to be "short, easily recalled and not easily mispronounced".[5]
From the start, Ketts did not focus solely on the sale and repair of bicycles, but also offered bicycle and electrical accessories. As the supply of (and demand for) other electrical goods grew in the post-war years, the company began to sell items such as "radios, vacuum cleaners and the occasional washing machine". Indeed, their second shop, opened at 281 Kensington High Street in 1949, stocked only electrical goods, and the shop frontage described the company as "Television and Radio Engineers" with no mention of bicycles.[6]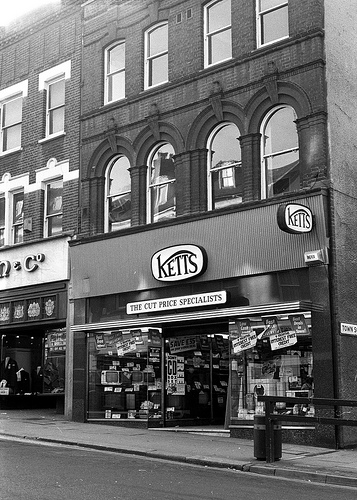 By the time it opened on London Road, the company already had several other branches in places including Eastcote, Hounslow, Kensington, Kingston, Richmond, and Wimbledon. It was also rapidly expanding, with a total of 24 branches opened between 1959 and 1961.[8] The newness of the London Road building did mean that it "needed shop fronts and fitting-out but this gave [the company] the opportunity of presenting the Ketts logo and the unique shop front design".[9]
As a renter and retailer of bulky goods, Ketts likely made full use of this large space. By February 1960 it was advertising examples of the "latest products of Electrical Division of RADIATION Limited in our showrooms now", all for sale either outright or via an initial deposit followed by weekly payments.
One of these was the Thor "automagic spin-dry washing machine", which "Washes, rinses, spin-dries in ONE giant tub by foot-pedal control", and could be had for £81.13s.10d (£1,697 in 2015 prices) upfront or a deposit of £4.13s.10d followed by 17s.10d/week for 104 weeks (£97.45 and £18.52 in 2015 prices). Another was the Parnall "'tenten' suction cleaner with exclusive 'vibra-beater'", which "suction cleans and sweeps without harming carpet", for £28.10s upfront (£592 in 2015 prices) or a deposit of £1.10s followed by 6s.3d/week for 104 weeks (£31.16 and £6.49 in 2015 prices).[10]
1960s: Ketts is joined by Croydon Heating Co and Discount Heating Supplies
The late 1960s saw the opening of Croydon's new Whitgift Centre, a large shopping centre lying between Wellesley Road and North End. Ketts took the opportunity to open a new branch in this rather more central location, and scaled back its London Road operations in conjunction with this, dividing the shop premises into two and remaining only in the right-hand half.[11] The newly-created vacant shopfront was occupied first by the Croydon Heating Co and then by Discount Heating Supplies.[12] Little information remains about either of these two companies, and even though I managed to track down an ex-employee of Discount Heating Supplies, his assessment was simply: "Not the most exciting or memorable store."[13]
1970s: Ketts leaves London Road
By the early 1970s Ketts was also selling vinyl records, as Dave Harwood recalls:[14]
I remember buying a couple of vinyl LP's from a carousel rack outside the shop [...] in the early 1970's. It wasn't a record shop as such but must have sold a variety of things. [...] the most recent of the LP's I bought there was issued in 1970. It was probably in the rack outside as a clearout item a year or so later as I bought it at a reduced price.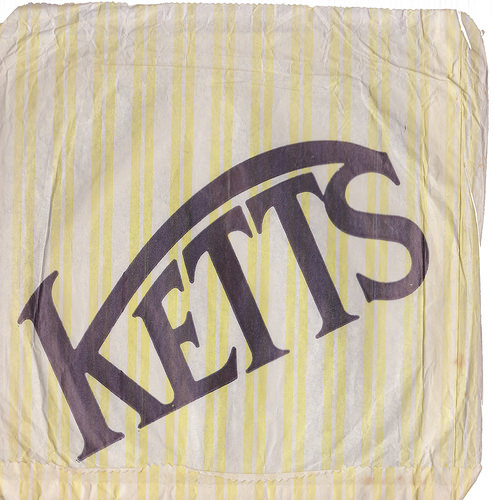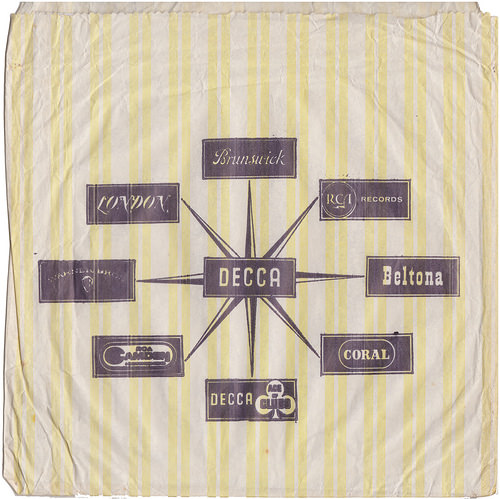 Ketts' Whitgift Centre branch was to remain until 1988. However, after spending around two decades on London Road, it departed West Croydon for good in 1978.[15]
1960s–1980s: The Economic League and the Co-operative Insurance Society
While Ketts and its companions had the ground floor, a rather different organisation was occupying the office space above. Arriving around 1964 and remaining until just into the 1980s,[16] the Economic League's stated aim was:[17]
To assist the development of a widespread understanding of the value and importance of profitable industry and commerce within the United Kingdom's mixed economy. To fight subversion and to keep members informed of the activities of those who are hostile to productive enterprise in industry and commerce.
Reading between the lines of this gives a clue as to why a 1989 publication by the National Council for Civil Liberties (Liberty) described the Economic League as "one of the more notorious private employment vetting agencies" which conducted a "kind of 'silent McCarthyism'" which "destroy[ed] the livelihoods of thousands of workers each year".[18]
According to Liberty, the company gathered information on left-wing individuals via newspaper reports, petitions, election nomination forms, reports from other companies' personnel officers, private detectives, the police, and even MI5 and the Special Branch.[19] It would then provide this information on request to its subscribers — companies including construction firms, breweries, retailers, food manufacturers, insurance brokers, and car manufacturers.[20]
The Co-operative Insurance Society seems to have also occupied the upper-floor office space at the same time as the Economic League, and one wonders how well the staff of these two organisations would have got on with each other.[21]
1980s: K J Leisuresound
Ketts' successor on the ground floor of number 89 was, like Ketts itself, concerned with electrical goods and music. K J Leisuresound, however, was rather more of a specialist, focusing on hi-fi equipment and accessories such as tapes.
Founded as a mail-order company in Watford in the late 1960s, K J Leisuresound expanded into central and outer London during the 1970s, opening shops in Uxbridge and Harrow as well as on Fleet Street and Wigmore Street. A desire for a branch south of the river led to its opening at 89 London Road in early 1980. Pete, who worked at this branch, recalls:[22]
To my memory it occupied all of the ground floor except for a small part on the left, looking from the front, which housed an office and the stairway to upstairs, more offices. So there were three large display windows and the main entrance. There were two demonstration studios, one for low/mid hi-fi systems and one for mid/high end systems. There was an AV room for TVs, video recorders etc, and there was a main showroom area for general display and selling accessories. The stockroom, a small service room and the "kitchen" were at the rear of the building.

The emphasis was on hi-fi equipment and KJ had a very wide range of Japanese and UK brands, including some exotic "high end" brands. Accessories sales, in particular tapes, were an important part of the business, and Audio/Visual became increasingly important during the 1980s. KJ was the largest such store in Croydon and the surrounding area and was quite successful.
A fire at the branch in the mid-1980s brought the musical era of 89 London Road to an end. Apparently caused by a lit display sign in one of the front windows, the fire damaged the premises severely; and as business had slowed down due to the recession, the company decided not to reopen here. However, it continued in business elsewhere, and is still in existence today at 26 New Cavendish Street, Fitzrovia, under the name of K J West One.[23]
1980s–1990s: Black & Decker
Next to arrive at number 89 was a name still familiar today: Black & Decker. Founded as The Black & Decker Manufacturing Company in Baltimore, Maryland, in September 1909, the company began to design and manufacture its own power tools in 1916, and rapidly expanded throughout and beyond the United States. By the time it opened its London Road "Sales & Servicing" centre in the early 1980s, the company accounted for 20% of the worldwide trade in professional tools, and had embarked upon a grand reorganisation program to counter the growing competition from German and Japanese firms.[24]
The London Road branch opened in late June 1984, and was almost immediately broken into, with thieves forcing the fire doors and stealing around £2,000 worth of rotary mowers and garden rakes (around £5,800 in 2015 prices).[25]
It's unclear how long the company remained on London Road. It seems to have been here until the mid-1990s, when it was replaced by a similar business called BMJ Power Tools, but it's possible that the latter had some connection to Black & Decker itself. In any case, both were gone by mid-2001.[26]
2000s: Sure Start
A substantial change of use came next, as the London Borough of Croydon took over the ground floor for use as a Sure Start children's centre. The Council's proposal, which was passed by the planning department in October 2001, included a large play area as well as an office area, meeting rooms, a lounge, a small coffee bar, and parking space for prams and pushchairs. Planning permission was granted on the condition that no more than 30 children should be present at any one time, in order to "protect the amenities of adjoining occupiers".[27]
Announced in July 1998, Sure Start was an evidence-based government initiative intended to "prevent social exclusion and [...] improve the life chances of younger children through better access to early education and play, health services for children and parents, family support and advice on nurturing". It was developed on the basis of several principles: involving parents as well as children; avoiding stigmatisation of "problem families"; targeting multiple factors rather than focusing on, for example, education or health alone; continuing for long enough "to make a real difference"; incorporating the opinions and involvement of parents and local communities; and remaining "culturally appropriate and sensitive to the needs of children and parents".[28]
Croydon's Sure Start programme focused on the Broad Green area, and formed part of Round 2 of the Sure Start roll-out.[29] It lasted at 89 London Road until December 2011, but was then closed down. The ground floor of the building fell vacant, and remained so until early 2016.[30]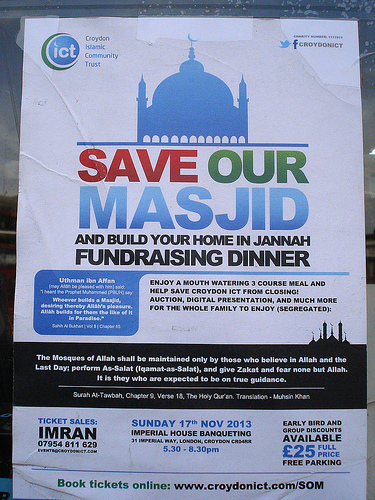 2009–present: Croydon Islamic Community Trust
The upper floors of the building, however, continued in use. Croydon Islamic Community Trust (CICT) moved in during April 2009, and by late 2013 were providing services including daily prayer services, an Islamic education and homework group, martial arts lessons for children, a twice-weekly women's coffee morning, conflict resolution services for young people, and marriage counselling.
The Trust worked with other bodies including Croydon Council's Family Resilience Service, leading the manager of this service to state in a letter of support that they had "found the organisation to be resourceful in delivering solutions to the community and [...to...] deliver with great integrity." From February 2011, it was also responsible for leading Friday prayers for the Muslim staff and students at Croydon College.[31]
While CICT began its time on London Road as a tenant, it later launched an appeal for funds and finally bought the building in August 2014. This purchase was funded through donations from the members of the masjid, £265,000 of smaller loans (with a plan to pay these off within 3 years), and a single large loan of £550,000. The large loan came from a business owner who was given the ground floor shop premises as security for a period of 5 years. When announcing the completion of the purchase in August 2014, CICT Chairman Abdul Jalil expressed the hope that within 5 years, a way would be found to pay off the large loan and reclaim the ground floor for use by the community.[32]
Thanks to: Brian Gittings; Dave Harwood; Leon Parker at the British Record Shop Archive; Pete at K J West One; the Planning Technical Support Team at Croydon Council; and the staff, volunteers, and patrons at the Museum of Croydon. Monetary conversions performed using the Bank of England inflation calculator (prices < £100 given to the nearest penny, prices from £100 to < £100,000 to the nearest pound, prices from £100,000 to < £1 million to the nearest £1,000, prices from £1 million to < £100 million to the nearest £100,000, prices ≥ £100 million to the nearest million). Some phone books consulted via Ancestry.co.uk.