Adam's Cafe at 152 London Road is a traditional British cafe, serving fried breakfasts, sandwiches, and mugs of strong tea throughout the day.
1850s–1860s: A "substantial detached coachman's house"
The first building on this site was constructed between 1844 and 1855 on what was then part of the Oakfield Estate. Although street directories describe it as a "cottage", it was actually a fairly substantial house containing "3 Bed Rooms, Sitting Room with Recessed Porch, Kitchen with Sink, and Water laid on, Pantry, and Coal Closet, with Fore-court and Garden".
By 1855, the house was occupied by William Warner, who worked as a coachman for Richard Sterry, owner of the estate. William must have found the size of his house very useful, as by 1861 his household consisted of not only himself, his wife Sarah, and their four children, but also his adult siblings Edward and Harriett. The latter both also likely worked on the estate; Edward as a gardener and Harriett as a servant.[1]
1860s–1880s: Henry Harker Pratt, Timpton House
Richard Sterry's death on 23 February 1865 brought an end to William's tenure on London Road. The estate was broken up, with most of the land being sold off to housing developers. Although Oakfield Lodge itself survived, its new occupant, coal merchant Joseph Rickett, retained only the immediately surrounding gardens; the coachman's house, being further towards the edge of the estate, was not included.[2]
The old coachman's house appears to have been bought by Henry Harker Pratt, a 40-something glass and china merchant who, at the time, both lived and traded at 47 Surrey Street. Henry did not intend to live in the house, however, but rather to knock it down and build a new one, larger and set further back from the road. The new property was complete by the early 1870s, and Henry gave it the name of Timpton House.[3]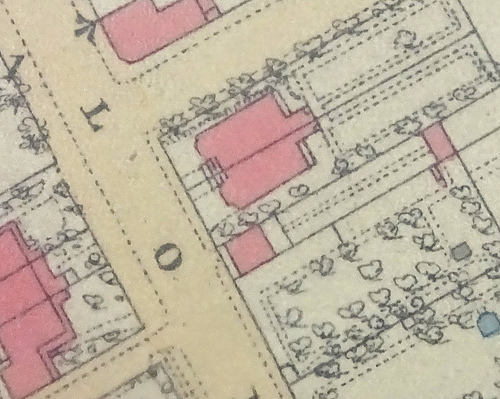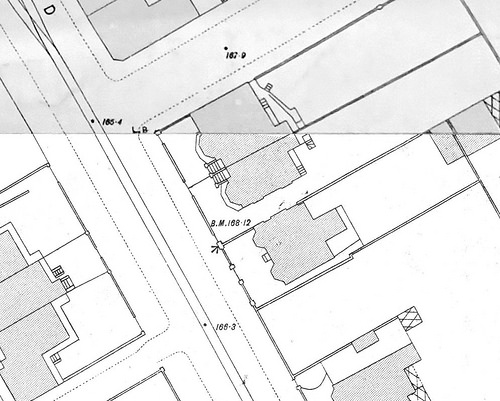 Henry had traded at 47 Surrey Street since at least 1851, and he retained his premises there after moving his residence to London Road. His wife Elizabeth and at least three children moved to London Road along with him, and Elizabeth's sister and niece may also have been part of the household.[4]
The Pratts moved back to Surrey Street around 1889, taking over the Dog & Bull public house. Elizabeth died in May 1889, but Henry remained as licensed victualler at the Dog & Bull until around 1896.[5]
1890s: Frederick James Waite, Mrs Miles, and Sarah Gillemand
Next to arrive at Timpton House was Frederick James Waite, in place by 1890. The 1891 census gives his profession as the rather intriguing combination of "West African Merchant" and "Brewers' Grain Contractor", but it's unclear whether these two pursuits were related. In any case, he and his family remained here for only a couple of years, and were gone again by 1893.[6]
Frederick's replacement was a Mrs Miles, who arrived around 1892 and renamed the house from Timpton House to St Elmo. This may have been a reference to the Christian patron saint of sailors, but it's hard to be sure as little information survives about Mrs Miles — I haven't even been able to find out her first name.[7]
By 1896, Mrs Miles had been replaced by recently-widowed Sarah Gillemand. Sarah had previously lived on Cameron Road with her husband Joseph, a dentist who practiced on North End, but after his death on 24 July 1895 she moved to the house on London Road which was now known as St Elmo. She only remained a couple of years, however, and by 1898 had moved just around the corner to 5 Kidderminster Road.[8]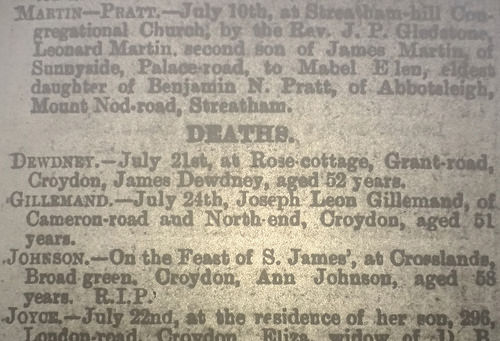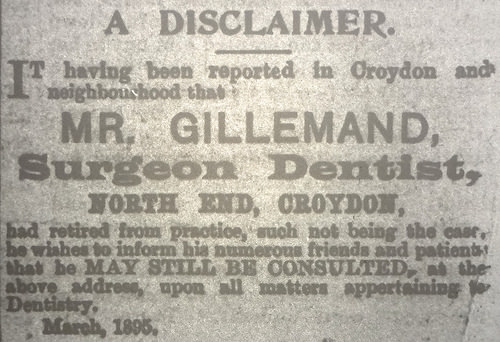 1890s–1900s: Arthur W Green and William George Hamilton Robinson
Arthur W Green, valuer and estate agent, was next to arrive, in place by 1898. Along with his wife Edith, he remained until around 1902.[9]
Arthur's replacement was William George Hamilton Robinson, a 40-something linen agent who seems to have liked switching around which of his given names he went by; street directories and censuses variously refer to him as William, George, and Hamilton. He only remained on London Road for a couple of years before moving to Sydenham Road around 1905.[10]
1900s: Extension and conversion to shops
The departure of William George Hamilton Robinson signalled the end of the building's use as a purely private house. The gap between this and the semi-detached pair to the north was filled in with a two-storey extension, and all three houses were extended forward to the pavement line, over the land which had previously been their front gardens. These were then split into a total of six shops, which today are numbered 152–162.[11]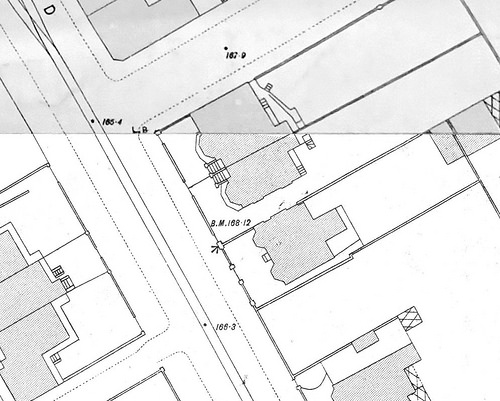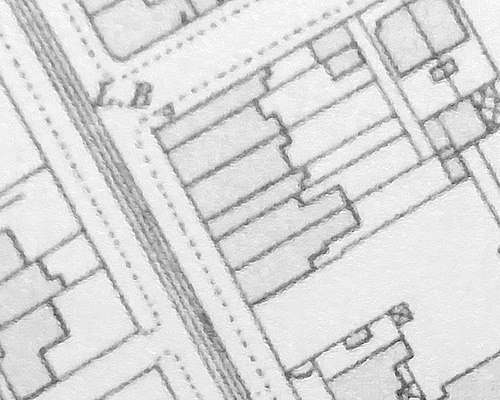 (From here on, this article focuses primarily on the shop now numbered 152; events at the other five will be described in more detail in future articles.)
1900s–1910s: Frederick William Gregory, butcher
By 1907, the southernmost of the six shops was occupied by Frederick William Gregory, a butcher in his late 30s. He also lived on the premises, along with his wife, his two young children, and his parents, and remained here until around 1916.[12]
1920s: J Callan/M A Callan and J Wakeham, greengrocers and fruiterers
The premises fell empty for a couple of years after Frederick's departure, but by 1920 were in use again as a greengrocers and fruiterers under the stewardship of either J Callan, M A Callan, or both. This was taken over by J Wakeham around 1928, but closed down by 1931.[13]
1930s: J C Harris, furniture mart
It's unclear what happened to the shop property over the next few years, though it certainly spent some time vacant. However, by mid-1936 it had become home to J Harris's "furniture mart", advertised as having "Always a large stock of good class furniture for cash sales".[14]
1930s: Sportomobiles
Harris's furniture mart was gone by late 1938, and replaced by Sportomobiles, a business which had previously traded from 1 Bensham Lane. At least part of its operations involved the sale of second-hand cars, though given the small size of the shop premises and lack of forecourt, it's unclear where the cars were actually kept and displayed. In any case, Sportomobiles vanishes from phone books after the end of the 1930s, and so quite likely also vanished from London Road.[15]
1950s–1980s: Roper's Stores
It's not clear what the property was used for during the 1940s, but by the mid-1950s it had become Roper's Stores, a small family-run business which at the time of writing still holds the title of number 152's longest-lasting occupant.
James Charles Roper and Edith Elizabeth Halford were siblings, born in Croydon in 1879 and 1881 respectively. Their father, also James, was an oil and colourman trading at 122 Church Street. The family moved to Islington by 1891, where James Senior continued to work in the same line of business.[16]
In 1903, Edith married brush importer's clerk Percival Robert Halford, and by 1911 she, her brother, her husband, and her three children had returned to Croydon, taking up residence at 162 London Road, the northernmost of the six properties created south of Kidderminster Road in the early 1900s. James Charles, who by now was going by his middle name of Charles, used the premises for his work as an oilman like his father.[17]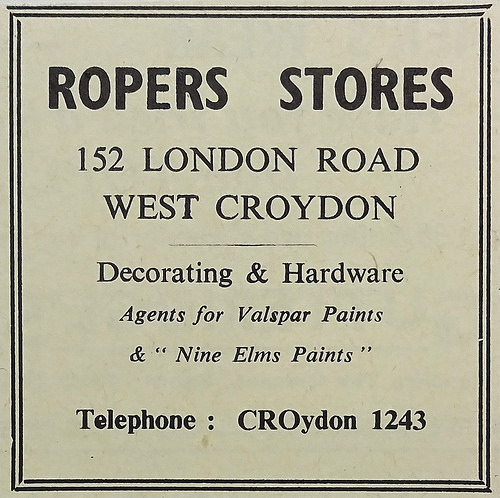 In the early 1920s, Charles moved his original business — now known as Roper's Hardware Stores — a couple of doors down to number 158, and converted number 162 to a "Domestic Stores", which appears to have been at least in part a grocer's shop. It seems possible that the reason for the move was to gain more space; as shown on the 1913 map extract above, number 158 was rather larger than 162.[18]
The early 1930s saw another change, as Roper's Hardware Stores at number 158 became Roper's Domestic Stores, and the premises at number 162 became a fruiterer's run by Edith.[19]
By the mid-1950s, the shop had again moved a few doors down — this time to number 152, the subject of the present article. Charles and Edith both died in the mid-1950s, within a couple of years of each other, but the Halford family continued to run Roper's Stores at 152 London Road until the 1980s.[20]
1990s–2000s: The Crusty Roll
By the end of 1992, Roper's Stores had been replaced by a bakery and sandwich bar known as The Crusty Roll. This had a central door with display windows to either side, and its name in Gothic script in a slight curve above the door. It remained here until at least the end of the 1990s.[21]
2000s: Palm Beach Cafe
Following closure of the Crusty Roll in the mid-2000s, there seems to have been a brief period when the premises was used as a restaurant known as Palm Beach Cafe. In contrast to the rather plain shopfront of the Crusty Roll, this had a colourful frontage featuring silhouettes of palm trees in dark blue against a blazing sun in orange and yellow. Croydon Council granted permission for all-day opening, from 7am to 10:30pm (10pm on Sundays).[22]
2000s–present: Adam's Cafe
By 2008, however, 152 London Road had become home to Adams Cafe.[23]
Although this advertised "dinners" as well as "lunch" and "all day breakfast", like most small British cafes of its type it was not open in the evening. The "dinners" were hot meals such as "Lamb chops, roast potatoes and 2 veg", "Beef & onion pie, peas and chips", and so on, suitable for eating in the middle of the day by those who take their main meal then rather than in the evening, while "lunch" included lighter options such as sandwiches, salads, and omelettes.[24]
Around the start of 2015, the business underwent a change of management and had a brief stint under the name of Pizzeria di Prato. During the day, this served the same sort of British cafe food as before, but during the evenings it offered pizzas with "hand stretched dough" made using "sourdough and long fermentation process", baked in a "Wood Fired" oven under the supervision of an "Experienced Pizzaiolo trained in Italy". However, by the end of the year the pizza experiment was over, and it reverted to Adams Cafe.[25]
Today, despite having replaced its blue plastic seating and beige formica tables with a more stylish wood effect (and gained an apostrophe in its name) during a mid-2016 refurbishment, Adam's Cafe remains much the same as when I first visited it in early 2012. Moreover, the interior layout still has echoes of its past as a private house. Although the front part of the cafe is level with the street, further back a half-flight of steps leads up to a raised area that would have been the original ground floor of the house built by Henry Pratt a century and a half ago.
Thanks to: Alex Roberts, for help in deciphering the 1901 census; Blom ASA, for providing a reference image; the Planning Technical Support Team at Croydon Council; the staff, volunteers, and patrons at the Museum of Croydon; and my beta-reader Alice. Census data, civil registration indexes, and London phone books consulted via Ancestry.co.uk.
Footnotes and references
The 1844 Tithe Award map shows no buildings on this spot, which is part of a large section owned by Richard Sterry and described as "House, out offices, lawn, garden, yard and stores". The map is shown in my article on the old General Hospital site, under the section on Charles, Rachel, and William Minier. The site of present interest is just below the plot labelled 903 in the centre (the boundary between 652 and 652A opposite is where Montague Road runs today). Street directories from Grey & Warren's 1855 directory to Warren's 1865–66 inclusive list William Warner at "cottage to Oakfield Lodge" roughly opposite Montague Road, and this building is clearly shown on the plan included in the particulars of a sale conducted on 24 October 1867 (Museum of Croydon drawer 39 map 12, corresponding to Harold Williams vol 1867 no DCLIX; this map is also shown in my article on the old General Hospital site). The "cottage" is not listed in street directories prior to 1855; this may be because it hadn't been built yet, or it may be because the directory compilers saw no need to list it separately from Oakfield Lodge itself. Quotations describing the "coachman's house" are taken from the particulars of another sale conducted on 23 June 1865 (Harold Williams vol 1865–66 no DXCV). Information on William's profession and household is taken from the 1861 census; this doesn't state explicitly that Edward and Harriett worked for Richard Sterry, but it does seem the most likely circumstance.
See my article on the old General Hospital site for more information on the estate breakup. Joseph does appear to have had his own coachman, as the 1871 census lists one as part of his household; but this person, along with Joseph's other servants, was likely accommodated in the main house.

See the next footnote for information on Henry's age, profession, and Surrey Street premises.

Evidence for the knocking-down-and-rebuilding is all indirect, but the story I give here does seem to me to be the most likely set of events. The house was certainly rebuilt at some point between 1868 and 1896, as evidenced by the Ordnance Survey map excerpts included here. Moreover, while Warren's 1869 directory lists Henry at "cottage to Oakfield Lodge", the next available directory, Wilkins' 1872–3, gives Henry's address as Timpton House. Henry and his family were certainly living at 47 Surrey Street before moving to London Road, as they appear there in the 1861 census, and Henry retained those premises as his place of business long after the London Road move. It seems possible that the 1869 directory lists Henry at the "cottage" because he had purchased it and intended to move his family into it, but he then changed his mind and decided to rebuild it instead. Another possibility is that the family moved in, found it too small, and moved back to the Surrey Street premises (which, as noted, remained in Henry's possession) so it could be demolished and rebuilt.

Henry was certainly not disinclined to perform building work on his properties; according to an advert in the 29 June 1861 Croydon Times (viewed as a clipping in the firms files at the Museum of Croydon), around the early 1860s he "erected extensive Premises next to his present place of business, 47, SURREY STREET, CROYDON". Moreover, street directories show no other obvious point where the rebuilding of the old coachman's house could have taken place. Although there are points where the occupant changes, the property which later became numbers 152–154 London Road retains the same name ("Timpton House" up to the early 1890s and "St Elmo" thereafter) through these changes of occupant, and it seems unlikely that a person would knock down an old house, build a new one in its place, and then give it the exact same name as the old one.

Henry is listed at 47 (and later also at 47½) Surrey Street in street directories from Gray's 1851 (the earliest relatively complete directory of this kind) to 1894 inclusive, initially as a "China and Glass dealer" and later as a "China & Glass Dealer, and Furnishing Ironmonger". (The 1895 edition states that "From No. 42 the houses will be pulled down for the Croydon High Street Improvements".) The 1871 census lists Henry as a 46-year-old "China & Glass Merchant" living on London Road with his 48-year-old wife Elizabeth, three children (18-year-old Fanny, 12-year-old Grace, and 9-year-old Harry), Elizabeth's sister Susan, and Susan's daughter Flora. There's unfortunately no way to tell whether Susan and Flora were living there or just visiting.

Ward's directories list Henry at Timpton House, London Road, up to and including the 1888 edition; at the Dog & Bull, Surrey Street, from 1889 to 1896 inclusive; and at 17 Derby Road from 1897 to at least 1903. The 1891 census confirms that he was living at the Dog & Bull at that point. According to a notice on the front page of the 24 October 1908 Croydon Guardian, Henry died at Greenock, 17 Clyde Road, Addiscombe, on 22 October 1908 at the age of 85, and was buried at Queen's Road cemetery (see also his entry in the National Probate Calendar).

The evidence on Elizabeth's death is all indirect, unfortunately. The 1891 census lists Henry as a widower. The England & Wales Civil Registration Death Index 1837-1915 (viewed online via Ancestry.co.uk) records the death of a 68-year-old Elizabeth Pratt at Croydon in the second quarter of 1889, which matches well with the age of Henry's wife as given in the censuses. A list of burials on page 8 of the 11 May 1889 Croydon Advertiser provides the additional information that Elizabeth Pratt was buried on 9 May 1889 and had lived in the ecclesiastical district of St John the Baptist, which according to the 1891 census was the district covering the Dog & Bull. However I haven't found direct evidence that this was our Elizabeth Pratt, as no death announcement appears to have been placed in the local papers.

Frederick is listed (as F J Waite) at Timpton House in Ward's directories for 1890, 1891, and 1892; the 1893 edition instead lists a Mrs Miles. His full name is taken from Kelly's 1890 directory and the 1891 census; the latter source also gives his profession as "West African Merchant – Brewers' Grain Contractor" and includes his wife Mary, 7-year-old son Arthur, and 6-month-old daughter Rosalind as well as a general servant, Minnie Graves, and a nursemaid, Ada Graves (presumably Minnie's sister).

Regarding his profession, the phrase "Brewers' Grain" could refer to either selling grain for brewers to use, or selling "spent" grain (that had already been used for brewing) for animal feed. If the latter, then it seems unlikely that this was related to his West African activities. However, if this is not the case, it seems at least possible that he imported grain from West Africa and sold it on to English brewers. The other direction is less likely; according to researcher Jonathan Roberts, the first brewery in West Africa didn't open until 1933 ("Michael Power and Guinness masculinity in Africa", in Beer in Africa: Drinking Spaces, States and Selves, edited by S Van Wolputte and M Fumanti, 2010).

Ward's directories list Mrs Miles, Timpton House, in 1893, and Mrs Miles, St Elmo, in 1894 and 1895 (note that the information for these directories was generally finalised late the previous year). There seem to have been at least two children living at the house too, though their surname was Millen rather than Miles. The "Children's Hour" section of the Hampshire Telegraph (which appears to have been syndicated across several local newspapers from different regions) includes a letter from "Ethel Millen, St. Elmo, London-road, Croydon" on 2 July 1892 (page 12, viewed online via the British Newspaper Archive) and another from "Violet Millen (12), St. Elmo, London-road, West Croydon" on 23 July 1892 (page 12, viewed online via the British Newspaper Archive). I haven't been able to find these children in the 1891 census.
Ward's directories list "Mrs Gillemand" at St Elmo, London Road, in 1896 and 1897; at 5 Kidderminster Road in 1898, 1899, and 1900; and at 8 Lodge Road thereafter. Her first name is not given in these directories, but her surname is an unusual one, and no Mrs Gillemand is listed prior to Joseph Gillemand's death — while he was still alive, she would have been considered part of his household, and these directories only listed the head of the household. Censuses show Sarah Gillemand at 117 North End with Joseph (and five children) in 1891, and as a widow at 8 Lodge Road in 1901. Regarding Joseph's dental practice, Ward's directories list him at 117 North End up to and including 1895, and additionally at 5 Cameron Road in 1894 and 1895 (as E J L Gillemand in 1894 and as J L Gillemand in 1895). Joseph's date of death is taken from a notice on the front page of the 27 July 1895 Croydon Guardian.
Ward's directories list A W Green at St Elmo from 1898 to 1902 inclusive. His full first name, profession, and wife's name are taken from the 1901 census.
Ward's directories list W G Hamilton Robinson at St Elmo in 1903, 1904, and 1905, and George Hamilton Robinson at Oulton, 40 Sydenham Road from 1906 onwards. Kelly's 1911 directory lists him at 40 Sydenham Road and gives his full name as William George Hamilton Robinson; he also appears as Hamilton Robinson at this address in the 1911 census. The 1901 census shows him as a 47-year-old linen draper on Hazeldean Road (again as Hamilton Robinson). Ward's 1906 directory lists St Elmo as "unoccupied".
As shown by the 1896 and 1913 map extracts reproduced here, this extension and splitting certainly took place some time during 1896–1913. Ward's directories up to and including 1906 list three houses between the house on the site of the current Panton Close, while in 1907 they list four shops (two of them "unoccupied") plus the (occupied) northernmost house, and from 1908 onwards they list six shops. One does wonder why the shops weren't all constructed together as a block. It's possible that the shells of the extensions were put in place all at once and then finished one by one starting from the southernmost, but in that case I'd expect Ward's directories to have made some mention of the building work in progress, as they have done in other places.
Ward's directories list F W Gregory, butcher, from 1907 to 1916 inclusive. Other information is taken from the 1911 census.
Ward's directories list "Unoccupied" in 1917, 1918, and 1919; J Callan, greengrocer, from 1920 to 1928 inclusive; and J Wakeham, greengrocer, in 1929 and 1930. Kelly's 1927 directory lists M A Callan, fruiterer.
Ward's directories were published more sparsely during the 1930s, but the 1932 and 1934 editions list number 152 as unoccupied, while the 1937 edition lists J C Harris, furniture mart, and the 1939 edition instead lists Sportomobiles. Harris's must have been in place by mid-1936, as it placed an advertisement on page 7 of the 27 May 1936 Croydon Times (from which the quotation in the main text is taken).
Sportomobiles is listed at 152 London Road in Ward's 1939 directory (the final edition published), and also appears here in London phone books for November 1938, May 1939, and August 1939. The May 1938 edition lists it instead at 1 Bensham Lane. I don't have access to a 1940 London phone book for names beginning L–Z, but I have checked later editions, in which Sportomobiles does not appear. Information on its trade in second-hand cars is taken from an advert on page 17 of the 6 January 1939 Croydon Advertiser (reproduced here).
The 1881 census, which was conducted on the night of 3/4 April, lists James Roper, a 33-year-old oil and colourman, along with his 21-year-old wife Alice, 18-month-old son James C, and 1-month-old daughter Edith Elizth [Elizabeth] at 122 Church Street, Croydon. The 1891 census has the family living at 5 River Street, Islington; James Senior is still working as "Oilman Colour", James C's full middle name is given as Charles, and another child, William Henry, has joined the family. I haven't been able to find James Charles in the 1901 census, but his parents and siblings are at 47 Benwell Road in Highbury. The move from Croydon to Islington might have taken place very shortly after the 1881 census, as Ward's directories list James Roper, oilman, at 122 Church Street only in 1880; the next edition, for 1882, lists a different oilman at 122 Church Street, and the only James Roper appearing in the alphabetical lists is a private resident. (Prior to 1880 he's listed at 11 Church Street, and from comparison with other entries this appears to be an actual move rather than a renumbering of the road.)

The 1911 census lists Percival Halford, office clerk, at 60a London Road (later renumbered to 162) along with his wife Edith, their three children, and his "Brother" Charles Roper. Given the difference in surnames, "Brother" clearly means brother-in-law. The England & Wales Civil Registration Marriage Index, 1837–1915, lists Edith Elizabeth Roper and Percival Robert Halford on the same page as each other (Vol 4a, p440), both in West Ham in the second quarter of 1903. Percival's profession is taken from the 1901 census. There is a small discrepancy in that the 1901 census states Percival was born in Warrington in Lancashire, while the 1911 census instead has him in Birmingham. However, the signature on the 1911 census is Charles', not Percival's, so it seems likely that Charles simply misremembered his brother-in-law's birthplace. The 1911 census lists Charles as an oilman, working at home, and Percival as an office clerk (though now for a typewriter business rather than a brush importer).

Regarding the move to Croydon, Ward's directories list Charles Roper, oil and colourman, at 60a London Road from 1908 onwards. The 1911 census states that Edith and Percival's youngest child was 3 years old at that time and had been born in Croydon, suggesting that the Halfords moved to Croydon by 1908. Ward's directories from 1908 to 1912 do not include Percival Halford among the alphabetical list of residents, so it seems most likely that the Halfords were living with Charles at 162 London Road by 1908.

Ward's directories list Charles Roper, Oil and Colourman, at 60a London Road (later renumbered to 162) from 1908 to 1920 inclusive; and then Charles Roper, Domestic Stores, at the same address from 1921 to 1930 inclusive. During the latter period, they list Roper's Hardware Stores at number 58 (renumbered to 158 around 1927). Kelly's 1927 directory describes Charles Roper as a "grocer" at number 60a (i.e. the later 162) and as a china dealer at number 58 (later 158).
Ward's directories list number 162 as E Halford, Fruiterer & Greengrocer, in 1932; E Halford, Fruiterer, in 1934 and 1937; and Mrs E Halford, "Fruitr" [fruiterer] in 1939. They list number 158 as Roper's Domestic Stores from 1932 to 1939 inclusive. (1939 was the final edition of these directories.)
Roper's Domestic Stores appears at 152 London Road in the January 1954 Outer London: Surrey phone book. (It could well have been there before that and just not had a phone; a small shop like this might not have required one.) According to James Charles Roper's entry in the National Probate Calendar, he died on 20 October 1954, and according to Edith Elizabeth Halford's entry, she died on 20 January 1956. The lists of interments in the Croydon Advertiser on 29 October 1954 and 27 January 1956 respectively state that both were buried in Queen's Road Cemetery. Although it loses its apostrophe along the way, Roper's Stores is listed at 152 London Road in phone books up to and including 1988; and according to Brian Gittings' 1980 survey of central Croydon retail, at that point it was run by "R Halford Esq".

The Crusty Roll, "Bkrs" [Bakers], is listed in Croydon phone books from July 1993 to July 1999 inclusive. It also appears in the first and second editions of Shop 'Til You Drop, probably published around 1998–1999 and 2000, respectively. The earlier bound for The Crusty Roll's presence on London Road comes from a photo showing the shopfront with this name on, labelled as being taken on 28 September 1992, included in a planning application for number 154 next door (ref 93/1160/A, viewed on microfiche at Croydon Council offices). The description of the shopfront is my interpretation of another photo included in the same application, this one labelled as being taken on 25 April 1993. A much later planning application (ref 06/01350/P) includes a letter dated 31 March 2006 which states that at that time the premises were "used as a sandwich bar/café and I am advised that it has been in this use for approximately 12 years." As these 12 years overlap heavily with the time that the Crusty Roll is documented as being there, the use as a sandwich bar and cafe almost certainly refers to that business.

The planning index card for 152 London Road contains a rather interesting entry from 1998, with the summary/description of "Unauthorised A3 use" (ref 98/0118/C). The details of this are not publically viewable, so I've not been able to find out any more, but it seems possible that this is a complaint relating to allowing customers to eat their sandwiches inside the shop instead of taking them away. Prior to the Crusty Roll's opening, the premises would have been considered to be in Class A1, which covers (among other things) retail shops including those selling cold food intended for consumption off the premises. If food was to be consumed on the premises, this would instead come under Class A3 and would require planning permission for a change of use. The index card shows no evidence of such permission. However, there's also no evidence that the complaint about unauthorised A3 use was actually justified — it's possible that the council investigated and found that all the sandwiches sold by the Crusty Roll were takeaway ones. Hence despite the assertion of the March 2006 letter, I'm not confident that the Crusty Roll was actually also a cafe.

Information on Palm Beach cafe is taken from two planning applications (ref 06/01350/P and 06/02953/P) including colour photos of the shopfront. The first of these applications was refused due to placement of the kitchen ducting, but the second (similar to the first, with the ducting in a different place) was granted on 5 September 2006.
Google Street View imagery from July 2008 shows Adams Cafe open and looking very similar to the January 2012 photo included in this article. Adam's [sic] Cafe also appears in Croydon phone books from 2007–2008 and 2009–2010.
Quotations regarding type of meal are taken from the windows as shown in the January 2012 photo included here. Food examples come from photos I took of the menu in March 2012: lunches, dinners. In September 2013, I noted the opening hours from a sign outside as being 6am–5pm, Monday–Sunday.