As noted in an earlier article, I'm covering the site of 145–151 London Road in a mini-series of four articles. The first of these covered the initial development of the site and the full history of the southernmost property built there, the second discussed the second property going northwards, the third covered the third property, and here I discuss the fourth property plus the present-day occupants of the entire site.
1820s–1880s: Common land becomes private land
The site in question, bounded on the north by Chatfield Road, on the south by Montague Road, and on the east by London Road, was common land until the 1820s, being part of a large area known as Parson's Mead. Following the 1823 Parson's Mead Inclosure Act, this plot (and much of the rest of Parson's Mead) became the property of the Caldcleugh family, who then sold it off in the 1830s.[1]
This particular piece of land was sold at auction in April 1838, divided into two lots. The south side went to Henry Overton, a Croydon-born brewer in his late 40s, while the north side went to Jonathan Barrett, an iron and brass foundryman from Streatham.[2] By the early 1850s, Henry had built and rented out three houses on his land (discussed in my articles on 145, 147, and 149 London Road, respectively).
Jonathan's land followed a different path. As well as this plot of land, Jonathan had also purchased the house and grounds previously occupied by the Caldcleughs themselves: Broad Green House, a large property immediately to the north of here. He appears to have simply used this strip of land to extend the Broad Green House grounds further southwards, and as such it remained undeveloped until the 1890s.[3]
1890s: Development of the long-empty north side of the site; construction of Chatfield Road
By the late 1870s, Broad Green House had seen three changes of owner, from Jonathan Barrett to John Dillon, then to Charles Chatfield, and finally to Charles' widow Mary. Jonathan had built housing on the north part of the grounds before selling the house and the remaining land to John Dillon (and indeed had moved into one of the new houses himself), but aside from this, Broad Green House and its grounds remained as a single unit right up to the end of Mary's occupancy.[4]
Following Mary's death in August 1891, however, the old estate was broken up. Broad Green House itself was split into two properties, with the southern half of the building retaining the name of Broad Green House while the northern half became Chatfield House. The grounds were split up, too, and the strip of land that Jonathan had added to the southern edge of the original estate in the 1830s was made separate again — not only notionally, but also physically, as a new side road was constructed along the boundary between the two.[5]
This road, which ran west off London Road towards Handcroft Road, was given the name of Chatfield Road — like Chatfield House, in recognition of the erstwhile occupant of Broad Green House. Construction of housing along the road began shortly after, and by the mid-1890s both sides of Chatfield Road were lined with houses.[6]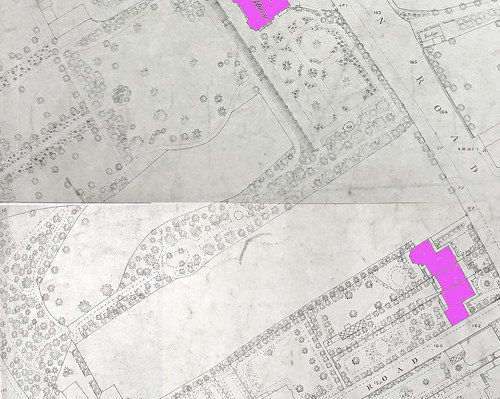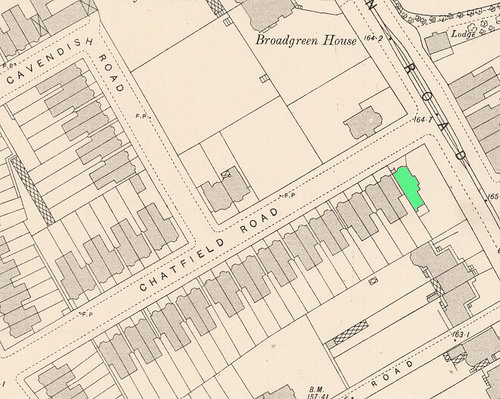 1890s–1900s: Mrs Hooker; Robert Chapman; Charles and Sarah Bull
Most of these new houses had addresses on Chatfield Road, but one — Sydney House, on the southern corner with London Road — also took a London Road address.[8]
Sydney House saw a fair amount of turnover during the first decade of its life. The first recorded occupant was a Mrs Hooker, who only remained for about a year and by 1896 had been replaced by solicitor Robert Chapman. Robert seems to have conducted business from his home at least part of the time, as an advertisement in the 9 January 1896 Evening Standard states that sales particulars for a house on offer near Crystal Palace can be obtained from "Sydney House, Chatfield-road, West Croydon". However, he also only remained for a short while, and by 1897 had in turn been replaced by Charles and Sarah Bull.[9]
Charles, a retired horse-collar manufacturer, had married Sarah just a handful of years before the couple moved to London Road. When their marriage took place on 8 February 1890 at the parish church of St Luke in the City of London, Charles was a 70-year-old widower and Sarah a 51-year-old spinster. They had just short of a decade together, as Charles died at Sydney House on 2 January 1900. Sarah continued to live at the property for a couple of years after this, taking in lodgers to make ends meet, but moved out by 1903.[10]
1900s: Walter and Hanna Wood
Next to arrive were Walter and Hanna Wood. Born the son of a rice merchant in Liverpool in the 1840s, by the age of 18 Walter was working as a commercial traveller specialising in tea. By 1885 he was living in Westminster, London, with his then-wife Annie.[11]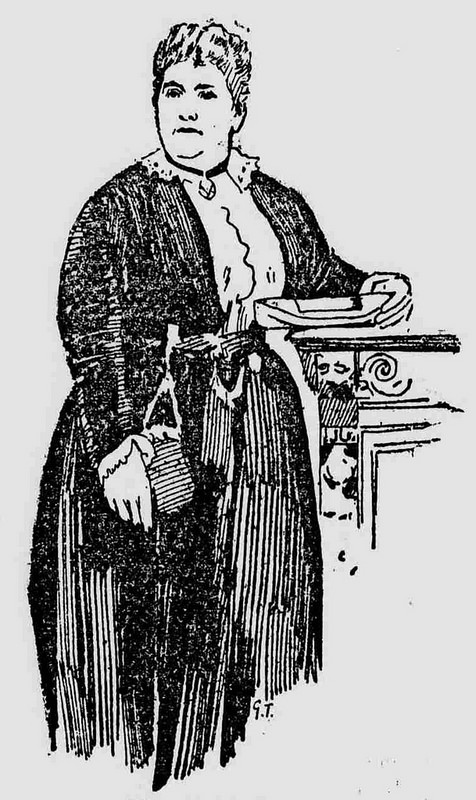 Annie was a prolific inventor, with a mind both practical and imaginative. Inspired by the desire to create "a boat that would be absolutely safe", she spent five years experimenting with natural rubber to create a buoyant substance which had "all the elasticity of india-rubber, with the additional advantage of being uninflammable and uninjured by salt water" and "endowed with the power of closing up after penetration". The new material, Woodite, could also "be manufactured very cheaply".[12]
By 1891, Woodite was in production at a factory on Mitcham Common, and a new house designed by Annie herself was under construction nearby. Woodite Towers, an "ornate Gothic structure in flint", was "luxurious within and without [...] the beau-ideal of a convenient and comfortable house, commanding on all sides extensive and splendid views of the surrounding country."[13]
Annie's other inventions included Whaleite, a combination of Woodite and ground whalebone for use in making items which needed to be both hard-wearing and non-slip, such as horseshoes and cab wheels;[14] a "mechanically propelled" lifeboat which allowed rowers to face forwards instead of backwards;[15] and a "mechanical horse", which consisted of "a petroleum motor, in the shape of a horse — a horse cut off at the knees, it is true, but having so much the appearance of an ordinary, everyday horse that its appearance on the street, drawing a carriage or cart, is not expected to be in the slightest degree terrifying to the most mettlesone animal", thus allaying the fears of those who were "expecting that the advent of the new motor-car will cause horses to shy, rear, and plunge upon their first acquaintance with the new carriages".[16]
Annie died at Woodite Towers on 23 January 1897, and a year and a half later, Walter married Norwegian-born Hanna Simonine Simonsen. By early 1900, Walter and Hanna were living at Beddington Corner, across the common from Walter's previous home at Woodite Towers, and by 1903 they had moved to Sydney House, London Road. Walter died here on 15 May 1905, at the age of 62, "after a painful illness", and was buried in Mitcham Road Cemetery. Hanna remained at Sydney House for a short while after Walter's death, but moved out by 1907.[17]
1900s–1950s: Various private residents, and subdivision of the property
The next half-century saw different residents come and go, with none of them leaving much of an impression on the documentary record. Herbert Haslegrave, Arthur Sercombe, and Edwin E Chad seem to have been the final three heads of household to occupy Sydney House in its entirety, as from 1923 onwards Ward's directories list multiple simultaneous residents.[18] Indeed, a 1956 planning application makes reference to "all the tenants of No. 151 London Road", suggesting that by that point it may have become what today would be considered a house in multiple occupation (HMO).[19]
1960s: Redevelopment
The late 1960s saw the final end of both Sydney House and the three buildings originally constructed on Henry Overton's land over a hundred years previously. By mid-1969, the entire site had been cleared, and construction had begun on a new office block with a garage on the ground floor.[20] The office block occupied the space previously taken up by 145–149 London Road, while the old site of Sydney House became a "Car Waiting area" for customers waiting their turn for the tyre fitting bays in the ground-floor garage.[21]
1970s–1990s: Merritts Speedy Silencer Service, Milex, and Standard Motorists Centres
The ground-floor garage was in occupation by mid-1970, with the space shared between Merritts Speedy Silencer Service and Standard Tyre Co Ltd. Merritts, which specialised in car exhausts, moved out just a couple of years later, at which point Standard Tyre Co became Standard Motorists Centres and began advertising exhaust fitting in addition to tyre fitting. Another car servicing company, Milex, arrived around 1983, but was gone again by 1987.[23]
1990s–present: Central Tyre, Ace Auto Centre, Ace Car Wash, Mek Mester, Enotech Autos, Impact Motor Vehicle Repairs, and Tyre Options
Standard Motorists Centres became Central Tyre in the mid-1990s; it's not clear whether this was a name change or a takeover by another business, but certainly both the branch at 145 London Road and another branch at 81 Beckenham High Street were under the name of Central Tyre by July 1996. This remained in place for around a decade.[24]
Other businesses followed, including Ace Auto Centre, Ace Car Wash, Mek Mester, and Enotech Autos. However, at the time of writing, the occupants of the ground floor are Tyre Options, at the front, and Impact Motor Vehicle Repairs, round the back with an entrance on Montague Road.[25]
1970s–1980s: The United Association for the Protection of Trade
Meanwhile, tenants were found similarly swiftly for the office space on the floors above, with the first occupant being the United Association for the Protection of Trade, or UAPT.
Founded in 1842 as the London Association for the Protection of Trade, this organisation's original aim was to formalise an existing practice in which London traders held weekly meetings where they "exchanged views on current questions of commercial interest, asked advice of one another regarding the credit of customers, related experiences with swindlers, etc., etc."[26]
By the end of the 1950s, a century after its formation, it was handling over 300,000 credit enquiries per year.[27] A mid-1960s merger with another company, Kemp's Mercantile Offices, led to a new name – the United Association for the Protection of Trade — and heralded a period of reorganisation.[28]
Although it already had a branch in Croydon, UAPT was now seeking new premises both for its London branch and for the bulk of its central management facilities. Its committee met on 11 November 1969 to consider a proposal to take 145–149 London Road for these purposes, and the move began just three months later: "the Accounts Department moved in February, the Collection Department on 12 March 1970, and the London branch moved over the Easter holiday."[29]
UAPT seems to have moved some of these functions to Zodiac House, just up the road, around 1975, but retained a presence at numbers 145–151 until the mid-1980s, when it transferred all its Croydon operations to Coombe Cross, 2 South End.[30] In 1987, it changed its name from UAPT to UAPT-Infolink and its status from a mutual society to a public company. The new company remained at Coombe Cross until the late 1990s.[31]
1980s–1990s: M J N Ltd
By mid-1986, UAPT's move to Coombe Cross was complete. The London Road offices remained vacant for a couple of years before being taken over by M J N Ltd, an engineering and building services maintenance firm. This remained until the late 1990s, but was gone by 1999.[32]
1990s–2000s: Rosan & Co and the Croydon Auction Rooms
Next to arrive was Rosan & Co, a firm of property agents and auctioneers. Having been located across the road at number 144 since the early 1970s, the company had now expanded to the point where it needed larger premises. It used the upper floors for offices and conducted its auctions in the basement of the block, which had previously been used as UAPT's computer room and then as storage space by M J N. Auctions were held fortnightly on Saturdays, with attendances of around 150–200 people in total each time.[33]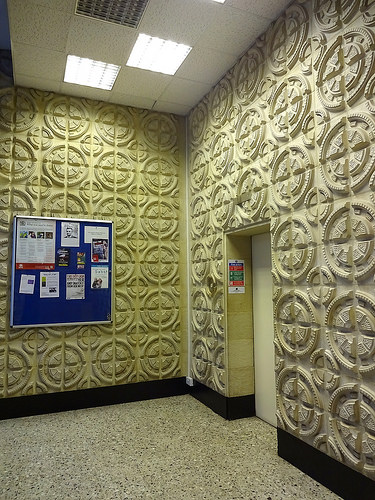 2010–present: Praise House
After the departure of Rosan & Co, both the office accommodation and the basement saw an extended period of vacancy and dereliction. The building was badly vandalised during this time, with the electrical wiring, copper piping, taps, sinks, and even toilet basins all being ripped out, presumably to be sold on for cash.[34]
However, a bright new chapter in the building's history began in May 2010 with the arrival of Praise House Church, a non-denominational Christian church founded on Brixton Hill six years before. After moving to Streatham and then Thornton Heath, the church took on the lease of the basement and upper floors at 145–151 London Road, and began remedying the years of neglect. Within two years, the building was fully fitted out again with new flooring, wiring, pipes, toilets, and kitchen facilities.
Today, Praise House Church shares its space with several other Christian organisations, and has plans to expand its facilities still further.[35] As Pastor Damian Luke explained to me:
We had always had a vision that whatever building we occupied, we would share the facilities with people who were like-minded and who shared similar aims and objectives as us. Same thing we did when we were in Woodville Road [in Thornton Heath], so we've always known that for church organisations finding places of worship and meeting halls and all that was always a problem. [...]

We took over the lease for the ground floor in February 2011 [...] the part occupied by the garage, carwash, and the car tyre places in front. [...] Our intention in 2017 is to get rid of the tyre place downstairs and to convert the whole of the ground floor space as it is now into a decent church meeting hall, like a hall for the community, possibly with a small coffee shop, and have paving outside and a seating area. [..] Where people can come into — and where we can possibly have a crèche facility. [...] We're currently waiting for the building controller or structural engineers to agree on the final drawing for that work so that we can start what we want to do.
Thanks to: Damian Luke of Praise House Church; Mr Ebo of Tyre Options; Meg Hewitt, for a swift and professional transcription of my interview with Damian; Grace's Guide; John Wiley & Sons Ltd; the Planning Technical Support Team at Croydon Council; the staff, volunteers, and patrons at the Museum of Croydon; and my beta-readers Alice and bob. Census data and London/Surrey phone books consulted via Ancestry.co.uk. Monetary conversions performed using the Bank of England inflation calculator (prices < £100 given to the nearest penny, prices from £100 to < £100,000 to the nearest pound, prices from £100,000 to < £1 million to the nearest £1,000, prices from £1 million to < £100 million to the nearest £100,000, prices ≥ £100 million to the nearest million).