The stretch of London Road now numbered as 145–151 lies on the west side, between Montague Road and Chatfield Road, and is currently used for two very distinct types of activity. The upper floors of the building on the south side of the site are occupied primarily by Christian churches and community groups, while the ground floor and the open space on the north side of the site are home to car-related businesses.
Given the size of this site, with a frontage of 67 metres on London Road,[1] it should be unsurprising that its initial development included more than one property — in fact, there were once four houses along this stretch. I'll therefore be covering it in four articles, one for each house going from south to north. In this first article, I'll also describe the initial development of the land, and in the final article, I'll include a discussion of the present-day occupants.
1820s–1830s: The previously-undeveloped common land passes into private ownership
Along with everything else on the west side of London Road between Derby Road and Chatfield Road, the site was originally part of an area of common land known as Parson's Mead. However, following the 1823 Parson's Mead Inclosure Act, ownership of this land passed to the trustees of Alexander Caldcleugh, as until his death on 18 January 1809, Alexander had been "seised of or otherwise well entitled to a certain Piece or Parcel of Meadow Land called Parsons Mead, situate within the Manor of the Rectory of Croydon otherwise Bermondsey, in the Parish of Croydon in the said County of Surrey, subject to certain Rights of Common upon or over the same".[2]
Alexander had lived at Broad Green House, just beyond the north end of Parson's Mead, and his widow Elizabeth continued to live there after his death. However, after Elizabeth herself died, on 8 February 1835, both Broad Green House and the Parson's Mead land were auctioned off. The latter was split up into small lots for the auctions, and the plots fronting on London Road ended up being owned by a total of eleven different people.[3]
1840s–1850s: Houses are built on the south side of the site
The area between the modern Montague Road and Chatfield Road was at the north end of Parson's Mead, just south of Broad Green House itself. The north side of the site was bought by Jonathan Barrett, while the south side of the site, which is now occupied by Praise House, was bought by Henry Overton.[5] The 1844 Tithe Award map records Henry Overton's plot simply as a meadow, but by 1849 at least two houses had been built. A third house was built either at the same time or very shortly afterwards.[6]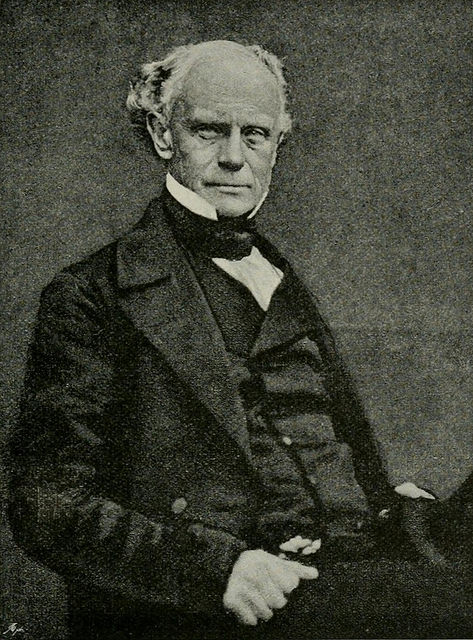 1850s: William Ashmead Tate
By 1852, this third house — the southernmost of the three — was occupied by William Ashmead Tate and his wife Isabella. William was a professor at Addiscombe College, a military seminary run by the East India Company. Although born in Bombay, he himself attended Addiscombe College from the age of 15 before returning to India in 1813, aged just 17, to work as a surveyor and draughtsman under the Revenue Surveyor of Bombay.
William's job appears to have involved a great deal of outdoor work, and by late 1827 his health had suffered to the point where he was forced to return to England before retiring from the service a couple of years later on a pension of 7 shillings a day (£12,650/year in 2015 prices).
In 1849, he was appointed professor of military drawing at Addiscombe College at a salary of £400/year (£45,843 in 2015 prices), where he taught for the next decade before retiring to Weston-super-Mare. In his history of Addiscombe College, H M Vibart states that William "was as kind-hearted as he was clever, and was much liked and respected by the cadets."[8]
1850s–1860s: Joseph Parrinton; John Walkden
By late 1858, William and Isabella had departed London Road and been replaced by Joseph Parrinton.[10] Joseph moved his family here from 35 Thornton Heath, a "mansion" further up London Road, after the suicide of his oldest son, Walter. Walter's death took place in the family home, and it seems quite possible that the Parrintons simply felt unable to continue living there afterwards.[11] They only remained briefly in their new home, however, and by late 1860 had in turn been replaced by John Walkden.[12]
1860s–1880s: The Goodinges and the Finns
By 1865, John himself had departed and the premises were occupied by two households: one consisting of 60-something stationer James Boote Goodinge along with his wife Mary Oliver Goodinge and son William, and the other consisting of James and Mary's daughter, Mary Ann, and her husband Charles Francis Finn, a commercial traveller in his late 20s. It isn't clear how the house was subdivided; street directories place the two families at the same address, but the 1871 and 1881 censuses consider them to be in separate households.[13]
Charles died at home on 6 December 1888 "after a long and painful illness",[14] following which his wife and her parents moved to a smaller house further up the road, just south of the junction with Sumner Road.[15]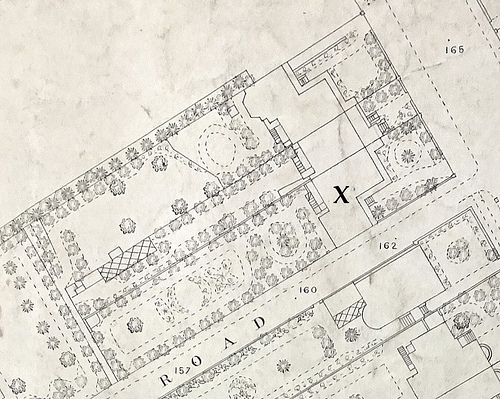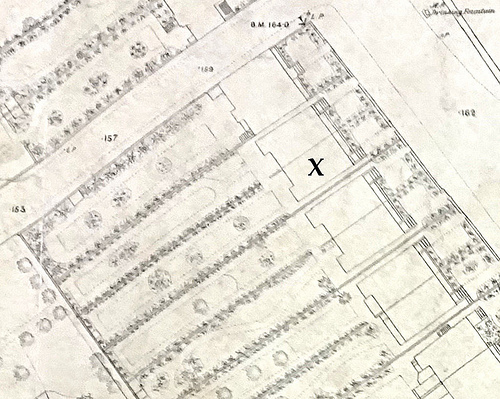 1890s–1900s: Thomas Arthur Richardson; Robert Charles Brown
The Goodinges and Finns were replaced by Thomas Arthur Richardson, a surgeon who had previously lived at number 61 and number 67–71. Thomas was here from around 1890 until around 1903, when he moved to Combe Martin in Devon. His replacement was another surgeon, Robert Charles Brown. Robert, however, only remained a handful of years; by 1908, he had moved just up the road to a semi-detached house which was formed in the early 1890s by splitting Broad Green House into two properties.[16]
1900s–1910s: Henry and Lydia (and Lydia) Goulder
The next occupants, Henry and Lydia Goulder, appear to have been of more modest means than their predecessors. Henry was a joiner, and their adult daughter (also named Lydia) was a pianist at the Electric Theatre on North End, but the family supplemented their income by taking in lodgers — five of them, at the time of the 1911 census. They arrived on London Road by 1909, giving their new home the name of Wroxham House, but had departed again by 1913.[17]
1910s: The YWCA Institute and Hostel
Use of the premises to provide lodgings continued in a somewhat different form after the Goulders' departure, as the next occupant was an "Institute and Hostel" run by the Young Women's Christian Association (YWCA).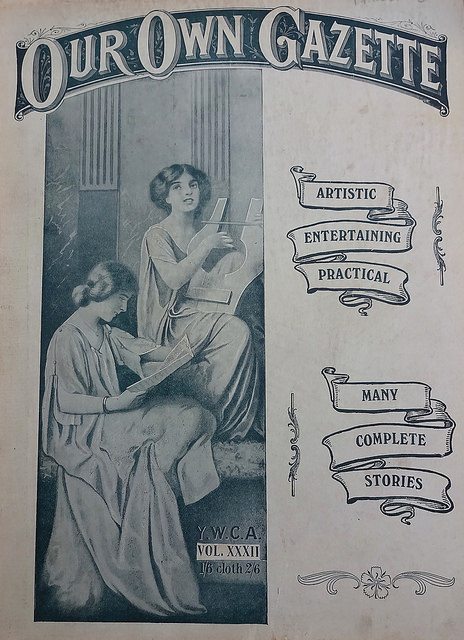 This organisation had its roots in two projects, both initiated in 1855. The first was a prayer union in Barnet, founded by Emma Robarts and named the Young Women's Christian Association after the example of the existing Young Men's Christian Association. The second was a network of hostels for young women living away from home, which expanded from a nurses' home founded in Upper Charlotte Street, central London, by Mary Jane Kinnaird. When the two strands of the organisation merged in 1877 there were several hostels in London as well as in other towns including Bristol, Birmingham, Liverpool, and Manchester.[18]
The YWCA had a presence in Croydon by 1882, in the form of a "Home and Institute" on Park Lane.[19] From here it moved to George Street around 1885, to the High Street around 1897, to Poplar Walk around 1908, and to London Road around 1913.[20]
By the time of its arrival on London Road, the YWCA had branches in over 20 different countries, all united under the banner of the World YWCA.[21] Our Own Gazette, the UK organisation's official monthly magazine, had a circulation of over 40,000 and included articles on subjects such as the life of Florence Nightingale, the reasons behind the outbreak of the First World War, and details of how wounded soldiers were brought home from the front, as well as less war-oriented subjects such as instructions for setting up a sickroom to nurse a family member at home, ways to test the freshness of an egg, and an illustrated essay on the old wind and water mills of the English countryside.[22]
Continuing its pattern of moving around Croydon, however, the organisation remained on London Road for only a handful of years. By the end of the decade it had relocated again, this time for another stint on George Street.[23]
1920s: Miss Earl and Mlle Neveux
Next to arrive were Miss Earl and Mlle Neveux. Little information survives about the former, but the latter was a teacher of French. They remained on London Road until the end of the 1920s.[24] It's not clear where they went after that, but Mlle Neveaux at least seems to have remained in the area, and by 1939 was providing her French lessons on Friends Road.[25]
1930s–1960s: Smith Auto Co
The departure of Miss Earl and Mlle Neveux saw the end of the residential use of the property. This was also likely the point at which it was completely redeveloped, with not only an extension forwards to the pavement line but also new buildings at the back, running along Montague Road.[26]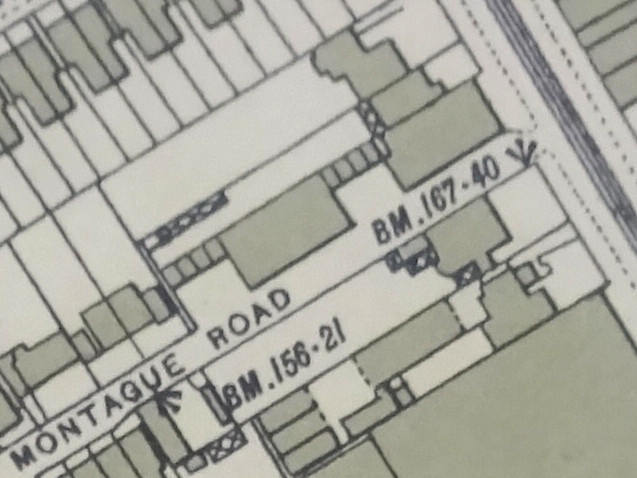 The new occupant was Smith Auto Co, a car dealership specialising in the sale and servicing of Humber, Hillman, and Sunbeam cars. In place by 1930, it remained until the mid-to-late 1960s.[27]
Late 1960s: Demolition
Smith Auto Co, as it turned out, was the final occupant of this property, as its departure signalled the redevelopment of the entire site between Montague Road and Chatfield Road. The land divided between Henry Overton and Jonathan Barrett over a century before was finally reunited — and so the full story of this will be told in a future article.
Thanks to: David Jones of Bygone Croydon; the Planning Technical Support Team at Croydon Council; the staff, volunteers, and patrons at the Museum of Croydon; and my beta-reader Alice. Census data consulted via Ancestry.co.uk.