As noted in an earlier article, I'm covering the site of 145–151 London Road in a mini-series of four articles. The first of these covered the initial development of the site and the full history of the southernmost property built there, the second discussed the second property going northwards, the present article covers the third property, and the fourth will discuss the fourth property plus the present-day occupants of the entire site.
1840s–1850s: Charles Moss and William Pugh
The house was built between 1844 and 1849, as the northernmost of a block of three, and like its neighbour to the south saw a fair bit of turnover in the years following its construction. By 1849 it was occupied by metal merchant Charles Moss and his wife, Kate,[2] but in 1854 Charles and Kate were replaced by William Pugh, who in turn remained only until the end of the decade.[3]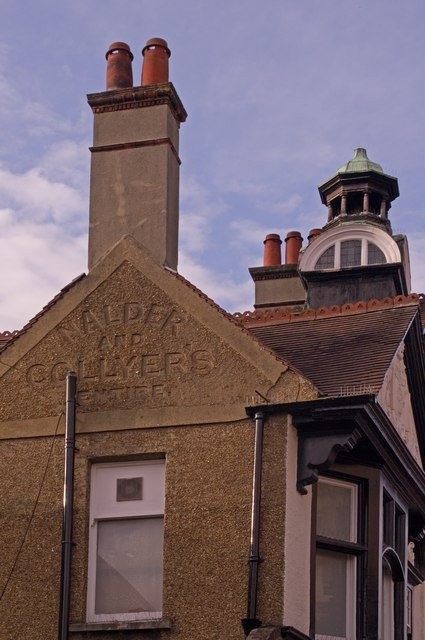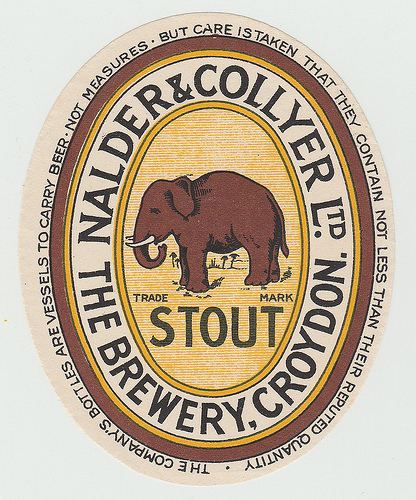 1860s: Bristow Collyer
Next to arrive was a 30-something brewer named Bristow Collyer, who for the previous decade had been brewing in partnership with Francis and Howard Nalder under the name Nalder & Collyer. Bristow was well-placed to work as a brewer, being descended not only from a Farnham innkeeper (his grandfather) but also from the Bristows of Beddington, a long-established family of hop marketers.[5]
His brewery was also long-established, having been originally opened in 1586 and passed through several sets of hands before Francis, Howard, and Bristow signed the lease on 29 September 1849. As well as the brewery itself, which was situated on Croydon High Street, this lease included 27 pubs; two of these, the Bricklayers Arms on the High Street and the Blue Anchor on South End, are still trading today, albeit under different names and not in the original buildings.[6]
Bristow and his family moved to London Road by September 1860, and remained until at least the mid-1860s; they may then have moved elsewhere in Croydon, and possibly even to Beddington by the end of the decade, but the evidence on this is unclear.[7] In any case, Bristow himself died after a sudden illness at the age of only 42, on 12 July 1870, and was buried in Beddington Churchyard.[8]
The brewery remained in the hands of the Nalder family until 1919, when Nalder & Collyer's Brewery Co Ltd was sold to the City of London Brewery in a deal which included 170 pubs as well as the brewery.[9] The latter company continued to brew under the Nalder & Collyer name at the Croydon site until at least 1936. The brewery closed down some time after that, and was finally demolished in 1964. Today, the site is occupied by an office and retail block, Leon House.[10]
1860s–1870s: George Browne and Reverend Turner
By 1869, Bristow's old London Road house was occupied by George and Caroline Browne. Like William Ashmead Tate a few doors to the south, George had been employed by the East India Company, though in the somewhat less physically-demanding role of assistant auditor. He died shortly after moving to London Road, on 1 February 1870, at the age of 80. Caroline remained in the house for a short while, but had departed by 1874. Her replacement was Reverend T H Turner, about whom little information survives and who in any case was gone by 1876.[11]
1870s–1880s: London Road High School For Girls
In something of a departure from the previous use of all three houses, the mid-1870s saw the transformation of this northernmost one into a private school known as London Road High School For Girls. Run by a Miss Pearse, it taught subjects including "English language, geography, book-keeping, French, Scripture, and drawing (model and free-hand)". It housed around half a dozen boarders, and students came from as far away as Reading.[12]
1880s: Charles William Alexander
Miss Pearse's school remained here until around 1882, and then departed. A couple of years later the house was re-occupied by yet another family with an Indian connection: "East India Merchant" Charles William Alexander, his wife Ellen, and half a dozen children. They in turn only remained a handful of years, and had moved to Wandsworth by 1891.[13]
1890s–1900s: Rosa and Clarence Paget
By 1890, the house was occupied by Rosa Paget, a widow in her mid-50s whose household also included her adult daughters Mary and Florence and her teenage son Clarence.[14]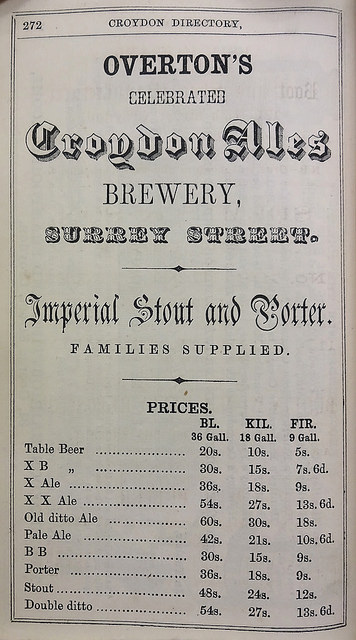 Born in Croydon in 1835, Rosa was the youngest daughter of Henry Overton, a successful brewer who also owned several properties and areas of land in and around Croydon. A couple of years after Rosa's birth, Henry bought a plot of land on London Road and built three houses on it: 145, 147, and 149 London Road.[15]
Rosa's mother Mary died when Rosa herself was just eight years old, but Henry survived until 11 January 1864, when he died at home on Surrey Street, aged 74.[16]
Henry's will divided his property among his children and sons-in-law. The brewery, malthouse, and various beerhouses went to his son Frederick, while Rosa was left several other beerhouses, cottages, tenements, and residential houses — including 149 London Road, occupied at that point by Bristow Collyer.[17]
A year after her father's death, Rosa married Richard Paget at Croydon Parish Church (now Croydon Minster). Richard, an auctioneer living and working in Guildford, brought his new bride back to Guildford and installed her in Belmont House, the "imposing buildings and grounds" of which must have been quite a change from her previous home on Surrey Street.[18] Over the 14 years of her marriage, Rosa gave birth to eight children, only four of whom survived; and in December 1879 she also lost her husband Richard, who died at home at the age of only 43.[19]
Rosa continued to live in Guildford for some time after her husband's death, but by 1890 she had returned to Croydon, taking up residence at 149 London Road along with Mary, Florence, and Clarence. She gave her new home the name of Guildford House, reflecting the years she spent living in that town.[20] Around 1901 she moved to a newly-built house at 47 Chatsworth Road, which she again named Guildford House, and remained here until her death on 31 October 1927 at the age of 92.[21]
Rosa's return to Croydon proved to be quite a boon for the town itself. Her son, Clarence, continued to live on Chatsworth Road after her death, and became one of Croydon's most respected local historians. Working from primary sources, he published two books, Byways in the History of Croydon and Croydon Homes of the Past, and his transcriptions of original documents including indentures, deed polls, the Ancient Muniments of the Whitgift Foundation, and the 15th/16th century Manor of Croydon Terriers can still be consulted at the Museum of Croydon today. He died at Worthing on 26 September 1952.[22]
1900s: William Wilson
Rosa and Clarence's move to Chatsworth Road left 149 London Road vacant, but it was soon reoccupied by William Wilson, who gave it the name of Ardbeg. He only remained for a handful of years, though, and was gone by 1907.[23]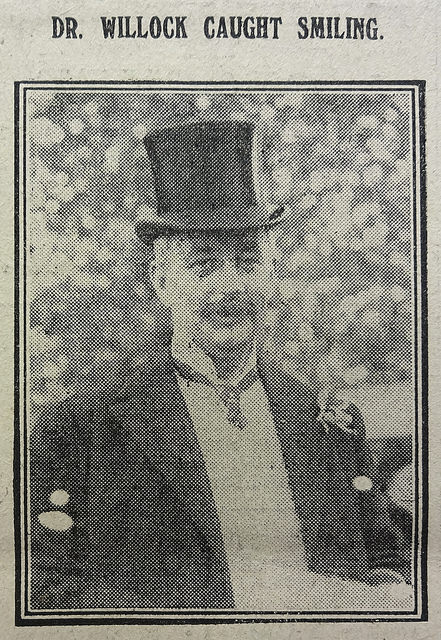 1900s–1910s: Edward Hulse Willock
William's replacement was Edward Hulse Willock, a surgeon in his late 30s. Edward first arrived on London Road in the mid-1890s, taking a house a little to the south of the junction with Sumner Road. He moved further south to number 149 around 1906, and remained here until around 1920.[24]
Edward served as surgeon at the Croydon War Hospital, assistant surgeon at Croydon General Hospital, and medical referee for the Ministry of Pensions. He was also active in the British Medical Association, being honorary secretary of its Croydon Division and later a member of its Central Council. He became a Justice of the Peace in 1912.[25]
After retiring to Exeter in the early 1920s, he became chair of the Exeter National Service Medical Board and president of the Devon Archaeological Exploration Society. Considered "an authority on the Stone Age, with a special knowledge of flint instruments", he discovered a Neolithic settlement on the Haldon Hills in Devon including the remains of huts, flint instruments, and a piece of pottery which ended up in the British Museum.[26]
1920s–1930s: Albert W A Davies
Following Edward's departure, his London Road practice was taken over by another surgeon. Albert W A Davies was in place by 1921, and remained for around two decades, but was likely gone again by 1941.[27]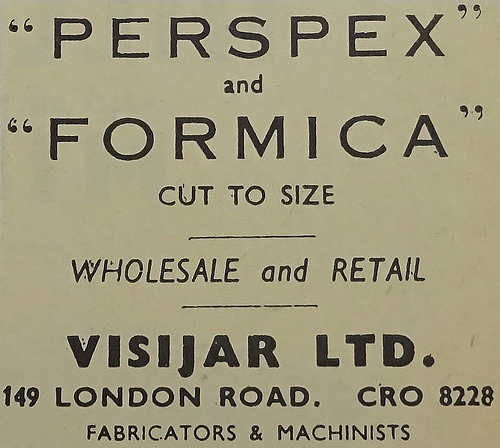 1950s–1960s: Visijar Ltd
It's unclear what the property was used for during the decade after Albert left. However, on 27 September 1949, R V Rosevear of 587 London Road was granted planning permission for "The use of No. 149 London Road, West Croydon, for the manufacture of perspex laboratory equipment and fittings". By January 1950, the manufacturing company — Visijar — was in place.[28]
Founded in the late 1940s, Visijar began its manufacturing activities by producing the eponymous "Visijar", a clear acrylic museum specimen display "jar" intended to replace the glass jars in use at the time. As noted above, by the time of its move to number 149 it had already begun to expand into laboratory equipment. Later products included the intriguingly-named "'Visijar' walking machine", passenger windows for Dakota planes, a ten-foot-tall model of the human nervous system for the 1951 Festival of Britain, and a mounting system for the Dead Sea Scrolls.[29]
Visijar continued to manufacture at 149 London Road until November 1965, when it moved to Pegasus Road on the old Croydon Airport site.[30]
Late 1960s: Demolition
Visijar was likely the last ever occupant of 149 London Road. Even before its move to Croydon Airport, planning permission had been granted to replace numbers 145–149 with a new "motor showroom, workshop, office accommodation and [...a re-sited] petrol filling station".[31]
Work was to take place in stages, and the full timeline is unclear.[32] However, by late 1969 the three houses built by Henry Overton more than a century before had been demolished, and the site completely redeveloped. The full story of the four-floor garage and office block that stands there today will be told in my next article, which forms the concluding part of this mini-series.
Thanks to: Carole Roberts; Christine Morgan, churchwarden at St Mary's, Beddington; Peter Dickinson of the Labologist's Society; the Planning Technical Support Team at Croydon Council; the staff, volunteers, and patrons at the Museum of Croydon; and my beta-reader Steve. Census data and London phone books consulted via Ancestry.co.uk. Monetary conversions performed using the Bank of England inflation calculator (prices < £100 given to the nearest penny, prices from £100 to < £100,000 to the nearest pound, prices from £100,000 to < £1 million to the nearest £1,000, prices from £1 million to < £100 million to the nearest £100,000, prices ≥ £100 million to the nearest million).