While H & T Pawnbrokers at number 12 is a fairly new addition to London Road, Cash Converters at numbers 13–15 has a somewhat longer tenure in the area.
1863: Construction of the building
13–15 London Road was built in 1863,[1] as part of a block with numbers 17, 19, and probably 21.[2] At this point, the lots on either side of this block hadn't yet been built on, and the nearest neighbours fronting on London Road would have been at numbers 5 and 31.[3] Number 5 was an auctioneer — either Edward William Cannon or John Manley — and number 31 was the private residence of James Janes, commercial traveller.[4] Between 21 and 31 were the grounds of the Congregational Chapel, which itself was set back around 30 metres from the road.[6]
1860s–1890s: Benjamin Culpeck, coachbuilder
The first occupant of 13–15 London Road was Benjamin Culpeck, coach builder and harness maker.[7] It's possible, in fact, that the building was constructed to his specifications. As shown on the 1868 Town Plans above, it seems to have been planned as a double-fronted property from the start, and there was a built-in alleyway (still present today) between 13–15 and 17, leading to a large yard with a couple of outbuildings — ideal for building and repairing coaches.
Benjamin Culpeck was born in 1830, and moved to Croydon from his native Suffolk by 1853.[8] Initially setting up his coach building business at 54 North End, he moved shortly after to 65 North End and by 1865 was installed in his new London Road premises. He retained his North End premises in parallel for a few years, but had given them up by 1872.[9]
Culpeck's carriages were in demand not only in Croydon, but as far afield as Australia. An advertisement in the 14 April 1860 edition of Empire, a Sydney newspaper, states that "BURT and CO. have just received, ex Ellwood Walter, some very choice BASKET PHAETONS, WAGGONETTES, and other vehicles, by Culpeck Croyden [sic], Atkinson and Philipson, Newcastle-on-Tyne; Windover and Wilson, Northampton; and other noted builders."[10]
Culpeck's coach yard remained at London Road for another four decades. Benjamin Culpeck himself appears to have taken a back seat as he got older; from 1897 onwards, Ward's street directories list a resident manager — Harry Marchant — at the premises.
1900s: William H Hamshaw, coachbuilder
Mr Culpeck also appears to have become quite a substantial citizen of the town. Street directories from 1889 onwards list him under "Principal Residents" at Southwold, 42 Kidderminster Road,[11] and Ward's 1904 directory includes his death in April 1903 in its list of the preceding year's important "chronological events". Following his death, his business was taken over by William H Hamshaw, who continued to trade in the sale, lease, and repair of coaches at 13–15 London Road for 5 or 6 years.[12]
c. 1910: G Roberts & Co, house furnishers
By 1909 the premises were occupied by G Roberts & Co, house furnishers. This company also had premises at 143 North End, where according to Ward's street directories they traded as "talking machine specialists". Shortly after expanding into house furnishings at 13–15 London Road, G Roberts & Co also opened a furniture shop at 43 High Street, Thornton Heath. However, its tenure at both these addresses proved to be even shorter than that of Mr Hamshaw, and by 1912 both premises had been taken over by another house furnishers — Rutter Bros — though G Roberts continued to trade in its "talking machines" at 143 North End.[13]
1910s–1950s: Rutter Bros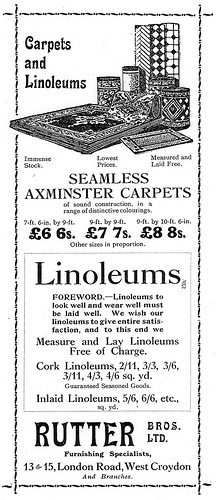 Rutter Bros was established in 1900 at 30–32 Whitehorse Road, expanding a few years later into number 34, and retaining the Whitehorse Road premises even after opening its new showrooms on London Road and Thornton Heath High Street. It later expanded further outside the area, with a presence in Redhill by the mid-1930s.[15]
The double-fronted shop at 13–15 London Road gave Rutter Bros plenty of space to display its wares. A piece in the Croydon edition of the Pictorial Record (December 1913)[16] describes a visit: "There are ten thousand square feet of space in Messrs. Rutter's premises devoted entirely to house furnishing. [...] Dining-room furniture came next. A wonderful selection of solid, useful, and unique articles; five or six varieties of complete suites of the firm's own make, the Acton, the Berkshire, the Rodney, and other suites in oak, walnut, mahogany, etc., and a host of occasional pieces."
As well as new furniture, it also sold second-hand. An advert in the Croydon Times of 2 July 1921[17] lists the week's second-hand bargains, ranging from an extending dining table at £3 3s to a "Walnut PIANOFORTE, thorough good investment, fine rich tone, in splendid condition" at £28 10s.
Rutter Bros remained at 13–15 London Road in some form until at least the mid-1950s, though the company itself went into voluntary liquidation in the mid-1940s.[18] By 1955, street directories list the occupant as Rutter Bros "(prop. J G Murdock & Co Ltd)", and a planning application from the same year shows a proposal for a "new teak shopfront" for "Messrs: J. Murdoch & Co Ltd at Nº 13–15, London Road", with a sign reading "NELSONS FOR FINER FURNITURE" in foot-high neonized letters.[19]
1960s–1990s: Dry cleaners, furniture shops, and children's wear
From the early 1960s to the mid-1970s, the occupant was a dry cleaners called, for some reason, 1940 Cleaners Ltd.[20] Following this the premises returned to their previous use, with a succession of furniture stores, none of them lasting for more than about 5 years: Buckley Furnishers, Lee's House Furnishers, Beaumont Beds, and The Suite Shop. By 1990, the furnishers had given way to Sparkles children's wear, and by 1994 the occupant was Discount Warehouse, also selling children's wear.[21]
Late 1990s–present: Cash Converters
The West Croydon branch of Cash Converters, which first opened next door at numbers 9–11 in 1994 or 1995, had moved into 13–15 by September 1999[22]; 14 years later, it's still there. When I moved to West Croydon in mid-2011, Cash Converters was one of only three shops offering payday loans between Station Road and St James's Road, but by the start of 2013 their number had grown to seven.[23] It remains to be seen whether this trend will continue.
Thanks to: Yusuf at Cash Converters; Brian Gittings for use of his photograph; Henry Braun for additional research; Paul Sowan for advice on G Roberts image; Claire Jackson at the Sainsbury's Archive; John Clarke; Colin Withey; the Planning Technical Support Team at Croydon Council; all at the Croydon Local Studies Library; and my beta-readers Alice and bob.