ABM Electrical & Lighting, despite its modern shopfront, is one of the older businesses on this part of London Road. It opened in 1992, nearly a quarter of a century ago, and is still run by the Shah family today.
1840s–1860s: Construction of the building, and use as a school for young ladies
Unlike most of the other buildings along the stretch of London Road between Mead Place and Sumner Road, 63 London Road began its life not as a private residence, but as a private school.
It was built between 1844 and 1851 as a single building that was later split into two to form the present numbers 63 and 65.[1] By 1851, this building was home to an "Establishment for Young Ladies" run by Susanna Jeffcott and her sisters Georgiana and Caroline. The school had around 15 boarders aged between 9 and 15, and in addition to the Jeffcotts the teaching staff included a Croydon-born English teacher and a French-born French teacher.[2]
Susanna, Georgiana, and Caroline would have been well experienced at running a school at this point. Susanna, the oldest, was in her mid-40s, and Caroline, the youngest, in her late 30s. All three had previously assisted their mother, Louisa, in running a similar school on North End.[3] The Jeffcotts' school remained on London Road until 1864.[4]
1860s–1880s: College House School
The next occupant was also a school. Following the departure of the Jeffcotts, Henry Webb took over the building for College House, his boarding and day school for young gentlemen which had previously been on George Street.[5]
By September 1883, Henry Webb had been replaced as headmaster by Alfred Underwood,[6] who himself was replaced around 1887 by Herbert R Marshall. Herbert Marshall's tenure was as short as that of Alfred Underwood, however, and by 1893 yet another headmaster was in place: Robert Hawe.[7]
Robert Hawe's arrival was shortly followed by the school's departure from the premises. It didn't move far, though, just 100 metres up the road to North End Lodge.[8]
1890s: Croydon Rural District Council
Number 63–65 remained unoccupied for a couple of years, but by 1896 was in use by Croydon Rural District Council.[9] This branch of local government was established via the Local Government Act 1894 as replacement for the Croydon Rural Sanitary District, and initially operated from the old offices of the Rural Sanitary District, on Mayday Road in Thornton Heath.[10] It covered eight parishes and one hamlet: Addington, Beddington, Coulsdon, Merton, Mitcham, Morden, Sanderstead, Wallington (the hamlet), and Woodmansterne.[11]
It may seem a little odd for this Council to have had its offices in West Croydon, which at the time would have been under the auspices of the County Borough of Croydon![12] However, as the Rural District surrounded central Croydon on all sides except the north, it was likely considered wise to have the Council's offices in a fairly central position. Indeed, by 1899 the Council had departed London Road and was operating from Croydon Town Hall.[13] The Croydon Rural District was broken up in 1915, and its parishes were redistributed to neighbouring rural districts, or, in some cases, to newly-created urban districts.[14]
1900s: J J Waddington Ltd, engravers
Back at 63–65 London Road, J J Waddington Ltd, a Croydon firm of engravers, had moved in by 1902. However, less than five years later the firm was bought by the Anglo Engraving Company, which was based in Raynes Park, and the London Road premises once more fell vacant.[15]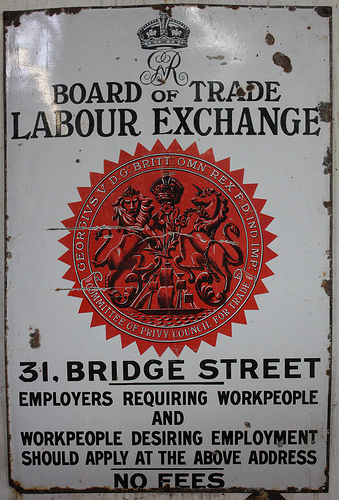 1910s–1920s: Labour Exchange/Employment Exchange
It would be another five years before the building was reoccupied. Fittingly, the new occupant was a body set up specifically to find a use for unallocated resources — the Labour Exchange, predecessor of today's Jobcentre Plus.[16]
The Labour Exchanges Act of 1909 brought about the creation of a national system of public employment agencies, initially known as Labour Exchanges and later rebranded to Employment Exchanges. Speaking in the House of Commons on 19 May 1909, Winston Churchill, then President of the Board of Trade, described some of the problems this system was intended to solve:[17]
"[...] there are two general defects in the industrial position of this country which are singled out by the Royal Commission, the lack of mobility of labour and the lack of information about all these questions of unemployment. For both of these defects the policy of labour exchanges is calculated to afford a remedy.

"Modern industry is national. The facilities of transport and communication knit the country together as no country has ever been knitted before. Labour alone has not profited by this improved organisation. The method by which labour obtains its market to-day is the old method, the demoralising method of personal application, hawking labour about from place to place, and treating a job as if it were a favour—looking at it as if it were a favour, as a thing which places a man under an obligation when he has got it. [...]

"Over and over again at the present time men are led by the rumours of work. They crowd into a district, to find that there is no gratification of their hope, and, if there is gratification, it is wholly insufficient for the numbers who have been led to make that desultory pilgrimage. [...] So far as local and accidental unemployment is concerned, by which I mean unemployment in one place when there is a demand for labour in another, the labour exchanges will undoubtedly diminish that evil. [...]

"Lastly, labour exchanges are indispensable to any system of unemployment insurance, or, indeed, I think to any other honourable method of relieving unemployment, since it is not possible to make the distinction between the vagrant and the loafer on the one hand and the bona fide workman on the other, except in conjunction with some elaborate and effective system of testing willingness to work such as is afforded by the system of labour exchanges."
The Croydon Labour Exchange was established at 232–234 London Road by the start of 1911, but moved to numbers 63–65 just a couple of years later. It remained here until around 1927, when it moved to Sydenham Road.[18]
1930s: The Ministry of Health Insurance Department and the National Savings Committee
Another period of vacancy followed, only briefly interrupted by further government business. An office of the Ministry of Health Insurance Department was in place by 1930, along with the South-Eastern Regional Office of the National Savings Committee, but both had departed again by 1934.[19]
1934–1935: Division into two properties
When considering the history of the premises from the mid-1930s onwards, it should be remembered that up to this point, numbers 63 and 65 were a single building with no subdivision. This was to change, however, as in July 1934 planning permission was granted for alterations to form two shops and two flats.
The diagram accompanying the relevant planning application shows "Shop No 63" on the left and "Shop No 65" on the right, with a front door, corridor, and stairs in between leading back and up to the flats above. These flats, one on the first floor and the other on the second floor, were to have a kitchen, bathroom, living room, and three bedrooms each. Work was completed by 11 February 1935.[20]
1930s: A & Hillman Ltd, butchers
Number 63 thus parted company from number 65, and so the rest of the history of the latter address will be covered in a future article. The first occupant of the newly-created number 63 was A & S Hillman Ltd, a small chain of butchers originally founded in 1848. When it opened its London Road branch in 1935, its head office was at 209 Kilburn High Road, and most of its other branches were also in North-West London. Although the Hillman family still run a butchers shop at the Kilburn High Road address today, their London Road expansion was to prove much shorter-lived, and was gone by early 1939.[21]
1940s–1980s: Maloney's Ltd, butchers
By May 1939, Hillman Ltd had been replaced by Maloney's Ltd, another chain of butchers with its head office at 62 Westow Hill, Crystal Palace.[22] Little information about this chain survives, but it remained on London Road for over four decades, until the early 1980s.[23]
John Byford, who worked briefly at Maloney's as a teenager, recalls:[24]
"Maloneys was the archetypal local butcher, occupying the ground floor and basement of what was once a private dwelling. The manager was a Mr Mason who had employed me to help out in the run up to Christmas 1963, his family and mine living near to one another in New Addington. Christmas was mostly about shifting large numbers of turkeys whereas in the following summer, aged 16, there was a wide variety of tasks.

"Carcases of meat were delivered during the day, hung in the cold store at the back of the ground floor, the front part being the main place of business. The equipment was spotless and part of my work involved cleaning the chopping boards two or three times a day. Knives were cleaned but sharpening the knives was a job for the skilled staff. The skilled staff were responsible for dismembering the carcases but items such as pork or lamb chops were cut to order. There was a regular stream of customers throughout the day and I would guess that most of them were regulars.

"One task I remember well was making dripping in a large pot that resembled a witches cauldron; if done properly there would be 100 pots. As this task took place out of sight in the basement it gave an opportunity to take it easy for a while. I was occasionally allowed to wrap up small cuts of meat for customers. Making the tea was an essential task that took place several times a day.

"There was one opportunity to get out of the shop which involved taking the telephone order from a restaurant in Broad Green near the junction with St James' Road then carrying it to said restaurant before 12 o'clock. It was never very much, chops, pieces of liver."
In May 1984, planning permission was granted for a pie, mash, and eel shop called Bees, with eat-in capacity for 42 diners as well as a takeaway facility.[25] However, I've been unable to find any evidence of this ever actually opening.
1980s: Spiceway Centre
By April 1986 the premises were occupied by a grocery shop known as Spiceway Centre.[26] Just a few years later, though, Spiceway Centre fell into default over its rent payments, and the owner of the building repossessed the premises.[27]
1992–present: ABM Electrical & Lighting
Following the demise of Spiceway Centre, the owner of number 63, Hasmukh Shah, put the lease back on the market. However, before another suitable tenant presented itself, Mr Shah decided to open a shop there himself. ABM Electrical & Lighting opened in 1992 and remains open today, over two decades later.[28] It's a small shop, crowded with stock, with plenty of staff on hand to help customers choose between the different lightbulbs and light fittings available. They even offer a "free lighting design service", though I'm yet to take advantage of this!
Thanks to: Blom ASA; Hasmukh Shah; John Byford; John Kennedy; the Planning Technical Support Team at Croydon Council; all at the Croydon Local Studies Library; and my beta-readers Kat and Shuri. Census data and London phone books consulted via Ancestry.co.uk.
Footnotes and references
The 1844 Tithe Map shows the land on which numbers 59–65 were later built as "Building ground" belonging to a Mr Inkpen. Gray's 1851 directory lists an occupant (the Misses Jeffcott's school) at number 25 (which was renumbered to 49 in 1890, renumbered again to 65 in 1927, and split into 63 and 65 in 1934–1935), so it must have existed by then. See later in the article for evidence on the 1930s split.
The Jeffcotts' "Establishment for Young Ladies" is listed in Gray's 1851 directory, though only under the names of Susanna and Georgiana; however, Caroline appears in the 1851 census. Information about boarders and teachers also comes from the 1851 census.
The ages of the Jeffcott sisters are given in the 1851 census as 46, 45, and 37 respectively. (They seem to have engaged in a little age deflation over the years, as the 1861 census has them as 52, 50, and 40 respectively.) The 1841 census shows them on North End as joint "Principals of a Ladies Establishment" with 60-year-old Louisa Jeffcott, who is almost certainly their mother.
Susanna and Georgiana Louisa Jeffcott's "Establishment for Young Ladies" is listed in Gray's 1851, Gray's 1853, Gray and Warren's 1859, and Simpson's 1864 directories (simply as "ladies' school" in the case of Simpson's). Susanna also appears (as "Sus Jeffcott" in the October 1858, November 1862, and June 1864 Poor Rate Books. The December 1864 Poor Rate Book instead lists the next occupant, Henry Webb. The 1871 census shows the Jeffcotts living as "annuitants" in Peckham, i.e. retired (Georgiana appears to have started going by her middle name, Louisa, by this point).
Henry Webb is listed in the Poor Rate Books from December 1864 onwards, and street directories as follows: Warren's 1865–66, Warren's 1869, Wilkins' 1872–3, Ward's 1874, Ward's 1876, Wilkins' 1876–7, Ward's 1878, Worth's 1878, Atwood's 1878, Tomkies' 1879–80, Ward's 1880, Ward's 1882, and Purnell's 1882. Most of these directories also list his MRCP qualification, which probably stands for Member of the Royal College of Physicians, suggesting a career change at some point. For information about the school's nature and its move from George Street, see the Surrey Gazette advert above.
An advertisement in the Croydon Guardian of 29 September 1883 (viewed as a cutting in the schools folders at Croydon Local Studies Library) describes College House School as "Late Mr. Henry Webb's School" and states "For prospectus, apply to A. UNDERWOOD, M.A., Head Master." Alfred Underwood is listed in connection with College House School in Ward's directories for 1884 to 1887 inclusive.
H R Marshall is listed against College House School in Ward's directories for 1888 to 1892 inclusive, and his full first name of Herbert is given in the 1891 census. Ward's 1893 instead lists R Hawe; see the 1893 Croydon Guardian advertisement above for his full name.
Ward's directories list Robert Hawe's school at the modern 63–65 (contemporary 49) in 1893 and at the address previously occupied by North End Lodge (contemporary 67 — no modern equivalent) from 1894 onwards. North End Lodge no longer exists, but a comparison of historical with present-day maps shows that it was situated where the far left of Lidl's carpark is today, in front of where the present-day Stonemead House was later built.
Ward's directories list the property as "Unoccupied" in 1894 and 1895; Croydon Rural District Council Offices in 1896, 1897, and 1898; and "Unoccupied" again in 1899, 1900, and 1901. The 1901 census states that the premises are "To Let".
Ward's 1894 directory lists the "Rural Sanitary Authority" at the far end of Mayday Road, along with the Infirmary of the Croydon Union and the Union Offices, whereas the 1895 directory lists the Rural District Council in place of the Rural Sanitary Authority. There was also, unsurprisingly, continuity of personnel; James Wilson is listed as clerk to both the Rural Sanitary Authority and the Rural District Council.
The parishes and hamlet of "The newly-formed Rural District Council for the Rural District of Croydon" are listed on page lv of Ward's 1895 directory, along with the information that "The Offices of the Council are at Mayday Road, Thornton Heath, where meetings are held fortnightly."
The 1:2500 1913 edition (sheet XIV.5) of Ordnance Survey maps shows the boundary with Beddington Parish (the closest part of the Croydon Rural District) running well to the west of London Road.

As stated in an earlier footnote, Ward's directories list 63–65 London Road as unoccupied from 1899 onwards. The 1899 edition lists the Clerk and Medical Officer of Health of the Rural District Council at "Town Hall (Fell Road entrance), Croydon", and states that "The meetings of the Council and its Committees are held on Thursday afternoons at the Municipal Buildings, Croydon."

Incidentally, the Medical Officer of Health at this time (deputy in the 1899 edition and full MOH from 1900) was Charles Milton Fegen, who according to later editions of Ward's directory lived at 40 London Road in the 1920s. An obituary of Dr Fegen appears on p592 of the 6 April 1940 British Medical Journal, and can be viewed online (PDF) via PubMed Central.

Information on the creation and dissolution of the Croydon Rural District is taken from Wikipedia.
Ward's directories list J J Waddington Ltd, engravers, from 1902 to 1906 inclusive, and "Unoccupied" from 1907. Information about the Anglo Engraving Company and its purchase of J J Waddington taken from the Sun Printers Company History website.

Ward's directories list the property as unoccupied from 1907 to 1912 inclusive, as a Labour Exchange from 1913 to 1921 inclusive, and as an Employment Exchange from 1922 to 1927 inclusive. Several managers are listed over these years: F J Fair, F G A Williams, F E Williams, B S Bennett, H E W Church, and Lt-Col A T Fearon.

The dating of the switch from "Labour Exchange" to "Employment Exchange" is a little odd here, since according to Wikipedia the renaming of the national system actually took place in 1917. No citation is given for this information, though the digitised edition of Commons and Lords Hansard makes it clear that by late 1916 at least the terms were being used interchangeably.

Quotations from Winston Churchill's speech are taken from the digitised edition of Commons and Lords Hansard. Contains Parliamentary information licensed under the Open Parliament Licence v3.0.
Ward's directories list the Labour Exchange at 10–11 Royal Parade (modern 232–234 London Road) in 1911 and 1912, at 49 London Road (modern 63–65) from 1913 to 1927 inclusive (as Employment Exchange from 1922), and on Sydenham Road from 1928 onwards. The final edition of these directories was for 1939, and this also lists it at the same place on Sydenham Road.
Ward's directories have a blank entry for the property in 1928 and 1929; this is unusual, as normally these directories explicitly state when a property is unoccupied. They list the Ministry of Health Insurance Department and the South-Eastern Regional Office of the National Savings Committee in 1930 and 1932, and "Unoccupied" in 1934.
Information on division into two properties comes from the planning application mentioned above, viewed on microfiche at Croydon Council offices (ref 25268).
According to an article in the Camden New Journal, published on 21 February 2008, A & S Hillman was founded in 1848 and was located at 209 Kilburn High Road from 1918. The August 1935 London phone book states that this address was its head office, and lists its other branches as being on Cricklewood Broadway NW2, Harrow Road W9, High Road NW10, High Road NW6, Malvern Road NW6, and Watling Avenue in Burnt Oak. According to the Camden New Journal article, as of early 2008 the Hillman family continued to run a butchers shop at 209 Kilburn High Road, and at the time of writing it's still there (see photo in main article). The branch at 63 London Road is listed in Ward's directories for 1937 and 1939, and in London phone books from August 1935 to August 1938 inclusive. The May 1939 London phone book instead lists Maloney's Ltd.
The May 1939 London phone book lists 62 Westow Hill SE19 as Maloney's head office, along with the London Road branch and 11 other branches in places including Archway, New Cross, and Romford. Unlike Hillman, Maloney's head office has not survived — today it's a barbers called Palace Barber Shop.
Maloney's Ltd is listed at 63 London Road in phone books from the May 1939 London edition to the May 1983 Caterham & Reigate edition, but the April 1984 Croydon edition shows it only at 347 Sydenham Road SE26.
Information on repossession provided by Hasmukh Shah, owner of the building (phone conversation with the author, 14 December 2014). Spiceway Centre is listed in Goad plans up to and including June 1991.
All information in this paragraph provided by Hasmukh Shah (phone conversation with the author, 14 December 2014). ABM is listed in Goad plans from April 1994 onwards (initially under the misspelling of "AMB"). It should be noted that the June 1992 and April 1993 Goad plans claim that the property was vacant, but I've found mistakes in these plans before.