While 64 and 66 London Road are occupied by separate businesses today — an African grocery shop and a barbers — their histories are so closely connected that I'll be covering them in a single article.
1880s–1900s: Construction of the building, and use as a furniture showroom
The building was most likely constructed around 1880, as an extension to Charles Bowman's pawnbrokers and jewellers business next door at numbers 60–62. This extension allowed Charles to widen his scope to furniture, including carpets and upholstery.[1]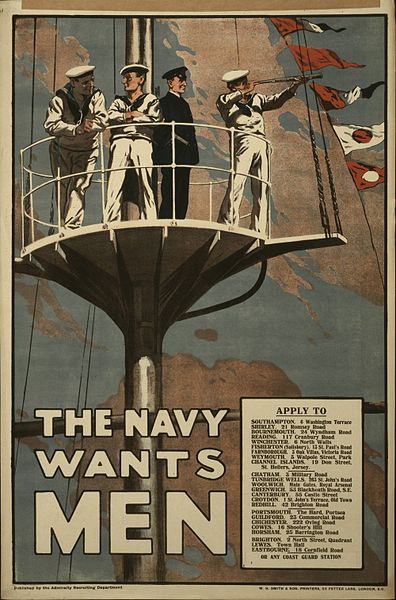 1900s–1910s: The Croydon Co-operative Society
After Charles Bowman's death in March 1906, Bowman Ltd reduced its occupancy to numbers 60–62 alone, and 64–66 fell vacant. The first split in the histories of numbers 64 and 66 begins here, as number 66 was to stay vacant for more than a decade.[3]
Number 64, however, was quickly reoccupied by the Croydon Co-operative Society. Originally established in 1887 at 85 Chesham Road, South Croydon, but actually trading from Church Street, this organisation had moved to 64 London Road by the end of 1907. It remained here until around 1914, when it moved up the road to its own purpose-built premises at number 99.[4]
1910s: Royal Naval Recruiting Office
The Croydon Co-operative Society was replaced by a Royal Naval Recruiting Office, in place by early 1916 and under the charge of a succession of superintendants, all resident on the premises but none staying longer than a year or so: T F Keable, R S Featherstone, and finally W H Miles. This remained until the end of the decade.[5]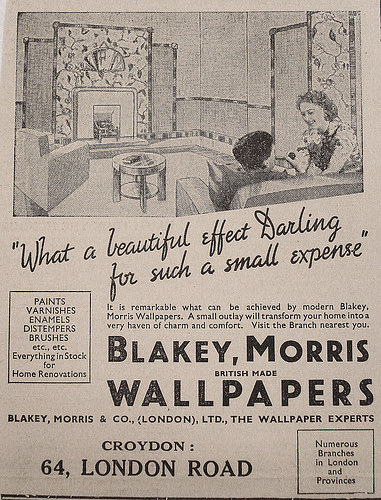 1920s–1970s: H C Atkins, A M Munt, Netta, and F J Flynn
The start of the 1920s saw number 66 brought back into use with the appearance of H C Atkins, costumier and blouse specialist, though a swift replacement had arrived by the start of 1922: Miss A M Munt, blouse and gown specialist.
By 1930, Miss Munt had become associated with the brand names "Netta" and "Flynn's". She had also expanded her business into number 68, and so for reasons of space a fuller account will be given in my article on that address. Miss Munt, Netta, and Flynn's between them accounted for the use of number 66 right up to the mid-1970s.[6]
1920s–1960s: Blakey, Morris & Co, wallpaper merchants
The resurrection of number 66 was accompanied by a new occupant for number 64: Blakey, Morris & Co, wallpaper merchants. In place by October 1920, the company was to spend around five decades here.[7]
Blakey, Morris & Co was in existence as a wallpaper manufacturer and wholesaler by 1910, though it's unclear whether it had any retail shops at this point. As shown on the invoice reproduced here, in 1913 the company was describing itself as "Wholesale Paperhangings Merchants", and an advertisement in the Daily Mirror of 18 March 1914 offers "Wallpaper at non-combine prices direct from the manufacturers", with samples available on request by post at 330 Holloway Road.[8]
The Croydon branch would, however, almost definitely have offered its wallpapers retail, situated as it was in a single shopfront in a well-established shopping parade. By this point the company was doing well enough to place advertisements in the London phone book urging people to "Ask your Decorator for The 'Strand' Art Wallpaper Pattern Book".[9] Despite this, it advertised its wallpapers as an inexpensive option, as shown for example by the 1938 advertisement reproduced here, and by a c.1930 colour lithograph poster which specifically uses the word "inexpensive".
The company's shopfront branding appears to have changed very little over the years, with the City of London's 1927 image of the Blakey, Morris & Co branch on Bishopsgate bearing a strong resemblance to photographer Leonard Freeman's 1972 image of the branch on Hoxton Street. One imagines that the London Road shop must have been fairly similar.
By the late 1960s, Blakey, Morris & Co had opened another Croydon branch at 97 Church Street. However, around 1970 the London Road branch closed, leaving only the Church Street one remaining.[10]
1980s: Winn Dixie
The late 1970s saw a somewhat curious arrival in the form of Winn Dixie Supersave, a discount shop with a frontage stretching across numbers 64 and 66 at least, and for some part of its life also 68 and 70.[11] Despite the name, this appears to have had no connection to the American supermarket chain.[12]
Commenters on a Bygone Croydon Facebook thread (now deleted) recalled that Croydon's Winn Dixie sold "ex catalogue stuff" including "all sorts clothes to pans". One of them likened it to present-day Wilkinson (now rebranded to Wilko), though it seems to have been rather scruffier than Wilkinson, with "a very uneven floor [...] big pillar supports [...] it could of done with a slap of paint and a few repairs".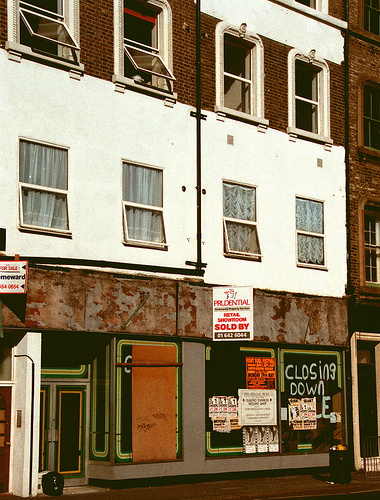 Anthony O'Neill's Lonely Shopper article on Winn Dixie also mentions the uneven floors, and describes "tables groaning with pastel bath salts and china hearts stuffed with pot-pourri" and Ronco products ("only normally available through magazine and television offers") such as a "device that scrambled eggs inside their shells".
Other goods on offer included toys such as "the Big Ear – a cross between a blue and red plastic rifle with a parabolic antenna on one end and a cheapo pair of Walkman headphones at the other", the adverts for which promised "the ability to eavesdrop on conversations a mile away with crystal clarity".
It's unclear how long Winn Dixie remained on London Road. Anthony O'Neill recalls it as opening around 1979 and lasting about a year, but Croydon phone books list it from 1979 to 1987 inclusive, and Goad plans also list it up to April 1987.[13]
However, it was definitely closed down by mid-1988. Guitar shop Rockbottom had taken over numbers 68–70 a few years earlier, and numbers 64–66 now sat vacant.[14]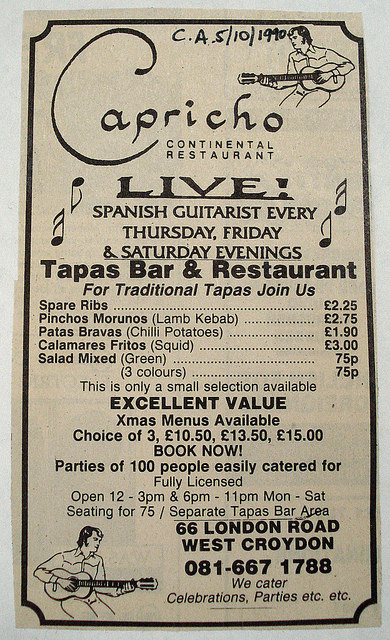 1990s: Capricho
By early 1989, plans were in progress to reopen numbers 64–66 as a family-run restaurant. Alfredo and Alicia Palla, a married couple originally from Spain, applied for planning permission around May of that year for a new restaurant with a long dining area stretching back the length of number 64, with the entrance on the number 66 side into a "reception & waiting area" which included a "bar with free snacks".[15]
Alfredo and Alicia considered a couple of different names for their restaurant, including "Palla's" and "Alfredo's", but in the end it opened in early 1990 under the name of Capricho. The younger generation of the family, sons Cesar and Alfredo junior, were also involved in the business.[16]
Capricho specialised in Spanish food, including tapas based on ingredients such as squid, octopus, frogs' legs, snails, kidneys, and artichoke hearts. It had a separate vegetarian menu with dishes including "Aubergine a la Parmigiana" and "stuffed avocadoes with egg and picante sauce". The space was divided into a 75-seater restaurant area and separate tapas bar, and on Thursday, Friday, and Saturday evenings live music was provided by a "Spanish" guitarist (who actually came from Ireland).[17]
2000s: Trattoria Il Teatro, Barelles, and Gradisca
Capricho remained on London Road for around a decade, but by May 2000 had been replaced by Trattoria Il Teatro, the first in a succession of Italian restaurants. Unfortunately I have managed to uncover very little information about any of these restaurants, aside from their names and approximate dates. By May 2004, Trattorial Il Teatro had been replaced by Barelles, and by May 2006 this in turn had given way to Gradisca. Gradisca was gone by July 2007, and the premises again fell vacant.[19]
2009–2011: Kandil African & Caribbean groceries, and Mangal Restaurant
By mid-2009, numbers 64 and 66 had begun to pursue separate destinies. Kandil, an African & Caribbean grocery shop, was open at number 66 by August of that year. As well as a display of colourful fresh vegetables on the pavement in front of the shop, it also advertised fresh fish and meat including lamb and goat.[20]
Number 64, on the other hand, returned to use as a restaurant, though sadly this was to be very short-lived. Mangal Restaurant opened in December 2010, but less than a year later its owner, Yasar Koksal, found himself wielding a fire extinguisher as the August 2011 riots took hold on London Road. Albemarle Bond at numbers 60–62 was completely burnt out, and Rockbottom at numbers 68–70 was also set on fire and badly damaged. Mr Koksal told the Croydon Advertiser the next day that he was unsure whether his restaurant would reopen.[21] Indeed, by the start of 2012 both Kandil and Mangal Restaurant were no more.
2012: Kodo's Barber and Cosco
By January 2012, numbers 64 and 66 were again briefly reunited as Cosco, an African & Caribbean supermarket, but by April of that year number 66 had become Kodo's Barber, with Cosco retrenching to number 64 alone.[22]
2013–present: AFG Barbers and African Food Centre
Around the start of 2013, numbers 64 and 66 were taken over by new management. Kodo's Barber became AFG Barbers, though at the time of writing this is yet to be reflected in the sign above the shopfront; the only obvious changes were the removal of the "Kodo's" part of the signage and the application of a somewhat subtle "A F G Barber" decal to the window.[23]
Number 64 also retained its old function under the new management. Cosco became African Food Centre, but little else changed; even the arrangement of goods within the store stayed pretty much the same.[24]
Today, vegetable displays spill out onto the street, with offerings including yams, fresh herbs, brightly coloured peppers, scotch bonnet chillies, and large sacks of onions. On entering the shop, one squeezes past the customers lined up along the butcher's counter, waiting their turn to buy chicken, lamb, tripe, and other organ meats. The space opens out further back with shelves of tinned and dried goods, hanging displays of seasonings such as locust beans, dried crayfish, and ground egusi seeds, and large freezers full of green vegetables and other African delicacies.
Thanks to: Brian Gittings; Glenn Ebrey at the Croydon Advertiser; Khalil, owner of AFG Barbers and African Food Centre; the Planning Technical Support Team at Croydon Council; all at the Croydon Local Studies Library; and my beta-readers bob, Flash, and Shuri.
Footnotes and references
See my article on 60–62 London Road for evidence on construction of the building and more information on Charles Bowman.
Public domain image taken from the collection of the Library of Congress, found via Wikimedia Commons. Date of 1915 comes from the Library of Congress record. James Petts, "R. N. Recruiter" is listed at 1 St John's Terrace, Old Town, in Ward's 1913, 1914, and 1915 directories. He is absent from the 1916 directory — 1 St John's Terrace is now occupied by F Wallington, apparently a private resident, and James Petts appears in neither the alphabetical list of private residents nor the alphabetical list of professionals and tradesmen. As noted in the next footnote, Ward's 1916 directory lists a Royal Naval Recruiting Office at 64 London Road (30 London Road in contemporary numbering).
Ward's directories list number 66 as unoccupied from 1907 to 1919 inclusive (I don't currently have access to the 1920 edition).

Establishment date and original addresses of the Croydon Co-operative Society taken from Ron Roffey's The Co-operative Way, Chapter 2, p 21. According to this source, its initial address on Church Street was 118, it moved to 128–130 in 1888, and it expanded to number 132 in 1897. However, several Croydon streets were renumbered in the years since this time, and I haven't yet discovered whether Church Street was one of them, so these addresses may not correspond to the properties which have the same addresses today.

Ward's directories list the Croydon Co-operative Society at 30 London Road (modern 64) from 1908 to 1914 inclusive. Ward's 1914 also lists "Croydon Co-operative Soc. (building)" at contemporary numbers 69–71, which corresponds to modern 99–101; the 1915 edition has simply "Croydon Co-operative Society Ltd". Note that the data for Ward's directories were generally up to date as of the previous November or December. The Co-operative Way agrees, stating on p22 (Chapter 2) that the Society's trading premises moved to 30 London Road in 1907 and 69–71 London Road "seven years later".

The Co-operative Society was to spend several decades at number 99, initially as the Croydon Co-operative Society and (following a July 1918 merger with the Bromley & Crays and Penge & Beckenham Societies) as the South Suburban Co-operative Society. Hence, I'll cover it in more detail in a future article.

Ward's directories list 64 as unoccupied in 1907; the Croydon Co-operative Society Ltd from 1908 to 1914 inclusive; unoccupied again in 1915; and the Royal Naval Recruiting Office from 1916 to 1919 inclusive (at the time of writing, I don't have access to the 1920 edition).
Ward's directories list H C Atkins, "Costumier & Blouse Speclst" in 1921; A M Munt, "Blouse & Gown Specialist", from 1922 to 1928 inclusive (though without the blouse specialisation from 1926 onwards); "Netta (A M Munt), Gown Specialist" in 1929, 1930 (numbers 66–68), and 1932 (numbers 66–70); and "Netta, Costumier" in 1934 (back to numbers 66–68). Various advertisements for Netta in the Surrey Mirror in the 1930s have the notation "Flynn's" in the small print. Kent's 1955 and 1956 directories list F J Flynn Ltd, clothing manufacturers, at 66–70 London Road. Croydon phone books from August 1967 to August 1971 inclusive list F J Flynn at 66 London Road along with a fabric company called Monitex Ltd (note that phone books of this period generally only listed a single street number even for addresses spanning more than one shopfront).
Blakey, Morris & Co is listed in London phone books from October 1920 onwards, Ward's directories from 1921 to 1939 inclusive (1939 being the final edition published), Kent's 1955 and 1956 directories, and Croydon phone books up to and including August 1970.
The January 1910 phone book lists Blakey Morris & Co Ltd as wallpaper manufacturers and merchants at 32 London Road SE (later phone books give the more complete postal district of SE1) and as wholesale wallpaper merchants at 330 Holloway Road. Daily Mirror advert viewed online via the British Newspaper Archive (subscription required).
An example of a Blakey, Morris & Co phone book advertisment appears at the bottom of page 90 of the October 1920 London phone book. The address given to apply for samples is 32 London Road, near Elephant and Castle Station, SE1.
The Church Street branch of Blakey, Morris & Co appears in the August 1967 Croydon phone book (and possibly earlier editions too; I didn't have time to check before publication of this article). Both branches are listed up to and including August 1970, but the August 1971 phone book only has the Church Street branch. It is of course possible that the London Road branch stayed open and just got rid of its telephone, but I think it unlikely.
Goad plans show Winn & Dixie [sic] at 64–70 in March 1983 and March 1984, and at 64–66 in March 1985, April 1986, and April 1987. Before Winn Dixie arrived, numbers 66–70 were all part of the F J Flynn clothing factory (more details of this will be given in my article on 68–70 London Road), and a 1978 planning application (viewed on microfiche at Croydon Council offices, ref 78-20-259) includes a plan showing internal connections between all four premises from 64 to 70 via existing openings in the party walls; the application includes a proposal to enlarge these openings. It thus seems likely that Winn Dixie began as a four-shopfront store and later scaled back to numbers 64–66 alone.
Anthony O'Neill of the Lonely Shopper blog states that he "emailed Winn Dixie's PR department, asking if they had any records of their incursion into UK territory. The response was a form letter with a two-line history of the firm and an assertion that they had never opened a branch in the UK."
The March 1985 Goad plan does include the notation "closing down (Stuart Edwards)" (Stuart Edwards being an estate agents), but the April 1986 plan simply lists "Winn & Dixie [sic] dept store". In addition, several planning applications for alternative uses were granted for numbers 64–66 during this period, including one for "Use of ground floor shops as offices", deposited in July 1980 and granted in September of the same year (ref 80-20-1598), and another for "Use of ground floor as restaurant with ancillary leisure entertainment and amusement facilities", granted in December 1984 (ref 84-2538-P).
Rockbottom was previously at number 74, but is shown at 68–70 on Goad plans from March 1985 onwards; Brian Gittings has a photo of it there in 1989. It's still at 68–70 London Road today. A planning application granted in June 1988 (ref 88-1398-P) states that at the time of the application numbers 64–66 were vacant. This application was for use as an employment agency by Taylor Gordon & Co, but I've found no evidence that this company ever made use of the planning permission; in fact, in the same month it was also granted permission to use number 19 in the same way, and it remains there today under the name of Plan Personnel.
Details of the interior of the planned restaurant are taken from diagrams dated May 1989 and included in a planning application granted in September 1989 (ref 89-1699-P). The applicants are given as Mr & Mrs Palla; their first names and their Spanish origin are taken from an article on page 33 of the 27 July 1990 Croydon Advertiser, viewed on microfilm at Croydon Local Studies Library.
The planning application mentioned in the previous footnote (ref 89-1699-P) includes a drawing dated May 1989 with signage for "Palla's Restaurant" as well as another image (seemingly a modified photo), annotated as an amendment received on 8 August 1989, showing signage for "Alfredo's". The abovementioned article in the 27 July 1990 Croydon Advertiser states that Capricho opened "just four months ago"; it also includes a photo of Mr & Mrs Palla with their sons Cesar and Alfredo, all in black-and-white uniforms, and states that Alfredo senior was in charge of the kitchen while Alfredo junior ran front-of-house.
List of tapas ingredients taken from an article on page 14 of the 12 April 1991 Croydon Advertiser. Division into 75-seat restaurant area and tapas bar, as well as existence of Spanish guitarist, taken from advert in the 5 October 1990 Croydon Advertiser. Actual nationality of guitarist, existence of vegetarian menu, and examples of vegetarian menu items taken from an article on page 33 of the 27 July 1990 Croydon Advertiser.
Capricho interior photo taken from a photocopied clipping in the firms files at Croydon Local Studies Library — unfortunately the Advertiser's in-office archives don't go back as far as 1990, so they weren't able to provide me with a cleaner copy.

Trattoria Il Teatro appears in the May 2000, June 2001, and May 2002 Goad plans, and the January 2001, 2002, and 2003–2004 Croydon phone books. Barelles appears in the May 2004 and June 2005 Goad plans, and the 2004–2005 and 2005–2006 Croydon phone books. Gradisca appears in the May 2006 Goad plan and the 2006–2007 Croydon phone book. The July 2007 Goad plan shows "vacant restaurant & under alteration".

One intriguing aspect of the premises around this time is the cashpoint visible at the right-hand side of the frontage in the July 2008 Google Street View imagery. There appear to be no clues as to when or why this was installed. It's not present in Brian Gittings' photo from 1989, so must have appeared during the restaurant era.

Kandil is shown on the August 2009 and May 2011 Goad plans. Other information about it is taken from Google Street View imagery from November 2010.
Information on Mangal Restaurant and Yasar Koksal taken from an article in the Croydon Advertiser of 12 August 2011.
My memory is that even after Kodo's opened, Cosco's space still extended through to the back of number 66; that is, Kodo's occupied only the front part of number 66. I didn't document this at the time, so I could be misremembering, but this is certainly the case for the ground floor of the building today, and I don't recall any great structural changes occurring when Cosco became African Food Centre. I do wonder if the back wall of number 66 corresponds to the back wall of Capricho's bar, meaning that this structure has been in place since the 1990s.
Khalil, owner of AFG Barbers and African Food Centre, told me that Kodo's and Cosco were run by different people, i.e. not him. He also confirmed that the barbers is called AFG Barbers (telephone conversation, 2 December 2014). Timing of the change from Kodo's/Cosco to AFG Barbers/African Food Centre comes from personal observation.