Savemore World of Frozen Foods at 65 London Road is very closely connected with its neighbour, Savemore Spicy Foods at numbers 67–71. Together, these two shops provide fresh meat, frozen fish, a wide range of interesting vegetables, and African and Asian groceries to the shoppers of West Croydon.
1840s–1930s: Construction of the building, and its linked history with number 63
Despite this current connection to its neighbours at 67–71, the history of the building is much more closely bound up with its neighbour on the other side — number 63. As noted in my article on 63 London Road, numbers 63 and 65 started life between 1844 and 1851 as a single building that was later extended forwards on the ground floor and split into two shops.
1930s–1960s: Victor Value
The independent history of number 65 thus begins in the mid-1930s with the arrival of Victor Value, a family-run grocery chain originally founded at 1424 London Road in 1932 by William, Alexander, and Morris Cohen.[1] The branch at 65 London Road was in place by May 1935, at which point Victor Value had at least seven other branches in London and its surrounds.[2]
A photograph at Croydon Local Studies Library shows Victor Value at 65 London Road in the late 1940s as a small shopfront divided by a set-back door in the middle, with glass display windows to either side. Goods are stacked up in each window, and an advertisement for "Hornimans Dividend Tea" is prominent. Blocky capital letters above the windows spell out the name "VICTOR VALUE CO".[3]
Like other supermarket chains, Victor Value moved towards self-service in the 1950s.[5] A planning application for "internal alterations" to create a "self service store" at 65 London Road was granted to "Messrs Victor Value & Co Ltd" on 31 August 1956, and the work was completed by August 1957.[6]
Writing in the Simply Whitstable Visitors Book, Martin Beale recalls Victor Value as "a well known chain in the 60s, though to me, it always appeared a bit tatty."[7]
It was certainly a relatively substantial chain. Pile it High, Sell it Cheap, Maurice Corina's authorised biography of Tesco head Jack Cohen (no relation to the Cohens of Victor Value),[8] describes Victor Value as "one of [Tesco's] strongest rivals" in the 1960s.[9] A 2001 obituary of Alexander Cohen describes it as "[ranking] alongside Sainsbury's and Fine Fare as one of the leading food chains in the south of the country, vying with Tesco for market leadership."[10] Nor was it confined to the south of England; there were Victor Value branches throughout the UK in places including Cardiff[11] and Staffordshire.[12]
Victor Value also acquired a number of other firms over the years, including Goodworths and Swettenham's.[14] One relatively late acquisition was Anthony Jackson's Foodfare, which took place in December 1965. This is of particular interest because Foodfare was previously controlled by Sydney Ingram, nephew of Tesco's Jack Cohen, and Sydney had in fact approached his uncle about a merger before choosing to accept the Victor Value offer.[15]
The Anthony Jackson acquisition, however, proved to be the beginning of the end for Victor Value. As with the earlier Swettenham's takeover, Victor Value struggled to incorporate its new purchases into its organisation.[16] These organisational difficulties were paralleled by financial ones: Victor Value's pre-tax profits in 1967 were a third of the 1965 figure,[17] its shares fell from 12s 6d to 8s 9d between November 1967 and January 1968,[18] and it declared no dividend for 1967.[19]
Sydney Ingram, perhaps now regretting his choice to sell his company to Victor Value, urged Tesco to put forward a takeover bid to rescue the latter.[20] An initial meeting between Hyman Kreitman of Tesco and Neville Cohen of Victor Value took place in a roadside layby, but this somewhat cloak-and-dagger approach was swiftly followed by a day-long meeting between directors of both companies which ended with Tesco bidding £8.5million for full control of Victor Value.[21]
The takeover was complete by mid-1968, and Victor Value's 217 branches became part of Tesco, bringing the latter's count to 834 branches.[22] It's unclear whether the store at 65 London Road was ever rebranded to Tesco, but in any case it was gone by July 1971, after more than three decades at the premises.[23]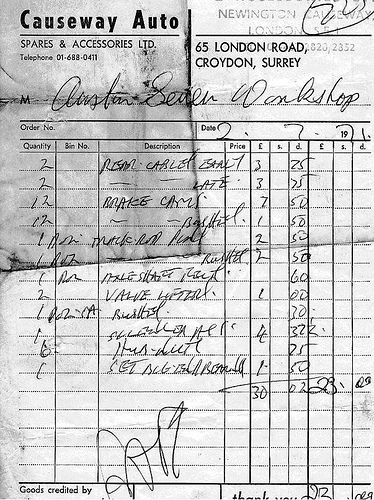 Early 1970s: Causeway Autos
Following Victor Value's departure, planning permission was granted in July 1969 for new signage for a car parts company: Causeway Autos. This was a branch of a family-run company, Northwood Spares & Accessories Ltd, based on Newington Causeway near Elephant & Castle.[24]
The company was founded by 1920 as H Northwood & Son, motor car specialists, and had a presence at 45 Newington Causeway by 1950. In March 1958 it opened an additional branch at 34–36 Newington Causeway, "linked by intercommunication by 12 Relay Sets from [the] main store".[25]
By 1968, the family were running 34–36 Newington Causeway under the name of Causeway Auto Spares & Accessories Ltd.[26] This was under the special charge of Harry Northwood, oldest of the five siblings involved in the business at this time, and was well known as a supplier of parts for the classic Austin Seven car. Dave P, an Austin Seven enthusiast, recalls:[27]
Harry will be fondly remembered by older Austin Seven owners as one of the original and major suppliers of Austin Seven parts, and he also delighted in dealing in surplus and ex W.D. [War Department] stuff. Causeway Autos was a treasure trove of eclectic motoring items and out the back of the shop where I was allowed access, stock was piled from floor to ceiling.
Hugh Barnes adds:[28]
I can remember it being stacked floor to ceiling with stuff and, when I hesitantly asked if they had Austin 7 stuff, the guy who I spoke to visibly perked up and led me through to a back room full of it!
While the above quotations refer to the original Causeway Autos shop on Newington Causeway, by mid-1971 the family also had branches at 65 London Road, Croydon, and at 89 High Street, West Wickham. The West Wickham branch survived until at least 1984, but the Croydon branch was very short-lived, and had gone again by early 1973.[29]
Mid-1970s: Associated Safe Co
The replacement for Causeway Autos was the Associated Safe Co, which moved to London Road from its previous address at 196 Brighton Road, South Croydon, between early 1972 and early 1973. It remained here for a couple of years before moving to Hackbridge.[30]
1970s–1990s: Croydon Angling Centre
The Associated Safe Co was gone by early 1976, and by January 1979 the Croydon Angling Centre had arrived to take its place.[31] This was run by John McCarthy, a keen fisherman who represented England in angling competitions. The shop remained on London Road for two decades, finally closing in 1999.[32]
2000s: Savemore Afro Cosmetics
By May 2000, the Croydon Angling Centre had been replaced by Savemore Afro Cosmetics, an offshoot of next-door's Savemore Spicy Foods. However, by July 2007 business was slow enough that the owners had made the decision to leave the world of cosmetics and use number 65 to extend their grocery shop.[33]
2007–present: Savemore World of Frozen Foods
Nearly eight years later, number 65 continues as part of Savemore, though the dividing wall between here and 67–71 still remains. This side of the shop is long and narrow, and the front is dominated by the butchers counter that runs along one wall. Shelves opposite display African groceries, and freezers further back are stocked with frozen fish. Employees stand behind the butchers counter, ready to prepare the meat in any way you choose — and once it's packaged up, you're given a payment slip to take to the till at the front.[34]
Thanks to: Khalid at Savemore; John McCarthy; Graham Foster; James Ingram; Neil Tyler, for providing advice on researching Victor Value; Leigh Sparks, for providing advice, materials, and feedback regarding Victor Value; the Austin Seven enthusiasts (Bryan Norfolk, Dave P, David of the Devon Sevens, David Waller, Hugh Barnes, Jeff Taylor, Jon, squeak, Steve Jones, and The Management of the Austin Sevens Friends forum); the Planning Technical Support Team at Croydon Council; all at the Croydon Local Studies Library; and my beta-readers Flash and Henry. Census data and London phone books consulted via Ancestry.co.uk.