33 London Road is the home of Dr Huang's Chinese medicine shop, a small business offering a wide range of Chinese herbs as well as massage and acupuncture.
1850s–1860s: Construction of the building, and use as a private home
As I discussed in my article on 31 London Road, numbers 31-37 were built as a small terrace of private housing in the mid-1850s, a good decade or so before most of the other buildings further south towards the station. The first resident of number 33 was probably Monsieur E Benoit, professor of French.[1] He may have been a private tutor, conducting French lessons in his home, or he may have worked in a school — I have no evidence either way. In any case, he had left 33 London Road by 1861.[2]
The next few occupants were also private residents, and none of them stayed long. The first of these was a young warehouseman named Benjamin John Stanton, who moved in around the start of the 1860s with his wife Kate, their two children, and Kate's widowed mother. However, Benjamin died just a couple of years later, and his family moved on elsewhere.[3] By 1864, Daniel Watson was in residence, but he was swiftly replaced a year or so later by John Walkey and then possibly Henry Mannell or Mennell or Messell.[4]
1870s–1880s: A school for young gentlemen, and a succession of drapers
The building next moved to educational purposes, as the home of Benjamin Trapp Ellis's "School for Young Gentlemen", in July 1868. However, just a couple of years later, this school gave way to a succession of drapers: Charles Manser (or Mancer), draper, milliner, and costume maker (c. 1872–4); Miss Denny, ladies' and children's outfitter (c. 1876–7); M Nottidge, ladies' outfitter (c. 1878); Miss Gye, ladies' and children's outfitter (c. 1878); J Woolnough, fancy draper and milliner (c. 1880–2); Woolfrey & Woodbridge, fancy drapers and milliners (c. 1884); and Henry R Caldecott, fancy draper and milliner (c. 1885–7).[5]
1890s–1900s: Walter Golds Agate
By 1889, 33 London Road had been standing for three and a half decades and seen a dozen different occupants spending an average of just three years each in the building. The next occupant was to prove rather longer-lasting, as well as settling the direction of business for the next 70 years.
Walter Golds Agate, a young Sussex-born man in his early twenties, opened a butchers shop at 33 London Road around 1889. Although single and childless at this point, he called his shop "Agate & Son, Butchers" — perhaps expressing hope for future offspring to join him in his labours.[6]
On 25 April 1892, Walter married a farmer's daughter named Presswood Taylor, and by the time of the 1901 census they had two sons aged 6 and 8 years old respectively. However, the family left London Road four years later, and the 1911 census lists Walter as a grocer and provision merchant at Sydenham — so it seems unlikely that a father-and-son butcher partnership ever actually emerged.[7]
1900s–1910s: Arthur and Fred Clements
Following the Agates' departure from London Road, the butchery business was taken over by Arthur Clements. Arthur's older brother Fred was also employed in the business, though according to the 1911 census this was as a worker rather than an equal partner. At the time of this census, Fred was living on the premises at 33 London Road with his wife Rose and their daughter Queenie, while Arthur was living in Wallington with his wife Jessie and their children.[8]
A curious detail here is that between 1911 and 1915, Ward's street directories list the business under the name of Mrs G Clements, and I haven't been able to find out who this actually was. As noted above, the brothers' wives were named Rose and Jessie, and according to the 1891 census their mother was called Mary. In addition, in 1916 Ward reverts to listing the name A Clements. I can't even speculate as to why!
1910s–1950s: J Baldwin Ltd
Following a brief interlude in which the business passed to a W A Martin, by 1917 the butchers at 33 London Road was under the ownership of James Baldwin, who also owned a butchers shop on Brighton Road in South Croydon. Just five years later, this small chain had a total of four Croydon branches and had also expanded to Pimlico, Streatham, and Walworth. The London Road branch acted as the head office of the chain.[9]
J Baldwin Ltd traded at 33 London Road until 1960 or 1961, marking nearly 45 years under the same owner and over 70 years of butchery. However, by the end of 1961 the firm had departed from London Road, though it continued to trade elsewhere in and outside Croydon.[10]
1960s: Western Rentals
Next to move in was Western Rentals, a TV rental firm which was in place by December 1961 but most likely departed again some time between mid 1965 and late 1966.[11] By the end of 1969, the function of the building had changed again, and this time it would be another long-lived change.[12]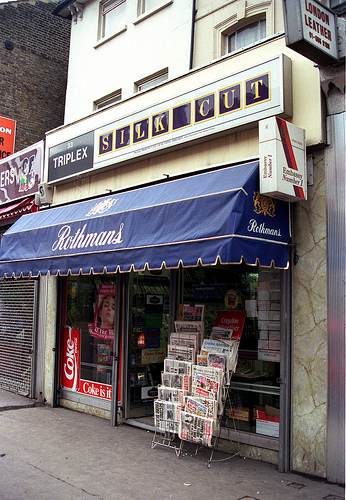 1970s–1990s: Confectionery, tobacco, and news
The September 1969 Outer London (North East Surrey) phone book lists I & N Wilkinson, newsagent, at 33 London Road. I think it likely that this was related to a similarly-named business further up the road at number 202.[13] By 1974 the shop was known as "The Archers", offering tobacco, newspapers, and confectionery, and by 1979 the Patel family was in charge.[14]
By 1983 the business was operating under the name "Triplex", though the Patels remained in charge at least initially. It continued under this name for another fifteen years or so, but by September 1999 the premises had fallen vacant.[15]
2000s–present: Chinese medicine
By early 2001, the building had taken on the function it serves today — Chinese medicine. The shop went under the name "Nature Care" (or possibly "Natural Care") until around 2008, when it finally took the name of Dr Huang.[16]
Thanks to: Brian Gittings; the Planning Technical Support Team at Croydon Council; all at the Croydon Local Studies Library; and my beta-reader Alice. Census data and London phone books viewed online at Ancestry.co.uk.
Footnotes and references
Gray and Warren's 1855 directory lists the building as one of "Four new houses not yet occupied". The October 1858 Poor Rate Book lists "Monsr E Benoit", though no house number is given. Gray and Warren's 1859 directory lists "Monsr E Benoit, Professor of French" at 17 London Road, which was renumbered to 33 in 1890.
The 1861 census lists Benjamin John Stanton at the London Road premises — I haven't been able to find Monsieur Benoit in this census at all.
Benjamin John Stanton is listed in the 1861 census, which gives his profession as "Warehouseman" and his age as 30; his wife Kate is 26, his daughter Kate E is 6, his son Benjamin J is 4, and his mother-in-law Kitty Lindsay is a 60-year-old widow. He's also listed in Gray and Warren's 1861–62 directory, and the November 1862 Poor Rate Book (as "B Stanton"). According to the Church of England parish registers collection at Ancestry.co.uk, he was buried in Croydon parish on 21 October 1863, aged 34.
Daniel Watson is listed as a private resident in Simpson's 1864 directory. John Walkey is listed in the July and November 1865 Poor Rate books and Warren's 1865–66 directory. Henry Mannell/Mennell/Messell doesn't appear in any street directories; he's in the June and October 1866 Poor Rate Books, but his name is crossed out in pencil. Uncertainty over the spelling of his name is because these books were handwritten, and the writing isn't entirely clear.
Date of school opening taken from a notice in the 11 July 1868 Croydon Chronicle (reproduced here), found as a cutting in the "Mead House School" private schools folder at the Museum of Croydon. Other information taken from Warren's 1869, Wilkins' 1872–3 and 1876–7, Worth's 1878, Atwood's 1878, Tomkies' 1879–80, and Purnell's 1882 directories; and Ward's directories from 1874 to 1888 inclusive. Regarding Charles Mancer/Manser, Wilkins' 1872–3 has him as C Mancer, while Ward's 1874 has Charles Manser.
Ward's directories from 1889 to 1903 inclusive list Agate & Son, Butchers, at 33 London Road (or 17 London Road before the 1890 renumbering). Kelly's 1889 and 1891 directories list W G Agate, butcher (as do Ward's 1904 and 1905). The 1891 census lists 25-year-old Walter Agate, single, born in Thakeham, Sussex, living at 33 London Road with two servants (a bookkeeper and a housekeeper). Walter's middle name comes from the marriage certificate referenced in footnote [7].

Information on the marriage between Walter Agate and Presswood Taylor comes from a marriage certificate viewed online at Ancestry.co.uk, which lists their full names, fathers' occupations, and residences at the time of the marriage — Walter's is 33 London Road, West Croydon, so it's definitely the right Walter Agate. Date of the Agates' leaving London Road comes from Ward's directories, which list W G Agate up to 1905 and Arthur Clements from 1906.

According to Walter's great-granddaughter, Caroline Gilbert, by 1916 Walter "had moved to Kent and resumed farming following the death of his youngest son, killed in action in WW1. His eldest son, carried on the farming tradition." (Via a comment left on this article, 7 October 2015.)

Ward's directories list Arthur Clements, butcher, at 33 London Road from 1906 onwards. The 1911 census shows Fred, Rosie, and Queenie Clements at 33 London Road, with Fred listed as a butcher working at home (the term "worker" is specifically used, and the instructions for that column of the census state that this means "working for an employer" as opposed to working on one's "own account").

Fred's age (31) and birthplace (St Georges in East) allow matching with earlier censuses. The 1901 census has Fred and Arthur "Clemants" boarding in Islington and working as butcher's assistants; Arthur is three years younger than Fred. Along with the spelling difference, there is a small discrepancy here in that both Fred and Arthur are listed as having been born in Finchley, which raises the possibility that these are not in fact our Fred and Arthur Clements. However, looking at the 1891 census, Fred and Arthur are listed in the household of their father Frank Clements with the correct ages, and Fred's birthplace is again "St Georges East" while Arthur's is Finchley, Middlesex. I thnk it likely that either the 1901 census information was provided by Arthur under the assumption that his brother had been born in the same place as him, or Fred had been under the impression, later corrected, that he was born in the same place as Arthur.

Information about Arthur's living in Wallington also comes from the 1911 census, where his age and birthplace provide evidence that he was indeed Fred's brother; a 1904 marriage certificate for Arthur Clements and Jessie Baldock (viewed online at Ancestry.co.uk), giving Arthur's father as Frank Edward Clements, provides more evidence.

Ward's directories list W A Martin at 33 London Road in 1916, and J Baldwin from 1917 to 1939 (note that 1939 was the last of these directories to be published). The April 1917 London phone book lists James Baldwin at 33 London Road, 313 Brighton Road, and 9 Nicholson Road, but the 1911 census makes it clear that 9 Nicholson Road was just his home address (the "Whether Working at Home" column is blank). The October 1922 London phone book lists J Baldwin branches at 207 High Road SW16 (i.e. Streatham), 100 Lillington Street SW1 (according to the West End At War website, this street no longer exists but it was where Lillington Gardens in Pimlico is now), 292 Old Kent Road SE1 (i.e. Walworth), 33 London Road (Croydon), 313 Brighton Road (Croydon), 41 Church Street (Croydon), and Cherry Orchard Road (Croydon), as well as a private residence at "Memphis", 160 Lower Addiscombe Road, Croydon.

Although these sources only give an initial rather than a full first name, Ward's 1917 lists James Baldwin, butcher, at 116 Cherry Orchard Road, Croydon, and a cutting in the Baldwin firms file at Croydon Local Studies Library shows a photograph of the J Baldwin branch at this address from "Handbook of Information and Readers' Companion (CPL 1907)", with the same branding on the shopfront sign as a late 1940s photograph of the J Baldwin branch at 33 London Road (also viewed at the Croydon Local Studies Library, ref Ph/96/2567), so it's clearly the same J Baldwin. The October 1925 London phone book lists the "Regd. Head Office" of J Baldwin Ltd, butchers, at 33 London Road (earlier editions don't mention a head office at all).

Croydon phone books (consulted at Croydon Local Studies Library) list the firm at 33 London Road up to and including 1961, but later editions list only branches elsewhere. Similarly, the August 1960 Outer London Kent/Surrey phone book lists J Baldwin at 33 London Road, but the December 1961 edition lists it only elsewhere.
Outer London phone books covering Surrey list "Western Rentals, TV" at 33 London road from December 1961 to August 1965 inclusive, but the December 1966 edition lists it only at 7 Westminster House, Kew Road, Richmond.
I'm not sure what was going on between 1966 and 1969. A couple of planning applications viewed on microfiche at Croydon Council offices (refs A4408 and A4793) offer hints that a business named "Miss Candy" may have operated there and that Granada TV Rentals were also interested at one point, but I haven't been able to find either of these names in contemporary phone books. The December 1966 and April 1968 Outer London North East Surrey phone books have nothing on London Road under either "Candy" or "Miss". Granada TV Rental is there, but only at number 17.
The April 1968 and September 1969 Outer London North East Surrey phone books list N Wilkinson, newsagent, at 202 London Road and 70 Southbridge Road, while the July 1971 edition lists I & N Wilkinson Ltd, newsagents, at these addresses as well as at 18 Sydenham Road (but not 33 London Road).
The August 1974 Goad plan shows The Archers (tob conf & n/a) at 33 London Road. A 1978/1979 planning application (ref A78/221) lists the occupier as P A Patel (the application is for permission to erect a new sign advertising Embassy cigarettes). Another planning application from around the same time (ref A79/183) shows a proposed sign reading "N B Patel & Sons Tobacconist Confectioner".
A planning application deposited on 18 February 1982 and granted on 23 March of the same year (viewed on microfiche at Croydon Council offices, ref 82/291/A) shows a proposed sign reading "TRIPLEX"; the owner of the property is listed as "Mr Patel". Goad plans from March 1983 to April 1994 inclusive list Triplex (tob, conf & n/a) at 33 London Road, while the London Shop Surveys of 1984–85, 1986–87, and 1988–89 list Triplex (News). The May 1983 and October 1984 Caterham & Reigate phone books list a J B Patel at 33 London Road, though "Patel" is a very common name and the listings don't mention newsagency, so there's a small possibility that this could have been an unrelated resident of the floors above — however, there's no separate entrance at street level, so the upper floors could only have been accessed via the shop. Triplex isn't listed in these phone books. The September 1999 and May 2000 Goad plans list the address as "vacant outlet".
A planning application (ref 00/1837/P) "for the retail sale of Chinese medicine & treatment" was granted on 24 August 2000. Goad plans from June 2001 to July 2007 inclusive list Nature Care, while Croydon phone books from January 2001 to 2006–7 inclusive list Natural Care. The 2007–8 Croydon phone book finally agrees with the Goad plans and lists Nature Care. Dr Huang is listed in Goad plans from August 2008 onwards.