202 London Road is currently occupied by Peri Pizza, a small independent pizza and grill cafe.
1860s–1890s: Construction of the building, and Josiah William Crisp, furniture dealer
As described in my article on number 188, 202 London Road was built around 1869–1870 as part of a terrace comprising one tavern and five shops with accommodation attached. 202 and its neighbour 204 were slightly larger than the properties at 186, 188, and 190, and commanded a similarly larger annual rent: £50 as opposed to £45 (£5,846 vs. £5,262 in 2018 prices).[1]
These "well-arranged, well-built and fitted" shops had "handsome plate-glass fronts" and were "well adapted for any good trade". The living accommodation included a "back sitting-room, cheerful drawing-room [...], four airy bed-rooms, kitchen, scullery, larder, cellar, [and] two w.-c.'s". At the back of each was "an enclosed garden" and "a piece of land (approached by side right of way) affording ample space for the erection of a ware-house, coach-house and stable, or any other building".[2]
The first occupant of number 202 was likely Josiah William Crisp, a 20-something furniture dealer and upholsterer. Born in Shoreditch, Josiah arrived on London Road by Autumn 1873 and married Sarah Ann Brown shortly afterwards. Their first child, Emily, was born in 1876, and five more followed over the next eleven years. The Crisps — and Josiah's shop — remained at 202 London Road until around 1898, when the shop closed and the family moved to Sydenham Road North.[3]
1890s–1900s: The Edison Engraving Company and Cook's Domestic Stores
The next occupant was much shorter-lived. The Edison Engraving Company arrived on London Road by October 1899, but less than three years later was in receivership, with its "plant, machinery, and fittings" all offered for auction along with "the beneficial lease of the premises, together with such goodwill as may be attached thereto".[4]
While the Edison Engraving Company's cameras, lenses, screens, presses, ruling machines, safes, desks, typewriter, and other items may well have been snapped up by other businesses, it seems the firm's reputation was of less interest. Its replacement at number 202 was not an engraver, but Cook's Domestic Stores, in place by 1904.[5]
"Cook's" most likely referred to the name of the proprietor rather than the expected occupation of the customers, as the primary business of the Stores seems to have been oil and colour. The oils would have been for domestic use in cooking, heating, and lighting, while the "colour" was in the form of paint. Cook's Domestic Stores remained for around half a decade, but was gone by 1909.[6]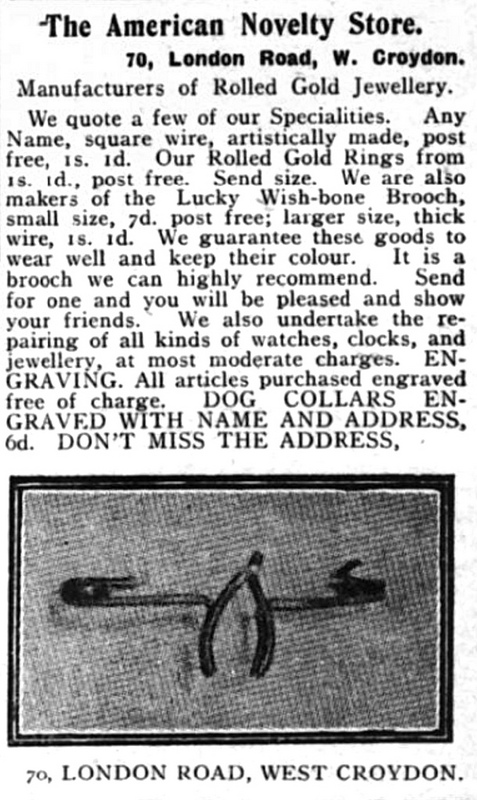 1900s–1910s: Confectionery and tobacco, the American Novelty Store, and the Homes Supply Traders Association
Next to arrive was a short-lived confectioners and tobacconists run by E W Webber, in place by early 1909 but gone again by the end of the year.
E W Webber's replacement was the American Novelty Store, which despite extensive advertising of its "Rolled Gold Rings", "Lucky Wish-bone Brooch", and "repairing of all kinds of watches, clocks, and jewellery" in local newspapers also remained only a short time.[7]
The Homes Supply Traders Association, which had previously operated from first 186 and then 236 London Road, arrived in early 1909 and remained for around two years, thus overlapping with the American Novelty Store. It likely operated from the upper floors of the premises, having no need for a shopfront presence.
In March 1909, the Association entertained its staff to a dinner at its "new offices", catered by the Albion Bakery a couple of doors up at number 206:[8]
The repast [...] was excellent. Afterwards the toasts of "The King" and "Queen," "The Collectors," and "The Secretary and Staff" were given. A presentation was made to Mr. Wallbank, the managing director, in the shape of a silver mounted walking stick [...] Tea, coffee and smokes, and a good gramaphone [sic] selection brought a most enjoyable evening to a close.
The business of this Association seems to have been to lend out money at interest, and then collect weekly repayments. Its collectors were paid by commission, earning a shilling and sixpence per pound collected (7.5%).[9]
As repayments were made in cash, the collectors would have been under some temptation to keep them for themselves, especially if, like 19-year-old William Stephenson Storer, they were "of no fixed abode". In February 1911, William was "charged on remand with converting to his own use two sums of 2s. 6d. and 5s., received by him on behalf of the Homes Supply Traders' Association, Ltd." (£14.47 and £28.93 respectively in 2018 prices). He was placed on probation for six months, "as this was his first appearance in the dock".[10]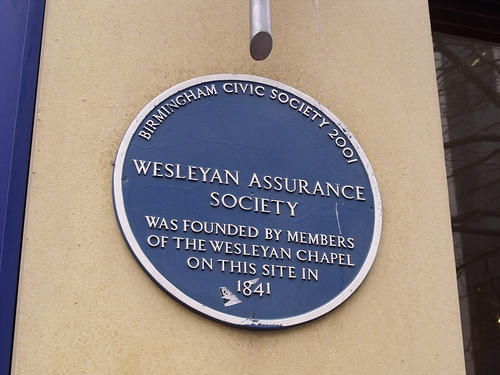 1910s: The Wesleyan & General Assurance Society, and the British & Foreign Ladies' Domestic Agency
Replacing the American Novelty Stores was the Wesleyan & General Assurance Society, an insurance company originally founded in 1841 by members of the Wesleyan Methodist Church in Birmingham.
The company arrived at 202 London Road around 1910, and remained until around 1919 before moving up the road to number 248. It continued to operate at the latter address until the 1980s, and hence will be discussed more fully in the relevant article.[11]
Alongside this was the British & Foreign Ladies' Domestic Agency, which arrived shortly after the Wesleyan & General. This was likely an employment agency specialising in domestic servants, but it's not entirely clear what the "British & Foreign" part of the name refers to. In any case, like the Wesleyan & General, it departed by the start of 1920.[12]
1920s: Private residents, wholesale chemists, and warehousing
The next couple of years in the life of number 202 are somewhat unclear. Private residents Reuben Ogden Harrison and his wife Jane arrived by the start of 1920 and remained until around 1922, but it's not clear whether they made any use of the commercial part of the property. Electoral registers list the address as the "business premises" of John Edward Hirchfield and Albert William Clegg, but neither of these appears anywhere in Ward's directories, so their line of business remains a mystery.
D J Williams, wholesale chemist, and George A Christie, wholesale warehouseman, also appear around this time. It seems likely that D J Williams was the David John Williams who ran a chemist's shop further up the road at number 300 and lived with his family in a large detached house at number 795, just north of Thornton Heath Pond. It's possible that David was briefly experimenting with a wholesale side to his business, and took a room at 202 London Road for an office which allowed him to also use the outbuilding behind as a warehouse. However, this endeavour seems not to have lasted long. George's warehousing enterprise was likewise short-lived.[13]
1920s: The Croydon Chocolate Stores
By the start of 1923, number 202 had become the Croydon Chocolate Stores. Although this enticingly-named shop only remained a couple of years, it passed through the hands of three different proprietors: David Leaver, Charles Bradbury, and Mrs Burnett.[14] One might expect such a swift turnover to suggest a poor choice of business, but in fact 202 London Road would continue to be a source of confectionery for the next eight decades.
1920s–1930s: Stationery and confectionery
The mid-1920s saw the arrival of Sidney Leslie Jenner, who dealt in both sweets and stationery. Although Sidney departed by 1928, he was replaced in quick succession by Walter Henry Knight, William Grout, and Thomas Crowther Betts.[15]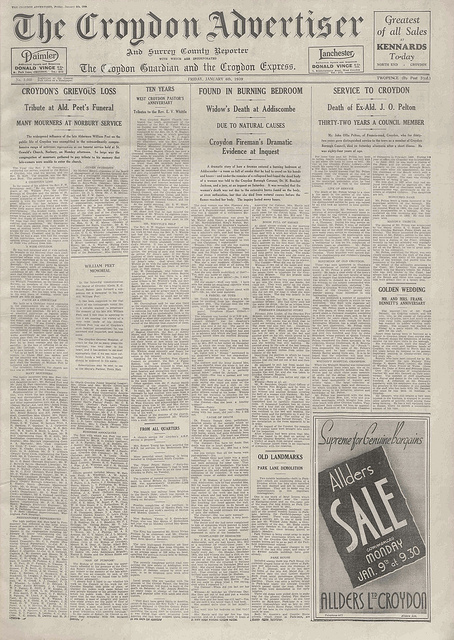 1930s–1960s: Charles Gridley and Margaret Swift
By early 1939 the shop was in the hands of Charles Gridley, a 40-something newsagent who lived on the premises with his wife Elsie and widowed sister Margaret.[16]
Born to a Battersea bricklayer in 1888 and 1895 respectively, Margaret and Charles were living in Thornton Heath by 1897, along with their parents and sister Myra. At the time of the 1911 census, 16-year-old Charles was working as a handyman at a laundry, while 23-year-old Margaret was a domestic parlourmaid — albeit with no current engagement, and hence listed as living with her brother and now-widowed mother.[17]
By 1916, Margaret was living — most likely in service — in Knightsbridge and had met her future husband, a Folkestone-born plumber named Cecil Herbert Swift. As a single man aged between 18 and 41, Cecil was among those made liable for conscription by the Military Service Act of that year, and on 2 March 1916 he officially became a member of the British Army.[18]
Cecil's services seem not to have been required immediately, as he was posted to the reserves, effectively allowing him to continue in his civilian life. However, on 10 November 1916 he was sent call-up papers which required him to report for duty. Despite expressing a preference to join the Machine Gun Corps, he was posted to the Royal Engineers, presumably on the basis of his plumbing skills. By 15 December, he had arrived at the main Royal Engineers training depot at Chatham, Kent.[19]
Cecil's calling-up to join an Army which had already been officially engaged in war for the past two years may have made the matter of his relationship with Margaret seem more urgent; or, perhaps, the couple had already been planning to marry. In either case, on 28 December 1916 Margaret applied for "a Licence for the solemnization of Matrimony in the Parish Church of All Saint's, Ennismore Gardens", and by the end of the year she had become Cecil's wife.[20]
On 10 September 1917, Cecil was posted overseas to join the 6th Battalion of the East Yorkshire Regiment, the "pioneer" unit for the Army's 11th (Northern) Division. World War I historian John Hartley describes the work of this type of unit:[21]
Pioneers were men trained to fight but whose main task was in construction. For example, they would dig trenches and construct strongpoints. But this was not a "back office" role – they would spend much of their time working in the front line.

At times of major British attacks on the German trenches, the pioneers would follow closely behind the attacking troops so that, once the trench had been captured, the pioneers would get to work creating defensive points ready in case of counter-attack. Although there were often feelings of being "second class" soldiers, the pioneer battalions were vital to successful operations.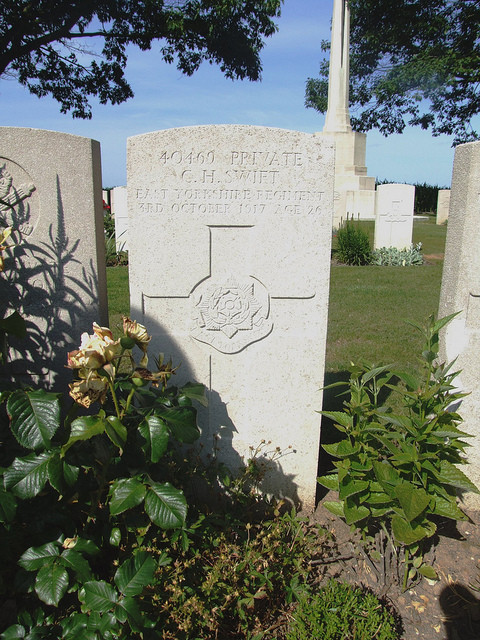 Cecil's contribution to all this turned out to be a very short one. On 3 October 1917, less than a month after arriving on the continent, he was wounded in battle and died of his wounds the same day.
His personal effects were returned to Margaret — two leather cases, a knife, a wrist watch, his identity disc, a pipe, a wallet, his wedding ring, and some personal papers and letters — and she later also received a memorial scroll and plaque, Cecil's posthumously-awarded British War Medal and Victory Medal, and a weekly Army widow's pension of 13 shillings and ninepence (£38.38 in 2018 prices).[22]
Margaret was now left a widow after less than a year of marriage. Indeed, she and Cecil almost certainly never had a home of their own; with him at the Chatham training depot, she likely remained in domestic service throughout the time of their marriage.[23]
It's unclear how long Margaret continued as a live-in servant after Cecil's death, and her brother Charles' activities during the 1920s–1930s are also unclear. Charles does seem to have also spent time as a live-in servant or caretaker, as the 1918 and 1919 electoral rolls record him and his mother as the sole occupants of a grand house in Kensington.[24] At some point during these two decades, he married his wife Elsie, and possibly also had a couple of children. In any case, as noted above, by early 1939 Margaret, Charles, and Elsie were all living together above Charles' newsagents shop at 202 London Road.
By the mid-1940s, the shop was trading under the name of Gridley & Swift, listed in phone books as a newsagent and tobacconist. It thus seems that Margaret, who had listed her occupation in the 1939 Register of England & Wales as a private secretary, had now decided to join her brother in the shopkeeping business. The siblings continued to run the shop until the early 1960s, when it was taken over by Charles and Elsie's son Frederick.[25]
1960s–1970s: I & N Wilkinson and P & B Daley
Frederick Gridley departed around 1967, and the shop passed into the hands of I & N Wilkinson, who already ran a newsagents at 70 Southbridge Road. The Wilkinsons seem to have found the shop premises at number 202 a little small for their liking, as in May 1967 they were granted planning permission to remove a partition at the back to create extra space for display counters.
By mid-1971 the Wilkinsons also had similar shops at 33 London Road and 18 Sydenham Road, but a year later they appear to have given up all their premises except the one on Southbridge Road. They were replaced at 202 London Road by P & B Daley, who themselves only remained for around three years.[27]
1970s–2000s: R S Patel and Krishna's Confectionery
The next newsagent to take over at number 202 was R S Patel, in place by late 1978 and remaining until at least 1988.[28] By 1995 or so, this had become Krishna's Confectionery, but by 2003 Krishna's had departed and the property fell vacant.[29]
2007–present: Peri Pizza
In January 2007, Mr S Murali was granted planning permission to change the use of the premises from A1 (retail) to A3 (restaurants and cafés). Although the original plan seems to have been for an Indian and Sri Lankan restaurant, when Peri Pizza opened in July of that year it was as a halal "grill & cafe" offering pizza, peri peri chicken, salads, and grilled seabass and mackerel.[30]
Although the menu at Peri Pizza has changed little over the years, according to Mr Murali there have been substantial changes to the way orders come in. When he first started the business in 2007, he got the word out via leafleting, and much of his business came from phone orders. Today, most of his custom is from online orders via Just Eat, though he still has eat-in customers.[31] The chicken, pizzas, and salads are all popular choices, but my particular favourite is the grilled sea bass, served with chips, rice, or salad.
Thanks to: Elliot Brown; James Coupe; James Elder at the BT Archives; John Hartley; Kathryn Rix; Michael McCann of britishwargraves.co.uk; Mr Murali of Peri Pizza; the Planning Technical Support Team at Croydon Council; the staff, volunteers, and patrons at the Museum of Croydon; and my beta-reader Kat. Monetary conversions performed using the Bank of England inflation calculator (prices < £100 given to the nearest penny, prices from £100 to < £100,000 to the nearest pound, prices from £100,000 to < £1 million to the nearest £1,000, prices from £1 million to < £100 million to the nearest £100,000, prices ≥ £100 million to the nearest million).
Footnotes and references
Size of 202 and 204 versus 186–190 is from personal observation (from outside; see photo of the terrace in my article on number 188). Annual rents are taken from the November 1870 Poor Rate Book (though these are estimates, as all of the terrace aside from the tavern was unoccupied at that time).
The first three quotations are taken from an advert on page 4 of the 1 October 1870 Norwood News, and the others are taken from an advert on the front page of the 16 April 1870 Croydon Chronicle. Both adverts offer the freehold of 202–204 London Road (5–6 Kidderminster Terrace in the addressing of the time) for auction.

Ward's directories list "— Crisp" in 1874; Josiah Crisp, furniture dealer, in 1876; J Crisp, furniture dealer, from 1878 to 1887 inclusive; and Josiah W Crisp, furniture dealer, from 1888 to 1898 inclusive. Kelly's 1889 directory gives his full name as Josiah William Crisp, and describes him as an upholsterer. He is also listed as an upholster in the 1881 and 1891 censuses. The 1871, 1881, 1891, 1901, and 1911 censuses give his place of birth as St Leonard's, London, Croydon, Finsbury, and Shoreditch, respectively. St Leonard's is a historical name for the parish of Shoreditch, "Croydon" is obviously a mistake, and the Metropolitan Borough of Finsbury (created the year before the 1901 census) bordered on the Metropolitan Borough of Shoreditch, so some fuzziness in place names can only be expected.

The parish register record of Josiah's marriage to Sarah Brown on 27 September 1873 gives his age as 27 and his address as 3 Kidderminster Terrace, which was later renumbered to 188 London Road. Although it's possible he started at 188 and then moved to 202, all other evidence places him at 5 Kidderminster Terrace (202 London Road) and the clerk who made this entry had rather slapdash handwriting (for example, the "Sept" of the date of Josiah's marriage is only comprehensible by comparison with the August entries on the opposite page), so the "3" could well have been written by mistake for "5".

The 1891 census lists six children; the oldest is Emily (15) and the youngest is Bertie (3). Church of England baptism records show that Emily was baptised on 7 May 1876 and Bertie on 18 September 1887.

Regarding the family's movements after leaving London Road, Ward's 1899 directory lists Josiah W Crisp at 130 Sydenham Road North, a house occupied the previous year by one Alexander Peters. They don't appear to have stayed there long, as the 1900 edition lists this house as unoccupied. However, by the time of the 1901 census they were living at 73 Limes Road. Josiah does not appear in the alphabetical list of tradesmen and professionals in the 1899, 1900, 1901, or 1902 directories, and the 1901 census lists him as "Steward of a Club", so he seems to have retired. (This census does list his 23-year-old son William as a "Cabinet Maker".)

Ward's directories list the Edison Engraving Company at 70–72 London Road in 1900 and 1901, and at 70 London Road in 1902. (Note that 70 London Road was renumbered to 202 in the 1920s.) An advert for an apprentice on page 4 of the 7 October 1899 Croydon Chronicle (reproduced here) gives an address of 70 London Road. Quotations and information about receivership are taken from an advert on the front page of the 14 June 1902 Croydon Chronicle. Note that "goodwill" here refers to the reputation of the firm; purchasing the goodwill of a business meant being able to trade as its recognised successor.
List of Edison Egraving Company taken from the 1902 Croydon Chronicle advert, as above. Ward's directories list "Unoccupied" in 1903, and then Cook's Domestic Stores from 1904 to 1908 inclusive. Cook's Domestic Stores were also briefly joined by C & E Emery, photographers, who appear in Ward's 1904 only; presumably they operated from an upper floor. E Emery was likely the Ernest Emery, photographer, listed at 83 Northcote Road in Ward's 1903 directory; if so, he is probably also the 18-year-old Ernest Emery, photographer, living with his mother Elizabeth and 21-year-old brother Charles (also a photographer) at 11 Penshurst Road in the 1901 census (Charles would therefore be the "C" of "C & E Emery"). The brothers' attempt at business success in Croydon seems to have been very limited; both Emerys are absent from the alphabetical list of tradesmen and professionals in Ward's directories to either side of 1903–1904.
The classified section of Ward's 1905 directory places "Cook's Stores", 70 London Road (later renumbered to 202) in the "Oil and Colourmen" section. It may have dealt in other items too, but according to the introduction to these classified listings, "there are many tradesmen whose names would appear under several different heads. Unless paid for as extra lines, we do not guarentee the insertion of any trademan's name under more than one classification." The term "oil and colour" was used both for shops selling for domestic purposes and shops selling to artists, but the name "Cook's Domestic Stores" leaves little doubt that 202 London Road was the former type.
Ward's directories list E W Webber in 1909 and the American Novelty Store in 1910. Quotations are taken from an advert on page 2 of the 26 February 1910 Croydon Chronicle, reproduced here.
Ward's directories list the Home Supply Time Payment System at 64 London Road (later renumbered to 186) in 1907 and at 12 Royal Parade (later renumbered to 236) in 1908; and then the Homes Supply Traders Association at 12 Royal Parade in 1909 and at 70 London Road (later renumbered to 202) in 1910 and 1911. Despite the change of name, this clearly seems to be the same company. Evidence that it was at 202 London Road by March 1909 comes from an article on page 3 of the 18 March 1909 Croydon Chronicle, which mentions "the new offices at 70 London-road" and is also the source of the excerpt included here.
Information on collectors' commission is taken from an article on page 9 of the 25 February 1911 Croydon Guardian ("Defrauding his master"). This article also describes one of the Association's customers, a valet's mother, as having paid her collector 2s. 6d. on 24 October and 5s. on 2 November of the preceding year. An advertisement for a "Man [...] to superintend Agents" on page 2 of the 7 October 1910 Yorkshire Post states that the applicant "must be [a] good canvasser, used to clothing and provident clubs".
Ward's directories list the Wesleyan & General Assurance Society at 70 London Road (later renumbered to 202) from 1911 to 1919 inclusive (as "Wesleyan and General Insurance Society" pre-1916) and at 14 Royal Parade (later renumbered to 248) thereafter. Information on founding of the Society is taken from the history page on the Wesleyan Group website (accessed 9 February 2019).
Ward's directories list the British & Foreign Domestic Agency in 1913 and the British & Foreign Ladies' Domestic Agency from 1914 to 1919 inclusive.
Ward's directories list Reuben O Harrison and Mrs Richmond (presumably also a private resident) in 1920; Reuben O Harrison, Mrs Richmond, and D J Williams, wholesale chemist, in 1921; and Reuben O Harrison and G A Christie, wholesale warehouseman, in 1922. Electoral registers show Reuben Ogden Harrison, Jane Harrison, and John Edward Hirchfield in Autumn 1920; the three previous plus Albert William Clegg in Spring 1921; and David Leaver in Autumn 1922. The Harrisons are eligible to vote by virtue of Reuben's occupying the property as a private residence, while John, Albert, and David are eligible due to using the property for business purposes. The 1911 census confirms that Reuben and Jane were married before arriving on London Road (and indeed had been since the 1880s). I'll discuss David Williams further in my article on 300 London Road.
Ward's directories list Croydon Chocolate Stores — G Lever (and Russel Vowles, presumably a private resident) in 1923; Croydon Chocolate Stores — C Bradbury in 1924; and Croydon Chocolate Stores — Mrs Burnett in 1925. Kelly's 1923 directory lists D Leaver, confectioner, and the Autumn 1922 and Spring 1923 electoral registers list business premises for David Leaver (whose place of residence is 23 Bowood Road, Clapham Common), so I believe "G Lever" is likely a rare mistake in Ward's. The Spring 1924 electoral register lists Charles and Jane Bradbury, in residence. Mrs Burnett does not appear in the electoral registers, so I don't know her first name.
Ward's directories list S L Jenner in 1926 and 1927; W H Knight in 1928 and 1928; W Grout in 1930 and 1932; and T C Betts in 1934 and 1937. All except T C Betts (a mere "Stationer") are listed as "Stationer & Confectioner". Their first and middle names are taken from the Spring 1926, Autumn 1928, Autumn 1930, and Autumn 1936 electoral registers, respectively.
Ward's 1939 directory lists C Gridley, newsagent; and Mrs Swift. The 1939 Register of England & Wales lists Charles Gridley, married, general shopkeeper, born 28 February 1895; Elsie Gridley, married, performer of unpaid domestic duties, born 11 March 1895; two closed records (of individuals with birth dates less than a century ago); and Margaret E Swift, widowed, private secretary, born 29 August 1888. The 30 June 1945 electoral roll gives Margaret's full middle name of Eleanor. The alphabetical list of residents and tradespeople in Ward's 1937 directory does not include either Charles Gridley or Margaret Swift, so they seem to have spent some time living outside the area before coming to London Road.
The information on Charles and Margaret listed in the previous footnote makes them a good match for the 16-year-old "Laundry (handyman)" and 23-year-old "Parlourmaid Domestic (out of place)" living with their sister Myra and widowed mother Margaret at 60 Gillett Road, Thornton Heath, in the 1911 census; and the baptism records of Myra, Margaret, and Charles (at St Paul, Thornton Heath, all on 14 April 1897) confirm that Margaret's middle name was Eleanor and show that the family was living at 25 The Drive (which is just off Thornton Heath High Street). Their father Harry's profession is given as "Bricklayer" in these baptism records and the 1891 and 1901 censuses. Census data also show that Margaret, Myra, and their older brother Harry were born in Battersea, while Charles was born in Lambeth. See later footnote for further evidence identifying Margaret Eleanor Gridley with Margaret Eleanor Swift.
Margaret Eleanor Gridley applied for a licence to marry Cecil Herbert Swift at All Saints, Ennismore Gardens, Knightsbridge, on 28 December 1916. The record of the application states that she was resident in the parish of All Saint's at the time. Records of Cecil's military service give his address at the time of attestation as 75 Black Bull Road, Folkestone, and the 1911 census for that address lists him (as "Herbert Cecil Swift") as a 19-year-old plumber born in Folkestone and living with his parents and three siblings. His military service record also states that he was "deemed to have been enlisted" on 2 March 1916. World War I historian John Hartley tells me that "This was the first day of conscription so, in fact, he had no choice in the matter. The legislation meant he was deemed to have enlisted, whether or not he voluntarily turned up at the recruiting office." (via email, 19 February 2019).
Information extracted from Cecil's military record by John Hartley. According to John, the notes from Cecil's medical examination on call-up indicate that "He had grey eyes and dark hair and was generally in good physical condition with very good eyesight. [...] His height was above average for those times and he seems to have been in much better health than many other working class men who would be his future comrades." John adds that the Machine Gun Corps "had been formed in 1915 and its troops fired the heavy Vickers machine guns in support of the infantry in the front line trenches. Because they tended to have fixed positions just behind the front line, they often became targets for the German artillery, earning them the nickname of the 'Suicide Club'." (All quotations from John, via email, 19 February 2019).
See earlier footnote for information on Margaret's marriage licence application. The Civil Registration Marriage Index confirms that the marriage was carried out in the Oct/Nov/Dec quarter of 1916.
Via email, 19 February 2019. Information on Cecil's overseas posting extracted from Cecil's military record by John Hartley, as above.
Information extracted from Cecil's military record by John Hartley, as above. I have slightly altered John's descriptions of two of Cecil's personal items: John listed a "disc (presumably [an] identity disc)" and a "gold ring", which I have assumed to be an identity disc and wedding ring, respectively.
Cecil would have received occasional leave throughout his time of training, which he presumably used to spend time with Margaret. His military record shows a fine of six days' pay (later reduced to three) for overstaying his leave by two days in August 1917.

The 1918 and 1919 electoral rolls list Charles Gridley and Margaret Eleanor Gridley at 48 Cranley Gardens, Kensington. Charles' entitlement to voting in parliamentary and local elections is via residence and occupation, respectively, while Margaret's entitlement is via husband's occupation in both cases. (Note that "occupation" in this case refers to occupation of a house — it's not referring to employment.)

Although it's possible that the Margaret living at 48 Cranley Gardens was Charles' sister rather than his mother (according to the previously-referenced baptism records, mother and daughter both had the same first and middle names), I think the most likely scenario is that she was his mother. Firstly, I see no reason for Margaret junior to have reverted to her maiden name, and documents from Cecil's military record consistently refer to her as Mrs Swift up to and including 1920. Secondly, she would have had to have been aged 30 or over to vote, but her 30th birthday (29 August 1918) was after the cut-off point for that year's electoral roll. According to parliamentary historian Kathryn Rix, the entitlement to vote via husband's occupation was likely a mistake on the register due to the official in charge having assumed that two adults sharing the same surname were a married couple (via email, 23 February 2019).

48 Cranley Gardens is a grand four-storey terraced house in a select area of London (see image of number 48 on Google Street View), and the electoral register shows neighbours with names like Sir James and Lady Amy Home, the Honorable Henry Cavendish Butler, and Lady Evelyn Ada Kennedy, so it's very unlikely that the Gridleys were anything other than servants. No other individuals are listed at this address, so perhaps the occupants were away on a long trip and the Gridleys employed to maintain and keep an eye on the premises.

Phone books list Gridley & Swift, newsagents and tobacconists, from the November 1944 edition to the August 1960 Kent/Surrey edition inclusive, and F W Gridley, newsagent, from the December 1961 Outer London: Kent/Surrey edition to the December 1966 North East Surrey edition inclusive. Frederick's full first name is taken from the 1961 electoral register, which lists him at 202 London Road along with Violet K Gridley; Charles, Elsie, and Margaret are listed at 38 Baring Road, which the year previously had been occupied by Frederick and Violet.

Regarding the relationship between Charles and Frederick, the England & Wales Civil Registration Birth Index shows a Frederick W Gridley born in Croydon in the second quarter of 1927 to a mother whose maiden name was Goodridge, and the Civil Registration Marriage Index shows a marriage between Charles Gridley and Elsie Goodridge in Croydon in the second quarter of 1917.

"R.S.J." stands for "rolled steel joist", a structural beam with an H-shaped cross-section. "MAN APT" might stand for "main apartment"; that is, the living accommodation on the upper floors. As shown in the first image in this article, there's still an external door to the left of the shopfront today, presumably leading to this accommodation via the corridor shown at the top of the diagram.

Phone book entries over these years are a little inconsistent and confusing. 202 London Road is listed as N Wilkinson, newsagent, from the August 1967 Croydon edition to the September 1969 North East Surrey edition inclusive; as plain "Wilkinson", newsagent, in the August 1970 Croydon edition; as I & N Wilkinson Ltd, newsagents & tobacconists, in the July 1971 North East Surrey edition and the February 1972 Croydon edition; and as P & B Daley, newsagents & tobacconists, from the March 1973 Croydon edition to the January 1976 Croydon edition inclusive. 33 London Road is listed as I & N Wilkinson Ltd, newsagents & tobacconists, in August 1970 and February 1972 (but not July 1971). 18 Sydenham Road is listed as I & N Wilkinson Ltd, newsagents & tobacconists, in July 1971 and February 1972. Finally, 70 Southbridge Road is listed as N Wilkinson, newsagent, from August 1967 to September 1969; and as I & N Wilkinson Ltd, newsagents & tobacconists, from August 1970 to February 1975.

These phone books also list both I D Wilkinson and N Wilkinson at a private residence at 126 Arundel Road, Sanderstead. The 1966 electoral register lists Denys F Wharry, Gwenneth N Wilkinson, and Ian D Wilkinson at this address; it therefore seems likely that the "I" of "I & N Wilkinson" was Ian and the "N" was Gwenneth under her middle name. I haven't been able to find out what that middle name was, though, nor proof that she went by it.

Information on partition removal is taken from records of the relevant planning application (ref 67/1459/20/877, viewed on microfiche at Croydon Council offices). Confirmation that the shop was (at least eventually) under the names of both Wilkinsons comes from another planning application deposited on 24 September 1969 (ref A5504), which includes a photo of the shop with "I & N Wilkinson" on the frontage.

Brian Gittings' 1980 survey of central Croydon retail lists R S Patel, newsagents, at 202 London Road, and a planning application for a Silk Cut sign at the premises (ref A80-15) lists Mr R S Patel as the owner of the land. Phone books list R S Patel, newsagent, at 262 [sic] London Road from the November 1978 Bromley/Orpington edition to the 1988 Croydon edition inclusive. However, I believe this to be a typo for 202 London Road. Firstly, I have evidence that 258–264 London Road was occupied by Greyhound Motors throughout this time (including an advert giving this address in the 1980–1981 "Ward's" directory published by the Croydon Advertiser). Secondly, according to BT Archives Manager James Elder, the way in which phone books were produced during this period makes it plausible that a relatively minor error like this could have persisted for several years (via email, 8 March 2019).
The 1995–6 South East Postal Address Book lists "Krishna" at 202 London Road (with no other details given), and the second edition of Shop 'Til You Drop (probably published around 2002) lists Krishna's Confectionery. Krishna's doesn't seem to appear in the Croydon phone books for this period. A planning application deposited on 20 January 2003 states that as of that date the property was "Empty — previous newsagents". Mr Murali of Peri Pizza told me that before his cafe opened in July 2007 the premises had been vacant for five years (in-person conversation, 11 March 2019).
Mr Murali's planning application (ref 06/04798/P) included a Design and Access statement noting that "the client would like to change its use to a restaurant as there is a heavy demand for an Indian and Srilankan restaurant in the area." Opening date of Peri Pizza was provided by Mr Murali (in-person conversation, 11 March 2019). Google Street View imagery from September 2008 shows Peri Pizza at 202 London Road (looking very similar to the way it does in my January 2012 photo included in this article) with window decals reading "halal" and "peri peri chicken", a board outside advertising seabass and mackerel, a sign above the frontage including the text "grill & cafe", and a canopy offering "pizza" and salads" among other things (the word "salads" is blurred out on Street View, but visible in my photo).