206 London Road is currently home to The Codfather, a punnily-named fish-and-chip shop that also offers peri peri chicken, burgers, and kebabs.
1900s: Construction of the building
Despite being flush up against number 204, 206 London Road has an entirely different history and in fact was constructed around three decades later. As I've described previously, 182–204 London Road were originally built around the end of the 1860s as 1–6 Kidderminster Terrace. Numbers 206–272, on the other hand, were built just after the turn of the century as 1–26 Royal Parade, a grand stretch of shops and flats standing where a "row of tall rook-haunted trees" once separated the Broad Green Place estate from London Road.[1]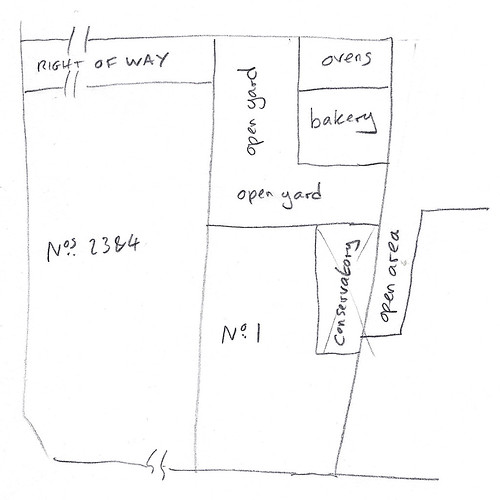 1900s–1930s: Albion Bakery
While most of the Royal Parade shops were designed in a general-purpose way, number 1 seems to have been planned as a bakery from fairly early on.
On 13 October 1902, the same person who had originally deposited the Royal Parade plans with the County Borough of Croydon in July 1901 — Mr A H Batley — deposited additional documents regarding a "Model Bakery" at 1 Royal Parade. Plans showed an L-shaped "open yard" behind the shop, with a "bakery" and "ovens" in the corner of the "L".[2]
Albion Bakery was up and running by late 1903. It may have been named with the intention of fitting in with the rather patriotic name of Royal Parade, "Albion" being an archaic term for the island of Great Britain. Another possibility is that the name was a reference to Albion Cottage, which had stood at the corner of London Road and St James's Road before being demolished to make room for 25–26 Royal Parade (i.e. 270 and 272 London Road in modern numbering).[3]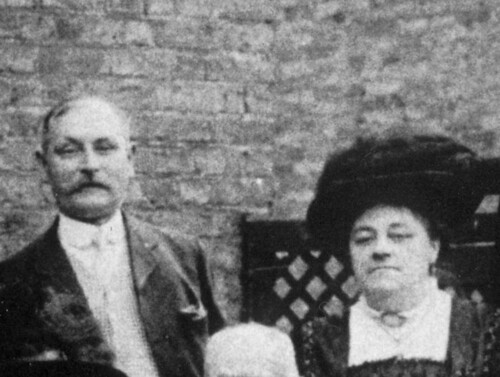 1900s–1910s: George Joseph Ribbens and Mary Annie Ribbens
By the end of 1904 the bakery was in the hands of George Joseph Ribbens and his wife Mary Annie Ribbens. Born around 1856 in Lee, Lewisham, George was working as a waiter in a "Refreshment House" in Greenwich by the age of 15.[4]
By 1881 he had moved to Beckenham and was working as a baker's assistant, but shortly afterward seems to have branched out on his own, opening a bakery at 11 Verulam Terrace, Beckenham Road. Here he offered not just bread but also "ices, creams, and jellies" as well as "Wedding, Christening, School, and all [other] kinds of Cakes".[5]
George and Mary married on 26 March 1883 at St John's Church, Brixton. By 1901 they were parents of six children, with their eldest, George, already apprenticed to the catering trade. They had also moved their business from Verulam Terrace to newly-constructed premises — 1 The Promenade — on the other side of Beckenham Road.[6]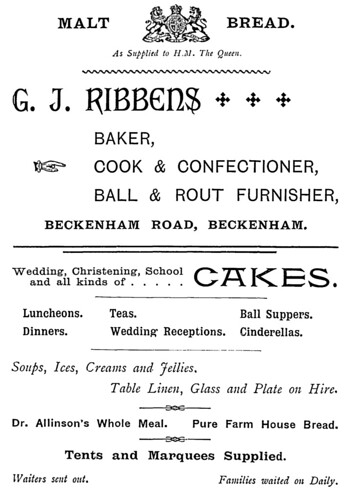 It's unclear why George and Mary chose to make this move; perhaps the new premises were larger, or perhaps their old premises were in poor condition. In any case, it seems not to have benefited their business, as on 14 August 1902 George filed a petition for bankruptcy. By the end of the year, George had departed and 1 The Promenade was in the hands of baker and confectioner F H Stockwell.[7]
George and Mary seem to have experienced a recurrence of financial troubles toward the end of their time on London Road. On 3 December 1910, the Croydon Advertiser published a notice regarding "a Deed of Assignment for the benefit of Creditors" that had been executed the previous July, instructing all "Creditors of [...] George Joseph Ribbens and Mary Annie Ribbens his wife" to send in their claims for the money owed them to "Frederick William Covington of 78 North End Croydon the Trustee under the said deed" by 16 December, or "be excluded from the benefit of the dividend proposed to be declared".[8]
In other words, George and Mary had once again found themselves unable to pay all their debts. By April 1911 they had left London Road to try again in Stratford.[9]
1910s–1930s: Bertram Budd and John James Skinner
The next baker to take charge of Albion Bakery was 20-something Bertram Budd, in place by April 1911 along with his wife Charlotte. Their first child, Hilda, was born later that year.[10] They did not remain long, however, and departed by the end of 1913.[11]
Bertram was replaced by John James Skinner, who like his predecesor also lived on the premises along with his wife Lucy and their daughter May. John was the last person to operate the bakery under the name of Albion Bakery, and remained here until the early 1930s.[12]
1930s: Bowman & Son
For at least part of the 1930s, the bakery traded under the name of Bowman & Son, a small local chain that also had premises at 20 Southbridge Road and 224 Mitcham Road. Bowman & Son closed its London Road branch by mid-1937, but continued to operate at 20 Southbridge Road until at least the late 1950s.[13]
1930s–1940s: Alfred and Sophie Hyman
Next to arrive at 206 London Road were married couple Alfred and Sophie Hyman, in place by August 1937. They unfortunately had only a couple of years to enjoy their new home, as Alfred died at Mayday Hospital, on 10 January 1940, just a couple of weeks before his 40th birthday.[14]
Although the bakery initially seems to have been run by Alfred alone, following his death Sophie continued to operate the business for the next six or seven years. However, by spring 1948 she had moved to Lancashire and remarried.[15]
1950s–1970s: Quality Bakers
The next incarnation of the bakery went under the name Quality Bakers, initially run by George S Jerrent (or possibly Jennant) and William J Malem (or possibly Malin) but later taken over by Robert Ritchie. Robert also ran another bakery at 29 St George's Walk, known as St George's Patisserie.[16]
By 1970 number 206 had been a bakery for nearly seven decades, with its on-site bakehouse situated in the yard at the back as originally approved by the County Borough of Croydon back at the turn of the century. However, the surrounding context had changed substantially, not least in terms of the organisation of local government and town planning. It should therefore perhaps not come as a surprise that there was some pushback to Robert's May 1970 application for planning permission to build an extension to the bakehouse.
While the proposed extension seems to have been relatively modest, Croydon Council considered that it would be "seriously detrimental to the residential amenities and privacy of the adjoining property". Moreover, it would "result in the intensification of a non-conforming user in an area defined [...] primarily for residential and secondary shopping purposes". A revised application for a smaller extension produced the same objection regarding the bakery's "non-conforming" use of land, but was eventually approved in September 1970.[17]
Robert continued to trade at both 206 London Road and 29 St George's Walk until the mid-1970s, but eventually ran into financial difficulties like George Ribbens before him. He was declared bankrupt on 9 April 1976, and Quality Bakers closed for good.[18]
1970s–1980s: Mr Shifter, second-hand furniture
The demise of Quality Bakers also marked the end of number 206's seven decades as a bakery. The next occupant, in place by November 1978 and remaining for around five years, was a second-hand furniture dealer known as Mr Shifter. This was likely a business name rather than the name of the proprietor, and may have been inspired by the hapless piano-mover of the same name in the then-popular PG Tips adverts. In any case, the furniture seems to have been stocked with the aim of cheapness rather than any pretensions of vintage; Brian Gittings' 1980 survey of central Croydon retail describes the premises as a "junk shop".[19]
1980s–1990s: Foto Boutique
Mr Shifter was replaced by a photo-processing and hi-fi accessories shop called Foto Boutique, in place by late 1984 and remaining until the early 1990s.[20] Dave Brown, who worked in the local area from 1981 to 1985, remembered the shop:[21]
[...] printing and enlargements etc done on the premises & you could watch their machines in action. I guess they sold films and accessories as well. I still have 2 of their photo envelopes enclosing developed prints with their rubber stamp [...]
1990s: Tepco Electronics and Carphone Warehouse
By the end of 1991, Foto Boutique had been replaced by TV, video, and electrical shop Tepco Electronics. This remained only a couple of years before moving to Gleneldon Road in Streatham.[22]
Tepco was replaced by a Carphone Warehouse Mercury Service Centre, in place by mid-1996 and remaining until at least the start of 1998. Although Carphone Warehouse is a well-known brand, I've been unable to find out anything more specific about its Mercury Service Centres; this branch may have been for repairs only, or it may also have sold phones.[23]
2000s: Spa Hair Salon
The first half-decade of the 21st century saw a type of business not previously attempted at 206 London Road. Spa Hair Salon was in place by the start of 2001, and remained for around half a decade. Aside from entries in phone books, it left little impact on the documentary record.[24]
2000s–2010s: Royal Kebabs
By mid-2008, number 206 was occupied by Royal Kebabs, a kebab shop which also did burgers, pies, and fish & chips. It offered a small amount of seating as well as takeaway and delivery services, and reflected the diversity of the area by selling Jamaican patties as part of its pie selection.
Kebab prices ranged from £2.50 for a simple "doner roll" to £7.50 for the "Royal special", which comprised a skewer each of chicken, kofte, and lamb shish plus a slice of doner meat (£3.28 and £9.83 in 2018 prices). There was even a vegetarian option: aubergine, onion, mushroom, and green pepper, served in a pitta bread with salad.[25]
2014–present: The Codfather
A change of ownership in January 2014 saw Royal Kebabs transformed into The Codfather; no longer positioned as a kebab shop that also did fish & chips, but as a fish & chip shop that also did kebabs.[26]
In contrast to the situation at Peri Pizza a couple of doors down, Andrew Letts of The Codfather tells me that around 70% of his customers come to get their food in person, with only 30% choosing home delivery. The most popular order is, unsurprisingly, fish & chips.[27]
Thanks to: Andrew Letts; bob walker; Brian Gittings; Bromley Historic Collections; Dave Brown; Dave Harwood; Susan Burgess; the Planning Technical Support Team at Croydon Council; the staff, volunteers, and patrons at the Museum of Croydon; and my beta-readers Bec and Rowley. Monetary conversions performed using the Bank of England inflation calculator (prices < £100 given to the nearest penny, prices from £100 to < £100,000 to the nearest pound, prices from £100,000 to < £1 million to the nearest £1,000, prices from £1 million to < £100 million to the nearest £100,000, prices ≥ £100 million to the nearest million).