206 London Road is currently home to The Codfather, a punnily-named fish-and-chip shop that also offers peri peri chicken, burgers, and kebabs.
1900s: Construction of the building
Despite being flush up against number 204, 206 London Road has an entirely different history and in fact was constructed around three decades later. As I've described previously, 182–204 London Road were originally built around the end of the 1860s as 1–6 Kidderminster Terrace. Numbers 206–272, on the other hand, were built just after the turn of the century as 1–26 Royal Parade, a grand stretch of shops and flats standing where a "row of tall rook-haunted trees" once separated the Broad Green Place estate from London Road.[1]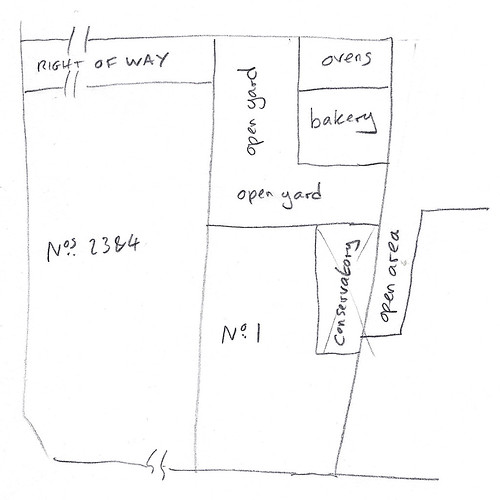 1900s–1930s: Albion Bakery
While most of the Royal Parade shops were designed in a general-purpose way, number 1 seems to have been planned as a bakery from fairly early on.
On 13 October 1902, the same person who had originally deposited the Royal Parade plans with the County Borough of Croydon in July 1901 — Mr A H Batley — deposited additional documents regarding a "Model Bakery" at 1 Royal Parade. Plans showed an L-shaped "open yard" behind the shop, with a "bakery" and "ovens" in the corner of the "L".[2]
Albion Bakery was up and running by late 1903. It may have been named with the intention of fitting in with the rather patriotic name of Royal Parade, "Albion" being an archaic term for the island of Great Britain. Another possibility is that the name was a reference to Albion Cottage, which had stood at the corner of London Road and St James's Road before being demolished to make room for 25–26 Royal Parade (i.e. 270 and 272 London Road in modern numbering).[3]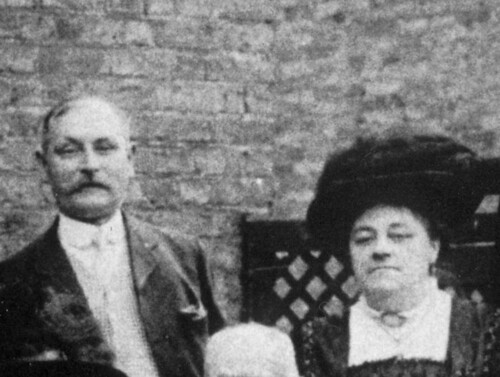 1900s–1910s: George Joseph Ribbens and Mary Annie Ribbens
By the end of 1904 the bakery was in the hands of George Joseph Ribbens and his wife Mary Annie Ribbens. Born around 1856 in Lee, Lewisham, George was working as a waiter in a "Refreshment House" in Greenwich by the age of 15.[4]
By 1881 he had moved to Beckenham and was working as a baker's assistant, but shortly afterward seems to have branched out on his own, opening a bakery at 11 Verulam Terrace, Beckenham Road. Here he offered not just bread but also "ices, creams, and jellies" as well as "Wedding, Christening, School, and all [other] kinds of Cakes".[5]
George and Mary married on 26 March 1883 at St John's Church, Brixton. By 1901 they were parents of six children, with their eldest, George, already apprenticed to the catering trade. They had also moved their business from Verulam Terrace to newly-constructed premises — 1 The Promenade — on the other side of Beckenham Road.[6]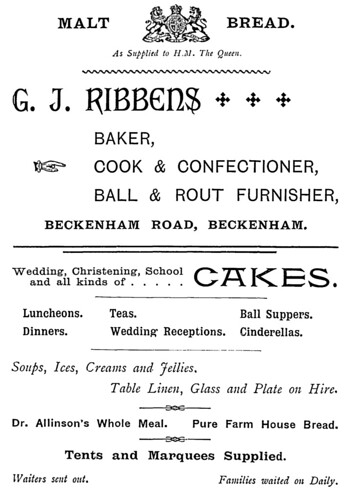 It's unclear why George and Mary chose to make this move; perhaps the new premises were larger, or perhaps their old premises were in poor condition. In any case, it seems not to have benefited their business, as on 14 August 1902 George filed a petition for bankruptcy. By the end of the year, George had departed and 1 The Promenade was in the hands of baker and confectioner F H Stockwell.[7]
George and Mary seem to have experienced a recurrence of financial troubles toward the end of their time on London Road. On 3 December 1910, the Croydon Advertiser published a notice regarding "a Deed of Assignment for the benefit of Creditors" that had been executed the previous July, instructing all "Creditors of [...] George Joseph Ribbens and Mary Annie Ribbens his wife" to send in their claims for the money owed them to "Frederick William Covington of 78 North End Croydon the Trustee under the said deed" by 16 December, or "be excluded from the benefit of the dividend proposed to be declared".[8]
In other words, George and Mary had once again found themselves unable to pay all their debts. By April 1911 they had left London Road to try again in Stratford.[9]
1910s–1930s: Bertram Budd and John James Skinner
The next baker to take charge of Albion Bakery was 20-something Bertram Budd, in place by April 1911 along with his wife Charlotte. Their first child, Hilda, was born later that year.[10] They did not remain long, however, and departed by the end of 1913.[11]
Bertram was replaced by John James Skinner, who like his predecesor also lived on the premises along with his wife Lucy and their daughter May. John was the last person to operate the bakery under the name of Albion Bakery, and remained here until the early 1930s.[12]
1930s: Bowman & Son
For at least part of the 1930s, the bakery traded under the name of Bowman & Son, a small local chain that also had premises at 20 Southbridge Road and 224 Mitcham Road. Bowman & Son closed its London Road branch by mid-1937, but continued to operate at 20 Southbridge Road until at least the late 1950s.[13]
1930s–1940s: Alfred and Sophie Hyman
Next to arrive at 206 London Road were married couple Alfred and Sophie Hyman, in place by August 1937. They unfortunately had only a couple of years to enjoy their new home, as Alfred died at Mayday Hospital, on 10 January 1940, just a couple of weeks before his 40th birthday.[14]
Although the bakery initially seems to have been run by Alfred alone, following his death Sophie continued to operate the business for the next six or seven years. However, by spring 1948 she had moved to Lancashire and remarried.[15]
1950s–1970s: Quality Bakers
The next incarnation of the bakery went under the name Quality Bakers, initially run by George S Jerrent (or possibly Jennant) and William J Malem (or possibly Malin) but later taken over by Robert Ritchie. Robert also ran another bakery at 29 St George's Walk, known as St George's Patisserie.[16]
By 1970 number 206 had been a bakery for nearly seven decades, with its on-site bakehouse situated in the yard at the back as originally approved by the County Borough of Croydon back at the turn of the century. However, the surrounding context had changed substantially, not least in terms of the organisation of local government and town planning. It should therefore perhaps not come as a surprise that there was some pushback to Robert's May 1970 application for planning permission to build an extension to the bakehouse.
While the proposed extension seems to have been relatively modest, Croydon Council considered that it would be "seriously detrimental to the residential amenities and privacy of the adjoining property". Moreover, it would "result in the intensification of a non-conforming user in an area defined [...] primarily for residential and secondary shopping purposes". A revised application for a smaller extension produced the same objection regarding the bakery's "non-conforming" use of land, but was eventually approved in September 1970.[17]
Robert continued to trade at both 206 London Road and 29 St George's Walk until the mid-1970s, but eventually ran into financial difficulties like George Ribbens before him. He was declared bankrupt on 9 April 1976, and Quality Bakers closed for good.[18]
1970s–1980s: Mr Shifter, second-hand furniture
The demise of Quality Bakers also marked the end of number 206's seven decades as a bakery. The next occupant, in place by November 1978 and remaining for around five years, was a second-hand furniture dealer known as Mr Shifter. This was likely a business name rather than the name of the proprietor, and may have been inspired by the hapless piano-mover of the same name in the then-popular PG Tips adverts.[19]
Dave Harwood visited the shop during the 1970s:[20]
It was selling secondhand furniture, etc. and a box of LP records caught my attention and lured me inside. [...] it contained a lot of second-hand furniture and a small amount of decorative household items scattered around the shop. I must admit my attention was mainly focussed on finding something interesting in the box of second-hand L.P.s — which I did!
The furniture seems to have been stocked with the aim of cheapness rather than any pretensions of vintage; Brian Gittings' 1980 survey of central Croydon retail describes the premises as a "junk shop".
1980s–1990s: Foto Boutique
Mr Shifter was replaced by a photo-processing and hi-fi accessories shop called Foto Boutique, in place by late 1984 and remaining until the early 1990s.[21] Dave Brown, who worked in the local area from 1981 to 1985, remembered the shop:[22]
[...] printing and enlargements etc done on the premises & you could watch their machines in action. I guess they sold films and accessories as well. I still have 2 of their photo envelopes enclosing developed prints with their rubber stamp [...]
1990s: Tepco Electronics and Carphone Warehouse
By the end of 1991, Foto Boutique had been replaced by TV, video, and electrical shop Tepco Electronics. This remained only a couple of years before moving to Gleneldon Road in Streatham.[23]
Tepco was replaced by a Carphone Warehouse Mercury Service Centre, in place by mid-1996 and remaining until at least the start of 1998. Although Carphone Warehouse is a well-known brand, I've been unable to find out anything more specific about its Mercury Service Centres; this branch may have been for repairs only, or it may also have sold phones.[24]
2000s: Spa Hair Salon
The first half-decade of the 21st century saw a type of business not previously attempted at 206 London Road. Spa Hair Salon was in place by the start of 2001, and remained for around half a decade. Aside from entries in phone books, it left little impact on the documentary record.[25]
2000s–2010s: Royal Kebabs
By mid-2008, number 206 was occupied by Royal Kebabs, a kebab shop which also did burgers, pies, and fish & chips. It offered a small amount of seating as well as takeaway and delivery services, and reflected the diversity of the area by selling Jamaican patties as part of its pie selection.
Kebab prices ranged from £2.50 for a simple "doner roll" to £7.50 for the "Royal special", which comprised a skewer each of chicken, kofte, and lamb shish plus a slice of doner meat (£3.28 and £9.83 in 2018 prices). There was even a vegetarian option: aubergine, onion, mushroom, and green pepper, served in a pitta bread with salad.[26]
2014–present: The Codfather
A change of ownership in January 2014 saw Royal Kebabs transformed into The Codfather; no longer positioned as a kebab shop that also did fish & chips, but as a fish & chip shop that also did kebabs.[27]
In contrast to the situation at Peri Pizza a couple of doors down, Andrew Letts of The Codfather tells me that around 70% of his customers come to get their food in person, with only 30% choosing home delivery. The most popular order is, unsurprisingly, fish & chips.[28]
Thanks to: Alan and Eric Brett; Andrew Letts; bob walker; Brian Gittings; Bromley Historic Collections; Dave Brown; Dave Harwood; Susan Burgess; the Planning Technical Support Team at Croydon Council; the staff, volunteers, and patrons at the Museum of Croydon; and my beta-readers Bec and Rowley. Monetary conversions performed using the Bank of England inflation calculator (prices < £100 given to the nearest penny, prices from £100 to < £100,000 to the nearest pound, prices from £100,000 to < £1 million to the nearest £1,000, prices from £1 million to < £100 million to the nearest £100,000, prices ≥ £100 million to the nearest million).
Footnotes and references
Quotation is taken from "In living memory", an essay by George MacDonald Davies appearing on pages 8–9 of Croydon: The Story of a Hundred Years, edited by John Gent. Although 206–272 might at first glance seem like too many street numbers for 26 shops, the reason for this is that the 1927 renumbering of London Road introduced gaps at each side road, so numbers 214–220 and 240–246 don't exist.
Details taken from index card and planning records viewed on microfiche at Croydon Council offices (ref 1170).
Ward's directories list Albion Bakery from 1904 onwards. I'll discuss Albion Cottage further in my article on 270 London Road.
The 1905 Parliamentary electoral register, which was valid from 1 January to 31 December 1905, lists George Joseph Ribbins with 1 Royal Parade as both his qualifying property (dwelling house) and place of abode. Information on George's year and place of birth is taken from various censuses. The 1871 census lists him as a "Waiter" in the household of William Servas, a "Keeper of Refreshment House" on Silver Street in Greenwich. (William's surname is a bit tricky to decipher in this census, but his family were still at the same place for the 1881 census, which is much easier to read.) According to research by Greenwich historian Julian Watson, Silver Street was renamed to Nevada Street in 1895. The present-day Nevada Street is just at the northwest corner of Greenwich Park.
The 1881 census shows George as a baker's assistant living at 1 Clifton Terrace in Beckenham; no head of household is listed, but according to the 1885 Beckenham Directory (p.64), 1 Clifton Terrace was the premises of William Levens, confectioner. The 1885 Directory also lists G J Ribbens, baker, at 11 Verulam Terrace, Beckenham Road (p.48). Descriptions of his wares are taken from an advert on page 195 of the same directory.

Date and place of George and Mary's marriage is taken from the St John's parish register. The 1901 census lists them at 1 The Promenade, Beckenham Road, with six children aged between 2 and 16. George senior is a "Baker & Confectioner" working "At home", and 16-year-old George junior is an "Apprentice to Cooking".

Examination of various editions of the Beckenham Directory available for download from Bromley Historic Collections shows that G J Ribbens, baker (later "baker and confectioner") is listed at 11 Verulam Terrace up to and including 1898; additionally in 1898 on the other side of the road under a subsection "Shops in course of completion" next to the junction with Mackenzie Road (possibly suggesting that he had taken possession of the new premises but not yet moved in); and at 1 The Promenade in 1902, by which point the 11 shops of The Promenade stretch from the Mackenzie Road junction to the junction with Birkbeck Road. These shops remain standing today, with the inscription "1897" still visible above the corner entrance of what was once George's bakery (see photo included here, or Google Street View).

George's petition for bankruptcy is listed on page 5430 of the 19 August 1902 London Gazette. The 1903 Beckenham Directory (via Bromley Historic Collections, as above) lists F H Stockwell, baker & confectioner, at 1 The Promenade, and G J Ribbens is entirely absent from the alphabetical "Commercial" section.
Information and quotations taken from a notice on the front page of the 3 December 1910 Croydon Advertiser.
The 1911 census lists George, Mary, and three of their children at 115 Leytonstone Road, Stratford. George is a "Baker (Bread)" working "At Home", while his 22-year-old daughter Elizabeth is a baker's book-keeper (though not, it seems, working for George, as there is a dash in the "At Home" column) and Elizabeth's 16-year-old sister Mabel is "Assisting in [George's] Business".
The 1911 census lists 26-year-old Bertram Budd, his 28-year-old wife Charlotte, 25-year-old "Pastry-Cook Assistant" May Edwards, Bertram's visiting 6-year-old nephew Vivian, and 16-year-old domestic servant Jane (whose surname I am unable to decipher). Bertram and Charlotte's marriage is stated to have lasted one complete year and to have produced no children yet. Bertram and Charlotte are a good match for the 25-year-old Bertram Budd, "Confectioner", and 29-year-old Charlotte Foale who according to Church of England parish records were married on 5 September 1910 at the parish church of St Martin, Kentish Town (though they seem not to have noticed the census instruction to enter "under one" for marriages that had not yet lasted an entire year). Parish records also show that Hilda Charlotte Budd, born on 30 June 1911 to Bertram and Charlotte Budd of 1 Royal Parade, West Croydon, was baptised on 3 September 1911 at the same church where her parents had been married.
Page 154 of Kelly's 1913 directory lists John Skinner as the baker at 1 Royal Parade, in Bertram's place.
As noted above, Kelly's 1913 directory lists John Skinner, baker, at 1 Royal Parade. The 1915 electoral register lists John James Skinner, with 1 Royal Parade both his qualifying property (dwelling house) and place of abode. John continues to appear in electoral registers up to and including the autumn 1931 register; in later years Lucy Skinner also appears (women aged 30 and over got the vote in 1918) and the 1931 register includes May Lillian Skinner (women aged 21–29 also had the vote by then, and as noted below May seems to have been born around 1910). This allows matching of the family to the 30-year-old John Skinner, 28-year-old Lucy Skinner, and one-year-old May Skinner who appear at 13 Gordon House Road, Gospel Oak, in the 1911 census.
Ward's 1932, 1934, and 1937 directories list Bowman & Sons [sic] at 206 London Road (as "Bakers & Confect[ioners]" in 1932 and "bkrs" thereafter). London phone books list Bowman & Son [sic] at this address from August 1932 to February 1937 inclusive; before this period they only appear at 20 Southbridge Road and 224 Mitcham Road, and after this period they only appear at 20 Southbridge Road (though for some reason not in the August 1937 edition). The August 1937 edition lists Alfred Hyman, "Bkr, Confectnr" at 206 London Road in place of Bowman & Son. The latest edition I've checked that Bowman & Sons (with plural Sons by now) are still at 20 Southbridge Road is January 1957; they may well have persisted after that, but are not listed in the September 1969 Outer London: North East Surrey edition. According to research by Margaret Davison and Jean Emery of the Bourne Society (PDF), Bowman & Son also had a branch at 223 Chipstead Valley Road between 1956 and 1968.
The February 1937 London phone book lists Bowman & Son at 206 London Road, while the August 1937 edition instead lists Alfred Hyman, "Bkr, Confectnr". Ward's 1939 directory also lists A Hyman, baker. The 1939 Register of England & Wales lists Alfred Hyman, born 1 February 1901, married, "Master Baker & Confectioner"; and Sophie Hyman, born 19 February 1908, married, performer of "Unpaid Domestic duties". Alfred's date and place of death are taken from his entry in the National Probate Calendar (reproduced here).

As noted above, the 1939 Register lists only Alfred as working at the bakery. London phone books list Mrs S Hyman, "Bkr", at 206 London Road from November 1940 to October 1946 inclusive (the 1947 edition for surnames beginning E–K is missing from Ancestry). Moreover, an article on the front page of the 10 May 1946 Croydon Advertiser ("Overcharged for cakes") lists "Mrs Sophie Hyman, of London Road, West Croydon" as one of three traders summoned to Croydon Magistrates' Court charged with selling cakes "at over the maximum price".

Sophie's entry in the 1939 Register has been later updated to give her new surname of Malpass (this Register was kept updated for quite some time after first having been taken). According to the England & Wales Civil Registration Marriage Index 1916–2005, the marriage of Sophie Hyman to John T Malpass was registered in Warrington, Lancashire, in the first quarter of 1948. It's also worth noting that the 1946 electoral register lists a John T Malpass alongside Sophie at 206 London Road.

Phone books list Quality Bakers at 206 London Road from the February 1952 London edition to the January 1976 Croydon edition inclusive. Kent's 1955 and 1956 directories list "Quality Bakers (prop G S Jennant & W J Malin)" but also list a William J Malem [sic] at the same address. The 1951 electoral register, which had a qualifying date of 20 November 1950, lists George S Jerrent and William J Malem at 206 London Road, but each has an "L" printed against their name, indicating eligibility to vote in local but not parliamentary elections. (At this time, proprietors of businesses were still entitled to vote in non-parliamentary elections even if not living on the premises.)

Information on Robert Ritchie is taken from his bankruptcy notice on page 5849 of the 22 April 1976 London Gazette, which describes him as "carrying on business" at 206 London Road under the name of "Quality Bakers" and at 29 St George's Walk under the name of "St. Georges Patisserie".

Information and quotations regarding application to extend the bakehouse are taken from records of planning applications from May 1970 (ref 70/20/1068) and September 1970 (ref 70/20/1699). The full version of the second quotation uses the phrase "[...] an area defined on the Initial Development Plan primarily for [...]".

The primary driver behind this accusation of non-conformance was the Town and Country Planning Act 1947, which required local planning authorities to "carry out a survey of their area" and then prepare and submit to the Minister of Town and Country Planning "a report of the survey together with a plan [...] indicating the manner in which [...] land in their area should be used". Croydon's development plan was prepared under the supervision of its Borough Engineer and Surveyor Charles Eric Boast, and presented to the Council in June 1951. Its wide-ranging proposals, which included the construction of the Wellesley Road underpass and the flyover across the High Street, produced a deluge of public objections. A 7 December 1951 Croydon Advertiser leader denounced the whole thing as a "monstrous plan" and "a gross error of judgment", while an article in the same edition quoted the lawyer for Nalder's Brewery as objecting to the flyover due to doubt over whether shops could carry on trading "underneath this dreadful bridge" (both viewed as clippings in the Croydon Development Plan (1951) box at the Museum of Croydon, shelfmark fS70 (711) CRO).

Information on Robert's bankruptcy is taken from a notice on page 5849 of the 22 April 1976 London Gazette, under the heading "The Bankruptcy Acts, 1914 and 1926" and the subheading "Adjudication". This notice also describes him as carrying on business at both 206 London Road and 29 St George's Walk. Confirmation that Quality Bakers closed around this time comes from a later planning application by a Mr & Mrs A S Ramalinham, deposited on 11 October 1976, which states that the premises had been "Empty for six months now" (ref 76/20/1695).
Phone books list Mr Shifter, "Sec Hd Furn", from the November 1978 Bromley/Orpington edition to the May 1983 Caterham edition inclusive. These listings are under "M" rather than "S", and the directories do not contain any people named "Shifter" in the "S" section. A planning application deposited in July 1983 (ref 83/1419/P) states that the premises were vacant at that point but had been "used until March 1983 for the sale of second hand furniture". Mr Shifter's full entry in Brian's survey reads "206 / MR SHIFTER (A MAY) / Junk shop". I originally thought this read "AMAY" rather than "A MAY" and was quite perplexed by it, but Dave Harwood points out that there's actually a space between "A" and "MAY" and therefore that this is probably the name of the proprietor (via email, 11 January 2020).
Foto Boutique is listed in phone books from the October 1984 Caterham/Reigate edition to the 1990 Croydon edition inclusive. Dave Brown remembers it being there in possibly-early 1984 (via email, 6 July 2019). Regarding the hi-fi accessories, Croydon Council's records of a planning application regarding number 212 a few doors along include what seems to be a letter of objection on headed paper reading "Foto Boutique / Processing Lab, Photo & Hi-Fi Accessories / 206 London Road / Croydon" (the letter itself is too faint to read).
The records of a planning application for a restaurant next door at number 204 (ref 91/1520/P; submitted on 5 July 1991 and decided to be "not determined" on 5 December 1991 due to a lack of response from the applicant) include a letter of objection from Tepco Electronics Ltd, 206 London Road. The 1992 and 1993 Croydon phone books list Tepco Electronics Ltd, TV & Video Sales, at 206 London Road, while the 1995 edition instead lists it at 9 Gleneldon Road (as "Tepco Electronocs" [sic]). A planning application deposited on 5 January 1995 describes 206 London Road as currently vacant, with the last previous use having been "as a TV video electrical shop" (ref 95/0012/P).
The July 1996 and January 1998 Croydon phone books list Carphone Warehouse Mercury Service Centre with no additional information. I'm not aware of any books on the history of the company, and none of the articles on it I've looked at (mainly in industry magazines) mention Mercury Service Centres.
Spa Hair Salon is listed in Croydon phone books from January 2001 to 2006–2007 inclusive. The firms files at the Museum of Croydon have nothing on it, and a Google search for old web pages mentioning it brings up only generic directory entries with auto-generated information.
Google Street View imagery from July 2008 shows Royal Kebabs in place and looking almost exactly the same as in my January 2012 photo reproduced here. Seating is from personal observation (and also visible in my photo). Delivery info and food details/prices are from a takeaway menu found in the London Road file at the Museum of Croydon; this has no printed date, but "2008 / LONDON RD" is handwritten on it.
Change of ownership and date of The Codfather's opening are according to Andrew Letts of The Codfather (written response to my questions, October 2019). This is in line with my own observation; the last time I saw it as Royal Kebabs was in May 2013, and on 16 January 2014 I took a photo of it as The Codfather.