Readers familiar with my plan to cover London Road in numerical order of addresses may be wondering why today's article discusses number 186 rather than Vistec House at number 185, given that my last one covered numbers 182–184. The reason for this is that the numbering on this part of London Road is quite uneven, meaning that while on the east side I've only just got past Kidderminster Road, on the west side I'm already 125 metres further up, nearly opposite the end of Royal Parade. If I were to continue in numerical order, then by the time I'd reached the Sumner Road/St James's Road junction on the east, I'd already be at the old Half Moon site on the west.
So in order to keep the two sides of the road roughly in sync, I'm going to first finish Kidderminster Terrace (modern 182–204), then pop over to the other side to do Vistec House (number 185), then come back and do Royal Parade as far as Hathaway Road (numbers 206–238), then tackle the old Savoy Cinema site (now Gary Court), and finally finish Royal Parade, bringing both sides of the road to the same point where Sumner Road and St James's Road intersect London Road.
186 London Road
At the time of writing, 186 London Road is vacant, and has been so for much or possibly even all of the past decade.
1860s–1870s: Construction of Kidderminster Terrace
As described in a previous article on 182–184 London Road, the terrace of shops between Kidderminster Road and Royal Parade — now numbered as 182–204 London Road — was constructed as 1–6 Kidderminster Terrace following the 1860s breakup of the Oakfield Estate.[1] The Duke of Cornwall tavern at 1 Kidderminster Terrace was first to go up in the mid-1860s, soon followed by the rest of the terrace.[2]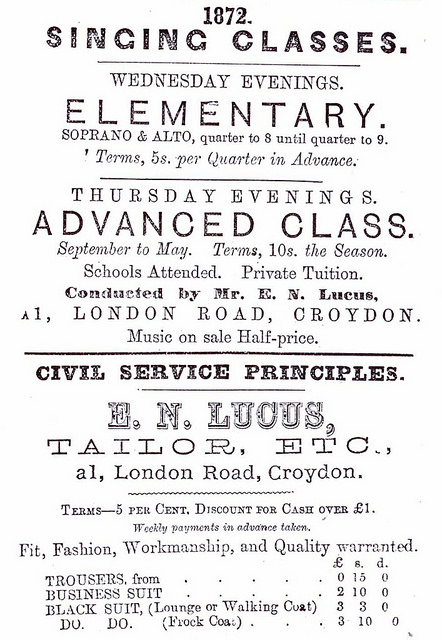 1870s: Edwin Newton Lucas, tailor and singing teacher
By mid-1871, 2 Kidderminster Terrace — known today as 186 London Road — was occupied by Edwin Newton Lucas. Edwin offered tailoring with "Fit, Fashion, Workmanship, and Quality warranted", and supplemented his income with singing classes on Wednesday and Thursday evenings. However, he remained here only around half a decade, and was gone again by 1876.[4]
Edwin had previously conducted business at 87 Church Street, and this is where he eventually returned after his short sojourn on London Road. Perhaps he was actually the owner of the Church Street premises, and decided to rent it out to others while trying his luck in the up-and-coming area of London Road.[5]
One can only speculate why Edwin decided against remaining on London Road in the long term. Perhaps his family's sleep was disturbed by patrons of the tavern next door, or perhaps the primarily-residential nature of the area at the time worked against the success of his business.[6]
1870s–1890s: John Joseph Murray, bird fancier
The next inhabitant of 186 London Road had a rather longer tenure. John Joseph Murray, bird fancier, arrived by 1876 and remained until 1891. He appears to have handled birds both living and deceased, advertising the stuffing and preserving of the latter "in a superior style to imitate nature". Although specialising in pigeons, he also dealt in more exotic species such as the "handsome grey parrot; splendid talker; very tame" advertised for sale in the Croydon Guardian in 1888.[7]
John's honesty was brought into question just a couple of years after arriving on London Road, as he was summoned from his breakfast table on 19 January 1878 to appear before Croydon magistrates on a charge of knowingly receiving stolen pigeons. Despite his having "questioned [...] closely" the boy who brought him the pigeons, and taken down his name and address "as an additional precaution", the magistrates determined that the evidence was against John, and fined him 40 shillings plus 15 shillings in costs as well as two shillings and sixpence to represent the value of the pigeons (a total of £325 in 2017 prices).[8]
1890s–1900s: China, glass, oil, Italian goods, and fruit
John Murray departed London Road by 1892, and although his shop clung on for another year or so under the proprietorship of one John S S Wall, by 1893 the birds were gone for good. James Whitely, china and glass salesman, was next to arrive, but remained for only around a year before being replaced by the "oil and Italian stores" run first by Albert E Sartain and then by Fred Gray.
It's unclear exactly what sort of oil and what sort of Italian goods were sold by Albert and Fred. Contemporary newspaper adverts for other businesses use the term "Italian stores" in connection with both paints and groceries, both of which make use of oil. In any case, by 1901 Fred's "stores" had been replaced by a fruit shop, which itself lasted only a year or thereabouts.[9]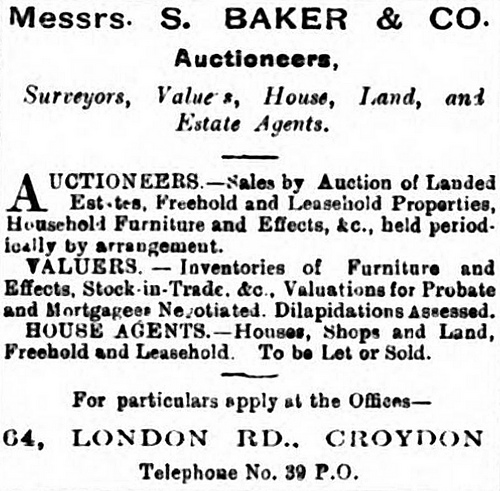 1900s: Estate agents and auctioneers
S Baker & Co, auctioneers and estate agents, were next to arrive, in place by 1903. As well as auctions of "Landed Estates, Freehold and Leasehold Properties, Household Furniture and Effects, &c.", they conducted "Valuations for Probate and Mortgages" and acted as agents for the lease and sale of "Houses, Shops and Land".[10]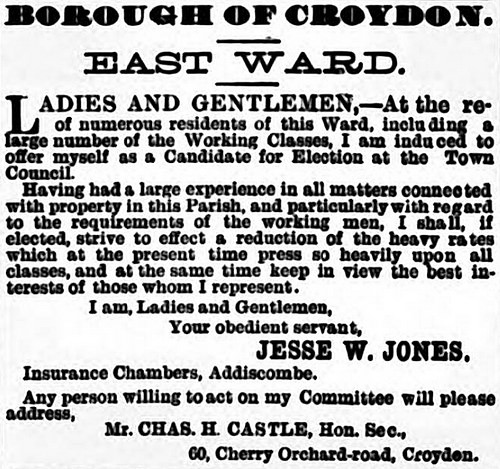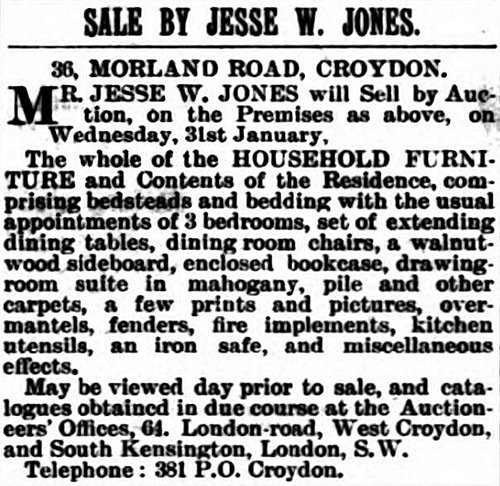 By early 1906, S Baker & Co had been replaced by Jesse Wilmot Jones, a 50-something builder and surveyor who also operated as an auctioneer and estate agent. His home was on Morland Road, with his wife Elizabeth and at least two adult daughters, Beatrice and Ethel, but he also owned several other properties in Croydon and elsewhere. Indeed, he himself had been responsible for building some or even perhaps all of the houses on Morland Road, and lived in at least three of them during his life.[11]
Jesse had earlier attempted involvement in the public life of Croydon, putting himself forward as a candidate for the East Ward on Croydon Town Council at the first municipal elections after Croydon became a County Borough in 1883. However, his claims of "large experience with all matters connected with property [...] particularly with regard to the requirements of the working men" proved unconvincing to the voters; he came second-to-last, with only 95 of the 3930 votes cast in his ward.[12]
Jesse's relatively young age may have worked against him in the election, as he was only in his late twenties at the time.[13] He may also have made enemies due to his tendency to get involved in legal disputes, which later expressed itself in the form of "several law suits" that led a judge to describe him as "A worthless person" who was "Utterly untrustworthy".[14] It's unclear whether Jesse was plaintiff or defendant in these "several law suits" — the news article that reports them simply states that he "fought" them.
The situation is somewhat clearer for a later case raised by Jesse during his tenure on London Road, against E J Jackson of 8 Royal Parade, just up the road. Accusing Mr Jackson of removing "certain furniture" from a rental property of his in order to "avoid distraint [seizure of goods] for arrears of rent", Jesse appeared to have brought the case, in the words of the defendant's lawyer, "for the express purpose of getting the defendant sent to prison [...] out of pure vindictiveness against a man who was very poor". Whether or not this was indeed true, the magistrates determined that "the justice of the case" would best be met by accepting the defendant's undertaking to pay the money owed, and dismissing the case.[15]
Jesse remained on London Road only a short while, and was gone by the end of 1907. He had an office on Earl's Court Road in central London by February 1908, but continued to live on Morland Road and remained active locally, as a member of East Croydon cricket club and people's warden at St James's Church.[16]
On the night of 13 October 1915, a Zeppelin raid over Croydon "arrived with swiftness and unloaded itself of its weapons quickly and in a straight line of over a mile long [...in...] hardly over a minute". Eleven people died, nine from their injuries and two from shock. Jesse was one of the latter, as his daughter described to the local coroner:[17]
[...] he had been suffering from heart disease for some time and was under a specialist. After the explosions they all went downstairs, and deceased then returned to his room to dress himself. Just afterwards he was found dying by the bedside. A doctor, who had attended deceased for about fourteen years, said he was suffering from valvular disease of the heart. He died from heart failure accelerated by the shock.
1910s–1950s: Music sellers and hairdressers
Jesse's immediate replacement on London Road was a music seller known as Henry Potter; but this replacement was only a very brief one, and Henry was gone again by early 1909. A short period of vacancy followed, before hairdresser Henry Cooper arrived to set the scene for the next four decades. Although Henry Cooper's time on London Road was as brief as Henry Potter's, he was only the first of the three hairdressers who would continue to occupy the premises until the mid-1950s.[18]
The second of these hairdressers was Otto Ende, in place by 1912 but gone again by 1915. Aside from a newspaper report of a theft from his bedroom shortly after his arrival on London Road ("two gent.'s coats, one pair of trousers, one bed-cover, five sheets, etc."), Otto left little mark on the documentary record. He may have been the German-born Otto Ende listed in the 1911 census as a 29-year-old hairdresser living in Lambeth with a wife and two daughters; if so, it's quite possible that his reason for leaving London Road was either internment or deportation after the outbreak of World War I.[19]
In contrast to his two immediate predecessors, Sydney Pulver continued to cut hair on London Road through two World Wars, all the way up to the mid-1950s. Born in Poland as David Szlama Pulwermacher, Sydney arrived on London Road by early 1915 and was naturalised as a British citizen on 23 January 1930. His premises on London Road offered not only hairdressing, but also massage by a specialist masseur.[20]
Sydney and his wife Martha lived on the premises, too, right up to the mid-1950s, when Sydney closed the shop and moved elsewhere. He and Martha were in their early seventies at this point, and likely felt it time to retire. By 1963 they were living on Ashburton Road, where they remained until their deaths on 2 January 1972 (Sydney) and 10 January 1978 (Martha). Both were buried in Rainham Federation Cemetery.[21]
1950s–1980s: Accountants, estate agents, and building contractors
On 29 April 1955, John E Trinder & Partners were granted permission to use the ground floor of 186 London Road as "an estate office". John's estate agency business was over 15 years old at this point, having originally been set up in the late 1930s around the corner on Station Road and remaining there until around 1950. Brief stints on the High Street and North End followed, but by October 1955 John and his partners were based at 186 London Road.[22]
The company shared its London Road premises with accountant Stanley W Cox, building contractors Croydon Construction Co, and quite possibly several other businesses. Croydon Construction Co departed by 1962, and Stanley W Cox was also gone by 1969, but Trinder & Partners remained.[23]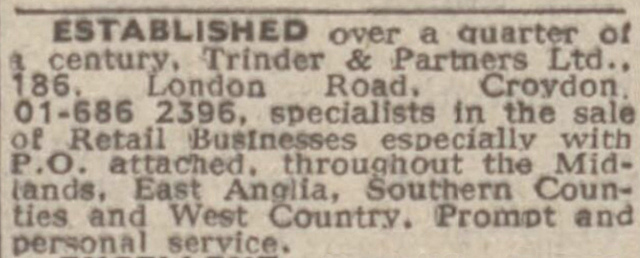 The mid-1970s saw a change of name from Trinder & Partners to Nationwide Businesses. There is no connection between the company and the Nationwide Building Society, which itself had received that name only a few years earlier. However, the reasoning behind the choice of name was similar; the Nationwide Building Society wanted a name reflecting that they operated "all over the country", while Nationwide Businesses considered that its "core role" was to "sell local businesses nationwide".[24]
Nationwide Businesses remained at 186 London Road until the early 1980s, when it moved to 850 Brighton Road in Purley. Further moves followed, but the company is still in operation today, based at 11a Purley High Street.[25]
1980s–2000s: Offices
The history of 186 London Road becomes less clear after the departure of Nationwide Businesses. Evidence from planning applications shows that the premises were likely used as offices throughout much or all of the 1980s and 1990s, and that for at least part of this time there was some connection with Austen Associates, a firm of consulting engineers next door at numbers 188–190.[26] However, documentation of any later occupants is scarce, with the only definite one being the Medical Screening Company (previously known as Medical Claims International). This arrived on London Road around 2003 and remained for around 2–5 years before moving to Belmont. It still operates in Epsom today.[27]
The mystery sign: New Looks
There are few remnants of the past at the premises now, and Google Street View images from 2008 onwards consistently show it with the shutter down and no sign above. However, some time between June 2014 and December 2015 a projecting sign reading "New Looks Hair & Beauty Salon" appeared.[28] Still, despite passing the premises relatively frequently, I don't remember ever seeing this open, nor do I remember ever seeing a proper full-width sign above the shopfront. Perhaps I was merely unlucky — or, perhaps, 186 London Road truly has been vacant for over ten years.
Thanks to: the Planning Technical Support Team at Croydon Council; the staff, volunteers, and patrons at the Museum of Croydon; and my beta-reader bob. Census data and some phone books consulted via Ancestry.co.uk. Monetary conversions performed using the Bank of England inflation calculator (prices < £100 given to the nearest penny, prices from £100 to < £100,000 to the nearest pound, prices from £100,000 to < £1 million to the nearest £1,000, prices from £1 million to < £100 million to the nearest £100,000, prices ≥ £100 million to the nearest million).
Footnotes and references
Kidderminster Terrace was renumbered twice, first around 1890 and then around 1927; number 1 is today's 182–184 London Road, number 2 is now 186 London Road, numbers 3–4 are now 188–190 London Road, number 5 is now 202 London Road, and number 6 is now 204 London Road. The reason for the gap between 190 and 202 London Road will be discussed in a future article. See my article on Croydon General Hospital for more on the Oakfield Estate.

A plan included in a sale of ex-Oakfield-Estate building plots on 24 October 1867 (Museum of Croydon drawer 39 map 12) shows a building at the north corner of Kidderminster Road and London Road, while none of the other buildings which later became part of Kidderminster Terrace appear; their sites are shown as empty plots. Similarly, the 1868 Ordnance Survey map covering this area (Surrey Sheet 14.6, 1868 revision) shows only the Duke of Cornwall (albeit not labelled as such), as does a plan included in another sale of building plots on 17 June 1869 (CR2744 in the loose sales plans and No. 15 in the 1869 Harold Williams volume at the Museum of Croydon).

Numbers 2–6 Kidderminster Terrace thus certainly seem to have been constructed later than number 1. In my next article I'll discuss the evidence regarding whether they were all built together or in parts, but number 2 does seem to have been complete by early 1870 at the very latest, as a notice on the front page of the 12 February 1870 Croydon Chronicle advertises a sale of furniture, household effects, and "remaining Stock-in-Trade of a Jeweller" at 2 Kidderminster Terrace, London Road, Croydon.

Note the address in this advert is somewhat garbled — "a1, London Road" should actually be 1a Kidderminster Terrace — and Edwin's surname is spelt "Lucus" rather than "Lucas". (The door-by-door street listings in this very same directory have him as E N Lucas at 1a Kidderminster Terrace.)

The June 1871 Poor Rate Book lists Edwin Norton Lucas as occupier of a house and shop with estimated rental value of £45/year (£5,039 in 2017 prices) next to the Duke of Cornwall. Wilkins' 1872–3 directory and Ward's 1874 directory both list E N Lucas, tailor and habit maker, at 1a Kidderminster Terrace. Wilkins' directory has no explicit statement of when its data were gathered, but includes an advert (reproduced here) for E N Lucus [sic], headed "1872". Edwin's full first name is confirmed by the 1881 census, which lists him and his family at 87 Church Street, and his full middle name is also given in a notice relating to earlier bankruptcy proceedings on page 1433 of the 26 February 1869 London Gazette. Ward's 1876 directory lists J J Murray, bird fancier, at 2 Kidderminster Terrace (see below) in place of Edwin.

Although Edwin's London Road listings are for 1a Kidderminster Terrace rather than 2 Kidderminster Terrace, it seems most likely to me that this refers to the present 186 London Road (renumbered from 2 Kidderminster Terrace to 64 London Road around 1890, and again to 186 London Road around 1927) rather than part of the Duke of Cornwall Tavern (1 Kidderminster Terrace, renumbered first to 62 and then to 182–184). Firstly, both Wilkins' 1872–3 and Ward's 1874 list the Duke of Cornwall, then 1a Kidderminster Terrace, then 3 Kidderminster Terrace with no number 2; and later directories make no mention of 1a Kidderminster Terrace but list 2 Kidderminster Terrace where one would expect it, between the Duke of Cornwall and 3 Kidderminster Terrace. This suggests that 1a Kidderminster Terrace and 2 Kidderminster Terrace were actually the same property, with some confusion of numbering due to having only recently been built. Secondly, as a tailor, Edwin would have wanted a street frontage to display his wares — moving from his Church Street shop to a back room or upper floor in a tavern would have provided no advantage. Thirdly, as shown in the censuses (see later footnote), Edwin had a wife and four children. While the Duke of Cornwall certainly did offer accommodation, this seems unlikely to have been suitable for families; as noted in my article on 182–184 London Road during the 19th century, the 1881 census lists its "lodgers" as being travellers, labourers, a butcher, and a stableman. Finally, as noted above, the June 1871 Poor Rate Book lists Edwin as occupier of a £45/year house and shop next to the Duke of Cornwall.

E N Lucas, tailor, is listed at 87 Church Street in Warren's 1869 directory, the 1871 census, Ward's directories from 1878 onwards, and the 1881 census. He did have a brief period on Handcroft Road East before returning to Church Street; Ward's 1876 lists him at 4 Clyde Villas on that street. Unusually, the 1871 census gives only initials for both him and his family, but the 1881 census lists him in full as Edwin N Lucas, with wife Hannah P Lucas and children Edward (age 19), Grace (age 18), Frank (aged 14), Maud (age 10), and Amy (age 6). Wilkins' 1872–3 directory shows J Boileau, general dealer, at 87 Church Street, and Ward's 1874 and 1876 have Charles Bevis, tailor and outfitter.
Ward's 1874 directory lists only five businesses on London Road between the General Hospital and the Sumner Road/St James's Road junction: John Ley's plant nursery, William Owen's school for young gentlemen, the Duke of Cornwall, Edwin Lucas himself, and G H Rolls' bookbindery. There were also some businesses further south, at the railway station end of the road, but at this point most of the land on both sides of London Road up to Sumner Road/St James's Road was either private houses or the grounds of large estates (such as the Oakfield Estate had been before its breakup and conversion to the General Hospital).
Ward's directories list J J Murray, bird fancier, from 1876 to 1891 (as J J Murray, "sen." [senior] from 1886 onwards). Kelly's 1889 and 1890 directories list John Joseph Murray, sen., "naturalist &c". He also appears here in the 1881 and 1891 censuses (as John Murray, "Naturalist", and John J Murray, "Naturalist, Bird", respectively). Quotation re stuffed birds is taken from an advert in Wilkins' 1876–7 directory (reproduced here), and quotation re parrot is taken from an advert on page 4 of the 3 November 1888 Croydon Guardian.
Information taken from a report on page 3 of the 26 January 1878 Surrey Advertiser and a letter from John's solicitors published on page 5 of the 26 January 1878 Croydon Chronicle; quotations are from the latter.
Ward's directories list J J Murray, sen., bird fancier, up to and including 1891; John S S Wall, bird fancier, in 1892; James Whiteley, china and glass, in 1893; Albert E Sartain, oil and Italian stores, in 1894, 1895, and 1896; F Gray, oil and Italian stores, in 1897, 1898, and 1899; F Gray, oil stores & servants' reg. [registry] office, in 1900; "Unoccupied" in 1901; J Merridew, fruiterer, in 1902; and S Baker & Co, estate agents, in 1903. Fred Gray's first name is taken from Kelly's 1898 directory, which describes him as an "oilman". The 1901 census lists James W Meredith, fruit dealer.
Ward's directories list S Baker & Co in 1903, 1904, and 1905; Jesse W Jones in 1906 and 1907; and Henry Potter, music seller, in 1908. Quotations re S Baker & Co are taken from an advert on the front page of the 25 February 1905 Croydon Chronicle, reproduced here.

Ward's directories list Jesse W Jones, auctioneer and estate agent, at 64 London Road (later renumbered to 186) in 1906 and 1907. They also list the Home Supply Time Payment System Ltd in 1907; this organisation will be discussed further (under the name of the Homes Supply Traders Association) in my article on 202 London Road.

It isn't clear where Jesse operated before his time on London Road, as he's absent from Ward's 1905 directory listings of auctioneers/estate agents as well as the alphabetical lists of residents and professionals/tradesmen. The 1901 census shows 46-year-old Jesse W Jones, surveyor and builder, at Trentville, Morland Road, with 47-year-old Elizabeth and daughters Lillian W M (23, single, teacher), Beatrice M (21, single, builder's clerk), Ethel G (20, single), and a domestic servant. The 1911 census shows Jesse Wilmot Jones, surveyor, at 36 Morland Road along with Elizabeth, Beatrice (still single), Ethel (also still single), and a 4-year-old grandson named Douglas Wilmot Franklin. Jesse's entry in the National Probate Calendar lists "Lilian [sic] Willmott [sic] Mary Franklin" as one of the executors, suggesting that Douglas was her child.

An article on page 12 of the 16 October 1915 Croydon Advertiser ("Sudden death of Mr. Jesse Jones") states that "He erected a large number of good sized houses on the Morland estate almost immediately after its sale by the representatives of the late Mrs. Morland [...], and it was in one of these houses he breathed his last. He was also largely associated with property in Amberley-grove, at Epsom, and in Oxfordshire." Ward's directories list Jesse at Trentville, 45 Morland Road, from at least 1901 up to and including 1911; at Wyfold, 36 Morland Road, from 1912 to 1914 inclusive; and at Greys, 39 Morland Road, in 1915. Ward's 1916 directory, published after Jesse's death, lists Mrs Jones at Greys. Regarding "Amberley-grove", Jesse was the landlord of, at least, 21 Amberley Grove, mentioned in a report on page 7 of the 31 March 1906 Croydon Chronicle ("A futile effort to send a man to prison"). Another report on page 3 of the 1 June 1889 Surrey Mirror ("A local slander case") describes him as being "a gentleman of considerable means, but his capital was locked up in buildings".

Quotation taken from a notice on page 5 of the 28 April 1883 Croydon Chronicle, reproduced here. Results of the election, which took place on 9 June, are taken from "Old & New Croydon Illustrated", a supplement published in May 1894 by the Croydon Advertiser. This source only gives names of the winners of later elections, not the losers, but it can be seen that if Jesse did try again, he was again unsuccessful (at least up to 1893).
The 1881 census gives Jesse's age as 26. I haven't researched the ages of all the other candidates in the 1883 election, but Joseph Steele (a dentist who lived in a house on the site where Lidl now stands), who gained 341 votes to become one of the six East Ward councillors elected, would have been around 50 or 51 at the time.

Quotations taken from a report on page 3 of the 9 November 1889 Surrey Mirror ("Employes [sic] and friends at dinner"). It should be noted that this report is of a dinner hosted by Jesse, and the quotations are from a passage in which Jesse himself is describing the judge's opinion of him.

The text implies that these "several law suits" had all been in the past year. One of them was likely the case reported on page 6 of the 7 December 1889 Croydon Guardian ("A disputed building account") in which F A Egleton, an ironmonger who traded at 5–7 London Road, sought to recover money Jesse owed him for goods received but not paid for. (The article describes F A Egleton as being "of 33 and 34, London-road, Croydon", but this must be a typo for 3 and 4, which were later renumbered to 5 and 7, since in 1889 number 33 didn't exist and number 34 was North End Lodge.)

Ward's 1908 directory, the data for which would have been finalised late the previous year, lists Henry Potter, music seller, instead of Jesse W Jones. An advert on the front page of the 22 February 1908 Croydon Chronicle gives his office address as Wetherby Estate Office, 189 Earl's Court Road, SW. See earlier footnote for evidence on his residence at Morland Road. Information on his cricket and church activities is taken from "Sudden death of Mr. Jesse Jones", referenced above.

Quotation re Zeppelin raid and number of deaths are taken from "Zeppelin raid inquests", Croydon Times, 20 October 1915, front page. Quotation re Jesse's daughter's evidence is taken from "Deaths from shock", Croydon Advertiser, 23 October 1915, p10.

Jesse's date of death and address at the time (39 Morland Road) are confirmed by his entry in the National Probate calendar. He left effects of £9240 (£609,000 in 2017 prices), and according to a notice on page 9 of the 23 October 1915 Croydon Advertiser was buried in Mitcham Road Cemetery on 18 October 1915.

Ward's directories list Henry Potter in 1908, "Unoccupied" in 1909 and 1910, and Henry Cooper, hairdresser, in 1911. The 1911 census lists 41-year-old Henry Cooper, hairdresser, along with his wife Rosa, four children (one of them crossed out, possibly because she wasn't at home that evening), and two boarders with illegible surnames.

Ward's directories list Otto Ende, hairdresser, in 1912, 1913, and 1914. Information and quotation on theft taken from "Theft from a bedroom", Croydon Chronicle, 16 March 1912, p16. The value of the items taken is given as £2 (£217 in 2017 prices).

I have no direct proof that the Otto Ende listed in Lambeth in the 1911 census was the same Otto Ende who worked as a hairdresser on London Road. However, he's the only Otto Ende who appears in a search of this census on Ancestry.co.uk, and the coinciding profession is also suggestive. He's also absent from both the list of hairdressers and the alphabetical lists of residents and professionals/tradesmen in Ward's 1915 directory, so he didn't just move elsewhere in Croydon. For a description of the treatment of Germans in the UK during the First World War, see "Germanophobia and World War I" by Panikos Panayi on the Our Migration Story website.

Sydney's original name, country of origin, and date of naturalisation are taken from an announcement on page 722 of the 4 February 1930 London Gazette. The 1939 Register of England and Wales lists Sydney, his wife Martha, masseur Walter Max, hairdresser Rose Max, and one Tanya Hennecke at 186 London Road. Tanya appears to have been a relative of Sydney's — according to her gravestone at Rainham Federation Cemetery (see my photo), her maiden name was Pulvermacher.
Ward's directories list S Pulver, hairdresser, at 186 London Road up to and including the final edition in 1939, and he later appears in phone books up to and including the January 1954 Surrey edition. As noted in an earlier footnote, he and Martha are shown as living there in the 1939 Register of England and Wales, and they also appear there in electoral registers up to and including February 1955. The 1963 electoral register places them at 8 Furze Court, Ashburton Road, and they are each still listed in the respective registers in the years before their deaths (the 1971 register for Sydney and the 1977 register for Martha). They didn't move straight to Ashburton Road after leaving London Road, as the February 1956 electoral register has no Pulver on Ashburton Road and indeed no entries for Furze Court. The appearance of Furze Court today (see Google Street View) suggests it could well have been built in the 1960s. Sydney (as "Sidney") and Martha's graves are listed on the Jewish Communities & Records website (see also Tanya ("Tanja") Hennecke's entry; and my photo of Sydney and Martha's headstone, in the main article).

Information and quotation re planning permission taken from planning application 55/506, viewed on microfiche at Croydon Council offices. Ward's 1939 directory lists J E Trinder, estate agent, at 38 Station Road, West Croydon. London/Surrey phone books list J E M Trinder, estate agent, at 38 Station Road in 1950; John E Trinder, estate agent, at 95 Croydon High Street in 1952; John E Trinder & Partners, estate agents, at 142 North End in 1953 and 1954; and John E Trinder & Partners, "Est Business Agts", at 186 London Road from October 1955 onwards.

John likely had previous experience in the buildings trade before setting up on Station Road. According to the 1939 Register of England and Wales, his home address was 153 St James's Road, where he lived with his brother Charles and his parents Henry and Annie. Ward's directories list 153 St James's Road as Henry P Trinder in 1932; H P Trinder, Tavistock Building Co in 1934 and 1937; and H P Trinder in 1939, suggesting that the Tavistock Building Co was a short-lived endeavour that was dissolved when John set up his estate agency on Station Road. It seems likely that John worked alongside his father before setting up on his own; indeed, an advert on page 19 of the 23 June 1939 Croydon Advertiser offers a house for sale by John E Trinder, estate agent, with John's address given as 153 St James's Road. The 1939 Register lists Henry as a retired confectioner in his early sixties (and indeed Ward's 1930 has one H Trinder, tobacconist and confectioner, at 95c George Street), so perhaps the Tavistock Building Co was in fact more John's than his father's.

Phone books list John E Trinder & Partners, "Est Business Agts"; S W Cox, "Inc Accnt"; and Croydon Construction Co, "Bldg Contrs" at 186 London Road from the October 1955 Kent/Surrey edition onwards. The January 1954 Surrey edition lists John E Trinder & Partners at 142 North End, and the latter two not at all. By the time of the April 1962 Croydon edition, S W Cox is listed as Stanley W Cox & Co and the Croydon Construction Co has vanished; and by the time of the September 1969 North-East Surrey edition, John E Trinder & Partners has become Trinder & Partners Ltd and Stanley W Cox & Co has vanished.

Regarding the possibility of other businesses, page 4289 of the 17 June 1960 London Gazette reports that Stanley William Cox has been appointed liquidator of Rohilla Trust Limited, a "secretarial and investment company" with its registered office at 186 London Road, and page 4496 of the 24 June 1960 London Gazette makes mention of a solicitors called Hamways also at 186 London Road.

Phone books list Trinder & Partners, business transfer consultants, up to and including the July 1974 Croydon edition, and Nationwide Businesses, business transfer consultants, thereafter. Moreover, a site plan included in a planning application for number 182, deposited on 30 September 1976 (ref 76/20/1626), shows "NATIONWIDE BUSINESSES" at number 186. The About page on the Nationwide Businesses website states that Trinder & Partners was renamed to Nationwide Businesses, and its entry on the Companies House website confirms this (though gives the end of 1980 as the actual date of change). Quotations re reason for change of name are also taken from the abovementioned About page.

Regarding the Nationwide Building Society, according to an advert on page 8 of the 21 September 1970 Belfast Telegraph, "On 16th September 1970 the Members of the Co-operative Permanent Building Society resolved that the name of the Society be changed to Nationwide Building Society." The Society's assistant secretary, Mr P B Edwards, is quoted on page 11 of the 19 September 1970 Birmingham Daily Post as stating that "We cater for people of all classes all over the country and we wanted a new name to fit that role".

Croydon phone books list Nationwide Businesses at 186 London Road up to and including 1981; at 850 Brighton Road, Purley, in 1982 and 1983; and at Southbridge House, Southbridge Place, in 1984. I haven't checked phone books beyond that, but the Nationwide Businesses website (accessed 22 December 2018) gives an address of 11a Purley High Street. It's not clear where the entrance to their offices is; Google Street View imagery from April 2018 shows Top Teen Nails at number 9, Purley Dry Cleaners at number 11, and Cats Protection at number 13, with the only obvious door to the upper floors being labelled "9A".
Records of a planning application for "Continued use as offices" deposited by A W Knott (UK) Ltd on 7 April 1992 (ref 92/0750/P) include a council officer's report stating that the application included "rating records [...which...] indicate that the premises have been used for offices continuously for many years". Another application, deposited by Dr M S Massoud on 30 November 1998 (ref 98/2689/P) also includes a relevant officer's report, stating that "The building is currently vacant, but was last used as offices in connection with the firm of consulting engineers at No 188". I'll discuss Austen Associates in my article on 190 London Road.
Croydon phone books list Medical Claims International Ltd and the Medical Screening Company at 186 London Road from the 2003–4 edition to the 2007–8 edition inclusive. Google Street View imagery from July 2008 shows the premises with the shutter down and a sign above reading "Freehold offices for sale / Vacant possession". According to Companies House, the Medical Screening Company was known as Medical Claims International Ltd from 3 May 2002 to 18 March 2003, and it applied to change its registered office to 186 London Road on 28 April 2003 (see PDF of application form) and again to Monitor House, 2A Belmont Road, Belmont SM2 on 6 October 2005 (see PDF of application form). The Medical Screening Company website (accessed 22 December 2018) gives its current address as Brookwood House, 2b West Street, Ewell Village, Epsom.
My photo of the premises in June 2014 (reproduced here) shows that the "holder" of the projecting sign is empty, but another photo I took in December 2015 shows that the holder has been filled with something that looks very similar to the close-up of the New Looks sign I took in March 2016.