Long-term readers may recall that back in 2012 I published an article describing the renumberings of London Road, including the 1920s renumbering that introduced gaps at every side road; for example, the east side of the road jumps straight from number 42 to number 60 at the junction with Oakfield Road, and again straight from number 162 to number 182 at the junction with Kidderminster Road.
One might also wonder whether the numbering gap between numbers 190 (originally 4 Kidderminster Terrace) and 202 (originally 5 Kidderminster Terrace) is of the same type. However, this gap has a different explanation — numbers 192–200 London Road are in fact hiding behind numbers 188–204, with the only access being a narrow alleyway which until late 2018 was usually blocked off by a locked gate.
1870s–1900s: From workshops to standalone buildings
As described in my article on 188 London Road, numbers 182–204 were originally built in the late 1860s/early 1870s as 1–6 Kidderminster Terrace. 1 Kidderminster Terrace was the Duke of Cornwall tavern, with stables extending behind both it and 2 Kidderminster Terrace, while the "two desirable shops" at 3 and 4 Kidderminster Terrace were set up to use the space behind themselves, each with a "large brick built and slated workshop" at back plus "another workshop running at the end of [the] gardens" which belonged to number 4.[1]
Over the four or so decades after construction of the terrace, numbers 3 and 4 were occupied by several different businesses which would have found the workshops at the back very useful: bookbinders and printers, bicycle manufacturers, and cabinet and window blind makers.[2]
At some point during this time, additional outbuildings of various sizes were constructed behind the buildings now known as 188–204 London Road. Indeed, by the early 1910s, the total building footprint behind the terrace was at least as large as, and possibly larger than, the footprint of the buildings fronting on London Road.[3]
1900s at number 198: The Greater London Rubber Company
Around 1906, the first documentary evidence emerges of a business with a presence in the back yard but no shopfront on London Road itself. From its shop at 68 North End, the Greater London Rubber Company offered "a large and varied Stock of Waterproof, Airproof, Sporting, Surgical, and Domestic Rubber Goods" including boots, shoes, mackintoshes, cycle capes, and garden hose as well as "Builders', Plumbers', and Gasfitters' Rubber Goods [...] at wholesale prices."
The company was at 68 North End by May 1904, and on London Road by early 1907. It seems most likely to have occupied the outbuilding directly behind 202–204 London Road (later given the number of 198), and to have used this for storage rather than manufacturing. Although it left London Road again by early 1910, it remained on North End until the 1960s.[4]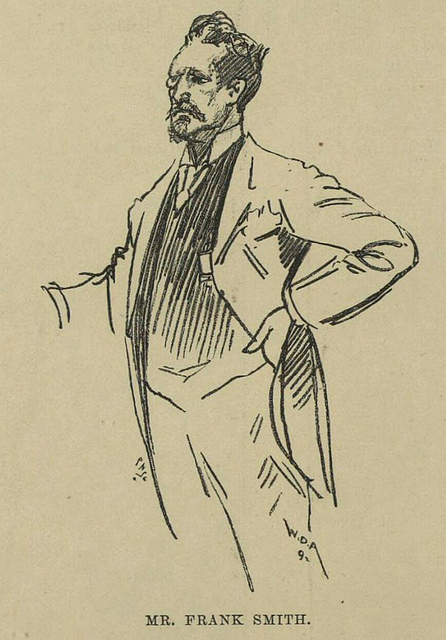 1910s at number 198: An Independent Labour Party Institute
By early 1910 the Greater London Rubber Co had been replaced by the Croydon Independent Labour Party Institute. This seems to have been a sort of clubhouse and meeting hall for the Croydon branch of the Independent Labour Party (ILP), a political party set up in 1893 by MP and trade unionist Keir Hardie. Open meetings were held at 8pm on alternate Tuesdays, covering subjects such as women's suffrage and the question of whether the "Fusion of Socialist Societies [was] Desirable".[5]
The ILP was one of the precursors of today's Labour Party, which was originally established as the Labour Representation Committee and included members from the ILP as well as other socialist organisations. However, the ILP remained an independent body. On 29 March 1909, it fielded Frank Smith as a candidate in the Croydon by-election; but Frank came last with only 886 votes (4.2%), and Conservative Robert Hermon-Hodge was elected instead.[6]
Like the Greater London Rubber Company, the ILP Institute remained on London Road for only a short time, and was gone by the end of 1911. It is absent from the alphabetical section of Ward's directories before and after its time on London Road, so perhaps the party decided that the expense of leasing premises was not justifiable after all.[7]
1910s at number 198: The 1st Battalion Surrey (Croydon) National Reserve
Next to arrive in the space previously occupied by the ILP was the newly-formed 1st Battalion Surrey (Croydon) National Reserve. This battalion, and others like it, originated in the idea of Field-Marshal Lord Roberts that it was "a foolish waste of good material" to "let slip trained time-expired men [...] who had left the regular army".
In 1910, the War Office tasked a Major Junner with organising and commanding a Croydon-based battalion of these "old soldiers", and by May 1911 Junner had recruited three companies for inspection by the Field-Marshal. As of February 1912 the battalion comprised 800 men, including 20 officers, and had its own brass band and bugle band.[8]
The 1st Battalion was initially headquartered on London Road, but moved to Poplar Walk by the start of 1914, possibly via a brief sojourn on Cherry Orchard Road.[9] After war was declared in August 1914, around 1,700 men of the battalion served in various capacities from guarding the railways to rejoining their old regiments.[10]
1910s–1960s at number 200: Metropolitan Copper Works
While the three parties mentioned so far were all located in the outbuilding directly behind 202–204 London Road, the second outbuilding further behind this — later numbered as 200 London Road — did not lie vacant. The Metropolitan Copper Works was in place by 1910 and remained until the early 1960s, when it was replaced by the Surrey Mould & Tool Co (of which more later).
Despite this long tenure, the Metropolitan Copper Works appears to have left very little impact on the documentary record. Aside from the dates it was here and its entry in Kent's 1955 directory listing it as a "General Coppersmiths" with a proprietor named J E Hurstfield, all else about the company remains a mystery. During the 1920s it was briefly joined at number 200 by first an upholsterer known as W Clegg and then by the Croydon Motor Metal Works, but again little information remains about either of these. It seems possible that the latter was an offshoot of the Metropolitan Copper Works, but this is merely speculation.[11]
1920s–1930s (and possibly later) at number 192: Lewis Frederick Godfrey, coal and coke merchant
Meanwhile, by the start of 1920 coal and coke merchant Lewis Frederick Godfrey had opened a depôt on the other side of the yard, at number 192 — directly behind number 190 — which remained until at least the late 1930s. Lewis and his son Alan later had a presence at 224 London Road, and will be discussed further in the relevant article.[12]
1920s–1930s at number 194: John Robert Sedgwick, builder and decorator, and the Vincam Accumulator Works
Builder and decorator John Robert Sedgwick put in an appearance towards the end of the 1920s, taking on the part of the premises addressed as 194 London Road. This stay was brief, however, lasting a couple of years at most. John also ran a building, plumbing, and decorating business from his home at 28 Colliers Water Lane, so perhaps he took on number 194 as a temporary worksite while engaged on a substantial job in central Croydon.[13]
Number 194 seems to have been less heavily used than the other outbuildings; after John's departure, the next listing at this address in Ward's directories is for the Vincam Accumulator Works in 1939. Presumably this was some some sort of electrical manufacturer, perhaps producing capacitors or batteries. In any case, it vanishes from the documentary record after just a year or so.[14]
1920s–1970s at numbers 196–198: The White Bronze Co and Charles Wright Ltd
Also appearing in the 1920s was the White Bronze Co, a car and house number plate manufacturer which seems to have operated from at least two separate buildings — numbers 196 and 198 — and possibly also briefly from number 194.[15]
George Harfleet, who worked at the White Bronze Company for a few weeks as a teenager in 1949, recalled his duties there:[16]
Had to be at work at 7 a.m. each day to get the coke fires going. It was on this basic type of furnace that the white metal bars were melted for pouring into the damp sand moulds which were made by the boss, simply by pressing metal letters and numbers into the damp sand. The boss did the pouring of the molten metal into the mould; I could have done this part too, as I'd worked with such stuff as a plumbing apprentice, but the boss wasn't sure of me yet.

As I soon got fed up with the early start, the Dickensian workplace and working with nobody else, other than the boss, I packed it in after a few weeks, and got a job in a laundry, operating the huge spin dryer machine.
Having arrived around 1927, the White Bronze Co remained here until the 1960s, at which point it was absorbed into another number plate company, Charles Wright Ltd.[17]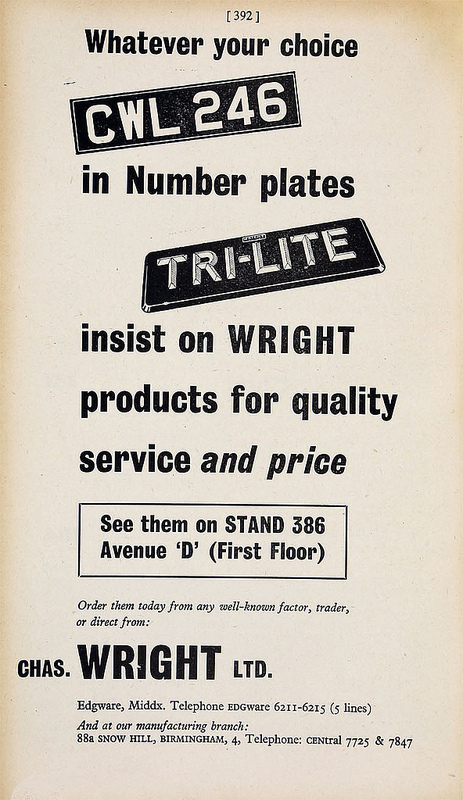 While the White Bronze Co seems to have been a local company operating from a single base, Charles Wright Ltd was both larger and longer-established. Originally founded in Clerkenwell in the 1860s as a medal-pressing company, it moved to Edgware around the turn of the century and by the early 1920s was producing 35,000 medals per day for soldiers from World War I. It later moved into number plate manufacture, using distinctive sans-serif characters which formed the basis for the font mandated by the DVLA for car number plates today.[18]
By 1966, Charles Wright had "provincial production centres" throughout England, Wales, and Northern Ireland, including the White Bronze Co (still, at that point, under its own name) on London Road.[19] It continued production at the London Road site after its acquisition of the White Bronze Co, and in 1972 applied to Croydon Council for permission to demolish the "existing wooden building" at number 198 and erect a new one in concrete. However, the Council's planning department viewed the new building as rather too large, with an officer commenting that "As the occupiers only produce car no. plates I would have thought a relatively low blg [building] would have sufficed". The application was deemed refused on 8 February 1974, and by July of that year Charles Wright had moved to 3 Gladstone Road in Selhurst.[20]
1970s: Concerns over land use
As described above, the first century in the life of 182–204 London Road saw substantial development of the land behind the terrace. The original three workshops behind numbers 188–190 were extended and added to over the years, transforming the space from gardens and outbuildings to a dedicated light industrial area. However, the narrow alleyway between 190 and 202 remained the only access.
In December 1974, the Greater London Council Department of Planning and Transportation wrote to Croydon's Head of Development Planning to express concern over the use of this land:[21]
In 1972 this Department was consulted on the industrial use of the premises and at that time the view was taken that the vehicular access was narrow and had no sight lines.

The use of this unsatisfactory access involves delivery vans and other vehicles backing into and emerging from the access across the footpaths [sic] to the danger of pedestrians and ideally it is considered that comprehensive development would be the answer so that rear access could be obtained from the non principal roads.
While the Greater London Council seem to have been concerned more with access to the area, and indeed suggested further development to support the light industrial use, Croydon Council were firmly against the "intensification of a non-conforming user in an area defined on the Initial Development Plan primarily for secondary shopping/residential purposes".[22]
Although this may seem at first sight to go against the historical use of the land, one can see the Council's point — a couple of workshops ancillary to retail use is quite a different thing from several buildings all with manufacturing setups. The terrace in front of the industrial yard was occupied at this point by a bespoke tailor, an estate agent, an accountancy firm, a newsagent, and a lampshade shop, none of which were likely to be particularly in favour of having an industrial site established as their neighbour.[23]
1970s: Partial deindustrialisation
The accountants at numbers 188–190, Boty Cox Crawford & Ridley, were a particular ally to the council over this matter. In 1975 they were granted planning permission to demolish the outbuilding numbered 194 and replace it with a two-storey extension of their offices, as well as to use the one at number 198 for "storage purposes in connection with office use", thus "Extinguishing [the] present industrial use" in both locations.[24]
Boty Cox Crawford & Ridley's successors, Edward Moore & Sons, were also keen to continue the "rehabilitation of the area". In September 1979, the company deposited two planning applications. The first was a rather "modest proposal" to build another extension over the alleyway at the side of their premises. The second was a more radical proposition to demolish their storage outbuilding at number 198 as well as the premises of the Surrey Mould & Tool Co at number 200 in order "to substitute the industrial buildings with new offices to complete, for the sole use of [Edward Moore & Sons], a small office complex", and "to restrict the access way between 190 and 202 to pedestrian and fire escape use".[25]
Although both applications were granted by Croydon Council, for some reason they were never put into effect. Perhaps the Surrey Mould & Tool Co decided that it did not, in fact, wish to cede its property to Edward Moore & Sons; or perhaps the latter decided it would rather move than improve. Whatever the reason, by early 1981 Edward Moore & Sons had moved its Croydon office a short distance away to Bedford Park, and the deindustrialisation project ceased.[26]
1960s–1980s at number 200: The Surrey Mould & Tool Co
As mentioned earlier, the Surrey Mould & Tool Co had arrived at number 200 in the early 1960s. It was the only remaining industrial occupier on the site when Edward Moore & Sons submitted the applications for their "small office complex", and actually outlasted the latter by around half a decade. However, it departed London Road by the end of the 1980s.[27]
1990s–2000s at number 200: Green Car Repairs
The final occupant of the now much-reduced industrial space behind 188–204 London Road was Green Car Repairs. Founded in September 1983 by 23-year-old Martyn Green, the business began as a mobile car repair service before moving into premises in Shirley, later to newer premises in South Croydon, and then to 200 London Road in 1990.
Martyn employed three other workers at his London Road premises, "doing mainly all mechanical repairs and insurance accident damage repairs in two separate workshops". He improved the facilities from the "fairly run down condition" he had found them in, redecorating and installing "new larger access doors".
By mid-2004, Green Car Repairs had outgrown the rather limited space available at London Road, and hence moved to the Tait Road Industrial Estate. It continues to operate from the latter premises today, though it remains to be seen for how much longer, as the estate is being considered for a compulsory purchase order to enable redevelopment of the nearby railway junction.[28]
The situation today
When I moved to West Croydon in 2011, the Green Car Repairs sign was still present above the alleyway, and indeed for some time I wondered whether the business was still operating there. However, the view down the alleyway was not promising — there were no cars to be seen, the alleyway itself was very narrow, and the access was blocked off by a padlocked gate — and I soon concluded that Green Car Repairs must have departed some time previously.
Over the following years, the remaining space down the alleyway became more and more cluttered, and by the end of 2018 it seemed mainly to be a dumping ground for unwanted items.
However, as of Spring 2019 the earlier clutter has been cleared away to make room for scaffolding and builders' debris, as the back part of 188–190 London Road is undergoing conversion from a disused office space to nine new flats. One can only wonder whether the remaining outbuildings will ever be brought back into a more salubrious use.[29]
Thanks to: Blom ASA; George Harfleet; Grace's Guide; Keith Bates of K-Type; Martyn Green of Green Car Repairs; the Planning Technical Support Team at Croydon Council; the staff, volunteers, and patrons at the Museum of Croydon; and my beta-readers bob and Fred.
Footnotes and references
See the 1890s map extract in the main article for the footprint of the U-shaped stable block behind 1–2 Kidderminster Terrace, and my article on the Duke of Cornwall for a description of the stables. Quotations regarding the workshops at 3–4 Kidderminster Terrace are taken from an advert on the front page of the 27 November 1880 Croydon Guardian, offering the leases of these shops for auction.
See the extracts from the 1896 and 1913 OS maps reproduced here; note the buildings present in the 1913 edition but not the 1896 edition.

Ward's directories list the Greater London Rubber Co at 70a London Road (between 68 London Road, which was renumbered to 190 in the 1920s and 70 London Road, which was renumbered to 202) in 1907, 1908, and 1909; at 68 North End in 1905 and 1906 and then 1909 to 1918 inclusive; and at 66–68 North End from 1919 to 1939 inclusive (note that 1939 was the final edition of these directories. Oddly, there is a hiatus in its North End listings, with Ward's directories instead listing William Duncan, Confectioner, at 68 North End in 1907 and L Beaun, Fancy Dealer, in 1908. Quotations and confirmation of the company being at 68 North End in May 1904 are taken from an advert on page 8 of the 7 May 1904 Croydon Guardian. Phone books continue to list the company at either 66 or 68 North End up to and including the April 1962 Croydon edition.

It's worth mentioning that I don't have direct proof that the company's London Road premises were in the back yard rather than in a divided-off part of one of the shops on either side of the alleyway. However, it does seem to have kept up its North End shop for at least part of the time it was on London Road. Moreover, as described in the main article, it was replaced at 70a by the ILP Institute and then by a National Reserve battalion, neither of which would have needed an on-street shopfront presence. The nature of these replacements — which would have been impeded by a manufacturing fitout — along with the company's short tenure suggest that it used its London Road premises for storage rather than manufacturing.

My reason for placing it in the outbuilding directly behind 202–204 London Road (70–72 London Road before the 1920s renumbering) is that its address in contemporary numbering was 70a. Following the Metropolitan Copper Company (see below) through the years of Ward's directories shows that 70b was renumbered to 200, and the 1950s OS map reproduced in the main article shows that 200 was the outbuilding behind the one directly behind 202–204. It thus seems most reasonable to assume that 70a and 70b were the two buildings behind 70–72 (i.e. modern 202–204).

The address of 70a also lends support to my claim that the Greater London Rubber Co, the ILP Institute, and the National Reserve battalion were in an outbuilding. During the first couple of decades of the 20th century, Ward's directories for several years list more than one business at a time at number 70. For example, in 1904 both Cook's Domestic Stores and C & E Emery, photographers, are listed; in 1910 both the American Novelty Store and the Homes Supply Traders Association are listed; and in 1913 both the Wesleyan and General Insurance Society and the British & Foreign Domestic Agency are listed. This suggests that if the businesses listed at 70a had actually been in the same building as the businesses listed at 70, they wouldn't have been given a separate address.

Ward's directories list the "Croydon Indep. Labour Party Institute" at 70a London Road in 1910 and 1911. Information and quotation re open meetings are taken from a small article on page 15 of the 14 January 1911 Croydon Chronicle and a letter to the editor on page 2 of the 21 January 1911 Croydon Chronicle. Note that although the article places the Institute on North End, this is a mistake which is corrected in the letter.
Further information about the Independent Labour Party can be found in "ILP: Independent Labour Party", an essay by Michael Byers hosted on the Red Clydeside website. Information on the Croydon by-election is taken from Wikipedia (though I've confirmed the figures myself from the original source, British Parliamentary Election Results 1885–1918 by F W S Craig; this lists the losing "F.S. Smith" as "Lab" rather than "ILP", but notes on page xvi of the preface that "From the formation of the Labour Party in February 1900, Independent Labour Party [ILP] candidates normally received Labour Party endorsement and are designated throughout this book as Labour candidates."). According to Wikipedia, Croydon was just one of many places where Frank stood for election over the years; indeed, he had stood in the Taunton by-election the month before, and would eventually rack up a total of eleven unsuccessful parliamentary attempts in at least nine different places before finally succeeding in Nuneaton in 1929.
Ward's directories list the "Croydon Indep. Labour Party Institute" at 70a London Road in 1910 and 1911, and "N.C.O.'s Mess 1st Bat. Surrey (Croy.) N.R." in 1912.
Information on the battalion as of February 1912 is taken from a small piece on page 5 of the 20 February 1912 Standard describing its "second annual Church parade". Other information is taken from Croydon and the Great War by H Keatley Moore and W C Berwick Sayers (1920), Part Two, Chapter XII, page 100, viewed online via the Internet Archive (quotations are the words of the author(s), not the Field-Marshal himself). This is the only mention in the book of Major Junner, and I haven't been able to find out anything else about him (except that the abovementioned Standard article gives the initial of his first name as "J").
Ward's directories list "N.C.O.'s Mess 1st Bat. Surrey (Croy.) N.R." at 70a London Road in 1912 and 1913; and "Headquarters of the 1st Batt. Surrey (Croydon) National Reserve" at 2 Poplar Walk in 1914. (Incidentally, when the battalion moved to Poplar Walk, it took over the premises previously occupied by the Croydon YWCA, which had just moved to 145 London Road.) Croydon and the Great War states that "The Head Quarters were first at 70a, London Road, and were afterwards removed to Cherry Orchard Road in 1912, and to Poplar Walk, in 1913" (p100). However, Ward's 1912, 1913, and 1914 directories do not list the battalion anywhere on Cherry Orchard Road. It also isn't clear why Ward's directories describe 70a London Road as the non-commissioned officers' mess rather than the headquarters.
Ward's directories list the Metropolitan Copper Works at 70b London Road from 1910 to 1927 inclusive (with the addition of W Clegg, upholsterer, in 1920 and 1921, and the Croydon Motor Metal Works from 1922 to 1926 inclusive), and the Metropolitan Copper & Eng[ineering] Works at 200 London Road from 1928 to 1939 (the final edition) inclusive. The change from 70b to 200 was part of a renumbering of the road, not an actual move. As shown in the 1950s OS map reproduced in the main article, the outbuilding directly behind 202–204 was given the number of 198, and the one directly behind that was given the number of 200. Phone books list the Metropolitan Copper & Engineering Works at 200 London Road up to and including the March 1960 Croydon edition; the 1961 Croydon edition instead lists the Surrey Mould & Tool Co.

Ward's directories list L F Godfrey, Coal Merchant, at 68a London Road from 1920 to 1927 inclusive and (after a renumbering) at 192 London Road from 1928 to 1939 (the final edition) inclusive. Kelly's 1927 directory gives his full first name of Lewis. The 1939 Register of England and Wales places Lewis F Godfrey, "Coal & Coke Merchant", at 146 Bensham Lane along with Adelaide, Kathleen, and Alan Godfrey (presumably his wife and children). Lewis' entry in the National Probate Calendar gives his full middle name of Frederick.

It's not clear how long Lewis remained at 192 London Road after the final edition of Ward's directories was published. Phone books list him only at Bensham Lane from the 1930s onwards, but given the evidence of Ward's directories he does seem to have been operating from both premises throughout the 1930s, so a lack of phone directory listing post-1939 certainly doesn't mean he was no longer on London Road.

Ward's directories list J Sedgwick, builder and decorator, at 194 London Road in 1928 and 1929. They also list John Robert Sedgwick as a private resident at The Retreat, 28 Colliers Water Lane, in 1929 and 1930, and J Sedgwick, plumber and decorator, at 28 Colliers Water Lane in 1932, 1934, 1937, and 1939 (the final edition). London phone books list John Sedgwick, "Plmbr &c", at 28 Colliers Water Lane from the October 1926 edition until at least November 1935; that is, including the years that J Sedgwick is listed at 194 London Road. Confirmation that J Sedgwick of 194 London Road is the same person as John Robert Sedgwick of 28 Colliers Water Lane comes from the Autumn 1928 electoral register, which lists the latter as having business premises at 194 London Road.
As well as the listing in Ward's 1939, the Vincam Accumulator Works appears in the May and November 1938 London phone books. It's absent from phone book editions before and after this, and I haven't been able to find out anything else about it.

Ward's directories list the White Bronze Co at 196 London Road in 1928; at 196–198 in 1929; at 194–198 in 1930; and back to 196–198 again from 1932 to 1939 (the final edition) inclusive. Kelly's 1927 directory — clearly compiled before the 1920s renumbering — lists it at 68b London Road and describes it as a "motor car number plate & house plate manufacturers".

The White Bronze Co may have been the predecessor of the B Newton Motor Company, which as described in my article covering Zodiac House was founded in the mid-1960s at 247 Selhurst Road and ran a car spares shop at 212 London Road in the 1970s–1980s before taking over the garage space at Zodiac House around 1983. Kent's 1955 and 1956 directories list "B Newton" as the "prop[rietor]" of the White Bronze Co, and given the car connection this may well be the same B Newton. It seems possible that B Newton set up their car company after selling the White Bronze Co to Charles Wright Ltd.

Via email, 31 May 2019. George added that "I don't remember any other person working there, ever. I helped to make car number plates only."
Phone books list the White Bronze Co at 196 London Road up to and including the September 1969 Croydon edition. A covering letter dated 8 May 1969 included in the records of a planning application to erect a sign reading "Chas. Wright Limited / Number Plates & Signs / 196, London Road, Croydon" (ref A5340, viewed on microfiche at Croydon Council offices) makes reference to a sign "previously erected [...] by the Company who has now been absorbed into this concern, namely The White Bronze Co." Note that "Chas." is an abbreviation for "Charles".
Background information on Charles Wright Ltd is taken from "Who was Charles Wright?" by Keith Bates, 29 March 2016, published on the K-Type website (accessed 4 February 2019). The mandated font for car number plates is specified in Schedule 4 of the Road Vehicles (Display of Registration Marks) Regulations 2001; this font is not named in the regulations, but according to "Who was Charles Wright?" (and many other sources on the web) it's known as "Charles Wright 2001". Comparison with the 1960 Charles Wright Ltd advert on Grace's Guide (reproduced here) clearly shows the similarities.
A 1966 advert reproduced on Grace's Guide lists "provincial production centres" at the White Bronze Co, 196 London Road, and in Belfast, Birmingham, Cardiff, Chelmsford, Oxford, Southampton, Wokingham, and Wolverhampton.
See earlier footnote for evidence on the sign that Charles Wright Ltd put up above the alleyway entrance, confirming its intention to continue producing number plates. The 1972 planning application (ref 72/20/2635) is marked "Deemed R" on the index card for 194/200 London Road; this likely means that Charles Wright chose not to pursue the application after the Council's objections, but didn't bother to explicitly withdraw it. Croydon phone books list Chas Wright Ltd, "Number Plates, Sgns", at 196 London Road from August 1970 to March 1973 inclusive and at 3 Gladstone Road in July 1974. The company is entirely absent from the February 1975 North East Surrey edition.
Letter with a "received" stamp of 23 December 1974, included in the records of planning application 74/20/1678.
Quotation is taken from the refusal notice for planning application 74/20/1678, dated 12 December 1974. This application was by a company which wished to move its "Light engineering / sheet metal work and welding" operation from 5a Borough Hill to 194 and 198 London Road.
The bespoke tailor was Napoleon Dulis at number 184, the estate agent was Nationwide Businesses at number 186, the accountancy firm was Boty Cox Crawford & Ridley at numbers 188–190, the newsagent was at number 202, and the lampshade shop was John Cooper at number 204.
Quotations are taken from an outline planning application granted in April 1975 (ref 74/20/2224) and a full application granted in August 1975 (ref 75/20/1213). Documents forming part of two later applications (refs 78/20/1769 and 79/20/1792) confirm that the change to storage purposes and the demolition and extension did indeed take place.
Planning application refs 79/20/1824 and 79/20/1792, respectively (both deposited in September 1979 and approved on 28 January 1980). The "modest proposal" quotation is taken from a Council officer's report, and the other two are taken from a covering letter written by Edward Moore & Sons' architects.
See my article on 190 London Road for evidence on the move to Bedford Park.
Croydon phone books list the Surrey Mould & Tool Co at 200 London Road from 1961 to 1985, and Surrey Mould Makers at the same address in 1987. All obvious variations on these names are absent from the 1988 edition, and I haven't been able to find out anything else about the company.
Croydon phone books list Green Car Repairs at 200 London Road from 1990 to 2003–2004 inclusive. The 2004–2005 edition instead lists it at the Tait Road Industrial Estate, where it can be seen on Google Street View. An application for incorporation dated 15 July 2004 (PDF) gives Unit 1, Tait Road, Croydon, as the company's address, and lists Martyn Green, garage proprietor, as the sole director. All other information (and quotations) provided by Martyn Green (via email, 6 February 2019).
Everything in this section is from personal observation, aside from information on the conversion to flats, which is taken from planning application 18/04900/GPDO. See also my photo of scaffolding and builders' debris in March 2019.