226 London Road has been home to Croydon Motor Spares for the past four decades.
1902: Construction of the building, and the arrival of the Royal Parade Cigar Stores
Like its neighbours, number 226 was built in 1902 as one of 26 properties then known as Royal Parade, and comprised a ground-floor shop with two flats above. However, unlike many of its neighbours, by the end of the year it was being used for a purpose that would continue in some form for half a century.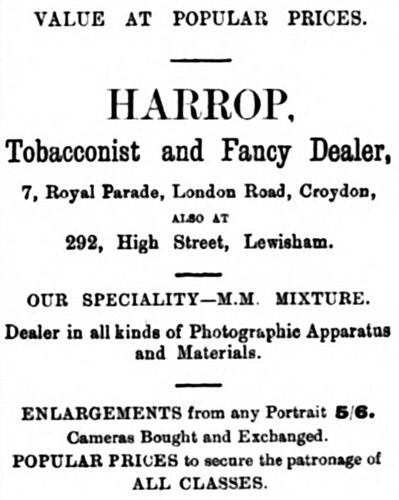 December 1902 saw the opening of the Royal Parade Cigar Stores under the proprietorship of George Harrop, who also ran another tobacco shop at 292 Lewisham High Street.[1] As well as cigars, it sold pipe tobacco, "200 different brands" of cigarettes, and "a useful assortment of smokers' requisites". The electric light system in the shop was adapted to work as a cigar and cigarette lighter for customers who wanted to try out their purchases on the spot.
The shop also stocked umbrellas, walking sticks, and "all kinds of photographic apparatus and materials". Enlargements could be made from "any portrait", and a special promotion over the Christmas holidays saw George offering every customer a free "cabinet photograph of his Majesty the King — usually sold at one shilling [£6.19 in 2019 prices]."[2]
George Harrop: a modern tobacconist for a new century?
Despite George's description in a 1902 Croydon Chronicle advertorial as "the old-established tobacconist of Lewisham", his Croydon shop was quite modern for its time, being well advanced along the road of change that the tobacco trade travelled in the decades surrounding the turn of the century.[3]
Tobacconists in the 19th century saw themselves as skilled independent specialists with expert knowledge of the products they sold: loose tobacco and the pipes used for smoking it, along with cigars and snuff. They selected their own tobaccoes, mixed their own unique blends, and guided their customers' choices while also tailoring their stock to local tastes. Customers could see, feel, smell, and sample the products, and quality was guaranteed by the tobacconist's reputation.[4]
Like many other branches of retail, the tobacco trade was revolutionised by the industrial development that gathered pace in the closing decades of the century. In this case, the transformative invention was the Bonsack automatic cigarette-rolling machine, patented by James Bonsack in 1881 and put into production a couple of years later — after several improvements and modifications — by tobacco manufacturers WD & HO Wills of Bristol.[5]
Although pre-made cigarettes had been sold before this, these were hand-rolled at considerably slower speeds (and hence much greater expense) than the Bonsack machine's output of 300 cigarettes per minute. Along with developments in machinery for packaging, labelling, and printing, the shift to mass production of cigarettes led to a huge shift in the role of the retailer.[6]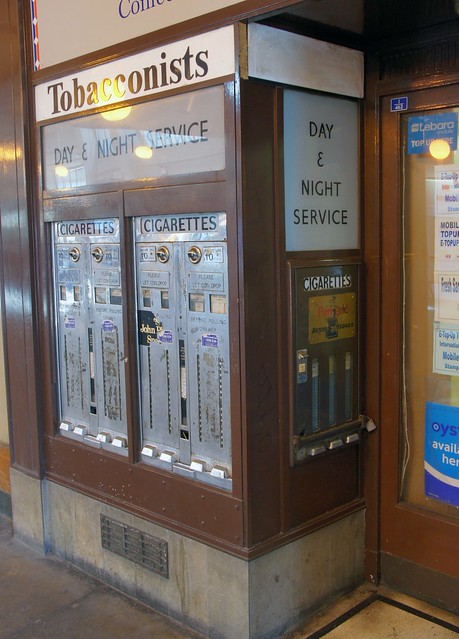 Competition for the old-fashioned specialists arose in several forms. Grocers who "might have had doubts about handling tobacco mixtures in jars [...] had no hesitation in adding ready packaged cigarettes" to their shelves, while kiosks on railway platforms could be staffed by "unskilled" assistants who merely needed to hand over branded packets to customers who already knew what they wanted. Perhaps the clearest symbol of change was the automated cigarette vending machine, which "required no human input" whatsoever.[8]
The large multiple retailers also had a significant effect; not because they took a large share of the market, but because they cut the prices of the cigarettes they sold in order to entice people into their shops, thus leading customers to expect the same prices elsewhere. Profit margins on packaged cigarettes were low, and price-cutting forced them even lower.[9]
By the end of the 1930s, the tobacconists' trade associations had given up on retaining the cultural role of a specialised trade, and settled for ensuring sufficient profit to make a living. The skilled specialists of the 19th century, who guided customers' tastes and guaranteed the quality of their products, had been replaced by sellers of branded prepackaged goods that customers chose on the basis of mass advertising.[10]
When George Harrop opened his shop in West Croydon, however, these changes were still far from complete. Cigarettes still accounted for less than a quarter of tobacco consumption, and George's proud boast of 200 brands would have been frowned on by his more traditional counterparts, who saw this as selling "other people's goods".[11]
Mid-1900s: Lyndon Croisdale
By the end of 1904, a new proprietor had appeared on the scene: Lyndon Croisdale. Nevertheless, it seems that the shop continued to operate under the name of Harrop & Co; Lyndon may in fact have been a manager employed by George. It's not clear whether Lyndon continued George's photographic work, but certainly under his stewardship the shop sold both tobacco and newspapers.[13]

It seems likely that this was the Lyndon Croisdale who was born in Leeds in the 1860s and spent most of his life in the newspaper trade — albeit mainly in producing newspapers rather than selling them. Despite being christened with the rather longer name of James Arthur Lyndon Croisdale, he appears to have gone by the name "Lyndon" throughout his life, possibly to disambiguate himself from his father James.[14]
By the early 1890s, Lyndon had moved to King's Norton, near Birmingham, and was working as a journalist. In April 1893 he began publishing a new weekly newspaper, the City Observer, but this lasted just six weeks before his printers discovered that he was unable to pay their bill. On 28 June, Birmingham County Court granted the latter's petition to have Lyndon declared bankrupt.
Questioned by the Official Receiver, Lyndon admitted to having started his paper with net cash of only about £5 (about £650 in 2019 prices), but claimed that he had been "in negotiations with two firms for the sale of the advertising space". The actual advertising revenues over the six weeks of the paper's run amounted to only £3, which even put together with the sales revenue of £7 10s came nowhere near the printer's bill of £50. The Receiver's comment that Lyndon "was not justified in any shape or form in starting the business" seems quite accurate under these circumstances.[15]
By 1901 he had moved to London, and was living in Walthamstow with his wife Rose and daughter Margery. He was still working as a journalist at this point, but it's not clear whether he was freelancing or employed. Perhaps it was the desire for a steady job — and, moreover, one which came with living quarters — that drew him to West Croydon.[16]
Lyndon departed from 226 London Road by mid-1907, and by 1911 he was living in Beckenham and working as a subeditor on the Daily Dispatch. He continued to work for that newspaper until the late 1920s, when he switched to the Streatham News. He died in March 1930 at the age of 65.[17]
1900s–1910s: Theodore Wendt, T J Langridge, and Ernest Brigden
Newspapers and tobacco continued to be on offer at 226 London Road after Lyndon left. Between 1907 and 1912, the shop passed into and then out of the hands of Theodore Wendt, T J Langridge, and Ernest Brigden.[18]
Although none of these proprietors remained long, it's worth noting that at least some and possibly all of them lived on the premises.[19] This was not the original intention for the shops of Royal Parade; most of them were built as "lock-up shops", so named because their owners were expected to lock them up and go home at night instead of simply retiring to their own rooms behind or above the shop premises. With the exception of the bakery at 206 London Road, the shops were completely separate from the flats above, and although there were some private rooms behind the public areas, these were not extensive.[20]
1910s–1950s: Percy Eugene Augustus Stannard
The next tobacconist to arrive at 226 London Road had a much longer tenure. Percy Eugene Augustus Stannard took over the shop around 1912, and like his predecessors seems to have chosen to live on the premises. He was single and in his early 30s at the time, but in March 1913 he married Daisy Edkins at the Parish Church of St Michael and All Angels. Their son Eric Percy Stannard was born just under two years later.[21]
Percy remained at 226 London Road for the next four decades, running his shop and living with Daisy in the rooms behind.[22] Although the documentary sources only mention tobacco and sweets, it seems very likely that he also sold newspapers, completing the trifecta of confectioner/tobacconist/newsagent (CTN).
Confectionery, tobacco, and newspapers were all very well suited for sale by men like Percy: an independent retailer running his own small business in close proximity to hundreds of homes, just up the road from a busy railway station.[23] By this period all three products had come to be sold primarily in the form of pre-packaged commodity goods: aimed at the mass market, requiring "no skill or special knowledge" from the retailer, and demanding "the same kind of retail outlet [...] namely shops well placed in relation to the customers' homes and early morning journeys."[24] Moreover, the introduction of resale price maintenance meant that the large chains had lost one of their great advantages over the small independent shop; that is, the ability to attract customers by cutting prices.[25]
Percy died in January 1955 at the age of 73. Daisy herself was also in her 70s by now, and unsurprisingly seems to have moved out to live with Eric in Addiscombe rather than continuing with the shop on her own.[26]
1950s–1980s: Godfreys, General Motor Services, and John Brown Wheels
Percy Stannard was the last tobacconist to operate at 226 London Road. By the start of 1957, car and motorcycle dealers Godfreys Ltd had expanded their already extensive premises at 228–234 London Road to take in number 226 as well.[27]
Godfreys remained here until the late 1960s before being replaced in turn by car sales and service company General Motor Services and car accessories firm John Brown Wheels. All three of these will be covered at greater length in future articles.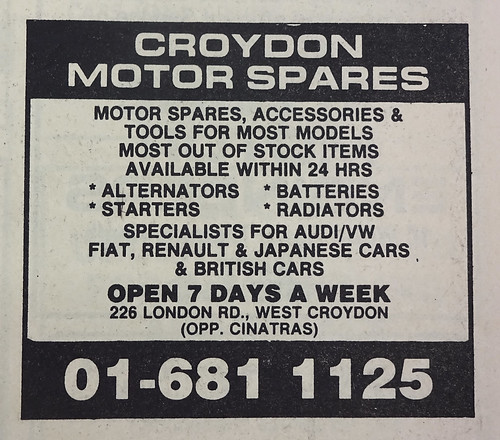 1981–present: Croydon Motor Spares
In 1981, Kenyan-born 20-something Nitin Mehta and his father Kantilal took over 226 London Road and opened a car parts shop: Croydon Motor Spares. They were joined a couple of years later by Nitin's brother Kirit, known in the local motor trade as Ken.[28]
Trading seven days a week, the shop sold spare parts "for all cars" but specialised in Datsun and Fiat brands. "Alternators, dynamos, radiators and batteries" were all on offer "at discount prices". By the mid-1980s, this specialisation had widened to Audi/Volkswagen, Fiat, Renault, Japanese, and British cars, and "most out of stock items" could be obtained within 24 hours.[29]
The shop has remained essentially the same over the years since. Most of Nitin's customers are locals, but some of his sales are to people returning to Africa, where the parts he stocks are less easily available. He enjoys his work because it allows him to fulfil a demand — and his future plans for the shop are simply to keep going, continuing his business success of the past four decades.[30]
Thanks to: Chris Sampson; Grace's Guide; Nitin Mehta; Peter Trimming; the Planning Technical Support Team at Croydon Council; the staff, volunteers, and patrons at the Museum of Croydon; and my beta-reader bob. Monetary conversions performed using the Bank of England inflation calculator (prices < £100 given to the nearest penny, prices from £100 to < £100,000 to the nearest pound, prices from £100,000 to < £1 million to the nearest £1,000, prices from £1 million to < £100 million to the nearest £100,000, prices ≥ £100 million to the nearest million).
Footnotes and references
Date of opening and name of shop are taken from an advertorial on page 5 of the 20 December 1902 Croydon Chronicle, which states that the shop was "opened in London Road during the present week by Mr. Harrop, the old-established tobacconist of Lewisham". See the advert reproduced here for the address of George's Lewisham shop; in addition, Kelly's 1902 directory lists Geo[rge] Harrop, tobacconist, at 292 Lewisham High Street.

This expansion to Croydon might have been in connection with bringing another family member into the business; contemporary phone books list the Croydon shop under the name of "S Harrop & Co", whereas the Lewisham one is listed under "G Harrop". It certainly seems reasonable for George to have concentrated his efforts on his Lewisham shop, as according to the 1903 electoral register (Parliamentary Borough of Lewisham, p139) he lived on the premises.

However, I haven't been able to work out who S Harrop was. I can't trace George any further back than the 1891 census, so haven't been able to work out if he had a sibling with that initial. The only child listed in the 1901 census (RG13/546/folio 22/p 35) is 12-year-old Frederick, and the 1911 census (RG14/RD118/RS9/ED30/22) shows that George and his wife had no other children. George's wife was named Louisa, so it can't have been her either.

Information and quotations taken from the 20 December 1902 Croydon Chronicle advertorial and advert cited above.
Information taken from "Retailing history as economic and cultural history: strategies of survival by specialist tobacconists in the mass market", Matthew Hilton, 1998, Business History 40(4), 115–137.
A fuller account of James Bonsack's invention and its adoption by WD & HO Wills can be found in Chapter 7 of W.D. and H.O. Wills and the Development of the UK Tobacco Industry, 1786–1965 by BWE Alford (Routledge, 2006; originally published 1973).
Rate of Bonsack machine output is from W.D. and H.O. Wills (as above), which states on page 225 that by 1890 the Bonsack machine "was able to manufacture 300 cigarettes per minute with a very high degree of reliability". According to Robert K Heimann's Tobacco and Americans (McGraw-Hill, 1960), even a well-trained "cigarette girl" had an output which "could scarcely exceed four per minute at top speed" (p. 210). Hilton also states that "Developments in machinery for packaging, tobacco cultivation, labelling and printing further enabled pre-packaged tobacco products to be sold to a mass market" (p.118), and gives several sources for this.
These machines are from a later period than discussed here (the current Uxbridge Station opened in December 1938), but give an idea of how cigarettes used to be sold. They all show decimalised prices, but the rightmost one at least seems to have had its prices altered, and so might well pre-date the 1971 switch to decimalisation.
Quotation regarding grocers is taken from page 134 of Retail Trading in Britain: 1850–1950, James B Jefferys (Cambridge University Press, 1954), which also makes the same point about "sweets and toffees that had to be broken up, weighed and bagged" versus "wrapped bars of chocolates and sweets". Information and quotations regarding kiosks and vending machines are from Matthew Hilton's article, as above.
Hilton, pp. 121–123. The text of Hilton's article is somewhat unclear about whether this price-cutting was mainly done by the multiple tobacconists such as Finlay & Co (discussed in my article on the West Croydon Station kiosks), or whether general retailers such as the Co-operative Society also had a large effect. Note that in this context a "multiple retailer" is one that has many branches; today's examples include Sainsbury's, Marks & Spencer, and of course the Co-op itself.
According to Retail Trading in Britain (p. 271), cigarettes made up less than 20% of the tobacco products sold at the turn of the century. Even seven years later, according to Arthur Edmund Tanner's Tobacco: From the Grower to the Smoker (Isaac Pitman and Sons, 1912; p. 105), only 24% of the tobacco produced or imported for domestic consumption in 1907 was in the form of cigarettes; the majority (69%) of the remainder was cut leaf, though 5% was cigars and 2% was snuff (my calculations from Tanner's raw figures, rounded to nearest percentage point). Tanner implies (pp. 105–106) that the cut leaf was all or mostly for pipe-smoking, though surely some of it must have been for roll-your-own. Regarding "other people's goods", see Hilton, p.120.
Peering very closely at this postcard reveals that the sign above the shop reads "Harrop & Co", possibly with an initial before the "Harrop". The shop does seem to have gone under more than one name, though; as noted earlier, the Croydon Chronicle referred to it as the Royal Parade Cigar Stores, and Ward's 1904 directory simply lists George Harrop, tobacconist. This type of multinominalism is by no means confined to the past; while talking to shopkeepers for the work I did on documenting Croydon during the 2010s, I learned that the question "What's the name of this shop?" doesn't always have a straightforward answer.
Ward's directories (the data for which were finalised late the previous year) list Lyndon Croisdale, tobacconist and newsagent, in 1905 and 1906. However, London phone books continue to list S Harrop & Co, photographic dealers and tobacconists, up to and including the July 1906 edition.
I haven't found any direct evidence that the Lyndon Croisdale who ran a newsagents in Croydon was the same person as the James Arthur Lyndon Croisdale who was born in Leeds. However, it's quite an unusual name, and the Leeds one certainly lived near Croydon during the second half of his life; the 1911 census (RG14/RD42/RS2/ED20/18) places him in Beckenham, and his entry in the National Probate Calendar has him living in Streatham at the time of his death. According to census data, he was a journalist in 1901 (RG13/1626/folio 45/p 15) and a newspaper subeditor in 1911, and so could well have taken a couple of years in between this career change to run a newsagents.
The 1891 census (RG12/2351/fo 7/p 7) lists Lyndon as a 26-year-old journalist living as a lodger in Moseley, King's Norton, Worcestershire. Information about his City Observer venture is taken from two articles in the Birmingham Daily Post: one on page 6 of the 5 August 1893 edition ("Bankruptcy proceedings") and the other on page 6 of the 7 September 1893 edition ("Birmingham County Court"). Quotations are from the August article. The date of his receiving order is taken from a notice on page 3875 of the 7 July 1893 London Gazette.
The 1906–1907 Burgess Roll lists Lyndon Croisdale as having a "Dwelling House" at 7 Royal Parade, confirming that he lived on the premises.

Ward's directories list Lyndon Croisdale, tobacconist and newsagent, at 7 Royal Parade (later renumbered to 226 London Road in 1905 and 1906; "Tobacconist & Newsagent's Shop" in 1907; and T Wendt, tobacconist, in 1908. The July 1907 London phone book lists T Wendt.

The 1911 census (RG14/RD42/RS2/ED20/18) lists Lyndon as a subeditor on a daily newspaper, living at 259 Beckenham Road with Rose and Margery. An article on page 5 of the 28 March 1930 Norwood News ("Mr. Lyndon Croisdale. Sad passing of Streatham journalist") states that at the time of his death in 1930 he had been working as a subeditor on the Streatham News for "some months", and before that had been a subeditor at the Daily Dispatch for "more than 20 years". The timing of this suggests that getting the job at the Daily Dispatch might have been the reason he gave up his position in the London Road shop. His date and age of death are also taken from this article.

Ward's directories list Lyndon Croisdale, tobacconist and newsagent, in 1905 and 1906; "Tobacconist & Newsagent's Shop" in 1907; T Wendt, tobacconist, in 1908; T J Langridge, tobacconist, in 1909 and 1910; and E Brigden, tobacconist, in 1911 and 1912. The July 1907 and January 1908 London phone books list T Wendt, tobacconist, newsagent, and stationer; and the July 1908 edition lists T J Langridge, Parade Cigar Stores. Theodore's full first name is taken from the 1907–1908 Burgess Roll, and Ernest's is taken from Kelly's 1911 directory.
See earlier footnote for evidence that Lyndon Croisdale lived on the premises. The 1911 census (RG14/RD39/RS3/ED12/30) lists 40-year-old Ernest Brigden as a "Tobacconist in Business" working "At Home" at 7 Royal Parade, along with his 35-year-old wife Florence Emma and 14-year-old daughter Gladys Florence. It also lists two separate households, each occupying five rooms, at 7 Royal Mansions, which must be the flats on the first and second floors, and so Ernest's family must have been living in rooms behind their ground-floor shop. However, it's possible that they later moved into one of the flats, as Ward's 1912 directory lists E Brigden at 7 Royal Mansions in addition to his entry as a tobacconist at 7 Royal Parade (note that the flats were referred to as Royal Mansions, while the shops were Royal Parade).

It should be noted that I haven't found any contemporary sources directly describing the Royal Parade shops as lock-up shops. Croydon Council's Supplementary Planning Guidance for the London Road (Broad Green) Local Area of Special Character (adopted 16 July 1996) (PDF) uses the phrase "lock-up shops with flats above", but this may be intended as a description of the situation at the time of writing.

However, the Council's planning department does hold an index card dated 11 January 1904 which records the intention of one "E. Bates" to "Convert Part of Shops into Living Room" at numbers 7, 10, 11, 12, 20, and 25 Royal Parade (226, 232, 234, 236, 260, and 270 London Road in today's numbering). This may have been because Mr Bates had overestimated the demand for lock-up shops in West Croydon, and hence decided to diversify the options.

Moreover, the 1911 census (RG14/RD39/RS3/ED12/9 and onwards) lists only six households in Royal Parade (as opposed to Royal Mansions, i.e. the flats above), at numbers 1, 2, 7, 17, 21–22, and 25. Number 1 was likely intended as a bakery all along, with an internal connection to the first-floor flat above allowing the baker to live on the premises in close proximity to the dough that would need to be baked early in the morning. The household in number 2 was part of an extended family, likely forced to live there by pressure of space in the family's main home. Numbers 7 and 25 were among those partially converted to living space in 1904. If the 26 shops had been originally intended to include living accommodation, it seems unlikely that the take-up would have been so low.

Regarding the entrances to the flats, see my article on Broad Green Place for more information (and a rather nice illustration by Lis Watkins).

David Godfrey, whose father Alan ran the Sport Craft shop at number 224 from the 1940s to the 1970s, told me that from his memory of the back rooms of his father's shop, living there would probably have been "manageable – basically a sort of bedsit. Things would no doubt be simpler for one or two people than a family." He explained that "We had the non public part divided into three sections: the stock room, the old back room (with a window) with office desk, shelf of files, sink, gas water heater (non functional since Seegas conversion, and stove – vital for tea making, but usable for more serious cooking if required), and a sort of sitting area with an old two person sofa". David also remembered there being an outdoor toilet in the back yard (via email, 22 and 28 April 2020).

Ward's directories list P E Stannard, tobacconist, from 1913 until the final edition in 1939. Percy and Daisy's full names, the date and place of their marriage, and the fact that Percy was single at the time of their marriage are taken from Surrey parish registers (Register of Marriages, St Michael and All Angels, Croydon, Surrey, 1908–1930, p. 49). Eric's name and date of birth are also taken from Surrey parish registers (Register of Baptisms, St Michael and All Angels, Croydon, Surrey, 1915–1917, p. 1).
As noted above, Ward's directories list P E Stannard, tobacconist, at 226 London Road up to and including the final edition in 1939; he also appears here in Kent's 1955 and 1956 directories as Percy E Stannard, tobacconist and confectioner. The 1939 Register of England and Wales (Surrey/Croydon/CLRM/39-3) lists Percy, Daisy, and Eric as living at 226 London Road, and Percy's entry in the National Probate Calendar confirms that he was still living there at the time of his death in January 1955.
As noted in my article on Broad Green Place, the breakup of that estate alone led to the construction of nearly 300 new homes on the east side of London Road; and for most of them, number 226 was on the way to the station.

The commoditisation of tobacco has already been described above; for similar discussions of confectionery and newspapers, and the connection between the retail methods of all three, see Retail Trading in Britain, Chapters 10 (confectionery), 11 (tobacco), and 12 (newspapers). The quotations here are taken from Chapter 12, p. 282.

Percy himself might well have been completely new to the CTN trade when he took over the shop in West Croydon; the 1911 census (RG14/RD2/RS1/ED31/112) lists him as a draper's assistant.

See Retail Trading in Britain for the effect of resale price maintenance on competition between large and small retailers (pp. 82 and 93) and details of this practice in the context of confectionery (pp. 254 and 261). See Hilton (pp. 127–128) for details regarding tobacco.
Percy's date of death is taken from his entry in the National Probate Calendar; his and Daisy's ages at this point are calculated from their entries in the 1939 Register of England and Wales, which give Percy's birth date as 3 August 1881 and Daisy's as 28 March 1884. Electoral registers list Percy and Daisy Stannard at 226 London Road up to and including 1955; and Eric, Joan, and Daisy Stannard at 61 Stretton Road, Addiscombe, from 1957 onwards. It's not clear whether Daisy ever worked in the shop; the 1939 Register lists her as performing "Unpaid Domestic duties".
The October 1955 Outer London: Kent/Surrey phone book has an advert for Godfreys Ltd on page 249 which gives an address of 228–234 London Road for its "Head Depot". A similar advert on page 263 of the January 1957 edition instead gives an address of 226–234 London Road. The November 1958 Motor Cycling photo included in the present article confirms that number 226 had Godfreys branding by that date.
Information about shop opening, place of Nitin's birth, and Kirit's nickname and time of joining the business were provided by Nitin himself (in-person conversation, 7 November 2019, and via email, 28 May 2020 and 25 July 2020). Nitin's age at the time is calculated from information in issue 76 (April 2006) of Croydon Magazine, as reproduced on his website. Nitin tells me that Kirit "had an encyclopedia of knowledge about motor cars and people came to get his advice from far and wide." (via email, 25 July 2020).
Information and quotations about the shop in these early days are taken from adverts in the "Ward's Directory" published by the Croydon Advertiser (page 31 of the 1982–1983 edition and page 31 of the 1986–1987 edition, respectively).
Information provided by Nitin Mehta (in-person conversation, 7 November 2019, and via email, 28 May 2020). It's worth noting that Nitin's activities are by no means confined to shopkeeping. Information about his community and activist work can be found on his website.